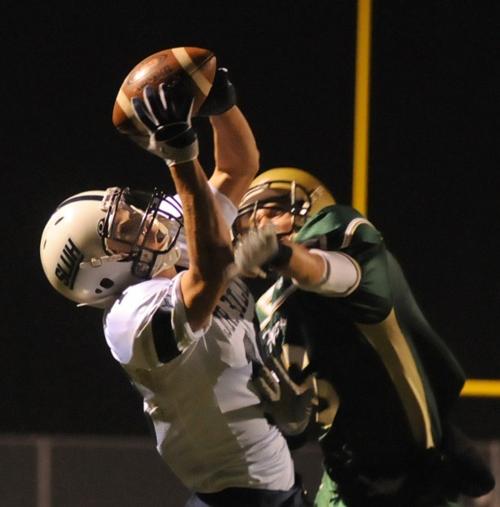 CRESTWOOD • The path to the Class 6 football playoffs was simple for St. Louis University High and Lindbergh on Friday — win and you're in, lose and go home.
Though Lindbergh's high-octane offense was stuck in neutral for most of the night, the Flyers still found enough big plays to keep their season alive. Lindbergh overcame a 7-point halftime deficit for a 28-14 win.
Lindbergh (8-2) tied the score midway through the third quarter on a 45-yard touchdown pass from Peter Simpson to Adam Schremp. The extra point made it 14-14.
The Flyers looked like they were going to take the lead a minute later after Chris Collins blocked a SLUH punt, giving Lindbergh the ball on the SLUH 5. But a couple of Lindbergh penalties stalled the drive, and Matt Klingler missed a 27-yard field goal attempt.
But Lindbergh capitalized just 29 seconds into the fourth. After a pass interference call kept the Flyers' drive alive, Simpson scored on a 10-yard run, giving Lindbergh what proved to be the winning score.
A Sam Smith 1-yard run with 3:54 left gave Lindbergh insurance. Simpson's pass on the two-point try to Will Spitzfaden made it 28-14.
Lindbergh, the second team out of District 2, will travel to District 1 champion Eureka on Friday in sectionals. Lindbergh beat Eureka 42-28 on Oct. 1.
Lindbergh got on the board first, converting one of three first-half interceptions into a touchdown. Garrett Krueger's interception gave the Flyers the ball on the Jr. Billikens' 23, and six plays later, Simpson found Spitzfaden for a 32-yard touchdown pass, making it 7-0 Lindbergh midway through the first quarter.
SLUH (4-6) came back on its next possession when Trevor McDonagh found Mitch Klug on fourth down for a 29-yard touchdown pass. The extra point tied it 7-7.
SLUH scored again when McDonagh found Joe Blume for a 7-yard touchdown pass with 3:31 left in the second quarter to take a 14-7 halftime lead.
SLUH's defense kept Lindbergh's offense in check, allowing the Flyers just 41 yards from scrimmage in the first two quarters. Simpson was sacked three times for a total loss of 19 yards.
Yellow penalty flags also were common as 14 penalties, not including a couple that were declined, were called in the first half for a total of 100 yards. Lindbergh committed nine of the penalties, including five for being offsides.
Lindbergh's defense forced six turnovers and sacked McDonagh five times.