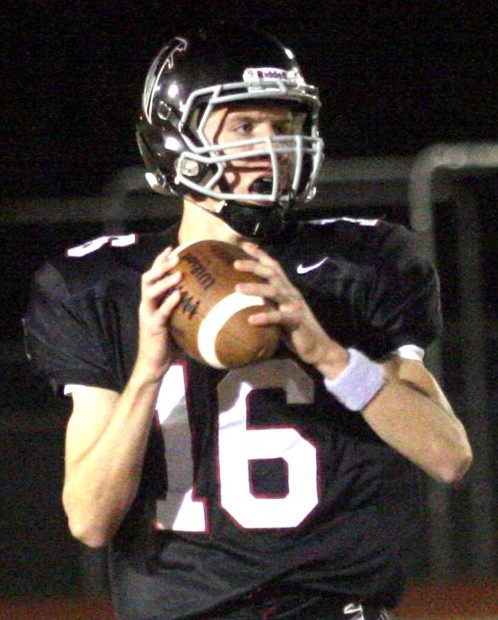 When Mike Bellers looks back on the 2010 football season, chances are he'll remember one play more than the rest. Same for Joey Schenk. Ditto Myles Robinson.
One play. Out of, what, hundreds? Maybe a thousand? That must have been a doozy, right?
Absolutely. A doozy. And more.
Rockwood Summit rolled through almost seven dozen offensive plays in a 44-21 victory against Seckman in its Class 5 district opener Friday at Summit. And more than a few of the 80-or-so plays were eye-catching - after all the Falcons scored six touchdowns. But one was different from the rest, maybe different from any play Summit has turned in yet, maybe different from any play Summit will make all season.
Robinson immediately knows the one play that jumps out from all of that night's plays. It came in the opening minutes of the second quarter when Seckman had the Falcons pinned short of their 30 yard line.
"The play that's in my mind is that fourth-and-one. It was really fourth-and-inches, and I go over to Coach Bellers and he goes, 'Are you ready to do something crazy?'"
Under almost any circumstance, rolling the dice on a fourth-down play in your end of the field early in the game is a bit crazy. Even with a bruising back like Summit's Alex Clark, a fourth-down gamble is out of the ordinary.
"So it's fourth-and-one and any other team would run the ball, any other team in the history of Missouri football would run the ball - but we decided: let's go against the odds," Robinson says. "It's a big game so let's do something different to make our mark on the district."
Consider that mark made. Indelibly.
Robinson makes a nearly perfect pass, and Schenk makes a beyond-perfect catch, leaping and reaching out to snatch the line-drive throw as it zips over the reach of a Seckman defender.
"We let it all hang out," says Robinson.
The Play did not save the day for Summit. The Falcons, now 4-4 overall, probably were the smart pick in the district opener against Seckman, 1-6. With an offense that churned out more than 500 yards Friday, Summit likely would have survived without The Play.
But the Robinson-to-Schenk connection changed things. If it is important to believe ... that pass made the Falcons believers.
"From that play forward we knew it was going to be a good game," Robinson says.
Robinson and the Falcons have strung together an impressive run of good games lately. From a team that opened the year 0-2 with scant experience returning, it has now won four of its last six and is a strong contender for a second consecutive playoff berth.
The 6-foot-2, 160-pound Robinson has been a big part of the recent run of success. A three-year starter, he has blossomed into quarterback who can win a game with a big throw this season.
"I know I made a lot of mistakes my sophomore and junior years, but you keep going out there and you keep learning," he says.
Robinson celebrated his 18th birthday Friday by completing 18 of 29 passes for three touchdowns and a career-best 255 yards against Seckman. The effort boosted his season passing numbers to 14 TDs and almost 1,100 yards, totals that match up with any quarterback in the area with 150-160 pass attempts.
Robinson is quick to credit Summit's undersized offensive line - seniors Nick Toomey, Aaron Davis, Alex Forsythe and Jeff McMinn and sophomore Matt Kaysinger - with finding its way so quickly this year.
Bellers is on the line's bandwagon, too.
"They're not big, but they're really scrappy and tenacious kids with big hearts," he says. "They've really gelled and exceeded my expectations."
Alex Clark comes in for exceeding-expectations cheers, too. The senior, a part-timer a year ago, ran for 257 yards and three touchdowns Friday. The big night pushed him beyond the 1,000-yard mark for the season.
Also in the pat-on-the-back line are the pass-catch matchups Robinson has formed with Schenk, C.J. Neal and Luke Hartmann.
More than any time in the last several years - including 2006's 9-3 season when Joe Woodland was running the offense - the passing game is a big part of the Falcons' attack.
Robinson and Schenk worked overtime during the summer to get their game in sync.
"This summer we busted it three times a week, every week to make sure we had timing down," Robinson says.
Timing was key on The Play. So was confidence - and Robinson was confident in both Bellers's outside-the-box call and Schenk's ability to turn the throw into a catch.
"I came into the huddle and I say, 'All right, Joey, you've got to make a play, man. I know you can do it.'"
Schenk wasn't the only one under the gun on that play. Robinson had to be pin-point sharp. And the line had to provide the quarterback and the end with time to pull off the throw and catch. It was a play where everything had to work.
It was the play of the night, maybe the play of the year.