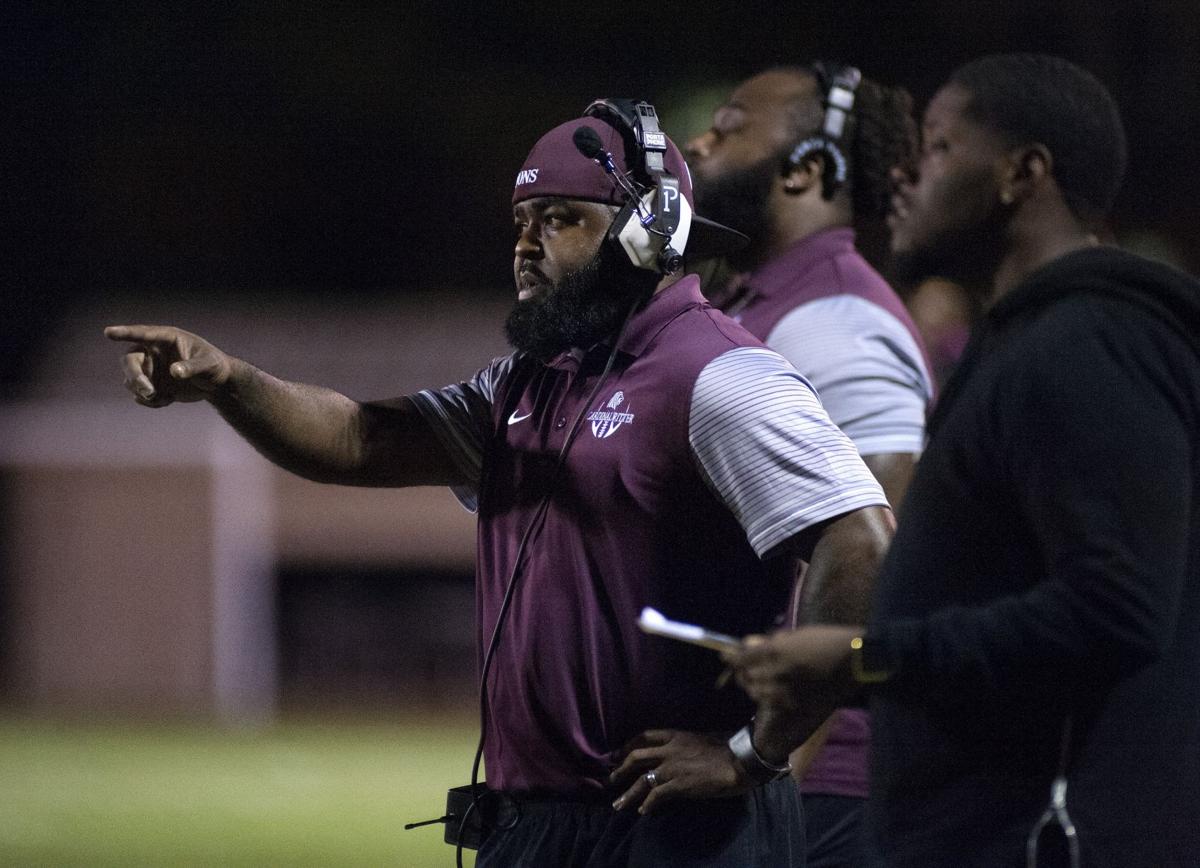 Cardinal Ritter's football program has been suspended for the remainder of the season.
There will be no playoffs for the Lions.
Cardinal Ritter president Tamiko Armstead released a statement Friday outlining the self-imposed sanctions placed on Ritter's football team.
Along with terminating the football program this year, all of the current coaching staff has been "permanently released from Cardinal Ritter College Prep immediately."
That includes head coach Brandon Gregory, who was hired to lead Cardinal Ritter's program in January of 2016. In his first three seasons, the Lions went 28-8 and finished as the Class 3 runner-up last season. Gregory led Maplewood-Richmond Heights to a Class 2 runner-up finish in 2010.
The statement went on to say that longtime Ritter pillar and current athletics director Preston Thomas "has made the decision to retire."
Thomas served for almost 20 years as the boys basketball coach and guided the Lions to three state championships. He was inducted into the Missouri Basketball Coaches Hall of Fame 2017.
The Missouri State High School Activities Association confirmed Friday afternoon that executive director Kerwin Urhahn accepted Ritter's self-imposed sanctions.
The statement did not address any specific actions regarding junior running back Bill Jackson, who was the ineligible player that donned a different number and was identified on the roster as a different player in the Lions' game Aug. 31 at Nazareth Academy in suburban Chicago.
Jackson was supposed to be suspended for that game after being ejected from the 2018 Class 3 state championship game. Per National Federation of State High School Associations guidelines, any player ejected from a game is ineligible for the next game, even if it's the following season.
Cardinal Ritter's use of the ineligible player was discovered and first reported Tuesday after an investigation by STLhighschoolsports.com.
Armstead's statement said Cardinal Ritter's internal investigation is ongoing.
The statement did not give a timeline for if and when Ritter would begin the process of restarting its football program.
"The priority right now for Ms. Armstead is to walk through this difficult time with the community and students," said Peter Frangie, executive director of communications for the Archdiocese of St. Louis.
Ritter forfeited its first seven games this season and will forfeit its final two. It was scheduled to host Granite City on Friday night and finish its regular season next week at Althoff.
Brandon Gregory has been removed from his duties as Cardinal Ritter football coach, the Archdiocese of St. Louis confirmed Friday afternoon.
Cheating is cheating is cheating. Try as Cardinal Ritter high school football players and their coach might to get around this simple truth, the tattoos don't lie. Running back, Bill Jackson, was caught by David Kvidahl of STLhighschoolsports.com in what appears to be a flagrant violation of a ruling that he was ineligible to play in the opening week of the 2019 season. The way he broke the rules required lots of help from adults who knew better.
The Cardinal Ritter football team appears to have used an ineligible player Aug. 31 in its season opener at Nazareth Academy in suburban Chicago.