Michael Wheeler hears the snickers in the hallways.
The De Smet senior quarterback even has been approached by one or two brave fellow students.
"They ask me, 'All you do is hand the ball off — don't you ever throw?' " Wheeler said. "I tell them, 'There's much more to it than that.' "
Wheeler is the newly appointed ringleader of the high-octane Spartans' offense. His ability to balance an attack that contains a large cache of weapons is one of the reasons the Jesuit school is on the verge of history.
De Smet (13-0) faces Joplin (13-0) in the Class 6 state championship game at 3 p.m. Saturday at Faurot Field in Columbia.
The Spartans will be looking for their second state title to go along with a crown in 2005.
Wheeler took over the quarterback duties on a full-time basis in week 10 against Pattonville after splitting time with AJ Fraser throughout most of the campaign.
The key to the success of the offense, which is averaging 45.2 points per game, lies in the running back trio of juniors Taj Butts, Rico Barfield and Darez Snider. The three have combined to rush for 3,141 yards and 47 touchdowns.
So Wheeler is not counted on to air it out very often. In a 35-14 win over two-time defending state champion CBC in the district final Nov. 8, the Spartans ran 57 times and Wheeler only attempted eight passes.
Thus he is forced to take some good-natured ribbing now and then.
"It's all in good fun, but sometimes the other students give me trouble and say things like, 'Those (running backs) are carrying you. How tough is it to turn around and hand the ball off,' " Wheeler said. "And I'm fine with that — as long as we keep winning."
Actually, Wheeler does more than meets the eye. His leadership skills and no-frills way of running the offense are instrumental in its success.
"He makes the plays he needs to make," said Barfield, who has 1,032 yards rushing and 16 scores. "He's stepped up when we needed him to."
De Smet coach Robert Steeples said Wheeler's skills often go unnoticed.
"He's fully capable of throwing the ball when we need it," Steeples said. "He wouldn't get to this point by being so one-dimensional."
Wheeler has gone from mop-up duty to a leading role in a relatively short amount of time. He played sparingly as a sophomore and junior serving as a backup to Nate Martens. Wheeler would normally see action when the Spartans had a big lead — or in the case of the 2017 campaign when they were getting pounded on the way to a 1-9 record.
"I'd come in when we were getting our butts kicked," he said.
But he stayed focused and became a smarter player by learning lessons while on the bench.
"It helped me mature," Wheeler said. "I watched (Martens) and the offense and kept in my head what I would be doing if I was out there. That's helped me so much this season."
Steeples has been impressed with the way Wheeler has gone about his business since taking over the offense.
"You can tell over the last few games, when his number is called, he's been making the plays." Steeples said.
Steeples relied on the two-quarterback system much of the season. Wheeler would play the first and third quarters, Fraser handled the offense in the second and fourth.
But the 29-year-old Steeples, a former cornerback with the Minnesota Vikings, felt it would be best to go with just one signal-caller in the post season.
"There really wasn't anything that separated him from AJ," Steeples said. "They're just different types of quarterbacks."
Wheeler has always been a natural born leader. He started at quarterback on his kindergarten flag football team and has held the position at all levels ever since.
"He just has those leadership qualities that you're looking for," Steeples says.
Wheeler has excelled down the stretch. He hit on 12 of 15 passes for 150 yards and two TDs in a 37-0 win at Raymore-Peculiar in the semifinal contest on Saturday. He connected on his first seven passes to take some of the pressure off the running game.
The 6-foot-2, 180-pounder threw for 140 yards and two scores in a 31-3 district championship win over Francis Howell on Nov. 15.
Wheeler, who does not plan to play football in college, has hit on 81 of 129 passes for 1,201 yards this season with 18 TD passes and just two turnovers.
"I've worked hard in the weight room and my coaches have helped me a lot," Wheeler said. "There's a lot of people that have put in the work to make this season such a success."
Wheeler realizes that his athletic career will likely come to an end this weekend.
And he desperately wants to go out in style.
"It's great to finish with a trip to the state championship game," he said. "But, it would be even better to win it."
Missouri postseason football scores, schedules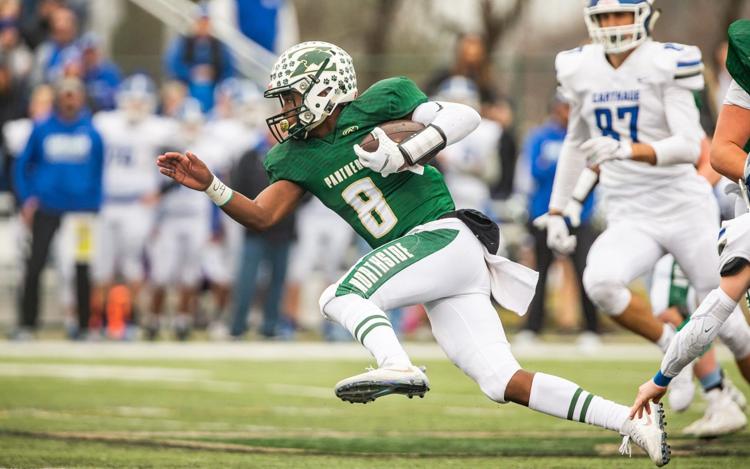 — CLASS 6
Championship
De Smet 35, Joplin 20
— CLASS 5
Semifinals
Jackson 20, Staley 7
Carthage 20, Fort Zumwalt North 17
Championship
At Faurot Field, Columbia
Jackson (13-0) vs. Carthage (11-2), 7 p.m. Saturday
— CLASS 4
Semifinals
Platte County 15, St. Mary's 14
Webb City 35, Ladue 0
Championship
At Faurot Field, Columbia
Platte County (12-3) vs. Webb City (13-1), 7 p.m. Friday
— CLASS 3
Semifinals
Odessa 31, Kennett 14
Cassville 13, Trinity 0
Championship
At Faurot Field, Columbia
Odessa (14-0) vs. Cassville (12-2), 11 a.m. Saturday
— CLASS 2
Semifinals
Lutheran North 38, Lathrop 24
Ava 20, Clark County 14
Championship
At Faurot Field, Columbia
Lutheran North (13-0) vs. Ava (14-0), 3 p.m. Friday
— CLASS 1
Semifinals
Valle 37, Mid-Buchanan 14
Lincoln 46, Marceline 20
Championship
At Faurot Field, Columbia
Valle (13-1) vs. Lincoln (14-0), 3 p.m. Saturday
Illinois postseason football scores, schedules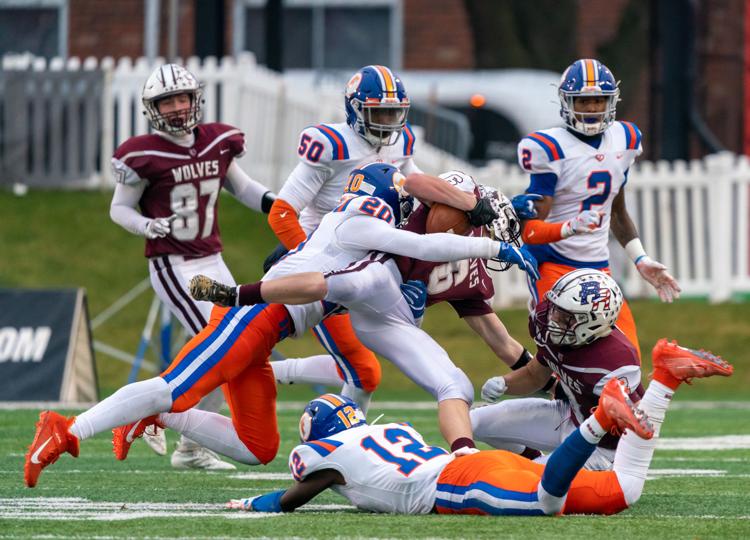 — CLASS 8A
Championship
Lincoln-Way East 12, Gurnee Warren 0
— CLASS 7A
Championship
Chicago Mount Carmel 37, LaGrange Park Nazareth Academy 13
— CLASS 6A
Championship
East St. Louis 43, Crystal Lake Prairie Ridge 21
— CLASS 5A
Championship
Rochester 42, Chicago St. Rita 28
— CLASS 4A
Championship
Richmond-Burton 50, Murphysboro 14
— CLASS 3A
Championship
Williamsville 46, Byron 42
— CLASS 2A
Championship
Sterling Newman Central Catholic 35, Nashville 14
— CLASS 1A
Championship
Lena-Winslow 58, Central A&M 20