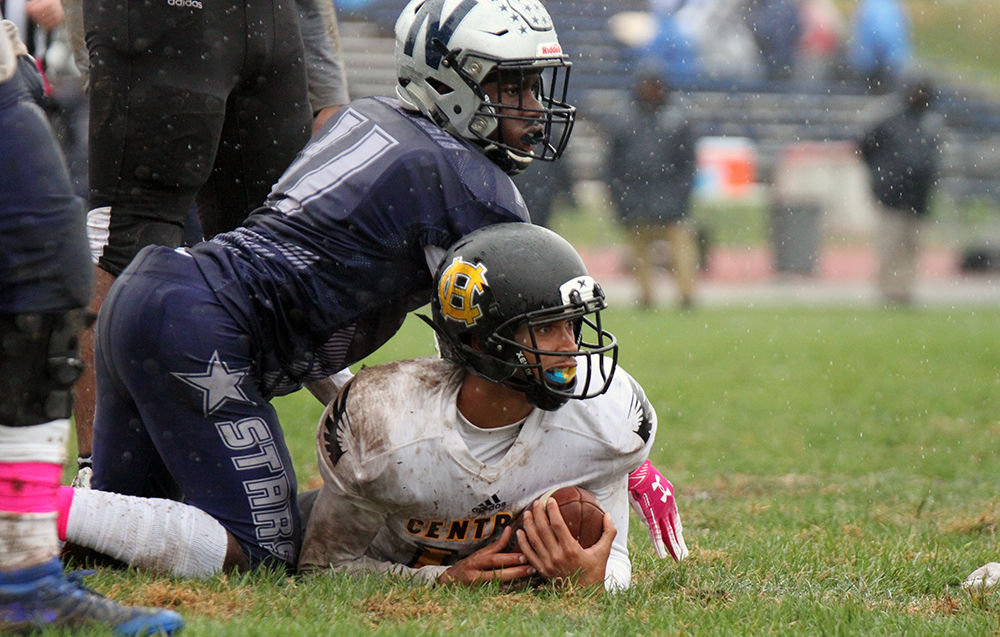 The move to spring football is on and popping in St. Louis County.
The Ferguson-Florissant, Hazelwood, Pattonville, Ritenour and Riverview Gardens school districts pushed their fall sports into the spring Friday and will compete in the "alternative fall" that was announced last week by the Missouri State High School Activities Association. The Hancock Place school district released a statement that it would move its moderate and high contact sports such as softball, boys soccer and girls volleyball into the spring. Also, it will not allow student-athletes to take part in the football co-op it has with Bishop DuBourg.
Hancock will allow its cross country team, its only low contact fall sport, to compete in the regular fall season. This is another twist in the ever-changing landscape of high school sports in Missouri. As of last week's announcement, MSHSAA did not indicate a member school could split its low and high contact sports between the fall and alternate fall seasons.
"That continues to be evaluated," MSHSAA spokesperson Jason West said in an email last week.
As of Friday afternoon, that stance had changed.
"A school has had the ability to choose what sports participate in the traditional season or the alternate season," West said via email. "It is a sport by sport choice."
With nearly every north St. Louis County school district choosing to push fall sports into the spring, a division has opened in the St. Louis Suburban Public Athletics and Activities Association. Earlier this week Affton, Clayton, Kirkwood, Ladue, Mehlville, Parkway, Rockwood and Webster Groves all indicated they would begin fall sports practices Aug. 24.
Normandy and Jennings had not announced plans as of Friday night.
There are no public school districts in St. Louis County offering in-person education options for high school students at this time.
Pattonville athletics director Jason Sellers said the decision to move traditional fall sports back seven months was not one that was made without significant thought.
"The biggest thing is safety is our No. 1 priority," Seller said. "These decisions are not easy and they are not made lightly. You make the best decision with the information you have."
In his letter to district families, Ferguson-Florissant superintendent Joseph Davis said athletics and activities will be back in action when students are physically allowed to be in the building.
"Our primary focus is on getting students safely back into the classroom," Davis wrote. "I look forward to all of these activities resuming to in-person practices after students physically return to school."
That sentiment was echoed nearly word for word in Pattonville's announcement and was similar to Ritenour's announcement, as well.
Ritenour football coach Kyle Wagner said the shift to spring wasn't what anyone wanted but conditions related to the coronavirus pandemic made it necessary.
"I think it's the safe move for our community," Wagner said. "If the fall goes well then I believe the spring will go well and we can have a season for our seniors."
Wagner was hired in the spring and has limited physical exposure to his new team. The majority of his interactions with the players has come through Zoom meetings.
Learning the ropes as a first-year head coach is challenging under the best of circumstances, but the pandemic has taken the degree of difficulty to a completely different level.
"I'm lucky, I've got some guys I can talk to," Wagner said. "But even they are in uncharted waters. I keep going back to what's best for our kids."
Wagner said the hope of a spring football season is a positive to draw from this unprecedented situation. It's something to work toward as every day brings new challenges.
"As long as we have a season on the horizon we can keep our kids locked in," Wagner said. "It's extra time to work and get better before we play."
What that spring season will look like is still to be determined.
On Friday the PHL released its schedule for the alternative fall season, but at this point no one knows how many school districts will make the move. Nor is it known what sports will move to that season as well.
"It's going to be a challenge, but there have been challenges every day," Sellers said. "When we have a framework of what we're allowed to do by MSHSAA we'll share that with our coaches. With the newness of it, I don't know what it's going to look like."
STLHighSchoolSports.com is the most comprehensive source of stats, scores and stories from any and all area high schools.