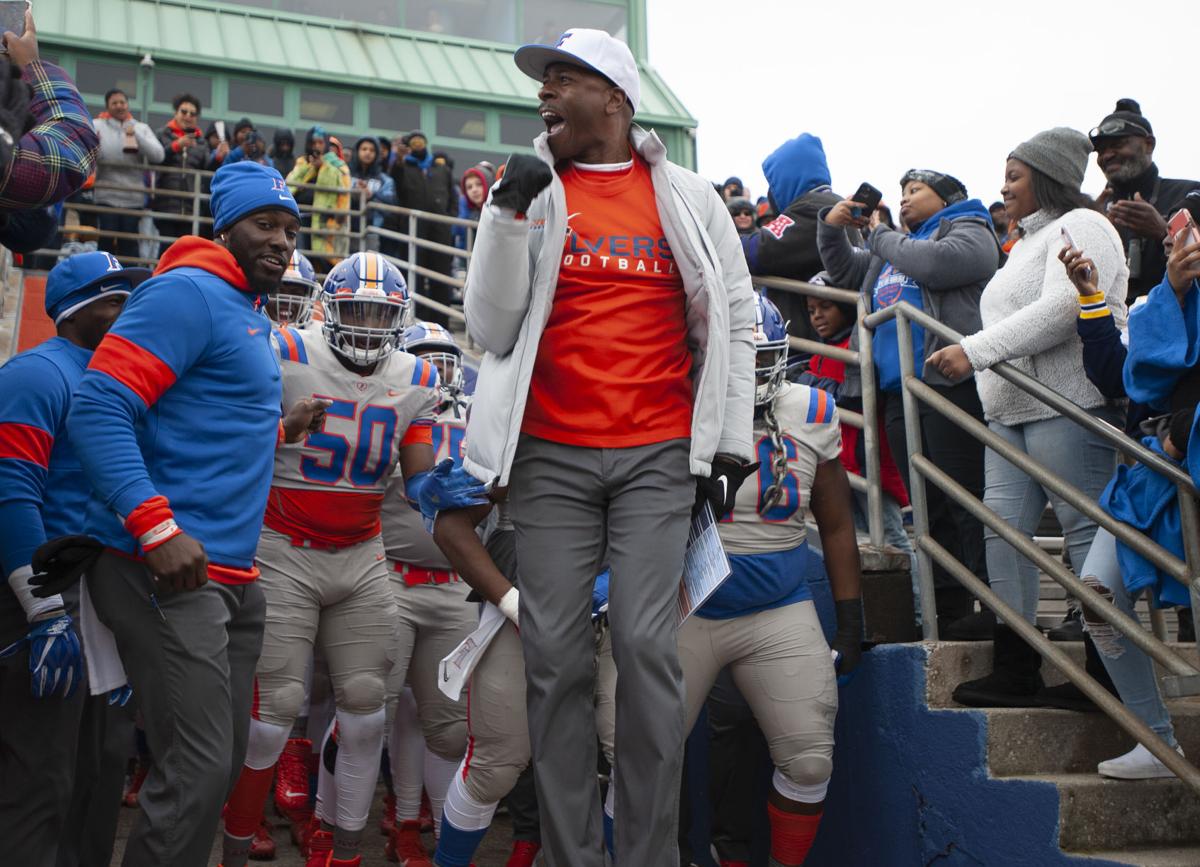 East St. Louis football coach Darren Sunkett is headed to Springfield on Saturday.
A group of East Side football parents are going to caravan there as well.
They're joining a "Let Us Play" rally at the State Capitol at 1 p.m. It's one of two rallies planned for Saturday in Illinois. The other will take place in Chicago at the James A. Thompson Center in the morning.
The rallies are to show support for a growing movement that Illinois resume high school football this fall and not wait until the spring.
Sunkett, who has previously said he was OK with playing in the spring, looks around the country and doesn't understand why Illinois can't join the 31 other states that are currently playing or will play football this fall.
"The six other states that surround us are having a football season," Sunkett said. "Why can't we do it?"
As of Tuesday, Illinois was one of 20 state high school athletic associations that have moved football out of its traditional fall season. Michigan, which had originally moved football to the spring, reversed course last week and restarted fall football with the blessing of its state government. Louisiana is scheduled to start its high school football season in early October.
Illinois and Minnesota are the only Midwest states not playing football this fall.
At a press conference Tuesday, Illinois Gov. JB Pritzker scuttled talk of reopening the fall season.
"We have the lowest positivity rate in the Midwest. The states you are talking about (around Illinois) all have very high positivity rates. Double-digit positivity rates in most," Pritzker said. "Those are states, fine, if they decided to endanger children and families in those states by allowing certain contact sports to take place that is their decision. It's not something that is good for the families and the children of Illinois. 
"I'm not willing to sacrifice people's lives or their health. Neither the children nor their parents who would be affected also. We are being careful about it, but I'm relying on doctors and researchers to give us the information. This isn't a political decision. I know that there are people who would like me simply to make a political decision to allow people to endanger themselves."
Edwardsville coach Matt Martin understands both sides of the issue.
He can see why playing in the fall isn't ideal but also why the spring season isn't a cure-all either.
"I think it's difficult for Illinois football families to watch other states manage COVID and still play games," Martin said. "You can't guarantee football will happen in the spring."
One of the considerations should football be played in the spring is how it would affect the players' health should they return to play the following fall. It's never been done before and no one knows what repercussions that decision could have.
"I think it's a valid concern," Martin said.
Sunkett said he feels football could be played safely in the spring and the following fall but it would require attention to detail.
"Adjustments could be made," Sunkett said. "You have to put your calendar together to protect kids the best you can."
Sunkett said the "Let Us Play" rallies are being spearheaded by the Illinois High School Football Coaches Association, which has been left frustrated by Pritzker's office and the Illinois High School Association's move from fall to spring.
When the IHSA announced it was moving football, along with boys soccer and girls volleyball, to the spring season there was no definitive plan for a state series. Travel within the state is expected to be restricted and would not allow for a statewide playoff.
Sunkett said one of the things the coaches association wants rectified is a state series be played, be it in the fall or spring.
"The state series is going to happen," Sunkett said. "That's something we're hammering down and demanding from the state."
Another factor driving Sunkett to join the "Let Us Play" movement is he believes COVID-19 will still be here in the spring and beyond. It is not exclusive to the fall. 
"COVID is not going anywhere," Sunkett said. "We've got to learn to live with it and stop hiding from it. You have to take the right precautions to do that."
Martin said he was still undecided if he would attend Saturday's rally. He did say he has informed his players and their families about the rally.
"I don't know that it's my place to make a recommendation," Martin said.
Instead Martin has focused his program on what it can control. The Tigers continue to weight train and have occasional practices. He has told his players the green light to play could come at a moment's notice.
"You better be ready for this fall," Martin said. "We're just trying to stay prepared. A lot of this is out of our control."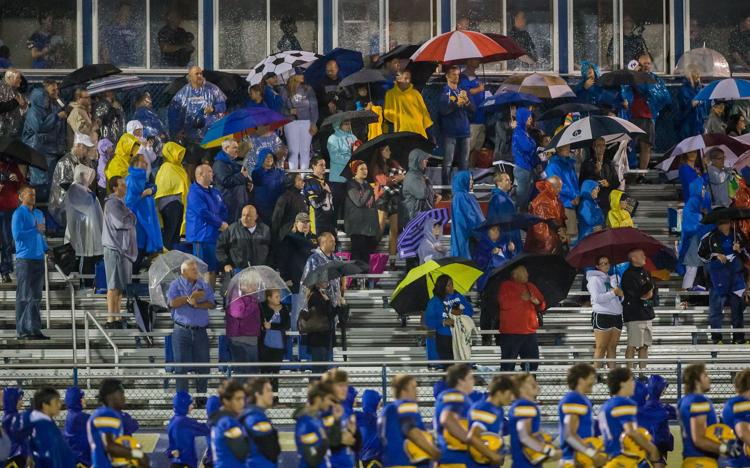 HOWELL WELCOMES BACK STUDENT SECTION, EMBRACES STREAMING
One of the most impressive sights in the area on a Friday night is the jam-packed grandstand at Francis Howell High. Whether it's First Responders Night, homecoming or a playoff game, the Vikings' student section is an overflowing sea of blue and yellow.
Through the first three weeks of the season, that student section has not been allowed to attend games in person. That will change Sept. 25 when Howell hosts Troy Buchanan.
Howell athletics director Sean Erwin said the school has received clearance to allow up to 80 students to attend football games, albeit in a way that won't look like it has in the past. Face coverings are required for everyone in the stadium and social distancing must be maintained.
Erwin said he purchased several 10x12 foot vinyl sheets that will be behind one end zone in the stadium. Each sheet will accommodate students in groups of four, all of which will have to sign up together.
"It helps us do contact tracing," Erwin said.
Students will be encouraged to bring a lawn chair to watch the game.
Tickets will be sold to seniors Monday and if any remain juniors will get a crack at them Tuesday. Erwin said the student sectional normally has between 800 and 1,000 spectators depending on the night. The stadium has hosted up to 6,000 total spectators for some of its bigger events, like First Responders Night. Erwin said he really feels for the senior players who have grown up in this community tradition and are unable to experience it because of the coronavirus pandemic and the restrictions it has required.
"It's unfortunate for these seniors that they can't have that big crowd, that big student section," Erwin said.
Instead Howell has tried to be innovative in broadcasting its athletic events and highlighting its fall student athletes. This summer plans were laid for the athletics department to live stream as many athletic events as possible. Howell's first two football games were both carried live online. The Vikings were off this past Friday after not finding a replacement opponent for Granite City, which is scheduled to play in the spring like the rest of Illinois.
Erwin said boys soccer matches, two swim meets and girls volleyball matches have been broadcast on Howell's YouTube channel. Last week Howell had three cameras running simultaneously at a volleyball match that allowed for a more in-depth experience for the viewers. On Tuesday, Erwin was going to try his hand at broadcasting Howell's girls golf match. There are plans to stream a tennis match in the near future, too.
"We're trying to cover all our sports," Erwin said. "In the first 14 days we've had 10,000 streams."
It's not like it used to be, but Erwin said he has received plenty of positive feedback from the athletes and the community. Swim meets have not typically drawn big crowds in normal times, but there were 350 people watching the Vikings meet earlier this fall online. That had the swimmers pretty excited.
"It's been very well received," Erwin said.
To view Howell's live streamed events go to YouTube.com and search for "Howell Activities Network."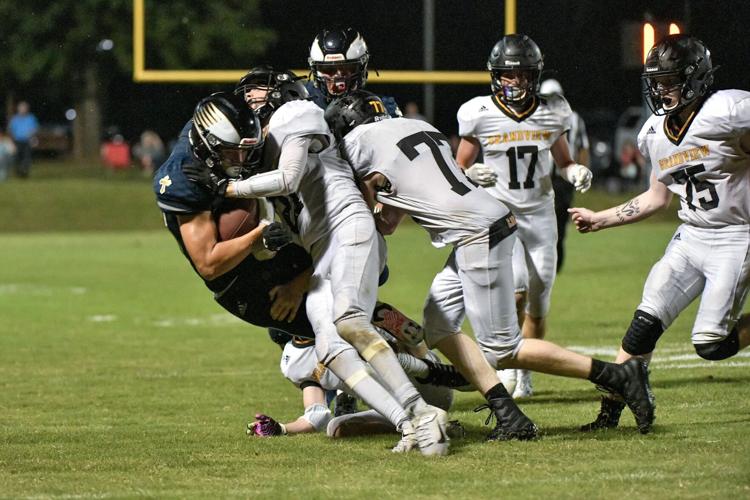 GRANDVIEW COACH RETURNS AFTER POSITIVE COVID-19 TEST
Grandview head coach Dave Dallas returned to practice with his team Monday after two weeks away following a positive COVID-19 test.
"For the first five days it was pretty rough with the fever, cough and nauseousness," Dallas said. "I've still got a mild cough."
Dallas, 59, said he also was diagnosed with double pneumonia.
He spent the last two weeks away from the team and was away from it the three days prior to his quarantine starting.
"I didn't trace back through them," Dallas said. "We've done a really good job with practicing social distancing and the kids have done a good job wearing masks."
Grandview (2-1) defeated Crystal City on Sept. 4 and was beaten 41-16 by St. Pius X last Friday.
Now in his fourth season with the program, Dallas said he's thrilled to be back at practice and working with the Eagles.
"I'm kind of a kid in a candy store," Dallas said. "It's been a lot of fun, I'm excited to be back around them."
Dallas said he's received lots of support while he was ill.
"We're in this together," Dallas said. "I'm not the Lone Ranger that this happened to as a coach."
Grandview is scheduled to play at 1 p.m. Saturday at Russellville (0-2).
Russellville is playing its first varsity football season this fall.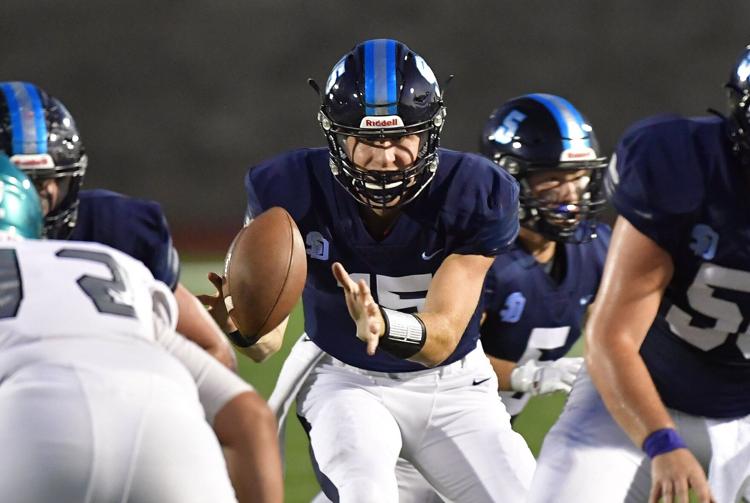 ST. DOMINIC ADDS FARMINGTON ON SHORT NOTICE
St. Dominic has been doing what it can to fill out its football schedule.
On Monday it added Farmington for Friday. The Crusaders also have picked up a game with Fox that's scheduled for Sept. 25.
Farmington had an opening Friday when it announced Monday that its opponent, Hayti, would not be able to play. Hayti superintendent Jackie Johnson announced on the school's Facebook page that the game would have to be canceled after contact tracing and "not positive cases" forced students to be quarantined.
St. Dominic (3-0) will host Farmington (3-0) at 7 p.m. Friday. No tickets will be sold at the gate and masks are required for all spectators.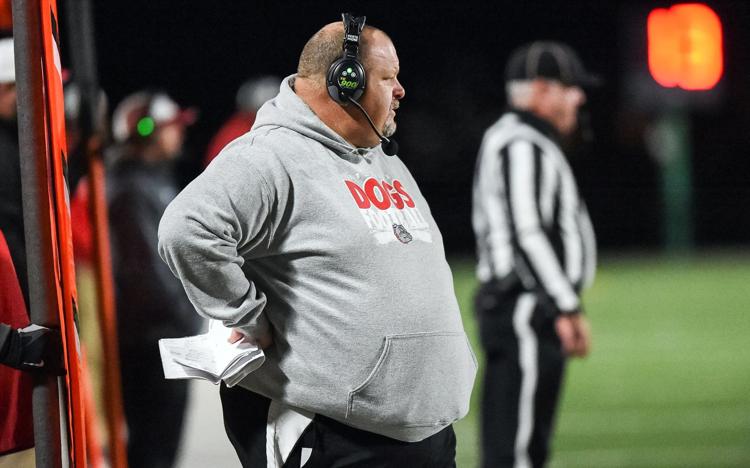 COVID CANCELLATIONS ACROSS MISSOURI
The coronavirus pandemic continues to throw wrenches into schedules and plans as Missouri continues to play a fall football season.
As of Tuesday, several programs in the area and outside of it are dealing with COVID-19 cancellations.
Seckman will miss its second consecutive game this weekend due to potential exposure. The Jaguars were going to be off anyway after they were unable to find an opponent. Seckman was scheduled to play a conference opponent that remains on the sidelines because of the St. Louis County Department of Public Health not allowing high-frequency contact sports to play games.
St. Clair also will miss its second consecutive week of Four Rivers Conference action due to a positive test on the football team. The Bulldogs had to sit out last week's game with Pacific and this week's road trip to Sullivan.
On Tuesday afternoon, the Macon County School District shut everything down and moved to virtual instruction due to COVID-19 taking a significant bite out of the school district's teachers.
In a letter to the district families superintendent Scott Jarvis wrote, "We are having a difficult time keeping our classrooms instructed by certified staff."
He went on to write that the high school and career center have had 100 students put into quarantine "due to close contact with positive students."
All athletics, practices and other school events are "canceled until further notice."
Macon hired former University City and Lutheran South coach Jameson Allen as its football coach in the offseason.
Springfield Public Schools announced its first COVID-19 related football cancellation Tuesday. Parkview canceled upcoming games against Kickapoo and Rolla.
Houston, located in the southwest corner of the state, canceled homecoming Tuesday and its scheduled game Friday against Cabool due to students quarantining. Cabool picked up a game Friday against Windsor of Sedalia, which had a game canceled by Cass Midway.
Eldon announced Monday its game against Hallsville on Friday was canceled due concerns about the coronavirus. Hallsville has since added Putnam County, which was open after Trenton cancelled due to a positive COVID-19 test on its roster. Hallsville lost its game last week when Versailles cancelled Friday morning due to COVID-19 concerns. Later that day, Hallsville picked up Palmyra, which was open due to Macon canceling.
This past Friday, eight of the state's 33 8-man football teams did not play due to quarantine or an opponent requiring to quarantine. The teams that did not play were Appleton City, Braymer, East Atchison, Jasper, Rich Hill, St. Paul Lutheran, Santa Fe and South Holt-Nodaway Holt.
As of Tuesday night the Missouri Department of Health and Senior Services reported there were more than 105,000 confirmed cases of COVID-19 in the state and 1,732 deaths attributed to COVID-19 since the pandemic began in March.
• Several area teams now have opted to join the spring football movement. Jennings made the move this past week.
St. Mary's informed Poplar Bluff its intention to move to the spring season as Poplar Bluff tries to fill in the hole in its football schedule.
Maplewood-Richmond Heights will move as well, but the Blue Devils do not have a football team.
The school districts that have announced they will move to the alternate spring include Brentwood, Ferguson-Florissant, Hancock, Hazelwood, Pattonville, Ritenour, Riverview Gardens, University City and Valley Park. St. Louis Public Schools' Public High League also will move to spring.
The Missouri State High School Activities Association's deadline to declare for the alternate fall season is noon Thursday. 
The districts that have not declared for the spring season include Affton, Kirkwood, Ladue, Lindbergh, Mehlville, Parkway, Rockwood and Webster Groves. The private school conferences that have not declared for the spring include members of the Archdiocesan Athletic Association, the Metro Catholic Conference, the Metro League and the Metro Women's Athletic Association. Schools that do not opt in to the alternate fall season can appeal to the MSHSAA board of directors. 
• Chaminade senior Jimmy Grumich's online petition to let St. Louis County high school athletes play fall sports has garnered more than 16,000 signatures over the past week on Change.org.
STLHighSchoolSports.com is the most comprehensive source of stats, scores and stories from any and all area high schools.