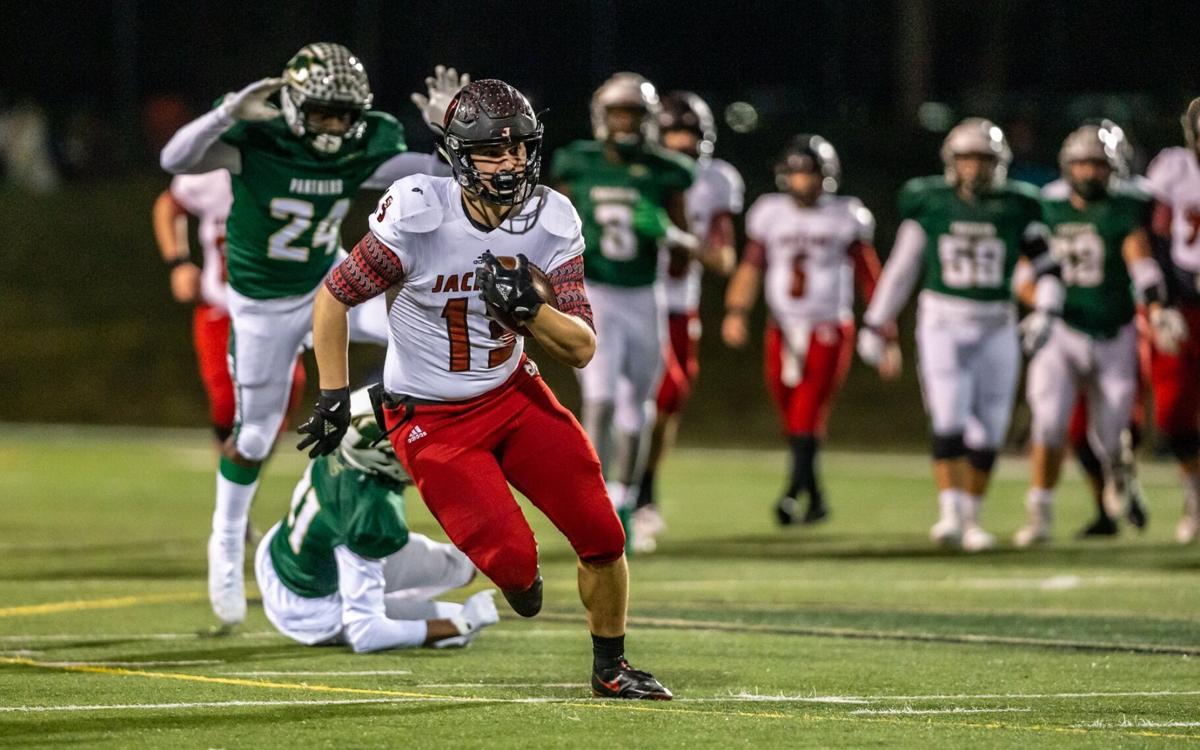 Matt Irvin didn't fully appreciate the situation until he was on both sides.
The former MICDS and Kirkwood football coach, Irvin led both programs to state championship games.
In 2005 and 2007, MICDS was the Class 4 runner-up to Harrisonville. In 2011 Kirkwood lost the Class 5 final to Staley but then returned in 2012 and beat Fort Osage for the school's first state championship.
It was after the Pioneers won when Irvin got a full picture of just how disparate the emotions are after a championship depending on whether you win or lose.
"The way you feel is so disproportionate to the accomplishment of your team," Irvin said. "It shouldn't feel like the bottom of the Grand Canyon compared to the peak of Mount Everest."
Pulling a program off the mat after it loses in a state final is hard. Guiding it back to the final and then winning it is harder.
On Saturday, Jackson did just that as it rolled to a 42-7 win over Platte County at Jefferson City High a year after it was beaten in the final by Carthage 27-21 in overtime.
Since 1999, According to the Missouri State High School Activities Association record book, 13 other teams have lost in the final and returned to win the championship the following season.
All of the scores, schedules and forfeits from the 2020 Missouri high school football postseason.
Three of those 13 happened in 2000 as Rockhurst (Class 5A), St. Pius X–Kansas City (Class 2A) and Santa Fe (Class 1A) all found redemption after runner-up finishes in 1999. It's happened four times in Class 1 or 1A as Valle Catholic (2010), Hamilton-Penney (2016) and Monroe City (2017) all followed Santa Fe.
It's happened four times in Class 2 or 2A as well with Centralia (2003), Cameron (2005) and Maryville (2009) joined St. Pius X-KC.
In Class 3, only Harrisonville has pulled the feat this century. It lost to MICDS in the 2004 Class 4 championship 45-42 in double overtime then returned to pin a 42-0 loss on MICDS in 2005, Irvin's first year as head coach.
The only area teams to lose state and then return to win it it in that span are Kirkwood, Ladue and John Burroughs. Ladue lost to Webb City 14-0 in the 2017 Class 4 championship. In 2018 it beat MICDS 48-11 for its first state title. John Burroughs lost the 2014 Class 3 championship to Oak Grove. In 2015 the Bombers took down Odessa 30-6 to claim their ninth and most recent state championship.
"What really helped us in that last game with Webb City was that it was competitive," Ladue coach Mike Tarpey said. "The fact we played them like that really opened the kids' eyes. That was the biggest thing going into the offseason, our kids were really motivated."
Both Tarpey and Irvin said the senior cores of their championship teams were hardened by their experiences as underclassmen. As sophomores they all lost in the semifinals. As juniors they made the title game but did not win.
"We all took that next step collectively," Irvin said.
And when Irvin says "we" he means the coaching staff, too. The effort was made for the program to improve across the board and that included the coaches having better schemes and better answers to the challenges opponents presented.
Jackson (14-0) took a similar path to Ladue and Kirkwood. It did not reach the semifinals in 2018 when this year's senior class were sophomores because it ran into eventual champion Vianney in the quarterfinal. However, the Indians did break through last year for their first state title game appearance since 1995. This season the only question around Jackson was not whether it would win but by how much.
Jackson's 42 points scored in the championship game was a season-low. It was the first time the Indians didn't score at least 49 and just the fourth time they did not score at least 55. Their average margin of victory was 56-12.
Taprey said one other significant aspect he noticed as his Rams returned to state and won in 2018 was the selfless way that team played. The players collectively put the team above personal achievement which helped them finally break through.
"When kids are not just playing for themselves but playing for each other it makes a difference," Tarpey said.
PLATTE COUNTY MAKES HISTORY AT STATE
The coronavirus pandemic affected nearly all aspects of football this season, including which teams would participate in the fall season. Because the Missouri State High School Activities Association reclassifies its members yearly now instead of biannually, it allowed for a unique wrinkle this season.
Platte County became the first team in Missouri history to finish as the state runner up in back-to-back seasons in different classifications.
Platte County was beaten 42-7 by Jackson in the Class 5 title game on Saturday. In 2019 the Pirates were the Class 4 runner-up to Webb City in a 49-0 loss.
The only team in state history to win championships in back-to-back seasons in different classes is Hamilton-Penney, which won Class 1 in 2009 then won Class 2 in 2010.
WEBB CITY, VALLE REMAIN TIED
This year was the seventh time since 2000 that neither Webb City nor Valle Catholic played for a state championship. The two powerhouses remain tied atop the state leaderboard with 15 championships to their credit.
Unlike previous seasons this was the first that MSHSAA introduced its "championship factor" multiplier for private and charter schools. Because of its success Valle moved up from Class 1 into Class 3.
Webb City moved up from Class 4 into Class 5 this season but that was not due to a multiplier because it's a public school.
STATE CHAMPIONSHIP RECORD BOOK BITS
All of these are according to the most recent update of the MSHSAA record book online.
• Blair Oaks sophomore quarterback Dylan Hair set the state record for most combined passing and rushing yards. Hair threw for 227 yards and rushed for 241 yards for a total of 468 combined yards breaking the record of 455 set by Fort Osage quarterback Skylar Thompson against Chaminade in the 2015 Class 5 title game. Hair rushed for six touchdowns, two 2-point conversions and passed for another touchdown. His seven total touchdowns also ties Thompson for most total touchdowns in a title game. His 40 points scored (six rushing TDs, two 2-point rushes) is the most scored by an 11-man football player since Derrick Washington scored 30 points for Raymore-Peculiar against Kirkwood in 2006.
• Raymore-Peculiar's Chris Skiljan had three sacks against De Smet in the Class 6 championship game. It's tied for second-most ever in state championship game history. Blue Springs' Darius Witherspoon has the record with 3.5 sacks against Hazelwood Central in the 2001 Class 5A title game.
• Class 5 champion Jackson and Class 1 runner up Mid-Buchanan were each penalized 12 times, tying them for fifth most in state history.
Trinity set the state record with 18 penalties when it won Class 3 in 2018. Raymore-Peculiar was penalized 16 times against McCluer North in Class 5 in 2004. Hazelwood Central was hit with 15 penalties when it won Class 6 in 2008. Cardinal Ritter was penalized 14 times when it was the runner up to Trinity.
• In the Class 2 championship Lamar held St. Pius X–Kansas City to minus-4 yards rushing. That's the fourth-lowest listed in the state record book. Blue Springs holds the record with negative 27 yards rushing against Hazelwood East in the 1999 Class 5A title game.
• The Class 4 championship game between MICDS and Helias had zero punts. Helias won 35-30. The Class 2 championship game between Lamar and St. Pius X–Kansas City had 12 combined punts. Lamar won 6-3.