Corey Toenjes was waist deep in film review with his Northwest–Cedar Hill football team Monday when he received a phone call.
Turns out the film he'd been reviewing was no longer relevant.
Northwest athletic director Jeff Taggart was on the line and told Toejnes he'd just been informed that Seckman, the Lions' next opponent, would not be able to play Friday.
Three anonymous sources indicated the cancellation was because of potential COVID-19 exposure. Seckman athletics director Ryun Kasten did not return multiple messages seeking comment as to why the game was canceled. Seckman coach Nick Baer declined comment.
Monday's cancellation put Northwest in a tough position, one coaches and athletics directors around the area have had to wrestle with this fall during the coronavirus pandemic. Football schedules once were sacrosanct but now are being filled on the fly.
It's particularly tough spot for teams like Fox, Northwest and Seckman, which are located in Jefferson County. They are the three members of the St. Louis Suburban Conference that are outside the purview of the St. Louis County Department of Public Health, which has not given clearance for football to begin.
With each passing week, more and more of the Fox, Northwest and Seckman schedules fall apart as their opponents are forbidden from playing. It has led to some interesting and unique matchups that might not have come to fruition in previous years.
Fox will host Borgia for the first time Friday night. Borgia was slated to play Archdiocesan Athletic Association rival Cardinal Ritter, but with St. Louis City and St. Louis County in a holding pattern, the Knights needed to look elsewhere.
Fox was more than thrilled Borgia did.
"One of our coaches on staff knows (Borgia coach Dale Gildehaus) and when we had an open week I thought it'd be kind of fun," Fox coach Brent Tinker said. "We jumped on this one because it should be a good game. I figured we'd go for it."
Fox opened the season at Timberland, another first-time foe. Both teams were looking to fill gaps and found one another.
The Warriors are scheduled to make another trek into St. Charles County to play Sept. 25 at St. Dominic. It would be the first meeting between those programs, too.
"They reached out to our athletic director," Tinker said. "We didn't have anything going so we picked that up, too."
The reshuffling did hand Fox a bit of good fortune. Due to a restructuring of the Suburban Conference that went into effect this fall, Fox and Northwest were not scheduled to play. Now they will Sept. 18 due to St. Louis County school cancellations.
The process for filling an opening is catch-as-catch-can. Tinker said he and his staff dig in to online schedules to see what teams in the area have potential openings. Emails are sent out to a statewide network of athletics directors and football coaches asking for assistance.
"It really is as chaotic as it sounds," Tinker said.
Making matters tougher for Fox, Northwest and Seckman is that their Jefferson County brethren are much smaller and don't schedule as many teams from St. Louis County and therefore do not have as many or any open slots to fill.
"Most of their schedules are made up of Jefferson County schools," Baer said. "It's really hard to schedule games."
So hard, in fact, that Seckman's scheduled game Friday with Northwest was supposed to be the first of two this month. The rivals were set to play Sept. 11 and again Sept. 25 just to give their student-athletes an opportunity to play a live opponent. Instead Seckman will not play this Friday and was unable to fill its opening Sept. 18. It plans on returning to action Sept. 25 at home against Northwest.
Northwest won't have to wait that long. The Lions received word Monday that Seckman wouldn't play. By Tuesday morning a new opponent had been found.
Park Hills Central will travel to Northwest on Friday.
"Park Hill Central sent some things out the last few weeks that they were trying to fill holes like we are," Taggart said. "They still needed somebody. It just so happened to work out."
Taggart is adamant about getting the Lions whatever games he can when holes appear in the schedule. How far into a week would he go to get a Friday night opponent?
"Friday afternoon," he said. "The last thing you want to do is not play anybody. The officials are set, the game workers are set, all you're waiting on is a team."
In life before COVID-19 the idea of lining up and playing with minimal preparation would melt most football coaches' brains. There is a routine to the week leading into a game, one that has been imprinted over years if not decades. But that was then, this is now.
Now nothing is guaranteed so you take the games where you can find them.
"This year you just have to expect the unexpected," Toenjes said. "Now more than ever we feel fortunate to play."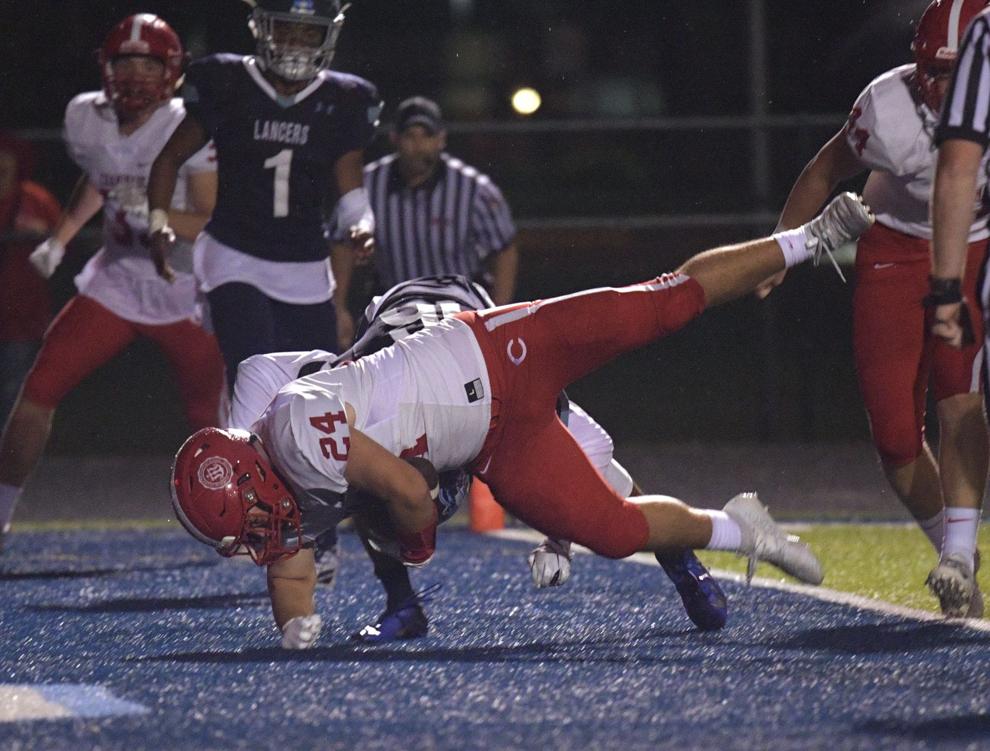 CHAMINADE SENIOR STARTS PETITION TO PLAY FALL SPORTS
Jimmy Grumich wants to play football this fall.
A senior fullback and linebacker for the Chaminade football team, he is not alone.
Grumich started an online petition at Change.org calling for the St. Louis County Department of Public Health to allow area schools to begin playing competitively. The petition was created Monday evening. By Tuesday evening it had nearly 3,000 signatures.
St. Louis City and St. Louis County are the only areas in Missouri that have not allowed high school athletics to begin. Franklin County, Jefferson County and St. Charles County began preseason practice Aug. 10 and played their first football games Aug. 28.
"The St. Louis County Department of Health is ignoring the advice of the St. Louis Sports Medicine Covid-19 Task Force who have outlined a plan to play fall sports," Grumich's petition states. "Every week that goes by without competing is another week gone that high school student-athletes will never get back. Student-athletes in St. Louis County deserve the same right to play as those in St. Charles County and across the country."
The St. Louis Sports Medicine COVID-19 task force recommended a move to a less-restrictive Phase 3 protocol Aug. 24. The St. Louis County Department of Public Health did not take the task force's recommendation and remained in a more restrictive Phase 2.
In the Phase 3 protocol, low frequency contact sports, like cross county, golf and tennis, and moderate frequency contact sports, like boys soccer and field hockey, would be allowed to compete against live opponents. High frequency contact sports like football, however, must wait until Phase 4 before they would be cleared to play.
Ferguson-Florissant, Hazelwood, Pattonville, Ritenour, Riverview Gardens, University City and Valley Park are among those St. Louis County districts that opted to move fall sports to the spring. St. Louis Public Schools' Public High League also declared fall sports would be played in spring under the Missouri State High School Activities Association's plan for an alternate fall season.
In late July, the Illinois High School Association became one of what is now 18 state associations to move football out of the traditional fall season. Illinois is scheduled to begin football in March.
Michigan announced it would move football to the spring, but just last week its governor cleared the way for football activities to resume this fall. On Tuesday, Colorado governor Jared Polis said he would work with the Colorado High School Activities Association to try to bring football back to the fall season after initially postponing it to spring.
Grumich was unavailable to comment about his petition.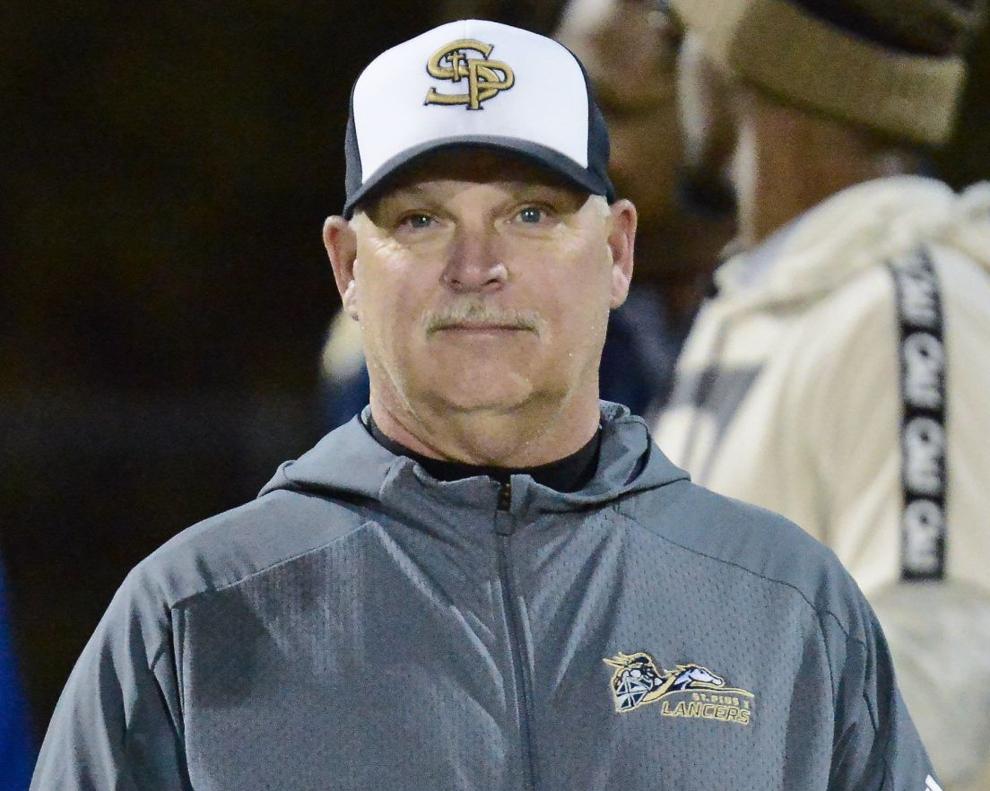 ST. PIUS X TAKES PART IN SOMBER OPENER IN ARKANSAS
Dan Oliver ruined his shoes.
His St. Pius football team played on a field that, after a lengthy and torrid rain storm, resembled a swamp. The Lancers didn't score a point.
Oliver was — mostly — happy as a pig in mud.
St. Pius made the nearly three-hour drive Friday to play Piggott High in Arkansas. Located mere miles from the Missouri border, Piggott was playing with a purpose as it was the team's first game since junior Hunter Midkiff collapsed at practice and later died from complications from liver transplant surgery brought on by heatstroke on Aug. 16. He was 16 years old.
St. Pius landed on playing at Piggott after it had to fill the hole created when Crystal City stepped away from the I-55 Conference last fall. The Lancers had Milan on the schedule, but eventually that got canceled. Finally the Lancers found Piggott and set the game.
"It was a good game for us, we had our shots and didn't capitalize," said Oliver, the St. Pius coach.
The Lancers loaded up in a charter bus to make the trek. They were given ample space in the locker room and allowed to use the showers when the game was over. Some of the team parents purchased pizzas to feed the team on the ride home.
Oliver, who was at Affton for a long time before landing in Festus at St. Pius, said it was nice to just be on the field and doing what he's done for so long.
"Outside of the masks and not shaking hands (before the game or after) it was just football," Oliver said. "It's kind of a break from all the other things going on (in the world)."
St. Pius (1-1) returns to action this week when it hosts Grandview (2-0) at 7 p.m. Friday. The Lancers have a six-game win streak against the Eagles. Oliver said he wants to make sure his team doesn't fall victim to being overconfident. In these days and times that should be too hard since every week they get to play is a joy.
"You know something can happen and you could be shut down," Oliver said.
ST. CHARLES' GRACIAL GARNERS ATTENTION
Marquis Gracial landed the biggest seal of approval you can ask for in college football last week.
The University of Alabama offered him a scholarship.
A 6-foot-4 and 280-pound defensive tackle for the St. Charles High football team, Gracial has been a hot commodity recently for the Power 5 college football programs. He's garnered a slew of offers to go along with Alabama including Missouri, Michigan, Oklahoma State, Purdue, Texas, Iowa State and Missouri Southern.
According to 247sports, Gracial is the No. 9 prospect in Missouri in the class of 2022.
Through two games this season Gracial has made 11 tackles, two sacks and two tackles for loss.
St. Charles plays its third consecutive home game when St. Dominic (2-0) comes calling at 7 p.m. Friday.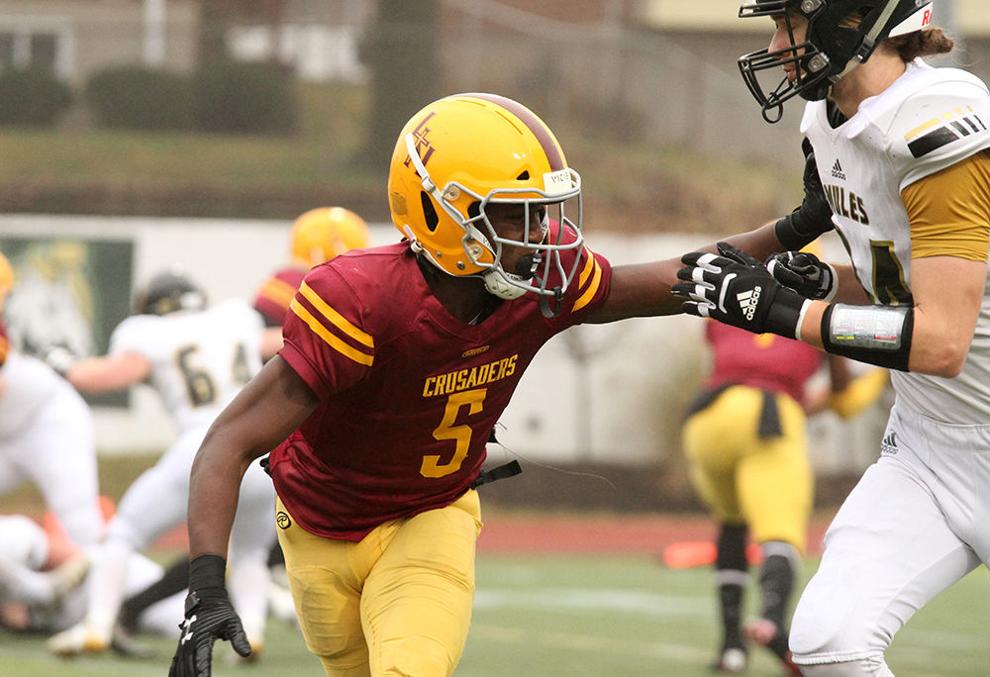 LUTHERAN NORTH'S PRIDE CONTINUES TO SIZZLE
Toriano Pride might be the most unique player in Missouri. In 2018 as a freshman he helped Vianney win the Class 5 state championship.
In 2019 as a sophomore he helped Lutheran North win the Class 2 state championship.
Now as a junior he's racking up NCAA Division I scholarship offers despite not playing a game. Pride was recently offered by Alabama to push his total to 24. He also has offers from Missouri, Illinois, Auburn, Clemson, Florida State, Notre Dame, Ohio State, Oklahoma, Oregon, Mississippi, Texas A&M and more.
Pride is the No. 6 overall recruit in Missouri in the class of 2022, according to 247sports.
• Filed to the Games We Won't Get This Fall: CBC at De Smet was supposed to be this coming Friday.
The two heavyweights of the Metro Catholic Conference were scheduled to play a round robin of sorts against East St. Louis and Edwardsville the first two weeks of the season. This week, Week 3, De Smet would have hosted CBC to likely determine the MCC champion.
De Smet ended CBC's near decade reign atop the league last season when its rivalry game was aired to a national television audience on ESPNU.
• Excelsior Springs expects to be back in action when it plays Moberly on Saturday. Last week Excelsior Springs had to quarantine 31 players due to potential COVID-19 exposure after a Savannah player tested positive. Excelsior Springs beat Savannah 33-21 in Week 1. Excelsior Springs canceled its Week 2 game with Warrensburg.
• Waynesville lost to Camdenton 31-28 in its season debut Friday. Waynesville had to cancel its first game of the season after two positive COVID-19 tests among student-athletes, including one in the football program.
Waynesville High went to a virtual start to the school year in August after the positive tests. It originally was believed the earliest the Tigers could resume football games would be Week 3 due to their limited practices. However, the Missouri State High School Activities Association granted Waynesville the chance to virtually practice to make up the lost days.
Student-athletes were allowed to do conditioning drills over Zoom. The virtual practices did not include equipment acclimatization. MSHSAA bylaws require football players have two days of practice in helmets and three more days in helmets and shoulder pads before eligibility is achieved.