Andrew Bontrager doesn't know what heaven feels like, but last Friday night was pretty close.
A senior center for the Timberland High football team, Bontrager and his teammates made the long walk from the stadium to the school. The path was lined by the Timberland band and a mass of students shined the lights from their cell phone as the Wolves strode with one purpose.
To ring the victory bell.
"That was living in the moment, it was almost unreal," Bontrager said. "I couldn't believe it. I knew we were going to get it done, but getting to the end of the game it was like, 'We actually did it.' It was like being back from a battle with all my brothers."
The tighter the game the louder the bell rings when the Wolves win.
It was deafening Friday night.
Timberland held off Fort Zumwalt North's furious fourth-quarter rally to grab a 41-40 victory. It's the second time Timberland (3-0) has beaten Fort Zumwalt North (0-3) in its last four meetings. Since the Panthers emerged as the top football team in St. Charles County in 2014, the Wolves are the only county program with a crooked number in the win column against the Panthers. The only other county team with a win against Fort Zumwalt North in that time frame is Francis Howell, which pinned a 42-13 loss on the Panthers in Week 2 of this season.
And the joyous moment was nearly brutal heartbreak.
After falling behind 14-0 in the first quarter, Timberland outscored Fort Zumwalt North 21-0 in the second quarter. Junior quarterback AJ Raines hit junior receiver Travis Reeves for a 25-yard touchdown on the last play of the half to send the Wolves into the locker room howling with joy. Raines completed 6 of 9 passes for 95 yards and one score Friday. On the season he's completed 17 of 31 passes for 297 yards and three touchdowns.
"I love throwing the ball, but when we've got a running back like Jay (Harris) we don't really do it that often," Raines said. "But when we do I have to do my thing."
Harris was a workhorse for the Wolves. The 6-foot-2 and 195-pound bruiser powered his way to a career night with 190 yards rushing and five touchdowns, three of which came in the second half. He carried the ball 14 times and averaged nearly 14 yards per carry.
And none of that happens if he doesn't have help.
"The O line was phenomenal," Harris said. "Clearly my O line played a part in it opening up big holes for a big running back like me to get through. My line, they're the real deal."
The Wolves appeared to have the win firmly in their grasp when Harris scored his last touchdown of the night to put Timberland ahead 41-27 with 8 minutes and 13 seconds to play.
Fort Zumwalt North had other ideas. It responded by scoring two touchdowns, its second a 9-yard run by quarterback Payton Hoker with 48 seconds remaining.
"The last couple of minutes it was frustrating for our defense," senior safety Nick Turner said. "We didn't want it to go the way things went. We were up by two scores and they kept driving the ball. It's not where we wanted to find ourselves at the end of the game."
Turner had a monster night as he racked up a career-best 17 tackles.
Instead of playing for overtime, Fort Zumwalt North elected to go for a two-point conversion after its last touchdown. The Wolves made the play to keep the Panthers out and lock up what has become a rare win over the reigning kings of St. Charles County.
"We know they're a well-coached team, they've always got lots of athletes and they've had a great run for a while now," Timberland coach Ed Gilreath said. "We're always pretty hyped when we get the chance to go play them and to measure ourselves and see where we're at."
Timberland passed this test, but its next might even be greater as it travels to rival Holt for a 7 p.m. kickoff Friday.
The No. 5 large school in the STLhighschoolsports.com rankings and No. 4 team in the Missouri Media's Class 5 poll, Holt (3-0) has opened this season a house afire. The Indians have outscored their first three opponents 176-7. Holt started the season with six consecutive shutout quarters which very well could have been eight had its Week 1 opponent, Jennings, not had issues with its stadium lights and forced their game to be called early.
After losing seven in a row to Timberland, Holt has won the last two a combined 78-30 and its loaded senior class has no interest in letting that streak end any time soon.
"They've beaten the snot out of us the last couple of years," Bontrager said. "I think Holt is going to see what we're made of. I think they're going to see we're legit."
All the excitement from their narrow win last Friday night had waned by Saturday afternoon as the Wolves began preparing for the Indians. It's the talk in the halls this week and the crowd is expected to be massive.
"They're big and fast, they come out and want to hit people," Turner said. "We have to bring that same energy."
Added Gilreath, "This is why we play the game. This is why we play football, why we coach is for moments like this, to go against one of the top teams around and see where we're at and bring ourselves to that level."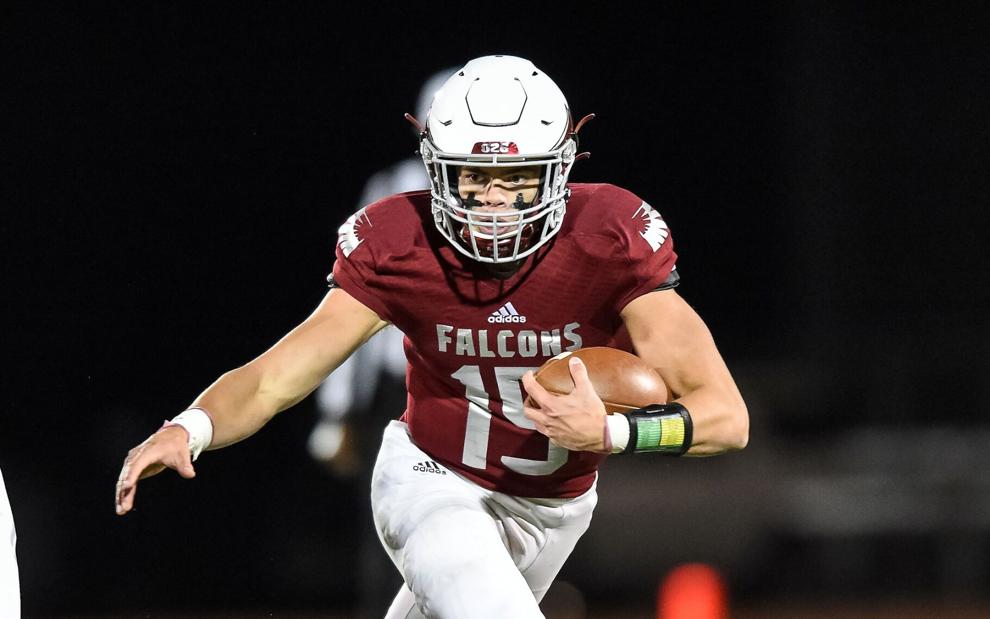 SUMMIT OFF TO A SPECTACULAR START
Eric Stewart has a pretty good feeling about what his Summit football team can do this season.
As long as the Falcons keep on their grind.
"A lot of it is making sure they stay accountable," Stewart said. "It's getting up every week (no matter who you're playing)."
Summit is 3-0 and has outscored its opponents 119-7. It has tied the school record for shutouts in a season with two. Simply put the Falcons have flattened their early competition. They have surpassed their win total from last season's COVID-19 truncated fall, where they went 2-3.
The Falcons returned nine of their 11 starters on defense from last year's team, and Stewart said the two sophomores who stepped in to the lineup have been outstanding so far. Stewart and his staff figured this group would be pretty good, but they have even surpassed their early estimations.
"I think coming into the season we were pretty confident," Stewart said. "We have six underclassmen starting on the defense. We didn't think they'd be flying around as much as they have been."
There are no shortage of standouts. Junior linebacker Dominic Nenninger leads the team with 27 tackles and six tackles for loss. Senior defensive end Matthew Merhoff has 19 tackles, four tackles for loss and a sack. Senior defensive tackle Henry Armstrong has 14 tackles, six tackles for loss and a sack.
As a team Summit has 34 tackles for loss, 10 sacks, three interceptions and recovered seven fumbles.
"The defense is pretty salty right now," Stewart said with a chuckle.
Summit is 3-0 for the seventh time since 1999 but has only reached 4-0 twice. In 2004 it won its first four games. In 2015 it won its first five.
Standing in the way this week is Hazlewood East (2-1), which has bounced back from a season-opening loss to Hazelwood Central to defeat Riverview Gardens and McCluer North.
Kickoff is set for noon Saturday at Hazelwood East. It's one of just two scheduled Saturday afternoon games this season for the Falcons. Stewart said there are some benefits from breaking the Friday night routine.
"We look at it as there are less distractions, they can just get up and go play football," Stewart said. "We'll have an extra day of practice, we're excited about that. We're going to focus on the fundamentals."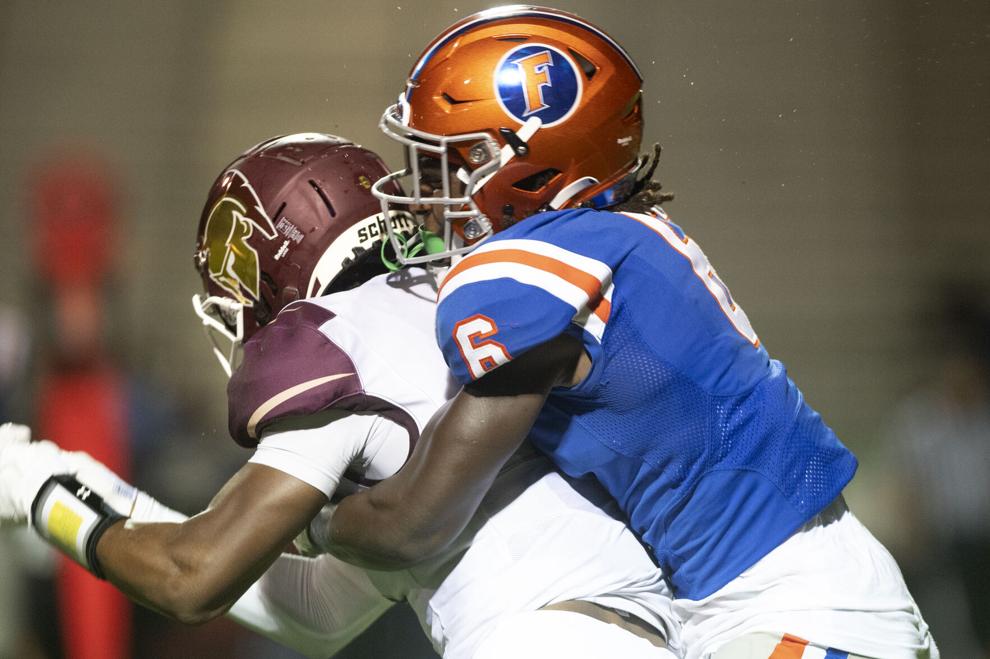 EAST ST. LOUIS BUMPS INTO CLASS 6A, PRIDE TO BE HONORED
Fresh off its trip to suburban Los Angeles to take on national powerhouse St. John Bosco, East St. Louis returned home to good news.
The Illinois High School Association granted the Flyers their request to play up a classification bigger than their enrollment and will move from Class 5A into Class 6A. The only other team that was granted a request to play up was Joliet Catholic, which will jump into Class 4A.
East St. Louis is currently the defending Class 6A champion after it won the most recent of its nine state titles in 2019 and the IHSA did not hold a postseason last school year due to the coronavirus pandemic.
The No. 1 large school in the STLhighschoolsports.com rankings, East St. Louis (2-1) will be back on the field at 1 p.m. Saturday when it opens Southwestern Conference play by hosting Belleville East (0-3). The Flyers have won their last eight games on the field against the Lancers. Belleville East was awarded a forfeit win in 2015 due to the District 189 teacher's strike that canceled East Side's season.
The good news didn't stop for the Flyers as the All-American Bowl announced Tuesday that senior cornerback Toriano Pride will be included in its first round of virtual jersey presentations Wednesday night.
Pride is part of the first of a 15-episode digital series put on by the All-American Bowl. It can be viewed online at 7 p.m. Wednesday on the NBC Sports channel on YouTube's website.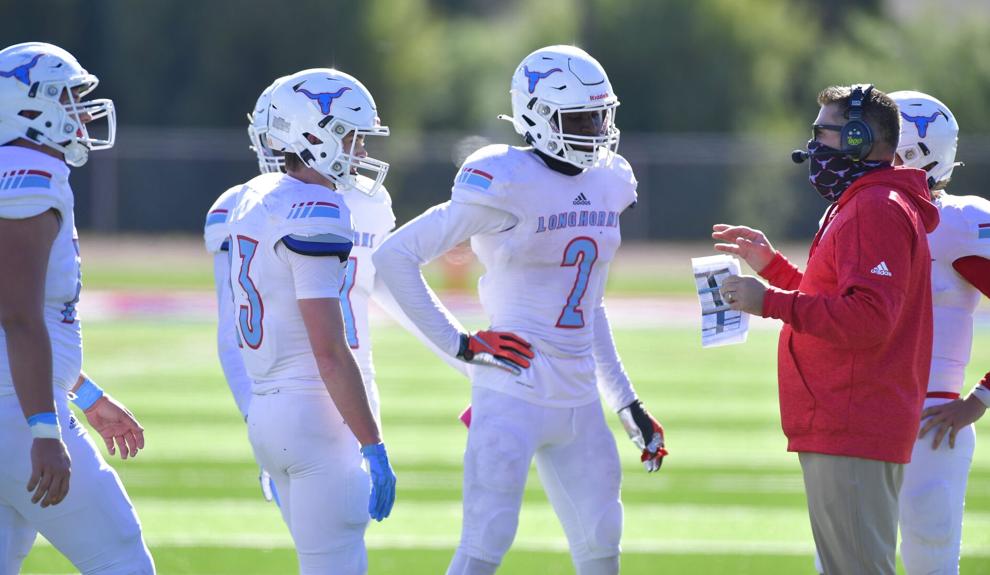 PARKWAY WEST ERUPTS AGAINST RIVERVIEW
Jeff Duncan doesn't know if it's a record but figures it must be.
Is it possible Parkway West scored 74 points or more in a half before?
"It was nuts," said Duncan, the Longhorns coach.
In the first quarter alone Parkway West (2-1) rushed for four touchdowns, blocked a punt in the end zone for a touchdown, recovered a fumble for a touchdown and returned an interception for a touchdown.
It was 47-0 after the first 12 minutes.
Four more rushing touchdowns followed in the second quarter and the Longhorns had a 74-6 lead at halftime.
Senior standout and Missouri recruit Ja'Marion Wayne was his versatile self as he rushed three times for 89 yards and scored twice. He returned an interception 30 yards for a score, too.
Junior quarterback Gannon Snyder completed 3 of 4 pass attempts for 34 yards.
Parkway West rushed 19 times for 293 yards and none of its nine ball carries had more than three carries.
Parkway West hosts Parkway Central (0-3) at 7 p.m. Friday.
Riverview Gardens (0-2) travels to Parkway North (2-1) for a 7 p.m. kickoff Friday.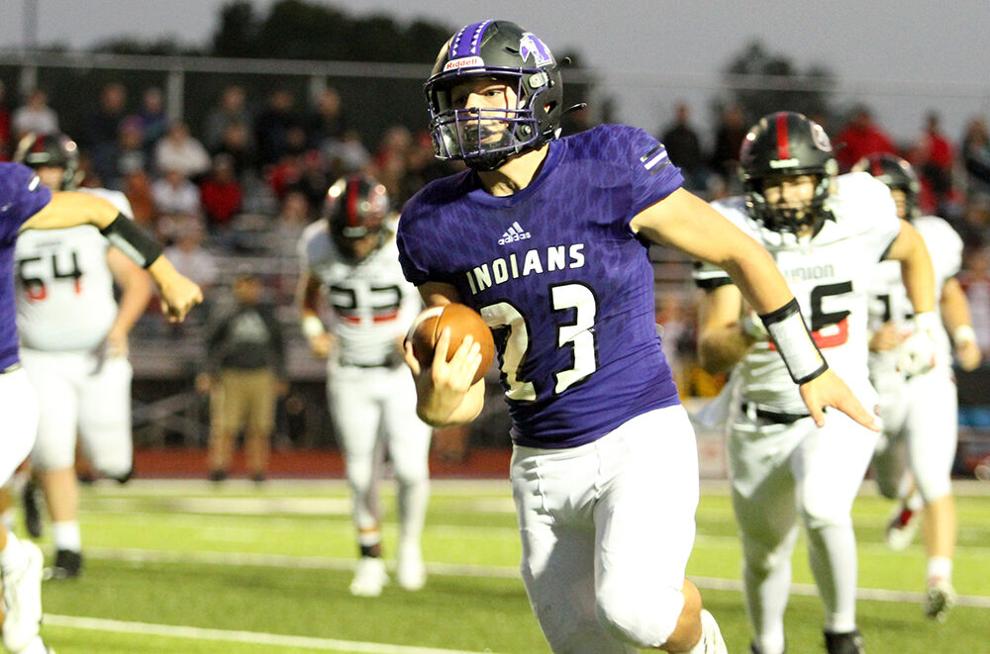 The calendar has nearly turned to fall and that means rivalry games are starting to fill up the schedule. Among those being played this week are Rockwood rivals Eureka and Lafayette and Franklin County foes Union and Pacific.
Eureka (2-1) suffered its first loss last week to Hazelwood Central 25-20. The Wildcats have won five in a row over the Lancers and nine of the last 11. These two didn't play last fall in the COVID-19 truncated seasons.
Lafayette (1-2) is coming off its first win of the season after it knocked off Fox 23-12. The Lancers' last win over the Wildcats came in a 14-7 thriller in 2016.
No matter which team wins, chances are this game will be tight until the end. In the 17 meetings between these two since 2008, nine have been decided by seven or fewer points.
Eureka won 24-22 at Lafayette in 2019.
A Class 4 semifinalist last season, Union (3-0) is off to a roaring start as it has outscored Washington, Borgia and Sullivan a combined 130-27.
Pacific (2-1) eked out 52-47 win over St. Clair last week to end a three-game skid to the Bulldogs. Senior running back Makai Parton went wild as he rushed for 375 yards and six touchdowns.
Union has absolutely owned this rivalry of late. The Wildcats are 22-2 against the Indians the last two decades and have won three in a row.
However, last season's game at Pacific was a wild one as Union escaped 41-40.
IHSA WILL NOT ALTER FORFEIT POLICY
At its board of directors meeting this week the Illinois High School Association reiterated it will not alter its forfeit policy in regards to COVID-19 related quarantines. Some member schools had inquired about the opportunity to accept a forfeit win then play a different opponent on short notice as an "exhibition."
The IHSA is not having it.
"The IHSA Board recognizes the dilemma that forfeits caused by COVID-19 have created for member schools this year, especially as it relates to the sport of football. We believe it is important to recognize that IHSA by-laws do not allow for exhibition games in any IHSA sport, and because of these rules, the current forfeit procedures have been in place for many years. These rules exist for the benefit of student-athletes, as they place reasonable limitations on contests from a physical safety perspective, while also helping maintain a sensible time balance from an educational perspective. We understand that these policies are now under greater scrutiny, given that the pandemic has created more forfeits, which in turn allows for more rescheduling opportunities. In a normal season, there are traditionally very few football forfeits, and even fewer opportunities to reschedule when they occur. The choice has always existed for a team to accept their forfeit victory or attempt to find a new opponent and accept the result of that new contest. The IHSA Football Playoffs remain unique because they are the only IHSA postseason that a team must qualify for, and the qualification process includes a strength of schedule component that is dependent on each team having one result per week. Despite the unique circumstances of this season, we believe that any exemption to these rules at this moment would have the potential to hinder the football playoff system, while also having far-reaching implications on other IHSA sports."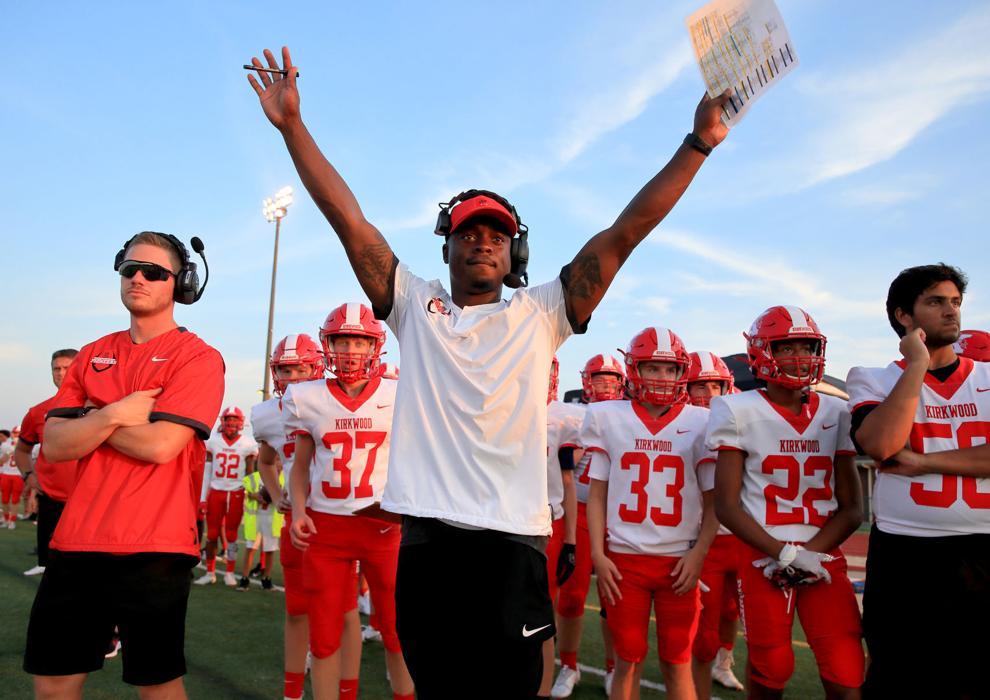 • Kirkwood (3-0) travels to Ladue (3-0) for a 7 p.m. kickoff Friday in a battle of St. Louis County's best public school programs. Ladue won the 2018 Class 4 state title after several state semifinal appearances and a runner-up finish in 2017.
Kirkwood won the 2016 Class 6 state championship to make it the area's most recent public school to win a title in the largest classification.
Led by first-year coach Jeremy Maclin, Kirkwood has outscored its first three opponents 170-26 and is fresh off a 48-0 win at Pattonville.
Ladue has brushed off last season's 1-4 finish and battled to a 19-13 double-overtime win over Lindbergh last week.
• Following its impressive win over De Smet last week, CBC has jumped to No. 1 in the Class 6 Missouri Media poll. CBC (2-1) is atop the poll while suburban Kansas City's Liberty North (2-1) checks in at No. 2. Joplin (3-0) is No. 3 with defending champion Raymore-Peculiar (2-1) at No. 4 and De Smet (1-2) at No. 5. Francis Howell (3-0) is No. 6 and Hazelwood Central (3-0) is No. 9. Kirkwood (3-0) received votes for the second consecutive week. For a complete list of the state rankings click HERE. 
• After playing its first three games of the season on the road, Mater Dei is ready for some home cooking. The No. 8 small school in the STLhighschoolsports.com rankings, Mater Dei (3-0) is slated to play its next five games at home. It draws Alton Marquette (0-3) this week before hosting Quincy Notre Dame (3-0) which was ranked No. 4 in Class 4A.