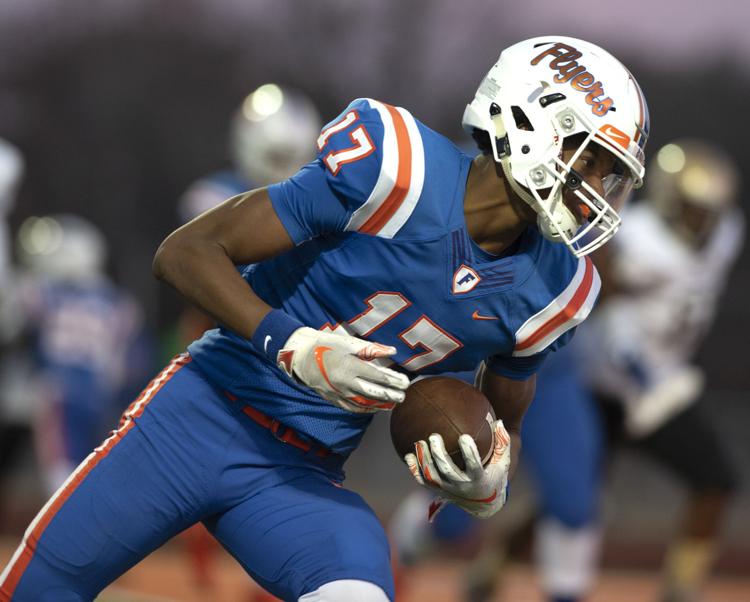 When: 2 p.m. Saturday
What: Class 6A semifinal
Seeds, records: No. 2 Glenwood, 12-0; No. 1 East St. Louis, 12-0
Rankings: Chatham Glenwood No. 2 Class 6A Illinois Associated Press; East St. Louis No. 1 large school STLhighschoolsports.com, No. 1 Class 6A Illinois Associated Press.
Last week: Chatham Glenwood 40, Providence Catholic 16
Up next: Winner of Prairie Ridge-Deerfield in state championship.
On Chatham Glenwood: Made 16 consecutive playoff appearances and 21 in the last 22 years. First semifinal appearance since 2010 when it finished as the Class 5A runner up. Outscored opponents on average 49-12. Beat Class 5A semifinalist Rochester 56-26 on Oct. 25. ...Senior quarterback Luke Lehnen has completed 84 of 143 passes for 2,074 yards, 23 touchdowns and been intercepted three times. Has rushed for 1,241 yards and 27 touchdowns. Senior running back Narkel Leflore has rushed for 1,388 yards and 21 touchdowns. Senior receiver Tyler Burris has 20 receptions for 590 yards and eight touchdowns. Senior receiver Jason Hansbrough has caught 20 passes for 436 yards and five touchdowns. ...Junior linebacker Jake Burris has made 104 tackles and 10 sacks. Senior Tyler Burris has made 103 tackles. Senior Sam Knepler has 57 tackles and 10 sacks. Senior Tyler Estes has five interceptions. Hansbrough has four interceptions.
On East St. Louis: Makes first semifinal appearance since winning the Class 7A championship in 2016. Lost in quarterfinals previous two seasons. Made 17 playoff appearances in previous 18 seasons. First meeting with Glenwood in at least the last two decades. ...Junior quarterback Tyler Macon has completed 181 of 268 passes for 3,621 yards, 36 touchdowns and been intercepted seven times. Has rushed for 629 yards for 14 touchdowns. Senior running back DaMonta Witherspoon has rushed for 1,480 yards and 28 touchdowns. Junior receiver Dominic Lovett has caught 59 passes for 1,296 yards and 14 touchdowns. Senior receiver Keontez Lewis has caught 34 passes for 708 yards and nine touchdowns. Senior Antonio Johnson has caught 32 passes for 740 yards and seven touchdowns. Senor Lawaun Powell Jr. has caught 39 passes for 649 yards and four scores. ...Senior defensive lineman Kendrick Scarbrough has made 126 tackles and 17 sacks. Senior linebacker Darius Walker has made 126 tackles and five sacks. Senior defensive end Kevon Billingsley has 119 tackles and six sacks. Senior defensive back Jemarionte Burgess has made 76 tackles, three interceptions and recovered four fumbles.