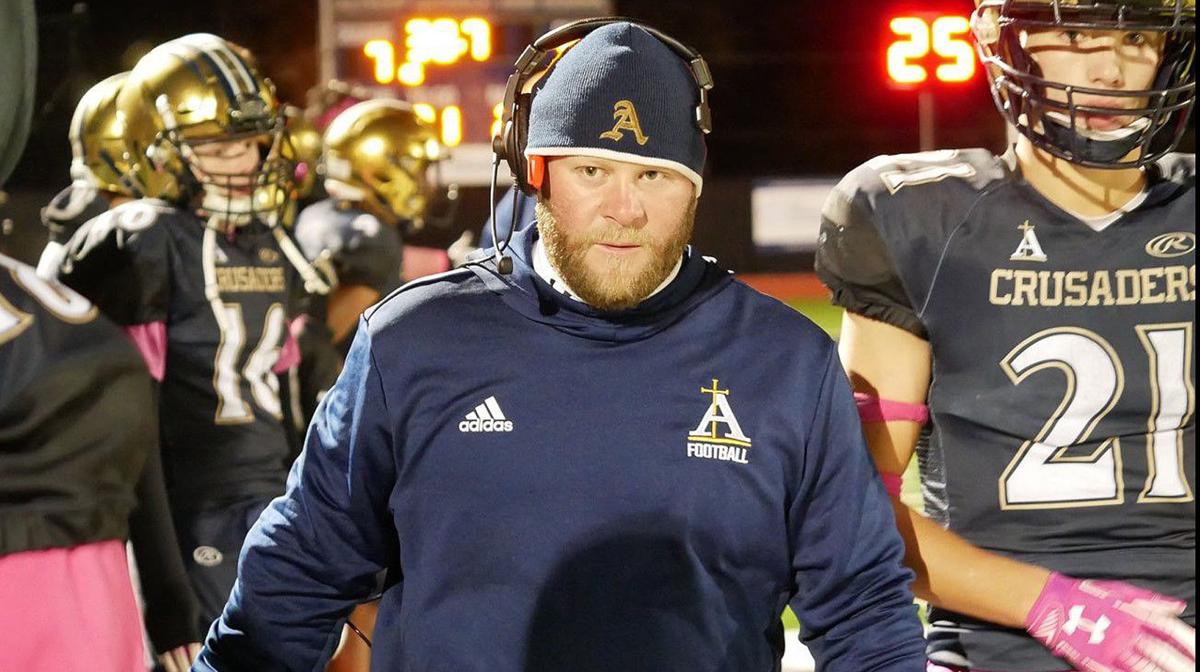 For the second time in his life, Austin Frazier is the first in his family to do something at Althoff Catholic.
Frazier's family gatherings double as Crusader get-togethers. His father, stepfather and brothers all played football at Althoff. His mother was captain of the cheerleaders.
There wasn't much the Frazier clan hadn't done when Austin arrived on campus in 2000. By the time he graduated in 2004, he one upped his dad, stepdad and brothers as he was the only one to ever score a touchdown. Althoff went 22-2 in his junior and senior seasons combined.
Frazier's father, Barry, had a game-winning 2-point conversion in his heyday but never scored six.
On Friday, Frazier outdid them all again when he was named Althoff's new football coach. Frazier is the fourth coach in program history as he takes over for Ken Turner, who resigned earlier this month to take the same position at St. Mary's.
Althoff went 3-6 last season and 79-51 in Turner's 12 years. The Crusaders were the Class 2A runner up in 2012 and the 4A runner up in 2015. Turner followed Glenn Schott, who was the program's second skipper when he took it over for Max Hamilton in 1971. 
Frazier, 34, is the first Althoff graduate to coach the Crusaders and that means a great deal to him.
"I'm so proud to call myself a Crusader," he said. "That's all (my family) has ever known."
Frazier spent the past six years on staff with Turner. He was the defensive coordinator for five of those years and a defensive assistant for one. He also did a four-year stint at Mater Dei as a defensive coordinator before latching on with his alma mater.
Being a familiar face at Althoff should make the coaching transition smooth. Or at least as smooth as anything is in the current state of affairs. Illinois schools are closed and its residents must shelter in place due to a state government mandate in response to the coronavirus pandemic.
Taking over a football program is no easy thing in the best of circumstances. Frazier is doing what he can to stay connected to his players and try to get the offseason process moving.
"We've been doing e-classes and teaching online," Frazier said. "There's no foreseeable end in sight. It's just not ideal.
"The kids know me and we're excited about starting a new chapter."
Frazier has a vision for that new chapter and it extends beyond Xs and Os. He wants the alumni, young and old, to remain connected with Althoff any way they can, but especially on Friday night.
This fall will mark Althoff's third full season with its own home field. During Frazier's days as a player, the Crusaders shared the field at the old Belleville West campus. When Belleville West moved to its current location, Township Stadium became Althoff's alone. Now with a home of its own on campus, Frazier would love nothing more than for it to be full and rooting on the home team.
"We want Friday nights to be events," Frazier said. "We want it to be something you don't want to miss."
Because of the pandemic, Frazier is missing out on the opportunity to sell potential players on joining the program. He can't work the halls or spring practices in an effort to boost participation. It's one of the biggest challenges any program faces but especially with a new coach. Frazier said the junior class that will be seniors in the fall have been crucial in trying to get their friends to give football a chance.
"They've taken the lead on that," he said. "We've got a great group of guys that are talking to guys that didn't play who might come out."
Though he can't meet in person with the players, Frazier said they plan to connect with video conferences.
"We're making the best of the situation," he said.
As of Monday afternoon, Frazier was still working on assembling his coaching staff. That, he said, is atop the to-do list.
"That's priority No. 1," he said "I'm focused on building a culture."
Frazier does not know what things will look like in the near future but he does have expectations for the summer and fall. He's putting the team's playbook on Hudl for the players to have access to it. Workouts can't be held at school or in the weight room but that doesn't mean the players are free to lounge. When the games resume, whenever that may be, the Crusaders will take the field and Frazier wants them to be prepared.
"The excitement (about football) is there," Frazier said. "There won't be any excuses."
STLHighSchoolSports.com is the most comprehensive source of stats, scores and stories from any and all area high schools.