HERCULANEUM — Tanner Wiese joined the Herculaneum High football team on a bet.
A senior receiver and defensive back for the Blackcats, Wiese had given up chasing gridiron glory after middle school. He wanted to focus on basketball. But after his sophomore year he missed football.
So why not have some fun with it? Wiese made a deal with childhood friend Cody Gibson. A senior offensive and defensive lineman, Gibson agreed that if Wiese came out for football, he would try out for basketball.
"We both got our sides (of the bet)," Wiese said with a smile. "Once I was in, I enjoyed it. He didn't make the basketball team, but he tried out."
The 6-foot-4 and 170-pound Wiese has to love the game and his teammates because there wasn't much to celebrate last fall. Herculaneum went 1-7 and had its season end in the district tournament with a 56-0 loss to Priory. It was the third time in four seasons the Blackcats were shut out in their last game as they were beaten 49-0 by Cardinal Ritter in 2017 and lost 42-0 to Principia in 2018.
It's been one hard season after another for the once powerful Herky. Since 2010 Herculaneum has finished .500 or better three times. It hasn't gone winless in that stretch if only because its I-55 Conference schedule includes Grandview and Crystal City, which both have struggled to get their football programs consistently competitive.
While Crystal City and Grandview have had good moments in recent seasons, those schools can't compare to Herky, which is football royalty in Jefferson County. The Blackcats dominated under longtime coach Stan Helms.
A 1965 Herky graduate, Helms was hired in 1986 to lead a program that had two winning seasons in its previous 20 years. Helms transformed the Blackcats. In his 18 years Herculaneum went 134-58. It finished as the Class 3A runner up in 1991 and 1995 and remains the only Jefferson County team to appear in a state championship game. Helms has the most wins of any Jefferson County coach.
Wiese heard stories of Herky's glory days before he ever set foot on the field. But that's what they are — stories of times that are long past.
"We're trying to get it back how it used to be, that'd be awesome," junior quarterback Jackson Dearing said.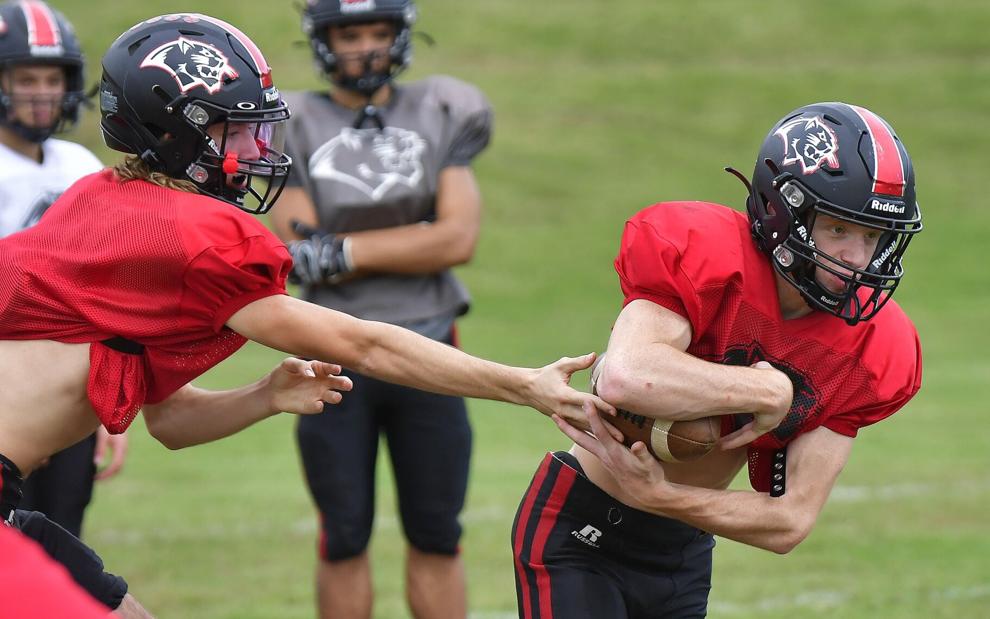 In an attempt to jump start the Blackcats, Herculaneum hired Blane Boss as its football coach in the offseason. Boss spent the past four years at Perryville, which was 18-21 in his tenure. A 2004 Windsor graduate, Boss was one of the best running backs in the area as a senior. He rushed for a then state-record 508 yards and scored six touchdowns against Hillsboro in a 38-13 win on September 19, 2003. He rushed for 2,325 yards and scored 25 touchdowns that season. 
Boss, 36, said one of the reasons he was intrigued by taking the reins at Herky was its glorious history.
"This place is rich in tradition," Boss said. "They used to win a lot football games here."
History and tradition are no match for the current reality. Boss said he has 25 players that dress on Friday nights. He started with 35, but injuries and defections have depleted the roster.
Some of it is Boss's own doing and he's just fine with it. When he met the team for the first time after he was hired in June, Boss made an immediate impression. 
"It was the first day Coach Boss came in the gym and introduced himself, I knew it was going to be serious," Dearing said. "I like coaches like that because they push you harder. I knew it as soon as he walked in the gym, he was going to get on us."
Wiese and his teammates knew things were different after the first offseason conditioning practice. It was brutal, it turned their legs to jelly, but if it was the missing ingredient for a successful fall, Wiese was all about it.
"It's going to work, it's going to be different," Wiese said. "We're going to win some more games this year. That's what we were all thinking."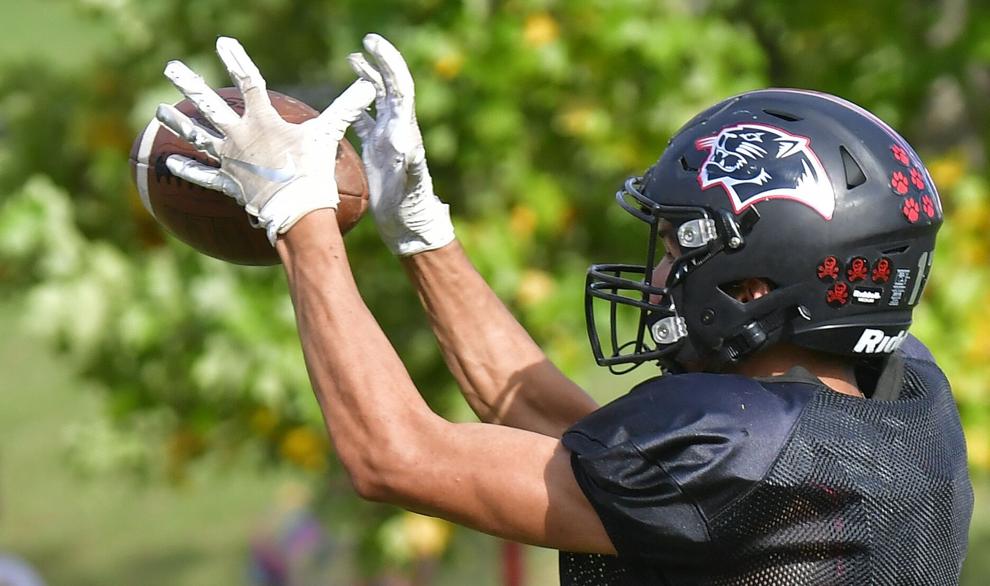 Herculaneum (2-5) did win last Friday. It went to I-55 newcomer Bayless and posted a 60-30 victory. It's the most points the Blackcats have scored in a game since they beat Miller Career Academy 62-0 in 2004. That season they went 9-2 and lost to MICDS in a Class 3 sectional.
Herky assistant coach Mike Sobol was a junior that season and a two-way standout at quarterback and linebacker. He went on to play at Northern Illinois. After years of watching the Blackcats struggle from afar, he returned to his alma mater this year and joined the staff as it attempts to turn around the program.
"You can talk as much as you want, but until you finally do something about it you're not going to make any kind of change," Sobol said. "I wanted to put my money where my mouth is and come on board. We have a great staff here."
Also on staff is defensive coordinator Cody Hunter, a 2002 graduate who spent the last three years as Herky's head coach. In the offseason he reached out to several potential candidates for the top job and said he'd step down if they were interested in taking over. Boss was near the top of his wish list when he made those calls.
"I talked to a lot of different people to come over and help us. It came down to the interview process and whoever won the job, good for them," Hunter said. "He's a hardworking guy that brings some experience and some knowledge. I feel like we have a good, quality staff top to bottom. We need to work towards winning and whatever that takes that's what we're going to do here."
Boss already has a checklist of things to accomplish in the offseason. At the top is getting the Blackcats into the weight room in December. Strength is a requirement for any program to be competitive, but it's absolutely critical for teams with small rosters. The stamina required to be successful in the second half of a game late in the season can't be created in mere months. It takes years of work and commitment.
"You really need patience and time. You have to have both those things," Boss said. "Just the complete mental grind of lifting all the time, finishing all your reps and pushing yourself to exhaustion. If you can do that in weight room you have that to fall back on, you can trust yourself to do it in the fourth quarter."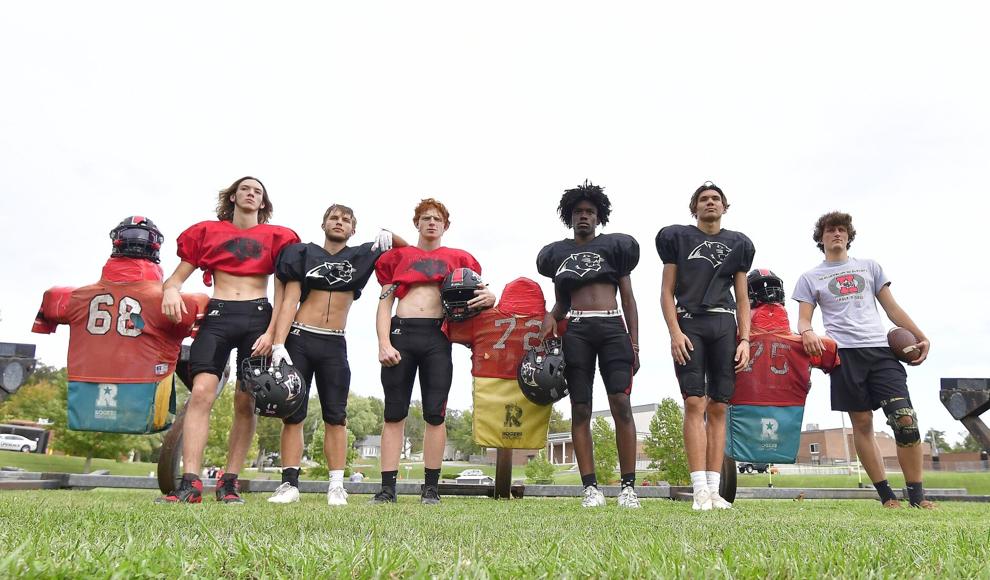 Sobol never had that problem — his older brother, Jeff, wouldn't let him. When the Blackcats were rolling in their day, the Sobol boys were a big part of it. Jeff, a 6-foot-3 lineman who went on to play at Illinois and then Eastern Illinois, dragged his brother out of bed at 5 a.m. every day to hit the weight room before school.
Only the weight room wasn't open that early in the morning. So Jeff gave younger brother a boost. Mike slipped in through a window and opened the door from the inside.
"There were some mornings I didn't want to wake up, but he was my driving force to get up. He'd pick me up and throw me in the car," Sobol said with a laugh. "We got there early. That was kind of our thing. Toward the end of the year we had more and more kids come in with us and that's kind of what it takes."
Herculaneum's glory days may have faded, but Boss and the assistant coaches are going to do what they can to restore the Blackcats' roar. Scoring more points than they have in 17 years is a step in the right direction but it is only one step on the long path back to prominence. The season is nearly over, but the work has only begun.
"It has been very tough. It's a process when you haven't won a whole lot of games," Boss said. "It almost becomes part of the DNA. You can look at it both ways, when a winning program wins all the time it's expected. It's almost the same with a losing program. I think we've come a far way but we have a long way to go. Right now we've got the kids that want to be here and that's all you can ask for. They're going to try and give you everything they have."