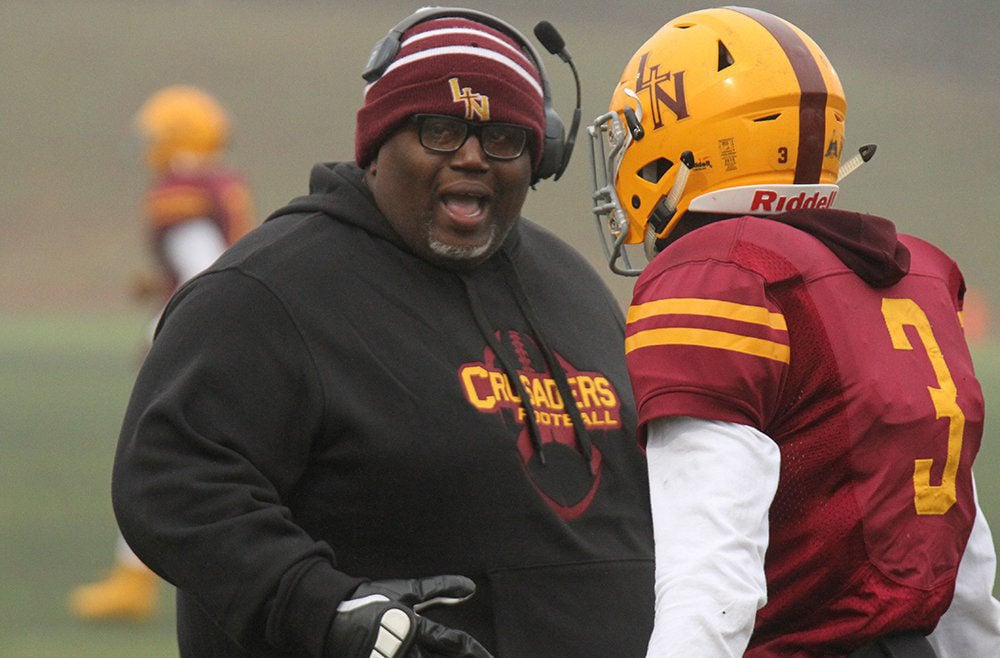 Lutheran North football coach Carl Reed wants to know why.
Reed, like so many coaches, athletes, parents and families in St. Louis County, wants to know why the St. Louis County Department of Public Health will not allow football to be played amidst the coronavirus pandemic while other communities are forging ahead.
"It's safe to play or it's not," Reed said. "If you're saying it's not safe to play I can accept that. But everybody in the state is playing football except St. Louis."
The recent release of updated guidelines for youth sports by St. Louis County on September 9 has attracted significant attention to the ongoin…
On Wednesday morning, St. Louis County Executive Sam Page held a briefing in which he unveiled the new youth sports guidelines for St. Louis County. The new guidelines, which go into effect Friday, allow for low-frequency contact sports like golf, tennis and swimming to begin competitions within the region that is defined as St. Louis City, St. Louis County, Franklin County, Jefferson County, St. Charles County and the Metro East. No teams or athletes are allowed to compete outside of this designated region at this time.
Moderate-frequency contact sports like boys soccer, field hockey, girls volleyball and softball can play if the participants are younger than 14 years old. Participants that are 14 and over, essentially high school-aged athletes, remain unable to compete against other teams.
High frequency contact sports, like football, are not allowed to play games at any age. Practices are allowed in groups of 30, which is an expansion from the more restrictive Phase 2 protocol St. Louis County had been operating under since early August.
St. Louis City released its youth sports guidelines Wednesday, as well. Those guidelines allow low-frequency contact sports to begin competition. Moderate and high frequency sports, however, have more restrictions than St. Louis County as they can only have groups of 11 athletes and two coaches practice together. No games, tournaments or spectators are allowed at this time.
As of Thursday, the St. Louis County Department of Public Health says there have been 21,187 confirmed COVID-19 cases since the pandemic began in March. The St. Louis City Health department says there have been 6,389 confirmed cases in that same time frame. Combined, the nearly 28,000 confirmed cases is the most in Missouri. Kansas City and its surrounding counties have nearly 18,000 confirmed cases according to the Missouri Department of Health and Senior Services.
The St. Charles County Department of Public Health counts 6,486 confirmed COVID-19 cases. The Jefferson County Health Department, which just issued a red zone alert because of "widespread uncontrolled community transmission," has 3,190 confirmed cases according to the Missouri Department of Health and Senior Services.
When Fox hosts Borgia in a football game Friday night in Arnold, no spectators will be allowed. Seckman, which is located in Imperial, had to cancel its scheduled game with Northwest–Cedar Hill due to potential COVID-19 exposure.
Of those regions, St. Louis City and St. Louis County are alone in not allowing moderate and high-frequency contact sports to play on, which has drawn the ire of frustrated parents and athletes.
On Thursday, plans for a #LetThemPlay rally circulated on social media. The rally is scheduled to take place at 7 p.m. Sunday outside of Page's house in Creve Coeur.
An email to Page's Chief Communications Officer Doug Moore requesting comment was not returned.
At his briefing Wednesday, Page appeared to encourage high schools to opt into the alternate fall season the Missouri State High School Activities Association is offering for its members that cannot compete during the normal fall season. The alternate fall season would run from March 12 until May 1.
"We are not mandating St. Louis County schools move their season, but we also (recognize) how difficult it will be to put together games and competitions later this fall if the COVID transmission improves to the point where we could consider recommending competition and tournaments at the high school level of high contact sports," Page said. "If schools choose to not move their season they will still be required to follow the St. Louis County youth sports guidelines and cannot engage in competitions at the high school level for limited sports until they are changed based on the number of cases of COVID infection among our high school students."
Ferguson-Florissant, Hazelwood, Hancock, Jennings, Pattonville, Ritenour, Riverview Gardens, University City, Valley Park and St. Louis Public Schools' Public High League all have declared their intent to move fall sports into the spring. According to the National Federation of State High School Associations, 19 states — including Illinois and Washington D.C. — have moved football out of the fall season to winter or spring.
But not everyone sees spring as a cure for what ails.
"Right now we're going to keep waiting," De Smet athletics director John Pukala said. "I don't like the spring."
There are good reasons to question the spring move.
Reed is adamant playing in the spring of 2021 and then attempting to play in the following fall could have serious consequences.
"If it's about safety you wouldn't let kids play two football seasons in a calendar year," Reed said. "You shouldn't play in the spring."
If teams do take the spring option there are ramifications for the preseason leading into the fall. There would be no "live" or "thud" contact during summer workouts according to MSHSAA spokesperson Jason West. Schools that play in the spring would only be allowed to have their helmets on during summer contact days.
MSHSAA's deadline for declaring a move to the spring season is noon Sept. 17, but there is a way for teams to get in after that deadline. If a team does not declare for the spring but still not go over the maximum number of allowable weeks or contest limitations set by MSHSAA bylaws, the school can appeal to the MSHSAA Board of Directors.
Reed won't be appealing anything.
"Lutheran North is not playing football in the spring," Reed said.
But what he would like are some answers as to why the spring has to be an option when there are games being played across Missouri and the nation.
"What are you seeing that's different from everybody else?" Reed asked. "People deserve to know that. I'm not a doctor, I want information from medical experts and doctors."