HAZELWOOD — Darius Cooper accelerated toward the goal line.
The senior quarterback for the Hazelwood West football team had a split second to make a cut or go through the McCluer North defensive back waiting for him at the 1-yard line Saturday afternoon.
"I felt like I was running too fast to make a quick cut so he was in my way," Cooper said. "I had to get in the end zone."
Cooper dropped his shoulder and left the defensive back flat on his back as he scored the go-ahead touchdown to help Hazelwood West beat McCluer North 31-22 at home in what was a defacto Suburban XII North championship game.
Hazelwood West (7-1 overall, 3-0 league) clinched at least a piece of the conference crown. A win next week at home against Hazelwood East would give it the outright title for the first time in at least two decades. Hazelwood West and Hazelwood Central shared identical 6-1 conference records in 2008. Hazelwood Central had won the Suburban North and the newer Suburban XII North seven consecutive seasons.
It's a monumental step for a program that has often lived in the shadows of the athletic success of rivals Hazelwood Central and Hazelwood East.
Now it's the Wildcats turn to be in the spotlight and they're enjoying every minute of it.
"Ever since freshman year this program has been increasing every year," Cooper said. "It just feels good that it came to pass. Giving this school a conference champ is just a blessing."
It didn't come easy. McCluer North (6-2, 2-1) is in the midst of a resurgence of its own this season and has a stable of talented ball carriers that can give any defense the blues.
Senior running back Travon Springfield and junior athlete Angelo Butts are dangerous in space and both showcased the elite speed they bring.
Butts rushed for 121 yards on 10 carries and scored a 62-yard touchdown on his first carry of the game. His 35-yard touchdown put the Stars ahead 16-10 with 7 minutes and 26 seconds to play in the second quarter.
Springfield carried the ball 24 times for 148 yards. He busted out for a 55-yard touchdown jaunt that gave McCluer North a 22-17 lead with 3:16 to play in the third quarter.
"We tried to push them in so they couldn't get outside and we could make the tackle," Hazelwood West senior offensive and defensive lineman Traevon Williams said.
Most of the afternoon the Wildcats executed their game plan but the Stars dynamic duo still shook loose. Both Springfield and Butts were limited in the second half as they were forced to the sideline with injuries to their legs or ankles. The Stars don't attempt many passes and having both of their big-time ball carriers banged up made things tough.
"Unfortunately the injury bug is hitting us hard," McCluer North coach Leon McElrath said. "We have to go in on Monday and be prepared to practice hard but adjust contact-wise."
Hazelwood West was more balanced with Cooper pulling the strings. He rushed for 59 yards and completed 12 of 19 passes for 170 yards, three touchdowns and was intercepted once. He completed passes to five different receivers and seniors Jack Douglas, Morion Thomas and Krishawn Butler all caught touchdowns.
After Cooper lowered the boom on the Stars defensive back, it put the Wildcats ahead 25-22 with 9:51 to play. Hazelwood West then recovered its ensuing kickoff to keep its offense on the field.
"It wasn't an onside kick, it was a squib," Hazelwood West coach Rory Seals said.
Cooper drove the Wildcats into the red zone. On fourth-and-goal at the 12, he dropped back only to scramble around behind the line of scrimmage looking for an open receiver. He eventually found Butler in the end zone.
It looked like Cooper was freelancing but he said it's just part of his game.
"I always keep my eyes down the field for my receivers because I know they're going to find an opening in the defense, especially when they're all scrambling around watching me," he said. "That's what I like doing. If I just see green in front of me I'm going to take it every time."
A Hazelwood West graduate who was installed as its coach in the spring, Seals said the victory was but one step on a longer journey. But it's one that should not be taken for granted, because it hasn't happened at Hazelwood West all that often.
"It all builds up to our ultimate goal of being state champions," Seals said. "This is step one of three. Step two is districts and step three is state. You can't go from zero to two. I'm blessed to have 20 seniors out here that give it up every day. They give it up in the classroom, the hallway, the practice field and it shows on the game field — excellent leadership."
Week Six High School Football: Hazelwood East vs McCluer North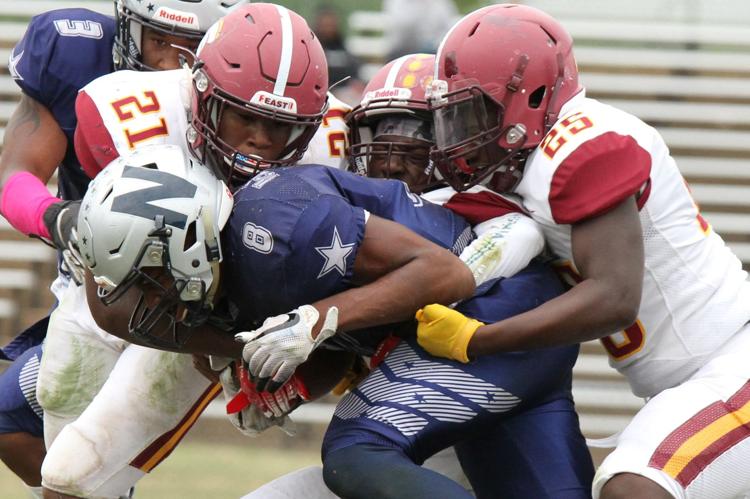 Week Six High School Football: Hazelwood East vs McCluer North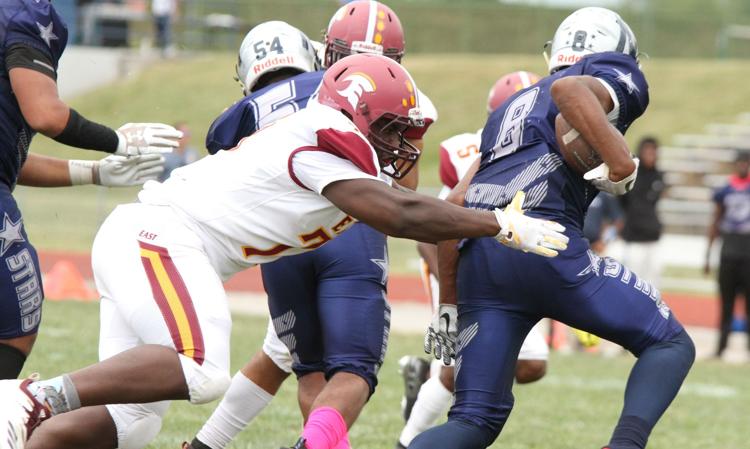 Week Six High School Football: Hazelwood East vs McCluer North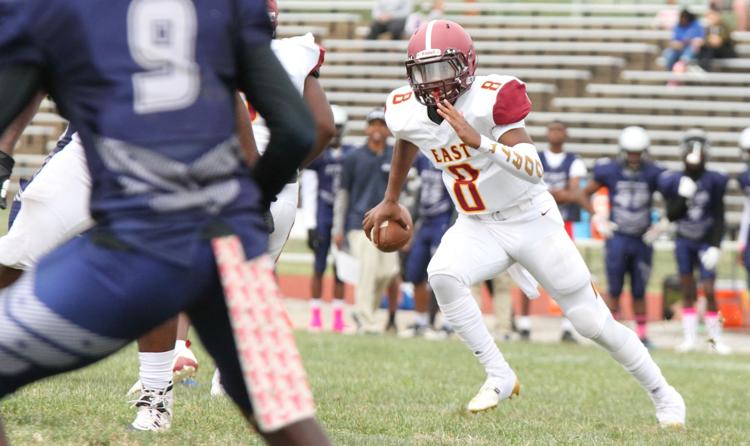 Week Six High School Football: Hazelwood East vs McCluer North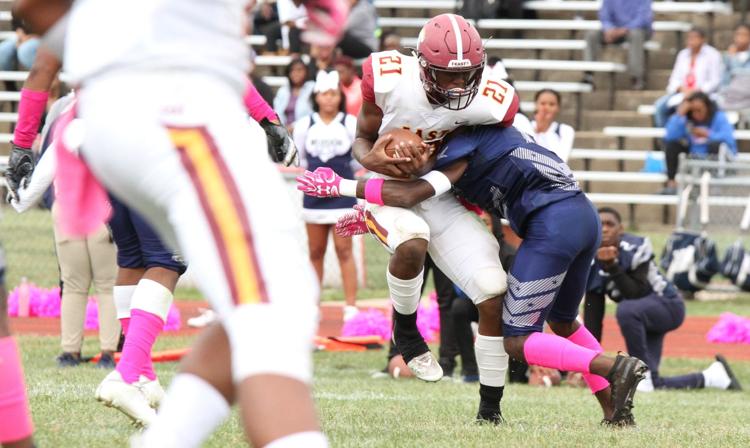 Week Six High School Football: Hazelwood East vs McCluer North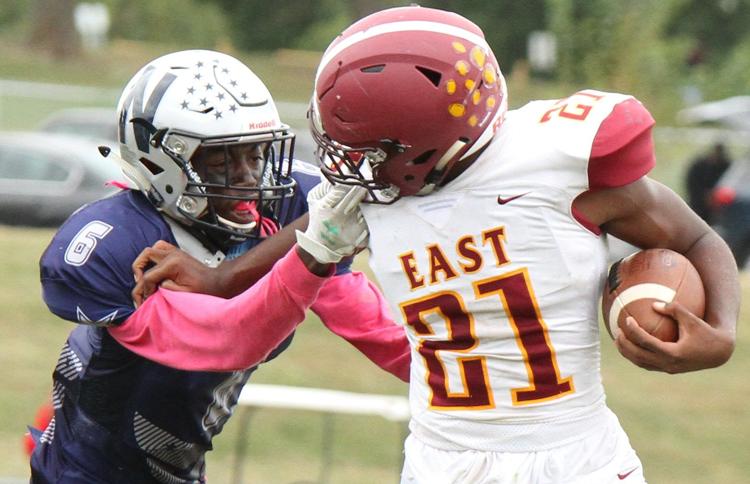 Week Six High School Football: Hazelwood East vs McCluer North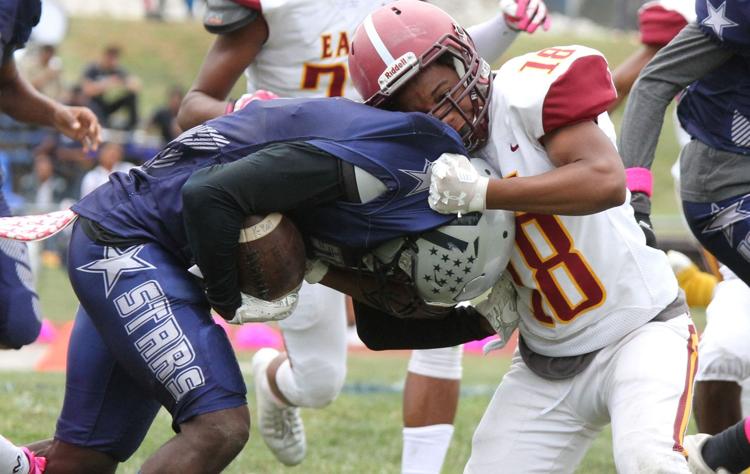 Week Six High School Football: Hazelwood East vs McCluer North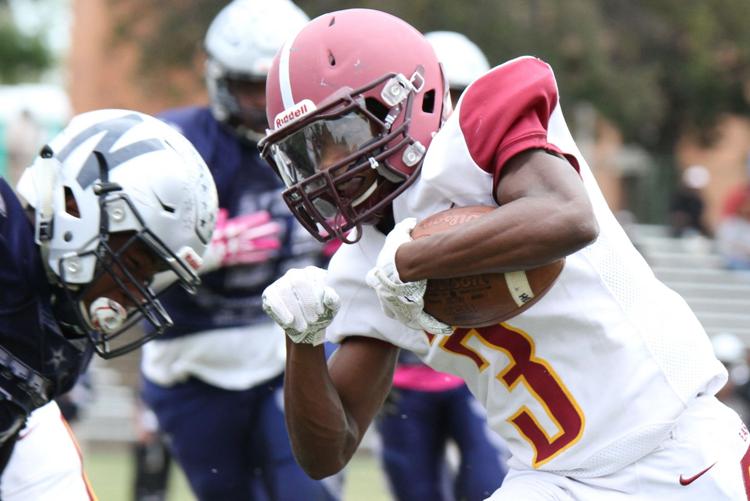 Week Six High School Football: Hazelwood East vs McCluer North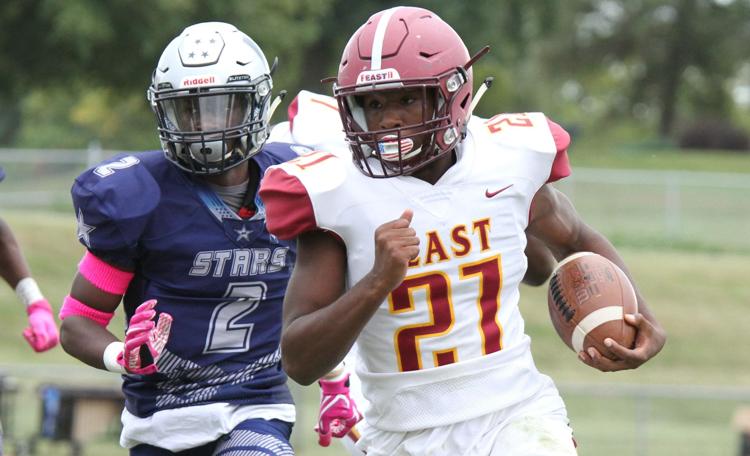 Week Six High School Football: Hazelwood East vs McCluer North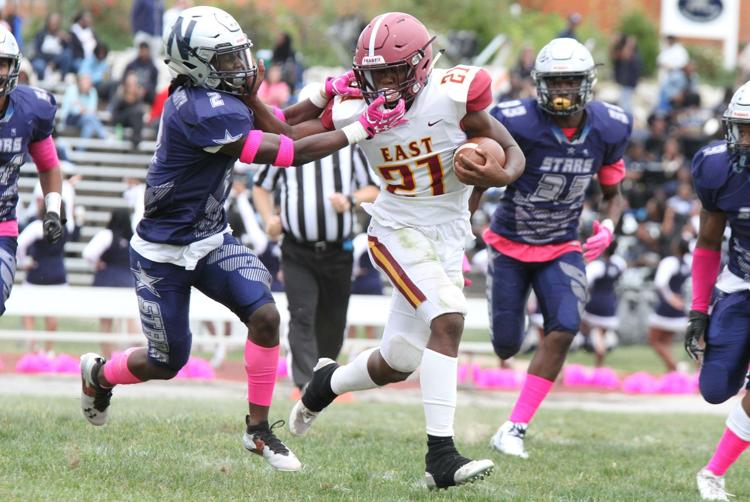 Week Six High School Football: Hazelwood East vs McCluer North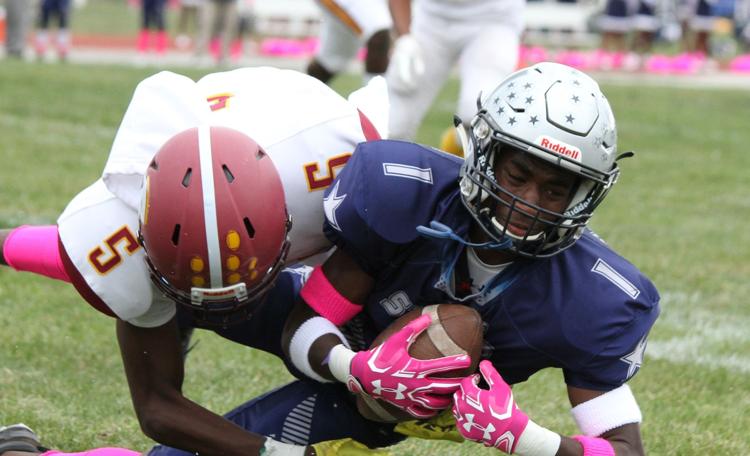 Week Six High School Football: Hazelwood East vs McCluer North