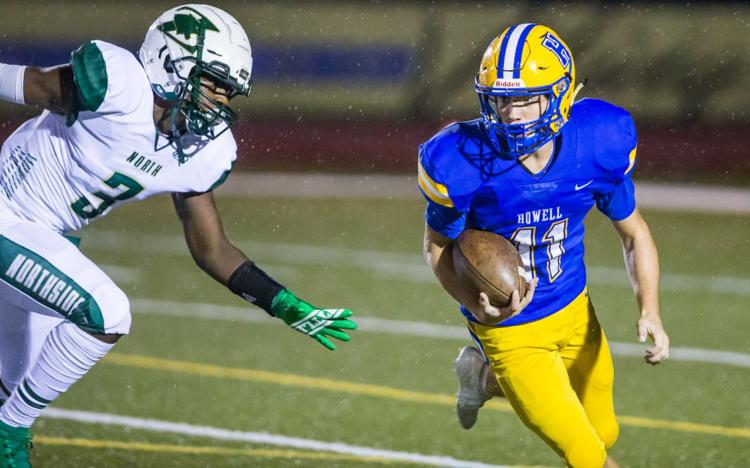 Records: Kirkwood 1-0; Howell 0-1
Last week: Kirkwood 61, Jefferson City 35; Fort Zumwalt North 38, Howell 24
Special Note: Fifth annual First Responders Night to honor first responders and military personnel in the community. Large crowd expected. Tickets go on sale at 4:30 p.m., gates open at 5 p.m. Shuttle will run from the commuter parking lot on Research Park Drive from 5:30-10 p.m. All fans are encouraged to wear red, white and blue.
On Kirkwood: Defeated Howell 37-28 last season at home. ...Record shattering start by junior quarterback Kannon Nesslage, who threw for 437 yards and nine touchdowns, both No. 1 in school history. Connected with eight receivers, not including Missouri recruit Jay Maclin, who was sidelined with an injury. Jaylen Phipps caught five passes for 160 yards. William Lee caught four passes for 101 and Jackson Fortner caught five passes for 99 yards. Junior running back Gerald Jackson rushed seven times for 96 yards. ...Linebacker Cameron Macon led the way with 10 tackles. The Pioneers made three sacks and Fortner came up with an interception.
On Howell: Power rushing attack was on display in downpour against Fort Zumwalt North. Senior running back Gideon Niboh rushed for 159 yards and a touchdown and junior quarterback Alex Pipes had 118 yards on the ground. Pipes completed 9 of 19 passes for 95 yards and an 18-yard touchdown to Reid Weber. ...Senior linebacker Charlton Watson Jr. had 12 tackles and Jack Larkin had 11 tackles.