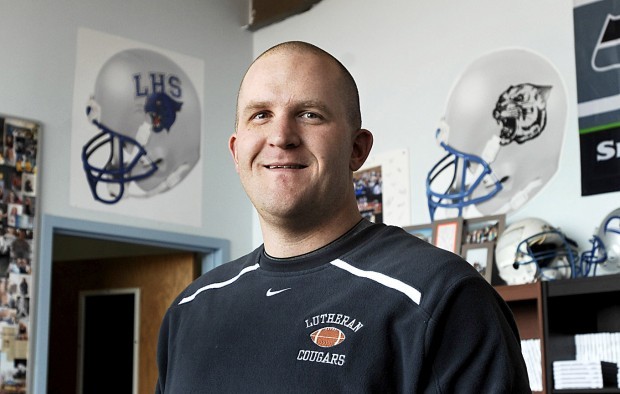 As a Portland, Ore., native, Doug Kuhlmann was living the dream when he traveled to Glendale, Ariz., last month to attend the BCS National Championship Game.
Dealing with his Oregon Ducks' loss to Auburn was one thing. Knowing that he had a difficult decision to make when he returned to St. Peters was another.
After 10 years of spearheading the Lutheran football program, Kuhlmann decided it was time to become the family man his wife and two young daughters needed.
And so, after much thought, he resigned his position as coach.
"I think 10 years ago when I started coaching here, football wasn't as year-round oriented as it is today," Kuhlmann said. "It's demanding on your schedule between weight lifting after school, going to clinics and preparing for the next season. Those are things I still enjoy, but my desire to do those things isn't as great as my desire to spend time with my young children. My girls will only be young once, and I want to really have an opportunity to interact with them as they grow up."
Kuhlmann compiled a 51-51 record in 10 years. The highlight of his tenure was in 2004, when the Cougars went 9-3 and reached the Class 2 quarterfinals.
But his lone playoff appearance isn't the reward he will look back on most fondly.
"On many levels the biggest thing I enjoy is the people," Kuhlmann said. "The reason coaches become good coaches is their interaction with people, whether it be players or alumni. I'm a big believer in being a mentor to young people, helping them learn good Christian morals and how to be good sons, fathers and mothers. That goes a long way in establishing a program and not just having a football team. Having people understand what we stand for helped make me a better coach."
Two years ago, Kuhlmann took over for Gordon Bredow as the school's athletics director, a position he will continue to fill. His most pressing duty will be finding his replacement coaching staff.
Of course, it's next to impossible to expect Kuhlmann to cut himself off from football entirely. He would like to continue coaching in some capacity and leave the door open to be a head coach somewhere again down the road.
"Ultimately coaching is in my blood, and I think it always will be," Kuhlmann said. "I do hope that as an AD to always be a part of the program, and it starts with securing a qualified head coach. I'll help with that transition from me to him any way I can, including the possibility of continuing to serve as a parttime coach or assistant. I would gladly welcome that opportunity."
It's Kuhlmann's hope that having less responsibility as a football coach will help him become a better athletics director. To further assist him in that endeavor, he plans to enroll in online classes and work toward earning a doctorate's degree in sports management and leadership.