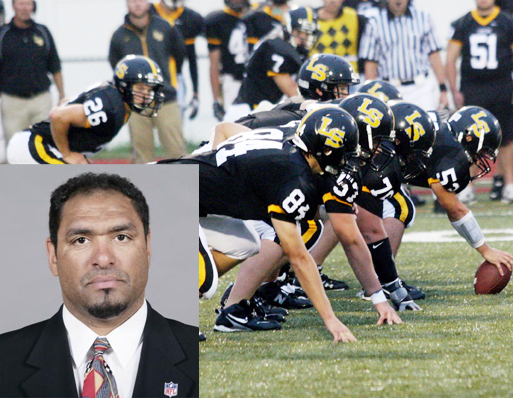 Chuck Faucette has been named Lutheran South's head football coach.
He replaces Matt Marty, who left the program after three seasons to take the same position at Lutheran St. Charles.
Faucette will be introduced to the school Wednesday morning after chapel service.
Faucette, 47, comes to Lutheran South with an extensive coaching background that includes two head coaching stints at the high school level and several assistant coaching positions at the collegiate level. He also played for the San Diego Chargers and spent two years in the Toronto Blue Jays minor league system.
"He's a big, big addition to our Lutheran South family," athletics director Mark Probst said.
Faucette spent the past two seasons as the assistant strength and conditioning coach for the St. Louis Rams. He will begin teaching and administrative duties on July 1 but will start working with the school's athletics program almost immediately.
"I'm proud I can be part of the Lutheran South community," Faucette said.
This will be Faucette's third head coaching position at the high school level. His first job was at Crawford High School in San Diego, Calif., in 1989.
His second coaching stint was in Houston, Texas, at St. Pius X from 1995-98. St. Pius X was a state runner-up his last year at the school.
The rest of Faucette's resume reads like a who's who of collegiate football programs. Between 1999 and 2007 he had two stints as the assistant strength and conditioning coach at the University of Texas, broken up when he was named head strength and conditioning coach at Southern Methodist University.
A man with much experience and knowledge of the game joins a Lutheran South football program that hasn't seen many bright days in its recent past. Since the 2005 season the Lancers have gone a combined 8-52 overall and 1-31 in the ABC League.
After going 4-6 in the fall under Marty, Lutheran South will graduate nearly every skill-position player.
"We're graduating 90 percent of our offense," Probst said.
Faucette knows exactly what he's walking into and was excited by the opportunity.
"I'm up for the challenge," Faucette said. "I've been told they have good kids. I've been around those types of kids before. I think you can have some success."
Probst and the Lutheran South administration were blown away by Faucette's extensive resume. But what sealed the deal was how he presented himself. His core values align with Lutheran South's philosophy.
"He came in talking faith, family and football, in that order," Probst said. "That's important to us."
Faucette's philosophy on the gridiron isn't radical. He wants his teams to control the football, play good defense and execute. Where he hopes he can make an impact sooner rather than later is by imparting his personality on the program.
"Usually the team takes on the personality of its head coach," Faucette said. "I always liked to think I'm a tough guy. When you have the type of kids we have (at the high school level) you have to be mentally and physically tough."
In January the Rams informed Faucette that he would not be retained on their staff. He began thinking about a return to high school football after a conversation with his wife. "She told me I was happier when I was coaching high school," he said.
He had some other job opportunities cropping up, but with his family happily rooted in the St. Louis area he didn't want to move. Then he heard about the opening at Lutheran South.
"I called over there, and they called me right back," Faucette said. "I had a good vibe about it. I wanted to get back in the game."
Aside from coaching football, Faucette will teach some physical education and health courses. He'll lead the strength and conditioning efforts of all the athletics programs at Lutheran South and work in the admissions department.
STLHighSchoolSports.com is the most comprehensive source of stats, scores and stories from any and all area high schools.