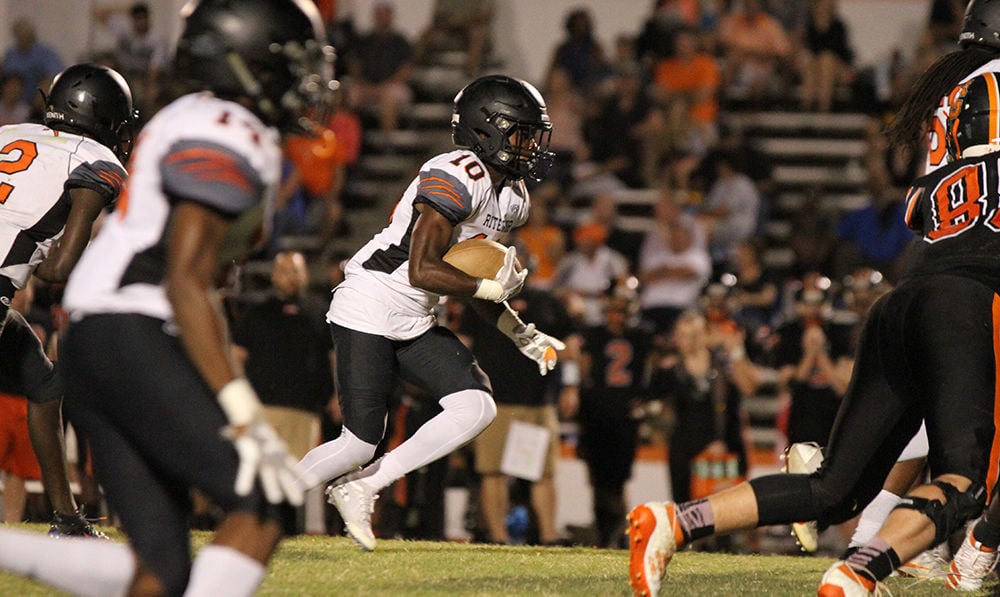 The National Federation of State High School Associations held a virtual question-and-answer session about the state of high school sports for the coming school year Monday afternoon.
The short version: things are going to be different.
Just how different depends on where you live.
According to the NFHS, 24 state associations have modified their fall sports schedules by delaying the start of the fall season or shifting fall sports to another season. That does not include Illinois. The Illinois High School Association board of directors is scheduled to meet Wednesday to address what the fall season will look like if one is allowed to be played. The Illinois Elementary School Association canceled its fall sports season on July 23.
The NFHS also noted California, Nevada, New Mexico, Virginia, Washington and Washington D.C. moved football out of the fall season.
On Tuesday, the NFHS will hold a roundtable with executive directors and commissioners of state associations about strategies for sports and activities to be contested should students not be physically in school.
"(We're) probably talking about outdoor sports if they're not in fact with each other in an indoor setting," NFHS executive director Karissa Niehoff said. "We have to be paying attention to the well-being of our kids from a learning perspective and the impact that engagement in co-curricular programs has on their growth and development and their learning. Kids learn better when they are engaged in co-curricular programs. We want to see a comprehensive consideration as we make those decisions."
This is in direct contrast with the Missouri State High School Activities Association's stated intent to bar athletic participation of school districts that do not offer in-person schooling options.
In St. Louis County, the Ferguson-Florissant, Hazelwood and Ritenour school districts all have opted to begin the school year with remote learning and are not allowed to practice nor play until such a time as in-person schooling is offered.
"If you are only offering virtual instruction with no face-to- face education, either temporarily or for the semester/year, you may not offer sports and activities during that period," MSHSAA's statement reads. "Sports and activities are irrevocably and appropriately intertwined with education provided in the school building. The MSHSAA Constitution defines a school, in part, as being organized to deliver instruction to students who report to a common location. If conditions are such in your local area that you are unable to safely bring students to a common location for instruction, bringing students together for practice and competitions is inappropriate."
Niehoff said it was her personal opinion that having some type of activities despite not having in-person instruction is feasible even as the coronavirus pandemic continues to rage across the country and the globe.
"I think that in places where we can responsibly provide resources to get kids engaged in something that has to do with the life of the school, the life of the team, the life of the activity and the mentorship of the coach, all of the things those experiences do, it is feasible implementing those kinds of programs without in-person learning," Niehoff said. "The facilities would have to be safe and the approach to being present would have to be appropriate."
Niehoff said repeatedly the return of high school sports and activities should be a phased approach. In its guidelines, the NFHS outlined the activities its sports medicine advisory committee viewed as lowest risk to highest. Golf is at the bottom of the spectrum while football and wrestling are near the top. The lower the risk, the sooner that activity could return to action.
"I think the best approach is to take activities one by one," Niehoff said. "Some activities are much lower risk in terms of distance between participants, potential aerosol spread. We can look at the options and know what those are."
This is also in direct contrast with MSHSAA's recently released guidelines, which took an all-or-none approach to sports in a season following its most recent board of directors meeting. 
"As of July 1, the Board of Directors believes it would not be in the best interest of our state to pick and choose which sports/activities would be permitted to continue to have a season while at the same time restricting other sports/activities from continuing due to public health concerns," read the guidelines.
MSHSAA left the door open for adapting this stance at a later date.
"Throughout the year, the Board will monitor and evaluate circumstances and consult with public health officials to make decisions in the best interest of all students," MSHSAA's statement read.
Niehoff also said she believes nationally there will be a return of more low risk sports like cross country and tennis.
"More full contact sports like football, I think we will see a delay," Niehoff said. "Is it likely we will be playing football as we've previously scheduled it to be without testing and without mitigation? I don't know. Each individual state will be making those decisions. We are in a pattern of delay for the higher risk sports like football whereas other sports will engage in more traditional competition earlier."
MSHSAA executive director Kerwin Urhahn is serving a one-year term as the NFHS president this school year. His term began July 2.
As an organization the NFHS is not recommending liability waivers but Niehoff said the executive directors and commissioners of each state association are being asked to share waivers they find from school districts in their states.
The NFHS would prefer that should games and competitions begin that spectators be allowed but that will depend on local health department guidance about crowd sizes. Monday morning, St. Louis County Executive Sam Page announced that starting Friday gatherings of more than 50 people are prohibited.
In an effort to help offset the lack of spectators, the NFHS Network is offering all 19,500 schools in its membership two free Pixellot cameras to be used for streaming competitions on the NFHS Network. The Pixellot is a camera unit with multiple lenses that is unmanned and mounted typically on the press box or in a gym. 
Installation of the camera units cost $2,500 or the schools can self install the devices. Ultimately everyone would prefer fans in the stands, especially the NFHS.
"We support an effort if you're bringing kids back to competition to find a way to allow fans to come back if you have the staffing and the strategies in place to bring folks back into the arenas and venues," Niehoff said.
Without the resources to test every athlete, coach, official and administrator, any return to activities comes with a risk of contracting COVID-19. Niehoff praised Iowa's athletic associations for how they have handled the summer high school baseball and softball season. As Monday's state tournament began, 21 of 338 baseball teams and 26 of 335 softball teams had to cancel their seasons due to positive coronavirus tests, according to the Cedar Rapids Gazette.
"I don't think it's realistic to expect we will not see testing that reveals a positive case. It's our hope that if there are positive cases the actual symptoms develop are mild for our young people," Niehoff said. "We're certainly seeing state associations developing action plans for how to isolate and ultimately quarantine any positive tests. I think we will see a phased in approach closely aligned with whether or not kids will be back in classrooms."
STLHighSchoolSports.com is the most comprehensive source of stats, scores and stories from any and all area high schools.