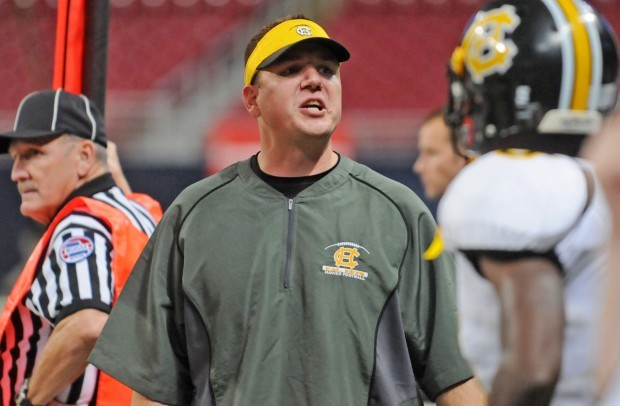 Rich Nixon's remembers well how his oldest daughter, Kiersten, called him out one time when he had to leave to go do something related to his job as coach of the Hazelwood Central football team and couldn't play catch with her.
"She said, 'really, dad. Really!' " Nixon said.
It wasn't the first time he had to put the Hawks ahead of home - it happened a lot - and it burned everytime he made that decision.
"I felt like I was cheating my family," he said.
That's why Nixon, 33, said he recently informed Hazelwood Central Athletic Director John Pukala that he wouldn't be returning as the head coach of the Hawks next fall.
It wasn't an easy decision for Nixon for obvious reasons. After all, under his guidance, the Hawks had become one of the most feared Class 6 teams in the state.
In just four years at the helm, Nixon led the Suburban North Conference team to back-to-back state crowns in 2008 and 2009 and a runnerup finish in 2010 and had a stellar 43-9 record.
"We could win more state championships," he said. "I have a formula that works at Hazelwood Central. But unfortunately that formula didn't include my family and kids very much."
He's accepted a part-time job as an assistant coach for Lindenwood University, which he said will require a lot less work on his part and allow him the time to coach Kiersten's softball team. Nixon said he hopes to stay on at Central as a fulltime physical education instructor and could envision coming back to the football team as an assistant in the future.
"I talked with my principal, Darrell Strong, and he said he welcomes any decision that is beneficial to my family," Nixon said.
Coaching at Lindenwood, Nixon said, "allows me to have my cake and eat it, too."
Nixon put in extremely long hours coaching the Hawks. He said Pukala tried to lighten his load to get him to stay. But Nixon said he wouldn't feel right about not putting all he had into the job. Nixon has another daughter, Caydence, who is active in sports and a 2-year old son, Jaxson, to help look after.
Pukala said losing Nixon is a big loss for Hazelwood Central.
"He did a fantastic job for us," he said of Nixon. "He was the right guy for the job at the time. He had to do what's best for his family and we support him in that.
"But obviously it's a good job, so we'll be able to get somebody (good) to fill it," Pukala said of the Hazelwood Central position. "There are guys on the staff who will get consideration. It's a matter of what teaching jobs we have available. I'm adamant about having the coach in the building."
The Hawks, who fell 10-7 to Rockhurst in the Class 6 title game in November, had a number of seniors this past season. However, Nixon said he's hardly leaving a team looking at a major rebuilding situation. He said the freshman team at Central has the ability to achieve as much as the senior group that will graduate this spring.
"They have as much or more talent than any class we've had since I've been at Hazelwood Central," he said. "I foresee a couple of hiccups (early next season) but by the end of the year they should have a team that can play with anybody."
Nixon is looking forward to starting his new job at Lindenwood.
"It's an exciting time there with them moving to the MIAA and bumping up to Division II football," he said. "I'm going to pull some good kids from the Suburban North who have been getting passed over for years."
Brandon Phillips, who started on the defensive line for the Hawks this past season and will be back for his senior year next fall, said he'll miss having Nixon as his coach.
"We cared as much for him as he cared for us," he said. "I'm not really mad about the decision, though, because, like I said, it's what's best for his family.
"A lot of the guys were shocked," he added. "They really thought he'd stay one more year at least. Some didn't like the fact that he was leaving and took it hard."
Pukala did not know how long it would take to get a new coach in place.
"I'll talk to human resources tomorrow," he said on Sunday. "It'll be posted on the district website for two weeks. We'll see who qualifies, we'll put a committee together and we'll start the interviewing process."
Nixon, meanwhile, is already making the mentral transition from head football coach to assistant football coach and head softball coach.
"I'm really jacked up about that," he said.