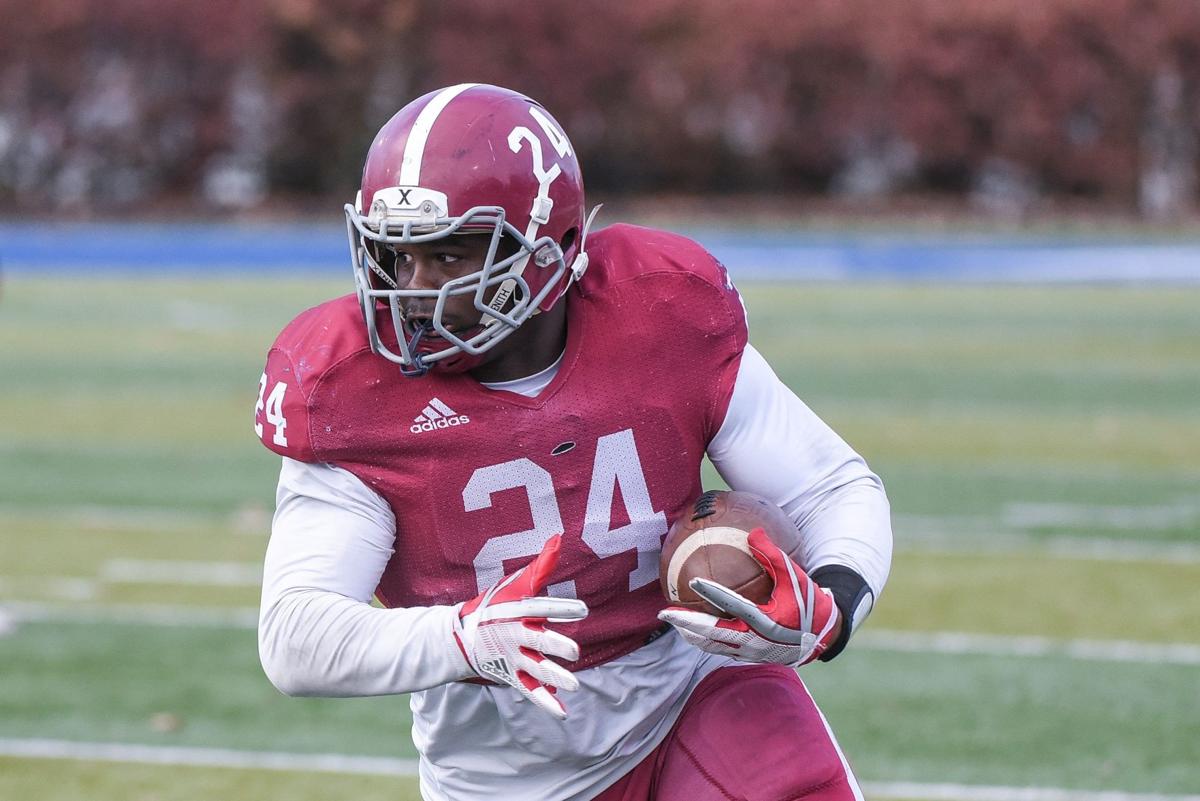 A year ago the Trinity football program was embroiled in a drama worthy of its own television series.
The Titans were out to defend their Class 3 state championship but were going to have to do so without Ohio State-bound standout Teriyon "Mookie" Cooper, who announced he was transferring out of Trinity days before the first game.
The Titans opened their title defense by getting drummed a combined 57-6 by Lutheran North and East St. Louis. Terrence Curry made it 18 games as Trinity's coach before he was fired in the fourth week of last season.
Through all of it, the Titans managed to salvage another strong campaign. Trinity won its third district title in four seasons. It advanced to the state semifinals for the third time since 2016.
Now under the direction of John Randle, who was named the interim coach when Curry was let go, the Titans once again are a force.
The No. 2 small school in the STLhighschoolsports.com preseason rankings, Trinity (9-4) returns a lineup full of NCAA Division I talent hungry and motivated to reclaim what it lost last season when Cassville ended its title reign in the state semifinals.
When the Titans will get the chance to actually play a game is out of their hands. Due to the coronavirus pandemic, the St. Louis County Department of Public Health remains in the Phase 2 protocol, which limits practice to 20 athletes and two coaches. Scrimmages and games for high contact sports, like football, remain off limits. The Titans did start practice on Aug. 10, unlike many of their St. Louis County counterparts, but they will not be traveling to Harrisonville to play on Friday nor do they know when they'll be cleared for takeoff.
In the meantime they're doing what they can to stay ready.
"We're just working hard," Randle said. "Hopefully we'll be able to rock and roll."
When Trinity does get the green light, it will be a handful for whoever crosses its path.
Sophomore quarterback Chris Cotton (5-foot-10, 177 pounds) got thrown into the fire as a freshman last season. His confidence built with each week. He finished his debut by completing 114 of his 195 passes for 1,655 yards, 16 touchdowns and was intercepted nine times.
Senior running back Thomas Mimes (5-10, 225) was thrust into significant action when starting running back and Illinois recruit Reggie Love suffered a season-ending injury against East St Louis in Week 2. Mimes took over as the primary ball carrier and led the team with 722 yards rushing and 10 touchdowns.
Senior receiver Demetrious Cannon (6-3, 195) has verbally committed to Louisville after being a hot commodity on the recruiting circuit. He caught 23 passes for 247 yards and four touchdowns last season. Senior Malcolm Harvey (5-9, 155) caught 20 passes for 279 yards and scored six touchdowns.
The offensive line lost some significant size and experience to graduation, but Trinity had a monster land in its lap.
Senior tackle CJ Van Buren II (6-5, 320) recently transferred from North Stafford High in Virginia to Trinity. His father, Courtney Van Buren, attended Ladue and played collegiately at Arkansas-Pine Bluff before being selected in third round of the 2003 NFL draft by the San Diego Chargers. He played parts of five seasons but injuries forced him to retire.
Van Buren II slots in with a line that includes senior guard Chandler Brown (6-0, 250), senior Xavier Sumpter (6-3, 250) and junior James Mann (6-1, 267).
The defense returns most of its depth and experience in the secondary. Senior safety Tyler Hibbler (6-0, 195) has verbally committed to Missouri. He's the brains of the defensive operation. He'll be along side cornerback Myles Norwood (6-2, 171) who has seen his recruiting stock explode since the spring.
Junior Chris Moore (5-10 167) led the team with three interceptions last season. Senior Jojo Greer (6-3, 171) is part of the secondary, too.
"That's the meat and guts of our defense," Randle said.
Seniors Tam Williams (5-11, 160) and Kevin Pointer (5-11, 170) will be at linebacker.
Mimes and Sumpter are part of the plan on the defensive line. Playing both ways is a way of life at a small school and the Titans are no exception.
Randle said that while the future remains murky he and his staff are going to do what they can to be prepared when the time comes. Just being at practice is something everyone didn't get to do. They're not taking that for granted.
"We're going to take it one step at a time," Randle said. "We're not going to put the cart before the horse. We're hoping and praying everything works out for us."
STLHighSchoolSports.com is the most comprehensive source of stats, scores and stories from any and all area high schools.