Saturdays used to drive Tim Kuhn crazy.
Brentwood High's football coach, Kuhn recalled the challenges that accompanied late Friday nights after games and the early Saturday morning practices that followed.
"I'd be frustrated," he said.
Everyone was tired. Transportation was sometimes an issue for his players. All in all it was not a great way to start the next week's preparation.
"We've changed this season," Kuhn said.
Instead of dragging himself, his staff and his players back to school early Saturday morning, Kuhn initiated a different weekly schedule this season. Saturday joined Sunday as days off from training and preparation for the players. He installed two "sprint days" of practice, Monday and Wednesday. Wednesday became "No Walk Wednesday" as the players had to sprint from one thing to the next. It was also the only day the players wore full pads and went full contact. Tuesday were helmets only and more of a mental day. Thursday's practice time was spent mostly reviewing the finer points of Friday night's game plan.
"It took a little buy in from the grown ups more than the kids," Kuhn said.
It appears to have worked out for all involved. The No. 1 seed in the Class 1 District 6 tournament, Brentwood (6-5) hosts No. 2 seed South Callaway (5-6) at 7 p.m. Friday. It's the first district championship appearance for the Eagles since they were a Class 2 semifinalist in 2016.
Kuhn went searching for alternative ways to prepare his team during the week because numbers are a challenge for Brentwood. The Eagles are 25 players strong with seven seniors, four juniors, seven sophomores and seven freshmen. The number of players that can actively get after it is a little lower with the wear and tear of injuries that are just part of the game. Having so few bodies at practice requires thinking outside the box when you're trying to run a scout team.
"The coaches fill in," said senior running back and linebacker Jon Danford. "We all work together and help each other. We're all we got."
Danford is one three workhorses that tote the load for Brentwood. At 5-foot-8 and 140 pounds, he's not the biggest running back you'll see but he's proven to be tough. He's rushed 89 times for 600 yards and a team-high 14 touchdowns. Freshman John Clay has powered his way to 701 yards on 107 carries and scored four times. Sophomore Cole Gino has rushed for 498 yards and four touchdowns.
Danford, 17, said he hasn't really taken the time to think about what it's like to lead his team in touchdowns. Instead, he's marveled at the teamwork required for him to even reach the end zone.
"It's kind of cool," he said. "When everybody is doing what they're supposed to do, we can do what we want to do."
What the Eagles wanted to do more than anything this week was have a normal week of practice. When the winter weather hit Monday afternoon, Brentwood canceled all after-school activities which meant no practice. When school was called off on Tuesday, it meant another day of no practice. The Eagles were planning to get together on their own at a teammate's house and watch film together but it's not the same. It's thrown a curve ball into what was already going to be an exciting week.
"It feels different," senior tight end and safety Jaylon Shields said. "It's my first time competing for a district championship."
South Callaway brings the pedigree of a winner. The Bulldogs went 10-2 last year and had the unfortunate draw of playing eventual Class 2 champion Blair Oaks in the district title game. South Callaway's record isn't pretty this year but like Brentwood, it played schools in larger classifications. Kuhn said he felt that really helped his team prepare for the Class 1 postseason.
Brentwood took losses from John Burroughs, Lift For Life, Orchard Farm and Ste. Genevieve, all of which are in bigger classes.
Brentwood beat its first two district opponents, Louisiana and Harrisburg, a combined 84-0. It's a significant improvement from beating Louisiana 41-20 on Sept. 13.
That, Kuhn said, is a tribute to the seniors who've helped give this team an identity this season.
"They have done an outstanding job," Kuhn said. "They've brought everyone together, pulling in the right direction."
That chemistry is in part a product of necessity. With so few players on the roster, everyone has to be ready to step in at any moment and, potentially, any position. You can't be slacking when your turn comes.
"If somebody goes down they have to be ready to get on it," Danford said.
The Eagles will have to do some extra work at practice Wednesday and Thursday. Kuhn said South Callaway brings an excellent Veer offense that's going to be tough and physical. The Eagles strength and stamina will be tested for four quarters.
"They're a quality, quality program," Kuhn said. "They've been here before."
Brentwood does have home-field advantage and that means something to the Eagles. They earned the most points in the district to take the top seed and play the game at their place. They're hoping to have plenty of support as they put their season on the line.
"It feels really, really rewarding (to play at home). We've been working really hard throughout the season," senior quarterback and defensive back Reggie Jeffery said. "Being the No. 1 seed and winning the first two games brings a lot of pride for us and the community."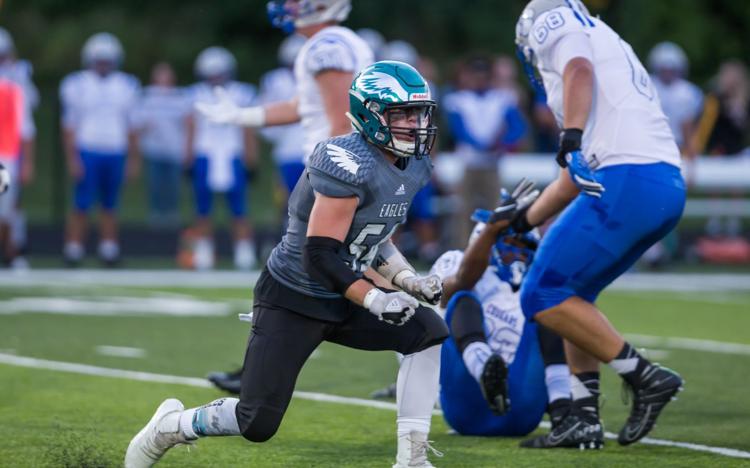 O'FALLON CHRISTIAN MAKES DISTRICT TITLE GAME DEBUT
Dakota Conway is from Pittsburgh so the snow and deep cold that gripped the area Monday night and Tuesday is nothing new for him in November.
Everything else that's going on this week — this year even — has been brand new. The first-year coach at O'Fallon Christian, Conway has the Eagles doing something they haven't done before.
Prepare for a district title game.
The No. 4 seed, Christian (7-4) travels to No. 2 seed Hallsville (9-2) for a 7 p.m. kickoff on Friday.
It's the first district title game appearance for the Eagles.
"It's been a crazy ride and a fun year," Conway said. "I've enjoyed it."
Christian gave itself the chance to do something its never done before by beating a team that no one could during the regular season. No. 1 seed Centralia (10-1) survived hard-fought games with Clark County, Palmyra and Mexico by a combined eight points. The Panthers had won eight in a row at home.
Christian upended Centralia 46-40, but it was a heart stopper until the end.
"It was a wild game," Conway said. "It was stressful."
Centralia was driving in the final two minutes looking for the tying touchdown and winning extra point kick or 2-point conversion. Christian managed to make it fourth-and-one. As Centralia tried to move the chains, the Eagles forced a fumble then recovered it to end the threat and secure a hard-fought win.
Regardless of the outcome, the game was one for Christian's record book. Senior linebacker Blake Heuer set the single-season school record for tackles in a game when he was credited with 24 stops. Junior quarterback Kaden McMullen completed 21 of 32 passes for 511 yards and five touchdowns. McMullen's performance made him the all-time leading passer at Christian. He's currently sitting at 4,581 yards after inching past Jordan Norwine, who set the record of 4,577 in 2013.
Junior receiver Kalin Black had another big night as he caught four passes for 144 yards and two touchdowns.
What makes Christian's district final appearance such a boon this season is that the Eagles are so heavy with underclassmen. There are four seniors listed on the roster. Everyone else is a junior or sophomore and they'll have experience next year that none of their predecessors could claim.
"It bodes well for us going forward that they're getting this experience and it's meaningful experience," Conway said. "For such a young team it's exciting."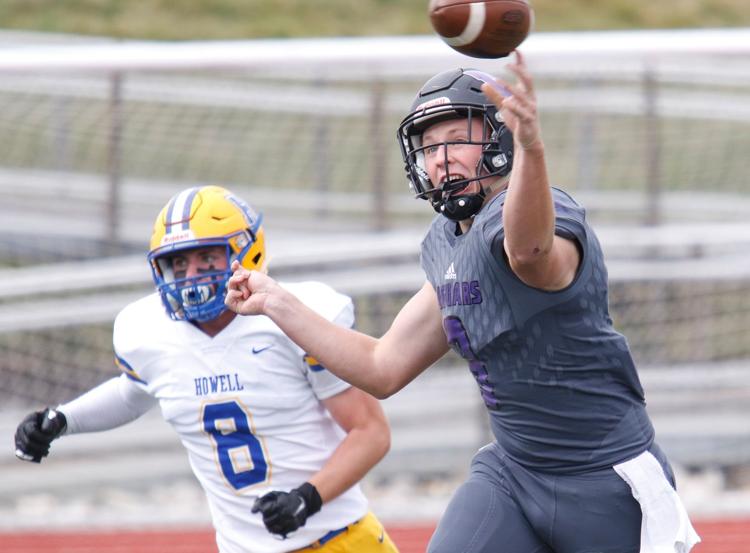 FORT ZUMWALT WEST, TROY OUST KANSAS CITY TEAMS
Since the new postseason system was implemented for the 2013 season, several area Class 6 teams have had to make the long ride out to suburban Kansas City to play for their season. Oftentimes those seasons did not survive the bus ride.
Last Friday, Blue Springs and Blue Springs South had to come out this way and put their seasons on the line. Neither survived their long rides home, either.
Class 6 District 2 No. 1 seed Fort Zumwalt West knocked off No. 4 Blue Springs 20-17. No. 3 seed Troy rallied for a 26-20 win over No. 7 Blue Springs South.
It's the first time since 2014 that neither Blue Springs or Blue Springs South will play in a Class 6 semifinal.
Fort Zumwalt West (9-2) hosts Troy (8-3) at 7 p.m. Friday. The Jaguars scored a 28-20 win over the Trojans on Sept. 20 at home. Fort Zumwalt West has won 16 in a row over Troy and 18 of the last 19 meetings. The Trojans won 27-15 in 2004. This will be just their second postseason meeting of the last two decades.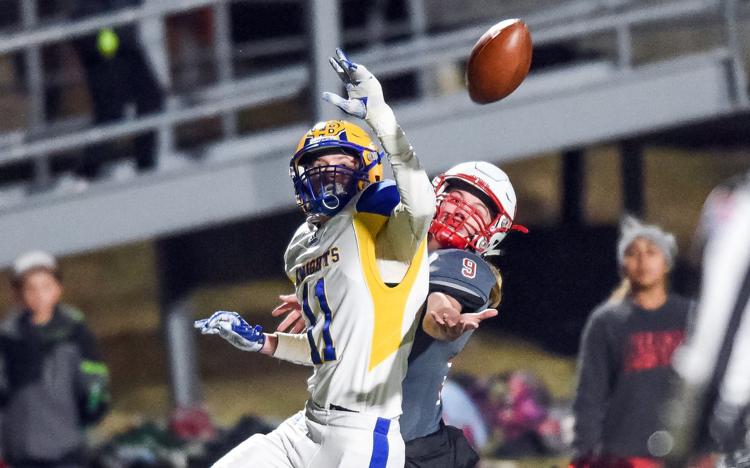 BORGIA BRINGS THE FAMILY TO ROOSEVELT
Dale Gildehaus saw something he recognized Saturday afternoon at Roosevelt High.
The longtime Borgia coach, Gildehaus took in the Sullivan-Roosevelt Class 3 District 2 semifinal game as he scouted his next opponent. The Roughriders showed him flashes of what he's seen already this season.
"They have speed everywhere," Gildehaus said. "We faced speed like that with Cardinal Ritter and Helias."
Borgia dropped both games against those opponents, though Ritter would eventually forfeit its win due to use of an ineligible player. However, the point remains — Roosevelt has the type of speed that has given Borgia trouble this season. The Knights are well aware of what it's going to take in order to overcome that speed and claim their first district championship since 2014.
"We're going to have to get after it," Gildehaus said. "This is what everyone preps for."
The No. 1 seed in the district tournament, Roosevelt (10-1) welcomes No. 3 Borgia (9-2) at 1 p.m. on Saturday. It'll be a different dynamic for the Knights. They'll be playing on a natural grass surface which is not all that common anymore. They'll also play their first Saturday game this season. Gildehaus said some of his players jokingly asked if they could go deer hunting in the wee hours of Saturday morning before reporting to pregame activities at school.
Gildehaus said they'll have plenty of time to bag that deer another day.
"It'll be a great atmosphere for the kids," he said about playing Saturday in the city.
This will be Borgia's first trip to Roosevelt in at least two decades and Gildehaus is expecting the Knights to be well represented. He said they had a large swath of supporters at their road game in St. Clair last Friday despite the volleyball team having a huge crowd as it played in the state semifinals.
"Both places were packed," Gildehaus said. "The Borgia family will be there (Saturday)."
Roosevelt beat a team Borgia knows well on Saturday in Sullivan. The Eagles didn't get the result they came for with a 40-33 defeat, but coach Cody Davis had nothing but positive things to say about his experience on the south side of St. Louis.
"Roosevelt was a class act. They were great hosts," Davis said. "It was such a cool opportunity for our team to be able to come down to the city, something we're not used to doing and get out here on a Saturday and compete. What a great atmosphere."
Expect more of the same this week as the stakes were raised another notch. Roosevelt hasn't won a district title since 2005. Borgia has been close but fallen short every season since 2014. Something has to give on Saturday. Gildehaus hopes his team can be the one to come out on top while representing the city of Washington with pride.
"We're the last team standing in the area," Gildehaus said. "This is the biggest game of the year."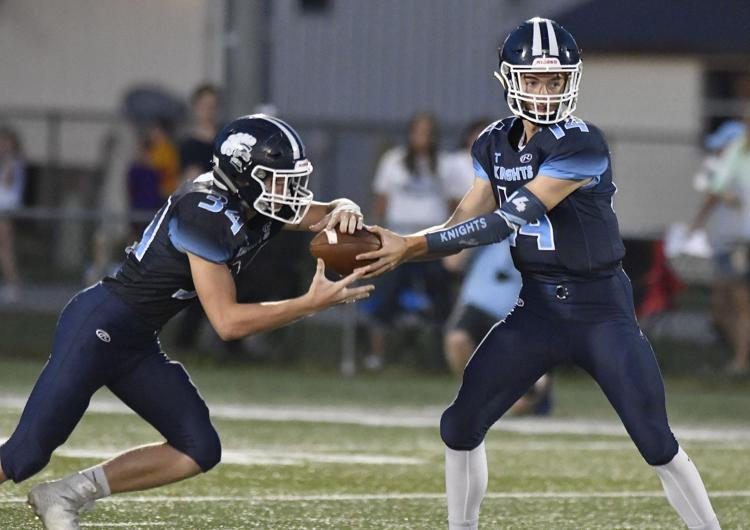 METRO-EAST TRIO ALL THAT REMAINS ALIVE
Two area heavyweights had their seasons come to an end on Saturday. In Class 4A, No. 2 seed Columbia was knocked out by No. 10 Prairie Central, 28-22. In 8A, No. 15 Edwardsville was beaten by No. 1 Minooka, 34-17.
That leaves just three area teams alive in the chase for an Illinois High School Association championship.
In Class 6A, No. 1 seed East St. Louis (11-0) rolled past Rock Island 70-28. East Side led 64-14 at halftime.
Junior quarterback Tyler Macon completed 9 of 18 passes for 223 yards, three touchdowns and was intercepted twice. He rushed for another 96 yards and two scores. Senior running back DaMonta Witherspoon rushed for 206 yards and four touchdowns.
East St. Louis hosts No. 4 seed Richards (10-1) at 3 p.m. Saturday in a quarterfinal. The Flyers have seen their season end the last two years in the quarterfinal round. Both times Chicago's Mount Carmel managed to knock them out.
In Class 5A, No. 12 seed Mascoutah (8-3) makes the long ride north to suburban Chicago to play No. 9 seed Joliet Catholic (8-3) at 6 p.m. Saturday. The Indians are in their first quarterfinal since 2008 after surviving Kankakee 22-18 Saturday night at home.
In Class 3A, No. 5 Mater Dei (10-1) hosts No. 9 Quincy Notre Dame (8-3) at 2 p.m. The Knights have won 10 in a row after losing to Effingham at home in Week 1. It's the Knights sixth quarterfinal appearance since 2009 and their first since they dropped a heart-breaker to Canton, 43-42, in 2016.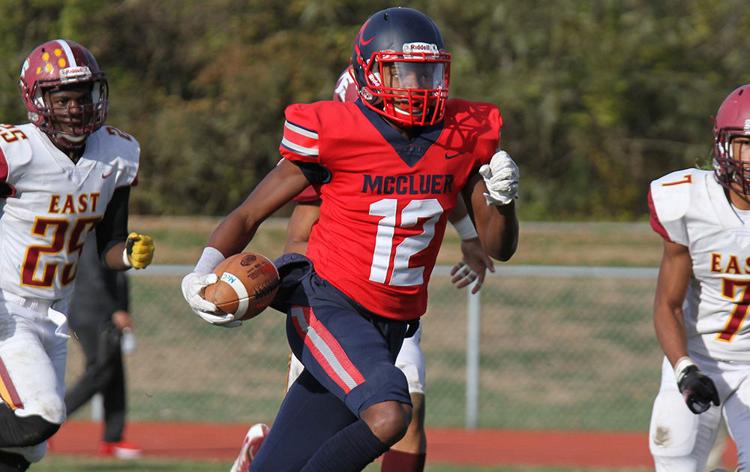 DISTRICT CHAMPIONSHIP MATCHUPS
• South Callaway at Brentwood
Note: Brentwood last advanced past the district final in 2016 when it was a Class 2 semifinalist.
Up next: Marceline or Sweet Springs
• Lift For Life at Lutheran North
Note: Lift For Life tied the school record for wins with 10 this season, matching the mark it set last fall.
Up next: Scott City or Caruthersville
• O'Fallon Christian at Hallsville
Note: O'Fallon Christian makes its first district title game appearance in school history.
Up next: Clark County or Palmyra
Note: Roosevelt has not won a district title since 2005.
Up next: Kennett or Ste. Genevieve
Note: First meeting since Priory dropped Trinity from its schedule after the Rebels took a 56-0 loss to open the 2016 season.
Up next: Mexico or Lutheran St. Charles
• Mexico at Lutheran St. Charles
Note: Lutheran St. Charles makes its first district title game since the new postseason format was adopted for the 2013 season.
Up next: Priory or Trinity
Note: Marks the first meeting in at least two decades between St. Mary's and McCluer.
Up next: Farmington or Cape Girardeau
Note: Ladue defeated Summit 38-15 last year in the district title game.
Up next: Liberty or Hannibal
Note: Liberty makes its first district championship game appearance.
Note: Jackson beat Fox 42-23 for the district title last season.
Up next: Vianney or Eureka
Note: Eureka won the only meeting between these two in the last two decades 45-7 in the 2008 postseason.
• McCluer North at Chaminade
Note: McCluer North has won its four previous meetings with Chaminade, the last in 2014.
Up next: Battle or Fort Zumwalt North
• Battle at Fort Zumwalt North
Note: Will be the fifth postseason game between the two, Battle has won three of the previous four including last season's quarterfinal meeting, 26-14.
Up next: McCluer North or Chaminade
• Francis Howell at De Smet
Note: De Smet won all four previous meetings between 2006-09 a combined 195-19.
Up next: Liberty North or Raymore Peculiar
• Troy at Fort Zumwalt West
Note: Fort Zumwalt West beat Troy 28-20 on Sept. 20.
Up next: Marquette or Joplin
Note: Marquette's 10 wins this season broke the old school record of eight which happened three times, all since 2010.
Up next: Troy or Fort Zumwalt West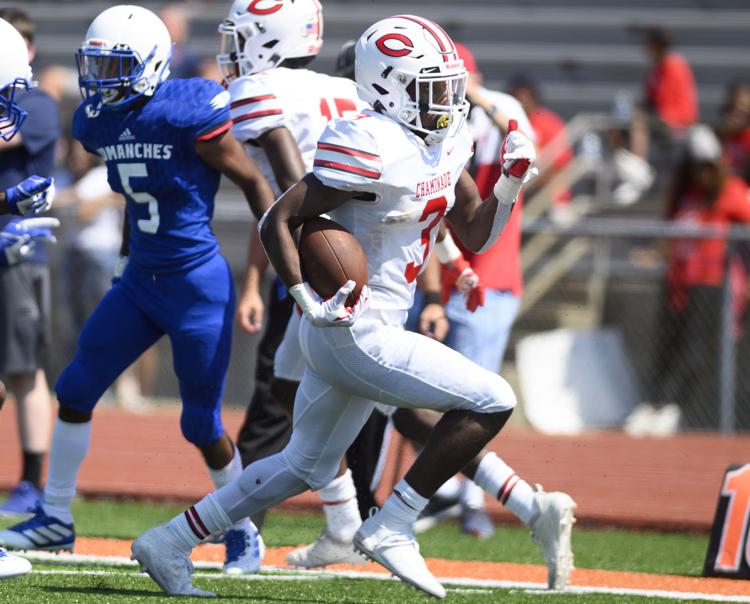 • Chaminade standout athlete Loren "LJ" Fortune Jr. announced on his Twitter page his high school football career has come to an end after he underwent knee surgery last week. A 5-foot-11 and 180-pound combination of power and speed, Fortune rushed for 389 yards and eight touchdowns this season. He caught 37 passes for 817 yards and seven touchdowns. As a junior, Fortune rushed for 937 yards and scored seven touchdowns while catching 16 passes for 288 yards and three touchdowns. He missed four games due to injury but returned for the playoffs to help the Red Devils to a district runner-up finish when they were beaten by rival and eventual Class 5 champion Vianney.
• Three of the four defending state champions from the area remain alive. Class 6 will have a new champ after De Smet knocked off CBC 35-14 last week. Vianney rallied for a second-half win over Mehlville to keep Class 5's king alive. Ladue shutout Westminster 38-0 to win back-to-back games since having its 23-game win streak broken by Kirkwood in Week 9. In Class 3, Trinity rolled over University City 49-6 despite not having the services of senior receiver James Frenchie or senior running back Reggie Love. Both Frenchie and Love have verbally committed to Illinois.
• Lutheran North senior linebacker Antonio Doyle will announce his college decision after the season has concluded, according to Lutheran North coach Carl Reed. One of the top-rated linebackers in the nation, Doyle has trimmed his final list to include Missouri, Illinois and Texas A&M. He decommitted from Missouri in August after initially verbally committing there in the spring.