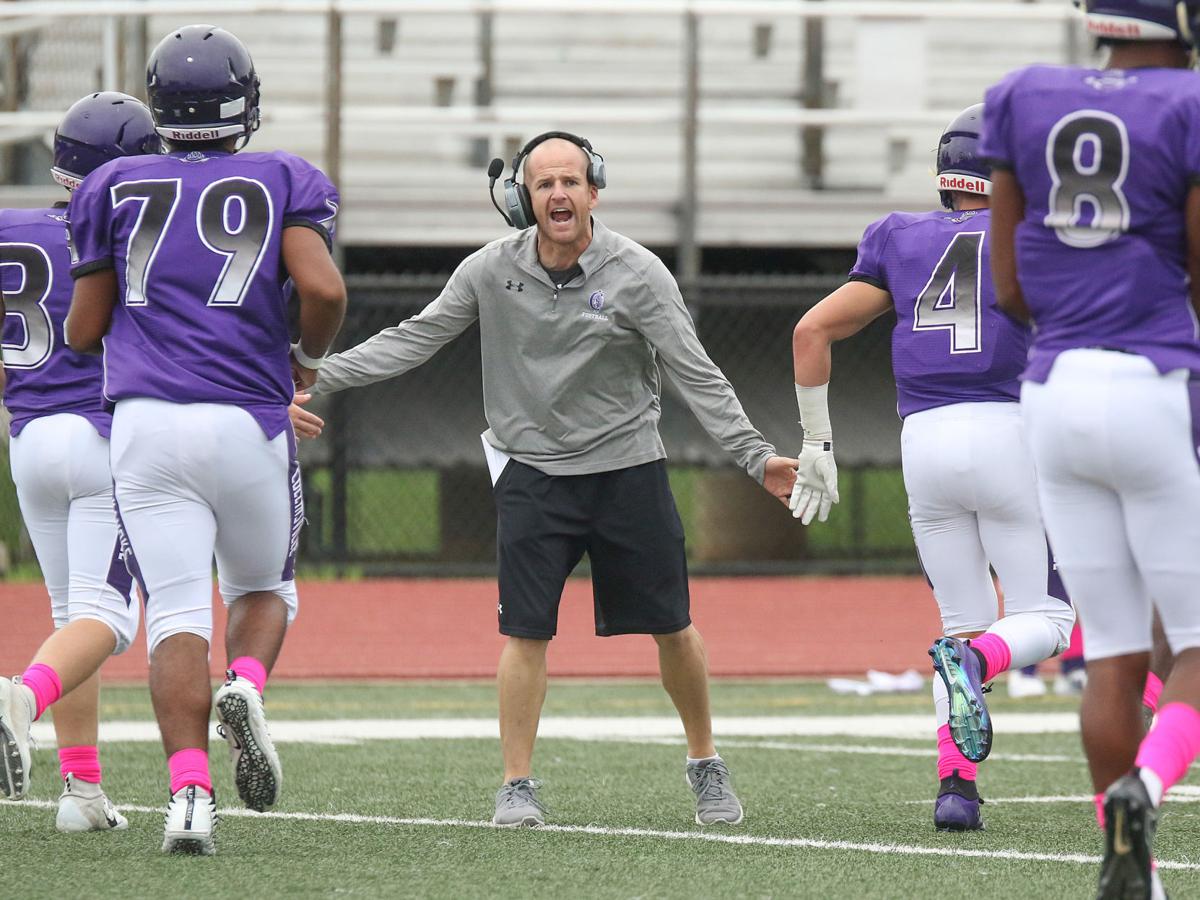 Mike Popovich had a vision.
He sees the Collinsville football team in the playoffs.
Knowing the Kahoks history might lead one to argue Popovich should get his vision checked. Collinsville has three playoff appearances in its history, the last in 2010. But Popovich, in his second season with the program, has plenty of reasons to get excited — 110 of them to be precise.
During offseason practice, Popovich said he and his staff handed out equipment to 110 players, which he believes is the most in school history.
Some of them are veterans. A lot of them are new. Among those new additions are two of Collinsville's standout athletes. Jermarrion Stewart and Aaron Molton have joined the cause.
Stewart is among the most decorated returning track athletes in Illinois. He was the runner-up in the 100 and 200-meter dashes at the Class 3A meet in May. Molton is a 6-foot-6 monster with a wingspan that can reach out and touch people.
"Stewart is going to play some football," Popovich said. "It's not just him. We got faster as a team. That's the name of the game."
Collinsville brings back a slew of experience with eight starters on the offense, including four of their five linemen. Senior quarterback Chris Chai returns after throwing for 1,412 yards and 14 touchdowns. He was intercepted four times. Junior running back Jayden Nabors rushed for 608 yards and five touchdowns, both were team highs.
The defense isn't as experienced but there is returning talent. Senior defensive end Donte Williams had 48 tackles and three sacks last season.
"He makes us go," Popovich said.
Safety Stephen Greene II made 22 tackles last season and spent the spring becoming faster with the track team.
"We only bring back four starters but our team speed might be more impressive," Popovich said.
The Kahoks went 3-6 last year with four losses coming against Southwestern Conference foes. This season will be the first Collinsville does not compete in the powerhouse league. Instead, it is playing as an independent and won't have to see the likes of East St. Louis, Edwardsville or Belleville West.
"We're going to play schools more our size," Popovich said.
That doesn't mean the schedule is easy. The Kahoks first three weeks will be tough. They open at Cahokia, which advanced to a Class 5A quarterfinal last season. In Week 2, Collinsville hosts Triad, which had an identical 3-6 record but, like the Kahoks, returns a lot of upperclassmen. Then its off to Alton to take on the Redbirds, who have won five of their last seven against the Kahoks. Alton has made back-to-back playoff appearances.
The Kahoks also will face Granite City, Taylorville, Mattoon, Peoria Notre Dame and Centralia this season.
Popovich and Collinsville have plenty of reasons to be optimistic about this season but it hasn't come easy. Popovich has developed a rapport with students in the building. He's got credibility with them.
"It's about the relationships, how you treat kids," Popovich said. "When you have a staff that buys in, the kids feel comfortable."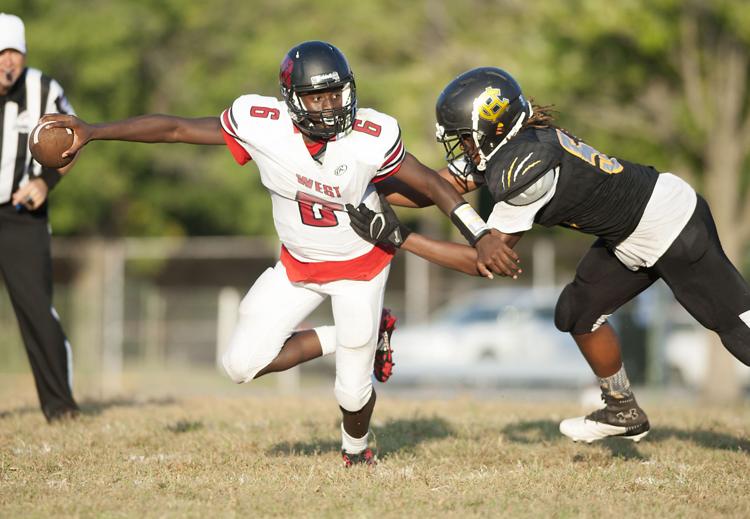 HAZELWOOD WEST HIRES SEALS, BUILDS ON SUCCESS
Few teams delivered on their potential like the Wildcats last season. For the first time in school history, Hazelwood West (7-4) beat Hazelwood Central, Hazelwood East and McCluer North in the same season. The Wildcats were beaten in the second round of their Class 6 district tournament but not before knocking off Hazelwood Central in the first round.
The team is under new management this season as Hazelwood West graduate Rory Seals was hired in the spring. He arrives after a one-year stint at Normandy last season and several seasons at Confluence.
"No job is bigger to me," Seals said. "It's the only job I ever wanted."
He's arrived at the right time. Seals said 17 starters returned on either side of the ball, including standout senior quarterback Darius Cooper, who threw for 1,784 yards and 21 touchdowns and rushed for 693 yards and 12 touchdowns.
Senior Traevon Williams (6-foot-4, 360 pounds) is back on the offensive line. Junior running back Jeremiah Johnson rushed for 950 yards and five touchdowns as a sophomore. Three receivers are also back.
The defensive line and secondary return intact along with one linebacker.
After rising up and beating teams that have traditionally had their way against them, the Wildcats won't be overlooked any more. Their old Suburban North rivals will be coming for them with a year's worth of payback in their pockets.
"We have their full attention," Seals said.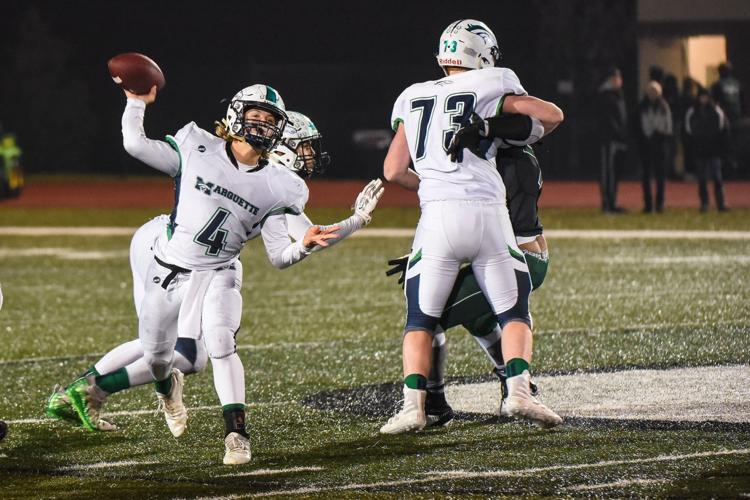 Matt Klein was hired at Marquette to help the Mustangs take the next step.
He laid that foundation, then in the spring resigned and was hired to lead the Blue Springs South program.
Michael Stewart was installed as the new Mustangs coach in April and he's got some horses.
Marquette (6-4) has 28 seniors in a program with more than 100 players.
The defense brings back nine starters. Most of those players will be three-year varsity players.
The offense isn't as experienced, as the entire offensive line and running back Kyle Mills, who was the lead dog of the offense as with 1,368 yards and 15 touchdowns, all graduated.
Senior quarterback George Williams returns after throwing for 1,017 yards, 10 touchdowns and 10 interceptions.
The offensive line will be fresh but it will already have chemistry. All five guys have played together on the lower levels. That was by design.
"We want that group to grow together," Stewart said. "We want our young guys to grow together."
This is the year they get to show that growth on the varsity. And if they don't there's someone behind them waiting to take those reps.
"We have a lot of depth," Stewart said. "Our big program goal is competing. We know every opponent is going to give us their best game."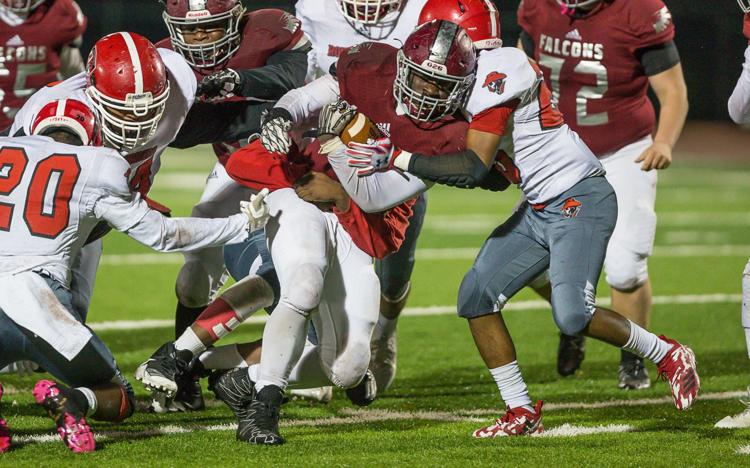 SUMMIT LOOKS TO TURN AROUND ITS LUCK
A play here. A play there. Eric Stewart can see them clearly when he thinks back.
The Summit football coach, Stewart knows how close the Falcons were to being pretty special last season. They finished 6-6 but lost three games by a touchdown or less.
"We were pretty close to being 9-3 last year," Stewart said.
One part of their stumbles was the new offense and defense the coaching staff installed in the offseason. It was a hard learning curve early, but Summit managed to play some of its best football at the end of the season. The Falcons were beaten by eventual state champion Ladue 38-15 in a Class 4 district championship game.
"We took our lumps in close games," Stewart said. "We peaked at the right time this season."
The Falcons have eight returning starters on defense and seven starters back on offense.
There will be two new offensive linemen and two receivers, but there is plenty to be excited about.
Senior quarterback Andrew Klump returns after sharing time under center with Tanner Nara, who graduated. Klump threw for 711 yards, five touchdowns and was intercepted four times, three of which came in one game.
Senior running back Kamarin Young rushed for 972 yards and 11 touchdowns. Senior receiver Deandre Knox caught a team-best 56 passes for 815 yards and seven touchdowns.
The defense has eight returning starters, including the entire secondary. Someone will have to step up in place of graduated linebacker Trent Durrell, who finished with a team-high 94 tackles.
Stewart said the offeseason treated the Falcons well and that things are running smoother than a year ago, when they were wrapping their heads around the new systems. After battling Ladue on a snowy, nasty night to a hard finish, Summit feels it has the chance to do something this year.
"A lot of our kids have something to prove," Stewart said.
Football fans rejoice, CBC and East St. Louis have agreed to play a home-and-home series starting in 2020. Two of the area's most nationally recognizable programs, CBC and East Side had a memorable matchup at the 2016 Gateway Scholars Classic at East St. Louis.
The Flyers pulled out the 32-28 victory after being awarded a first-down on a close fourth-and-short play deep in CBC territory late in regulation.