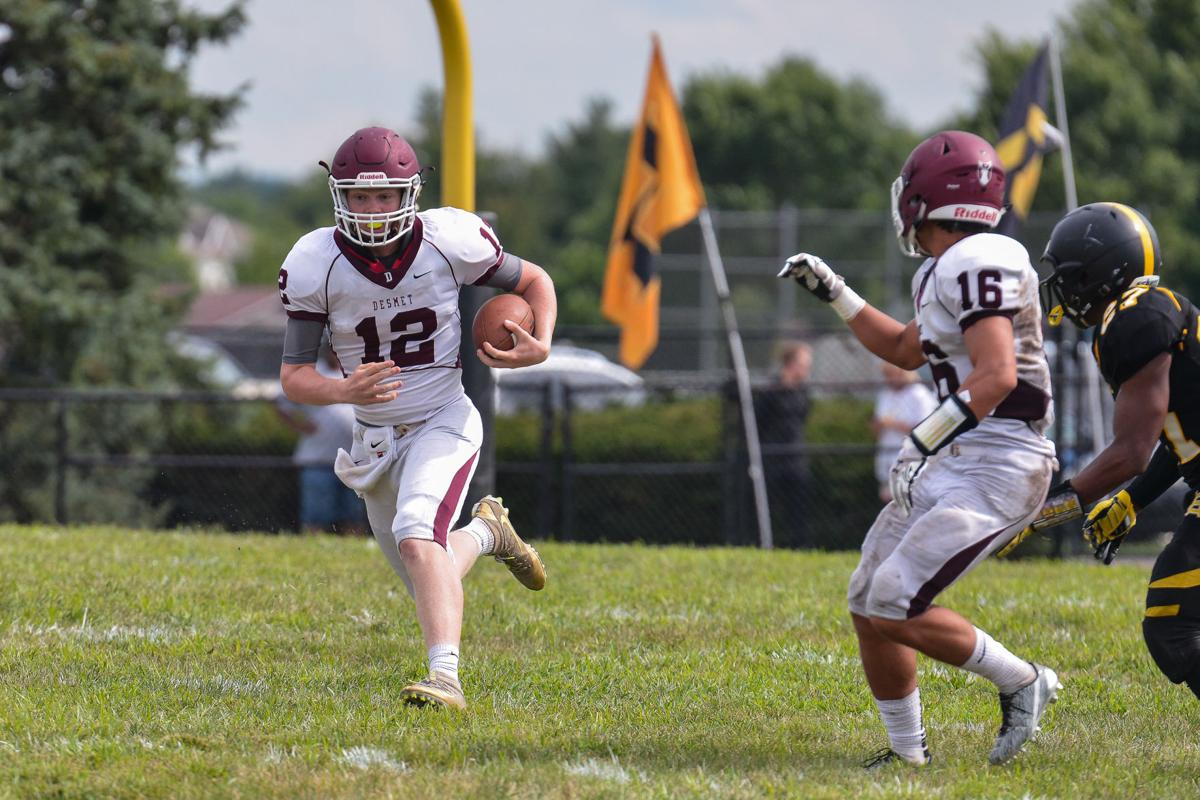 A senior defensive tackle for the De Smet football team, Agnew had just missed a tackle and let Rock Bridge running back Nathaniel Peat get past him.
So why were his teammates going wild?
Turns out that missed tackle might have changed the game.
De Smet senior linebacker Ryan Russell wrestled the ball away from Peat to give the ball back to the Spartans, who trailed 26-25 with less than a minute to play.
"Ryan just wanted it," first-year coach De Smet coach Robert Steeples said. "He took the ball from him."
The Spartans then took the game from the Bruins.
On the ensuing drive sophomore southpaw quarterback Nate Martens connected with senior receiver Jack Ilewski for a 53-yard touchdown pass with 23 seconds to play. It capped off a thrilling three-and-a-half minute stretch as De Smet rallied from a 27-13 deficit to win 32-27 at Rock Bridge.
"It was crazy the way we fought back and won. It seemed like we were dead. We were down two touchdowns with three minutes left in the game," Agnew said. "People were leaving early and everything. Everyone thought Rock Bridge had the game won and we kept fighting and got the win."
Winning is something that has not come easy for De Smet's senior class. The Spartans won one game each of the past two seasons and have had their share of low moments. All those hard nights were not far from Agnew's mind when the Spartans walked off the field a winner.
"I'm not going to lie, I was crying tears of joy. After how much our senior class has been through," Agnew said. "A lot of people didn't think we'd beat Rock Bridge. To beat them like that, it felt really good."
Senior receiver Bryant Perry caught a 52-yard touchdown pass from Mertens with 1:12 to play to bring the Spartans within 27-26. The extra point kick sailed wide. Game over.
"As a defense we go all out all 48 minutes, but when it gets to that situation you have to pin your ears back a little bit more," Agnew said. "We got a major stop to get the ball back."
It's the first career win for Steeples. It's also the first time since 2013 De Smet has been .500 or better. It's the first time since 2012 the Spartans are 1-1. That year they lost their opener at Rock Bridge, and then bounced back to beat Hazelwood Central the following week.
Steeples was extremely proud of how the players handled the adversity of Friday night. But one games does not a season make. He's already on to the next one.
"You'd rather learn from a win than learn from a loss, but I'm ready to move forward and get ready for a scrappy Fort Zumwalt West team," Steeples said.
THE GAME WE'VE BEEN WAITING FOR
Estes, the senior quarterback for East St. Louis, echoed the sentiments of many when asked how he feels about Saturday's showdown between CBC and the Flyers.
"This is what we've been waiting for, a good matchup from the other side of the water," Estes said. "You've got the No. 1 team in Illinois here and the No. 1 team in Missouri. So we're going to put that to the test."
The No. 4 large school in the STLhighschoolsports.com rankings, CBC (2-0) travels to No. 1 LS East St. Louis (1-0) to play in the nightcap of the first Gateway Scholars Classic "Battle of the Border." Kickoff is set for 7 p.m.
There are two other games on the schedule as Cahokia (1-0) plays Sumner (0-1) at 1 p.m. Althoff (1-0, No. 1 SS) takes on Helias (1-1) at 4 p.m.
All three games offer intriguing matchups. Cahokia rallied to stun Highland 25-24 on Friday. It's the first time since 2009 the Comanches won their season opener.
Althoff was the Class 4A runner-up last season and returns a high-powered roster of Division I talent. Included in that group is St. Louis U. basketball recruit Jordan Goodwin, who caught four passes for 92 yards and scored two touchdowns in the Crusaders' 58-15 win over Collinsville.
The headliner matchup is a game area football fans have dreamed of for years. East St. Louis is one of the most tradition-rich programs in Illinois, if not the nation. CBC has grown into an area power over the last decade. The two schools share a common thread. Bob Shannon coached East St. Louis for 20 years. In that time the Flyers were 192-34, which included a 44-0 run. They won six state championships and made 16 playoff appearances.
Shannon took over at CBC in 1999 and helped the Cadets reach their first state title game in 2006. He resigned after the 2007 season.
Shannon, 72, is slated to be honored before the game by both programs.
It will be a celebration of local football history as the teams meet for the first time since the 1960s.
"We're definitely looking forward to it. We figure this game should have happened years ago but hasn't," East Side coach Darren Sunkett said. "When you get a chance to showcase the two top teams in the area and put them on one field for bragging rights it's an event you don't want to miss."
Tickets are $10 and good for all three games. They are on sale at participating schools and will be available at the door at Clyde C. Jordan Stadium on the campus of East St. Louis High.
A large crowd is expected, and that's just fine by Sunkett.
"It's going to be great. We feel we have the best stadium in the metro area and definitely in Southern Illinois," Sunkett said. "It's one of the only stadiums that holds 10,000 people easily. The atmosphere is going to be electric."
Added Estes, "East Side is where you want to be. It's going to be jam-packed."
CHAMINADE DEBUTS NEW FIELD
The turf revolution continues. Chaminade is the latest area school to replace a natural grass surface with an artificial carpet.
After receiving a thumbs-up Tuesday afternoon from the school administration, the newly installed turf facility will host its first game when St. Louis U. High comes calling at 7 p.m. Friday.
Chaminade was the last of the five members of the Metro Catholic Conference to install an artificial surface, joining CBC, SLUH, De Smet and Vianney.
The No. 2 large school in the STLhighschoolsports.com rankings and the top team in the Class 5 Missouri Media rankings, Chaminade (2-0) will look to extend its winning streak over the Jr. Billikens.
The Red Devils have won three consecutive meetings with their Metro Catholic Conference rival. Since 1999, Chaminade and SLUH have met 17 times. The Jr. Billikens lead the series 9-8.
JENNINGS LIGHTS UP THE NIGHT
For the first time in school history, Jennings will know what it's like to have Friday night lights.
Jennings hosts rival Clayton at 6 p.m. Friday. When the sun sets and the lights come on, it will mark the first time a night game has been played on the campus in north St. Louis County.
"We've practiced under them. The kids love them," Jennings coach Mark Harris said. "They're very bright."
The lights were installed at Jennings (1-1) in time for last season but the schedule had already been set. This season the Warriors will play two night games. The second is Sept. 30 when Parkway Central visits.
Jennings opened the season with an 18-0 loss at McCluer. It was the Comets' first season-opening victory in eight years. The result spurred the Warriors to be better the second week as they rolled over Northwest Academy 60-0 on Saturday.
After starting with a clunker, the practices leading into the Warriors second game was more focused.
"We really grinded them," Harris said. "On Saturday they were quiet. They weren't talking or chanting. They buckled up and did what we should have done last Friday."
Harris expects a big crowd on Friday night. Clayton (0-2) generally travels well and there will be curiosity about the team and playing under the lights especially from Jennings alums.
Not that the Warriors can get caught up in any of that.
"Lights or no lights, we're looking for a win," Harris said. "It's still business."
Fox will host its fourth "Huddle Up for Heroes" game before it kicks off against Mehlville at 7 p.m. Sept. 9. The annual event will honor active duty and military veterans as well as local police, fire and first responders.
There will be a MIA/POW ceremony at 6:30 p.m., followed by the national anthem. The game ball will be delivered to the field via parachute. Veterans also will be recognized before the opening kickoff.
WEBSTER GROVES TUSSLES WITH HICKMAN
Webster Groves put together its second consecutive strong performance Friday night with a 40-6 win at Hickman. Webster (2-0) has outscored its first two opponents 82-12. Things get tougher when the Statesmen host budding rival Ladue (1-1) at 7 p.m. Friday at Moss Field.
These two programs have spoiled one another's postseason the last two years. In 2014 a hopeful Webster Groves team was upended in a the Class 5 District 2 title game 34-28. Ladue would go on to lose in the state semifinals to eventual champion Battle.
Last season Ladue entered district play 7-2 and the top seed. Only Webster Groves knocked it off in the first round with a 28-20 win.
These two will not meet this postseason as Ladue was dropped into Class 4 while Webster remained in Class 5.
When they do meet, the Statesmen will be without senior defensive back Josh Johnson, who is suspended one game after being ejected from Friday's win at Hickman.
Hickman quarterback Deven Crane was also ejected after a scuffle broke out between the teams in the first five minutes of the third quarter.
Webster went on to outscore Hickman 25-6 to put the game out of reach.
Standout Donovan Daniels continued his exceptional play as he rushed for 136 yards and two touchdowns and added a punt return touchdown as well.
BREESE CENTRAL RALLY STUNS MASCOUTAH
The No. 8 small school, Central (1-0) travels to Dupo for a 7 p.m. kickoff Friday.
• Blue Springs running back Jaylen Ivey went viral this weekend when he was caught on camera kicking a Lee's Summit West defensive player after he was tackled. The video shows Ivey being tackled, and then as he stands up he shoves the Lee's Summit West player down to the ground and proceeded to kick him. Ivey was subsequently ejected from Blue Springs 21-20 victory Friday night. See the video HERE. 
Any ejection from a football game for a player or coach comes with a minimum one-game suspension according to the state association bylaws. Ivey was given a two-game suspension by Blue Springs for his unsportsmanlike display.
According to the Kansas City Star, Ivey, his father and Blue Springs coach Kelly Donohoe went to Lee's Summit West, where Ivey apologized for his actions.
Ivey opened the season by rushing for 378 yards and seven touchdowns in a 58-45 win over Lee's Summit.
• For the first time in more than a decade, Webb City is 0-2. The Class 4 powerhouse lost its Week 1 matchup with rival Carl Junction. On Friday it dropped its annual meeting with Carthage, 34-21. It's the Cardinals' first loss to Carthage since 2007 and just the second since 1987 according to the Mexico Ledger.
Webb City hasn't opened a season 0-2 since 1995. That year it finished 6-3 and did not qualify for the postseason.
The Cardinals' last two-game losing streak came in 2003, when it lost to Pittsburg (Kan.) and Hickman in back-to-back weeks. Webb City advanced to the state semifinals that season.
Webb City hosts Republic in its home opener on Friday. The last time the Cardinals lost three in a row was 1998.
• Valle Catholic now boasts the nation's longest winning streak according to multiple media reports. The Warriors (2-0) won their 47th consecutive game with a 49-22 victory over crosstown rival Ste. Genevieve. Valle has won three consecutive Class 1 state championships and 14 state titles overall, the most in Missouri.
The last team to defeat Valle was Hamilton, which knocked off the Warriors 60-34 in the 2012 Class 1 championship game.
• Jefferson City crushed Springfield Central 83-6 on Friday night. It's the most points scored in the last 94 years by the Jays and the second-most ever by the historically powerful program. Jefferson City won a game 87-0 in 1922 according to Jays coach Ted LePage.
Jefferson City scored 36 seconds into Friday night's game and never looked back. The Jays led 41-0 at halftime. Central is under first-year head coach Sean Nevills, who took over after Lorenzo Williams left for a job in Oklahoma in the offseason. Nevills is Central's third coach since 2012. He spent the past three seasons as an assistant at Battle in Columbia.
Jefferson City will tussle with a pair of locals as it travels to St. Louis U. High on Sept. 16 and hosts CBC on Sept. 30.
• Congratulations are due to longtime Affton coach Dan Oliver, who picked up career win 100 when his Cougars defeated Seckman 23-7 on Friday. Also a tip of the cap to St. Mary's coach Corey Bethany, who earned his first career victory with Friday's 23-14 win over Priory.
• Cody Schrader put Lutheran South on his back in Saturday's 44-40 win over Soldan. A junior running back and linebacker, Schrader rushed for 261 yards and three touchdowns. He caught three passes for 92 yards and two touchdowns. He completed two passes for 8 yards, including a 5-yard scoring pass to junior tight end Keshon Spraggins.
Schrader finished with a team-high nine tackles.
• Brentwood graduated one of the state's all-time leading rushers last season in Jacob Clay. It would appear the Eagles have found another standout running back to lean on.
• Trinity opened its season with a pair of impressive performances. The Titans outscored Priory and Duchesne 107-0. Only 24 of those points have been scored in the second halves of those two games.
The Titans put their scoreless streak on the line Friday when they host rival Cardinal Ritter.
• Cahokia's 25-24 come-from-behind win over Highland gave the Comanches their first season-opening win in six years. The last time Cahokia (1-0) won its opener was an 8-3 victory over O'Fallon in 2009.