Charlie Elmendorf likes to spend Friday night on the sideline, not in the bleachers.
The longtime Duchesne football coach prefers the rhythms and routines of the season. That includes his team suiting up and taking the field on Friday night.
The Pioneers won't get to when the first round of postseason play begins Friday. The No. 3 seed in the Class 2 District 2 tournament, Duchesne (8-2) has been awarded a forfeit victory by No. 6 seed Cardinal Ritter (0-10). Instead of coaching his team on Friday, Elmendorf and his staff will be scouting next week's potential opponents.
"I'd much rather play," Elmendorf said. "It's more routine for the kids. It's difficult for kids to get used to something different."
It's hard to blame Elmendorf for not wanting to mess with what's working. Duchesne's eight wins this season equal their total number of victories the last three seasons combined. The Pioneers haven't won this many games in a season since 2013 when they went 10-2.
Elmendorf did not think his team would receive the bye week in the district tournament after Ritter self-reported its use of an ineligible player to the Missouri State High School Activities Association Oct. 15. Ritter's self-imposed punishments included forfeiting every game this season and dissolving its football program for the remainder of the year. Ritter currently has no team and no coaching staff.
Even with an 0-9 record and no team, MSHSAA still included Ritter in the Class 2 District 2 tournament and awarded it district points for its strength of schedule. It also received points for playing against schools in larger classifications.
"They still accumulated points for those games as if those games were played," MSHSAA spokesperson Jason West wrote in an email.
The formula MSHSAA uses to determine district tournament seeds gave Ritter 28.61 points which put it ahead of Carnahan (27.91) and Grandview (18.94).
Which is why Duchesne gets a bye week it didn't want.
"I was hoping we wouldn't have the week off," Elmendorf said.
The bye week could mess with Duchesne's mojo. It had won its last four games in a row. Its only two losses were to Lutheran St. Charles and Trinity.
But the unexpected bye week takes away Duchesne's guaranteed home playoff game. As the No. 3 seed, Duchesne would have to travel should No. 2 seed Lift for Life win its matchup with No. 7 seed Carnahan. That game is scheduled for 7 p.m. Friday at Bayless High.
The higher seed hosts and that leaves Duchesne out in the cold barring any upsets in the district tournament. It has not hosted a home postseason game since 2013.
"You lose your home game and all the neat things that go with it," Elmendorf said.
That Ritter was included in the bracket came as a surprise to Grandview coach Dave Dallas, who made the assumption that when Ritter terminated its football season it would not be included and that the top seed in the district — Lutheran North — would receive the bye. Instead, Dallas and his staff are spending this week preparing Grandview (2-7) to face the top-ranked area small school, the No. 1 team in Class 2 and top-seed in the district Lutheran North (8-0).
"That's one of the most bizarre things I've seen in my 36 years of coaching," Dallas said. "I totally don't understand it. They should have went to the bottom of the bracket if you're going to include them."
Grandview faced Lutheran North in the first round of the district tournament last season and lost 83-0. This season the Eagles are flying a bit higher after winning two games for the first time since 2014. Grandview did not field a varsity team in 2017 as it focused on its lower level in an effort to rebuild its football program.
After going 0-10 last season and enduring a 25 game losing streak over parts of five seasons, the players broke through with a thrilling 28-22 homecoming win over Herculaneum on Oct. 4.
"What was fun was to sit back and watch our kids' faces and how happy they were," Dallas said. "It was like a big weight was lifted off their shoulders."
The Eagles achieved another milestone win with a 47-0 victory at Crystal City on Friday. It's the first road win for the Grandview since it won at Crystal City 8-6 in 2015 and its first shutout win since it beat Chaffee 27-0 on September 3, 2004.
"It was a real rewarding season for me," Dallas said. "I know what our kids sacrificed to get a couple of wins."
Grandview will suit up 24 kids when it takes the field at Lutheran North Friday night. Crusaders' senior linebacker Antonio Doyle received about that same number of Division I scholarship offers.
"We're going to go up and do the best we can," Dallas said.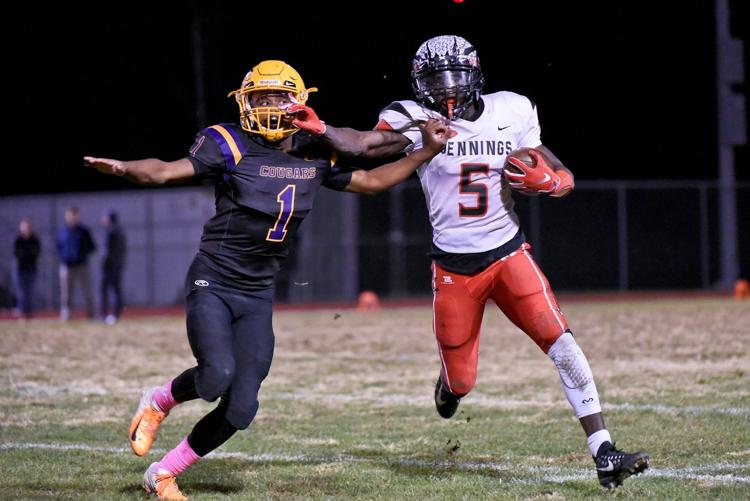 JENNINGS, DUBOURG SELF-REPORT INELIGIBLE PLAYERS
Last week, Jennings and DuBourg each self reported the use of an ineligible player to the Missouri State High School Activities Association.
Jennings forfeited four games to put its regular season record at 1-8. DuBourg forfeited its 54-34 win over Bayless to make it to 2-7.
Jennings discovered its player was not academically eligible, and upon learning he was not, immediately reported the violation.
"We caught it internally and reported it," Jennings athletics director Ryan Wallace said. "There was no malicious intent."
The ineligible player played in four games and must be held out of four sporting events in his next season.
Wallace said the player's name was not submitted to the athletic office by mistake which led to his playing in four games.
"It was a clerical error. I wish we'd have caught it sooner," Wallace said.
DuBourg was in the midst of winning handily against Bayless when it used an ineligible player. The Cavaliers led 46-12 at halftime and in an effort to get as many players into the game as possible, DuBourg's coaching staff included one that was only eligible for junior varsity after transferring from another high school.
"He shouldn't have gotten into the game," DuBourg athletics director Steve Bettlach said.
DuBourg forfeited its game with Bayless (2-7) and suspended coach Ty Martin for the season finale at Roosevelt, a 48-0 loss.
Jennings plays at Priory (7-2) at 1 p.m. Saturday.
DuBourg travels to McCluer (7-2) also at 1 p.m. Saturday.
ROOSEVELT EARNS TOP DISTRICT SEED, HOME-FIELD ADVANTAGE
For all the drama Roosevelt has endured the last month off the field, it still managed to achieve one of its top priorities on the field.
The Roughriders are the top seed in the Class 3 District 2 tournament and will have home-field advantage throughout.
Roosevelt (8-1) managed to slip past St. Clair (9-0) for the top seed. Roosevelt finished with 48.91 points while St. Clair had 48.29. Borgia (7-2) is the No. 3 seed with 46.22 points.
The Roughriders have been through the ringer the last month with their homecoming game being forfeited, coach and athletics director Trey Porter's termination by St. Louis Public Schools and their subsequent walk-out of school last week to demand Porter be reinstated.
Porter met with St. Louis Public Schools superintendent Kelvin Adams last week but remains unaware of any changes that have occurred in his status with SLPS. Porter is currently serving as Roosevelt's No. 1 fan and inspirational leader from his seat in the bleachers.
Porter was hired at Roosevelt to help turn around the struggling program that had lost 26 consecutive games. The Roughriders are now the two-time defending Public High League champions. Roosevelt is not only the lone PHL team to earn a top seed in a district tournament but it's the only one to earn at least one home game. Gateway STEM, Vashon, Carnahan and Miller Career Academy all have to play on the road for their first postseason games this weekend.
Roosevelt hosts Confluence (0-8) at noon on Saturday. Confluence forfeited games to Roosevelt and Bayless due to a lack of players earlier this season. It has since played games at Caruthersville, Brentwood and Perryville.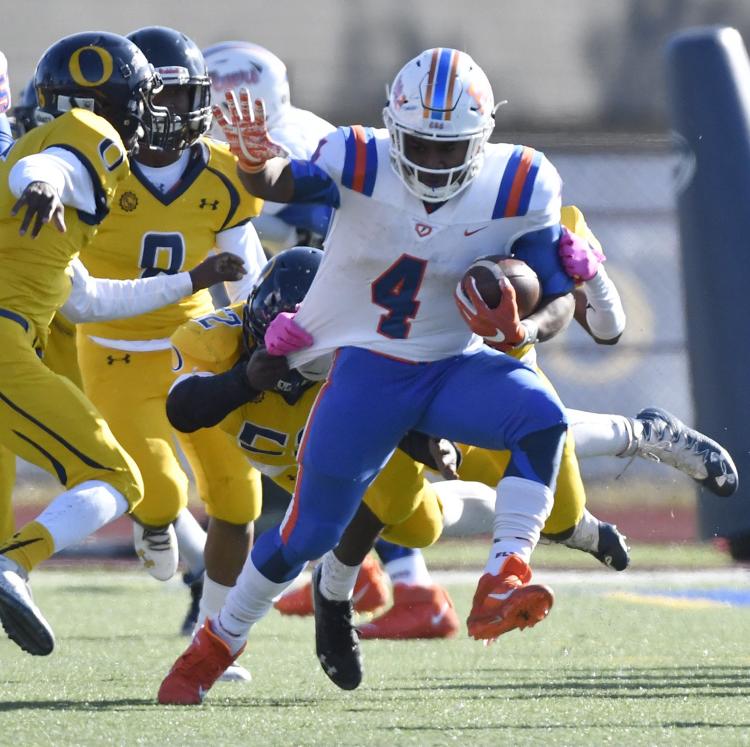 EAST ST. LOUIS' FIRST-ROUND GAME UP IN THE AIR
Whether East St. Louis gets to play a first-round playoff game Saturday depends on what happens in Chicago.
The Chicago Public Schools are currently shut down due to a teacher's strike. Extracurricular activities are not allowed when school is not in session. The strike has already cost athletes postseason opportunities in a multitude of sports in Chicago.
One of two No. 1 seeds in the Class 6A bracket, East St. Louis (9-0) will know whether it will take on Morgan Park (5-3) by Wednesday morning. Should CPS and the teacher's union reach an agreement by then, Morgan Park would be allowed to travel down to East St. Louis and play the first-round game. Should the strike continue into Wednesday afternoon, there will not be enough days to get enough practices in the week to meet the minimum guidelines set by the Illinios High School Association. Teams must practice at least three days if they have been off more than seven days. By Wednesday, CPS will have been out for more than 11 days.
The contest is tentatively set for 2 p.m. Saturday at Clyde C. Jordan Stadium on the campus of East Side High.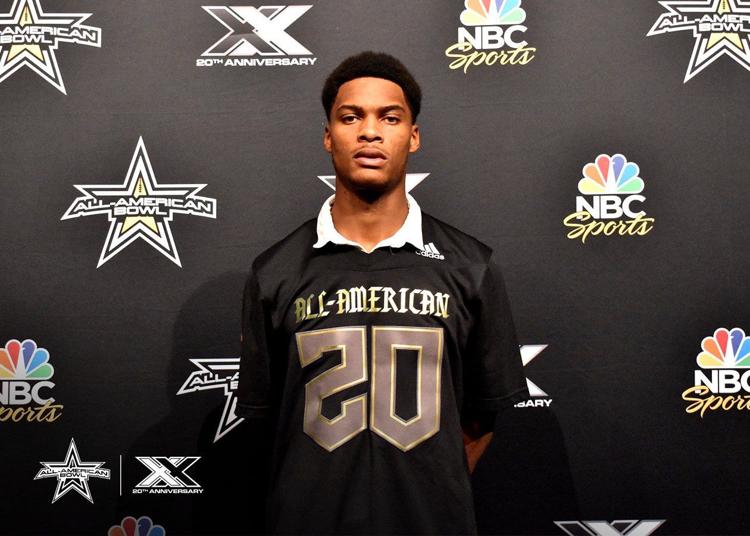 ALL-AMERICAN'S RECEIVE JERSEYS
The recognition of St. Louis as a place for elite football talent continued Monday and Tuesday as two local standouts were recognized.
On Monday, Lutheran North linebacker Antonio Doyle received his Army All-American Game jersey at a presentation at the school while De Smet receiver Jordan Johnson received his jersey Tuesday.
They are the latest locals to take their talents to the national stage.
The game will be played at noon on Jan. 4 at the Alamo Dome in San Antonio and can be seen live on NBC. 
INTRIGUING PLAYOFF MATCHUPS
• St. Louis U. High at CBC
Streak: CBC has won 17 in a row over SLUH.
Up next: Winner of De Smet-Pattonville
Streak: De Soto ended an 18-game skid to Festus on Sept. 27.
Up next: Winner of Farmington-Windsor.
• Jefferson at St. Pius X
Streak: St. Pius X broke a four-game losing streak to Jefferson this season with a 13-7 win on Sept. 20.
Up next: Winner of Caruthersville-East Praire.
• Hazelwood Central at Hazelwood West
Streak: Hazelwood West has won its last two with Central.
Up next: Winner of Francis Howell-Francis Howell Central
• Gateway STEM at Hazelwood East
Streak: This is the first meeting between these two schools in at least two decades.
Up next: Winner of McCluer-DuBourg
• Defending Class 3 champion Trinity earned the top seed in the Class 3 District 3 tournament despite having a bye Week 9. Trinity (5-3) earned the top seed with 43.2 points. Priory (7-2) is the No. 2 seed with 41.82. Entering the last week of the regular season, Priory had an ever-so-small grasp on the top seed in the district. When St. Dominic scored a 22-7 win over Priory on Saturday, it altered the points enough to lift the Titans to the top spot.
Trinity hosts Vashon (1-8) at 7 p.m. Friday. The winner will then play the winner of University City (5-4) and Normandy (3-5) in the district semifinals.
• Defending Class 6 champion CBC is the No. 4 seed in the District 1 tournament. CBC (7-2) had 40.89 points and finished behind No. 1 seed De Smet (9-0, 47.44), No. 2 seed Francis Howell (8-1, 43.92) and No. 3 seed Hazelwood West (8-1, 42.47). As a result, should De Smet and CBC win their first-round games on Friday night, they would then rematch at De Smet on Nov. 8. De Smet won the first meeting this season 42-14 in a game that was broadcast nationally on ESPNU.
• Nearly all of Class 5 will have a bye this week. The catch-all classification with an odd number of teams, there will only be four games across the state on Friday or Saturday, two of them locally.
Ritenour (1-8) plays at Webster Groves (4-4) at 7 p.m. Friday at Moss Field. The winner will travel to top seed Chaminade on Nov. 8.
Parkway South (0-9) plays at Oakville (1-8) at 7 p.m. Friday. The winner of that game plays at top seed Eureka on Nov. 8.
Defending Class 5 champion Vianney (1-8) was given a bye week by earning the No. 3 seed in its district with Oakville and Parkway South. The Golden Griffins travel to Mehlville (6-3) for a 7 p.m. kickoff on Nov. 8. It will be the first meeting between these two South County programs in at least two decades.
• Defending Class 4 champion Ladue (8-1) had its 23-game win streak come to an end Friday. The Rams will try to start a new streak against a familiar foe when they open up postseason play in the Class 4 District 3 tournament.
No. 8 seed and rival Clayton (1-8) comes calling for a 7 p.m. kickoff on Friday. The No. 1 seed, Ladue has beaten its neighbor 12 consecutive times.
This district field is full of intrigue as No. 2 seed Summit (8-1) will try to make it back to the district championship game for a second consecutive season. Last season's Class 4 runner up, MICDS is the No. 3 seed and hoping to be healthy for another playoff run. Parkway North, Westminster, Parkway Central and St. Charles make up the rest of the field.
• Metro-East Lutheran will host Low-Point Washburn for its first playoff game in school history at 7:30 p.m. Friday. Metro-East Lutheran (5-4) made the transition to 8-man football this year and it's been successful. The Knights are riding a three-game winning streak, the longest in program history. The winner of Metro-East Lutheran and Low-Point Washburn (3-4) plays No. 2 seed Polo (9-0) next Friday or Saturday.