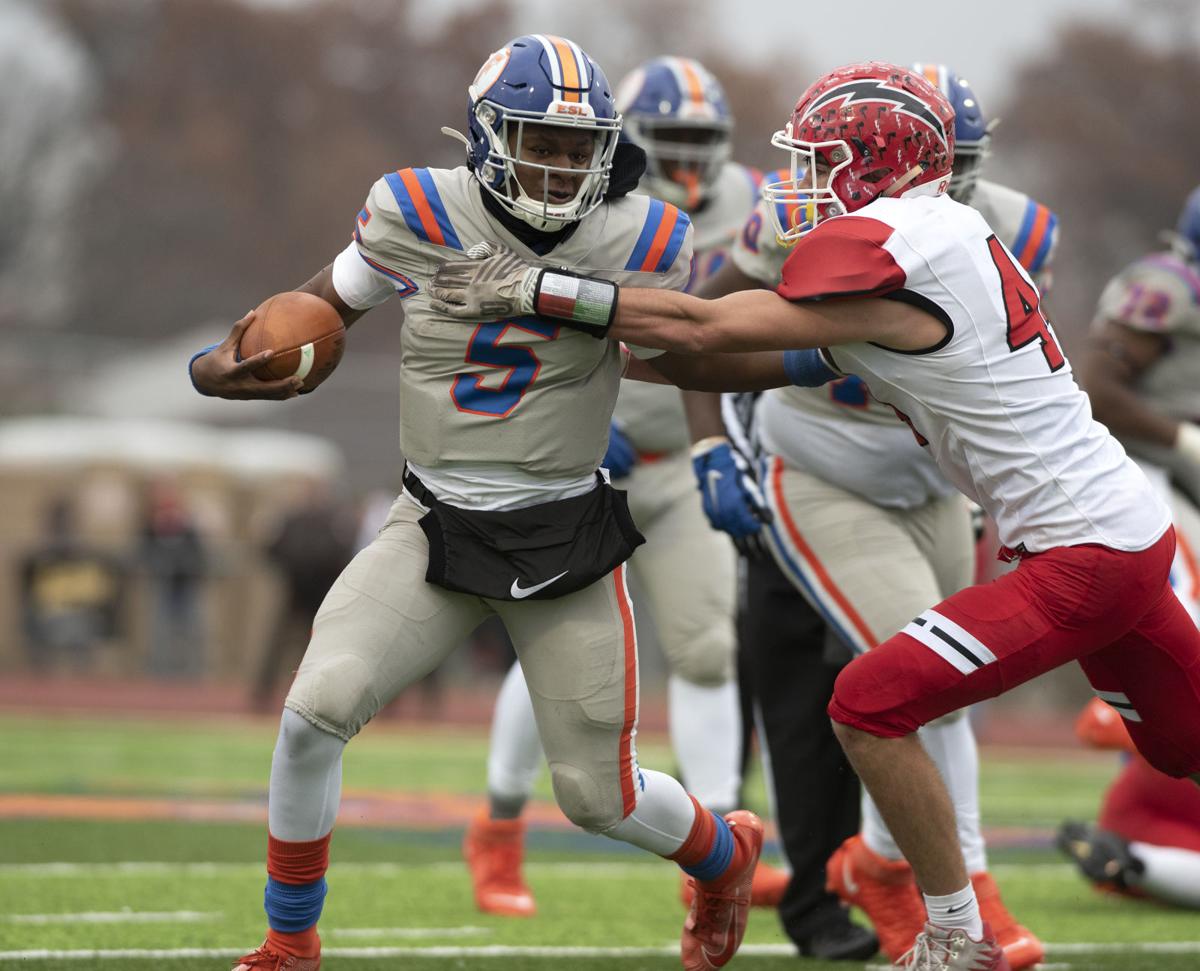 DEKALB — Darren Sunkett left no doubt.
After wrapping up his 20th season as the East St. Louis football coach, Sunkett proclaimed this year's team better than the rest.
"This is, in my opinion, the best offense in East St. Louis history. I challenge anybody to put the numbers up," Sunkett said. "I guarantee there's not an offense better or a team better than what sits in front of you right now."
It might seem like hyperbole. Or maybe the euphoria that comes from winning a state championship after one of the most trying years in his tenure at East Side. But Sunkett is on point. This year's Flyers outscored his previous 19. Even the 2008 and 2016 teams that won Class 7A championships couldn't keep up with this year's Class 6A champion.
Under the direction of quarterback Reyondous Estes, the 2016 offense scored 574 points. In 2008, quarterback Detchauz Wray guided the Flyers to 650 points.
This season, junior quarterback Tyler Macon guided the Flyers to 714 points. According to the Illinois High School Association, that mark is tied with Arcola's 2015 team for the fifth-most points scored in a season. Peoria set the record at 805 points in 2016. The Flyers' 51 points per game average ties them with Arcola's 2015 team for 15th most in state history.
East St. Louis' 104 touchdowns this season are tied with Sacred-Heart Griffin's for second-most all-time. The record of 116 was set by Peoria in 2016. East Side's 1985 championship team scored 96 touchdowns, ninth all-time in the state record book.
Macon has made quite the impact in his two seasons under center. This season he threw for 39 touchdowns and rushed for 17 more for a new state record of 56. Jacardia Wright of St. Teresa's (Decatur) set the previous record of 55 last season. Macon also scored six 2-point conversions to give him 348 total points, good for the third most in a single season in state history. Last season he accounted for 281 points to give him 629 for his career which makes him No. 11 all-time in state history. Rockford Lutheran's James Robinson set the record of 948 in 2015 after a four-year varsity career.
Macon threw for 4,241 yards and rushed for another 827 to give him 5,068 yards of total offense, which is second in a single season in state history. Tuscola's Dusty Burk finished with 5,138 in 1997.
"It starts with him. He's studied this offense, he knows this offense inside and out," Sunkett said of Macon. "I believe he showed you guys that (Saturday). He's the best quarterback in the state and one of the top quarterbacks in the country. He showed it week in, week out."
Macon had a masterful performance as East St. Louis beat Prairie Ridge 43-21 to win the 6A title on Saturday. He completed 13 of 19 passes for 304 yards and three touchdowns. He rushed for 91 yards and a 42-yard touchdown. Despite a whipping wind, Macon was in sync with his receivers. Junior Dominic Lovett caught five passes for 118 yards and a pair of touchdowns. Junior Keantez Lewis caught three passes for 109 yards and a touchdown (and nearly had another that was just out of reach). Senior Lawaun Powell Jr. caught three passes for 54 yards. Senior Antonio "AJ" Johnson caught two passes for 24 yards.
"I wouldn't want to go out this year with any other group of seniors. They've got my back and I've got their back," Macon said. "These are my guys. I love all my boys."
All season long Sunkett was asked how there were enough balls to go around to such a talented crew. He said those things took care of themselves.
"It's a great group of guys. They played all year with a selfless mentality," Sunkett said. "It's a true brotherhood. Lawaun is going to do whatever he's got to do to get AJ open. AJ is going to do whatever he has to do to get Lovett open. Lovett is going to do what he has to do to get Keantez open. And Tyler is going to find them all."
The air attack was dynamic but it wouldn't have been as effective if senior running back DaMonta Witherspoon wasn't keeping defenses honest with the threat of a powerful ground game. Witherspoon rushed for 1,742 yards and scored 34 touchdowns. 
"The offense don't go without Witherspoon," Sunkett said. "You can't have great play action or great (run-pass option) without a great running back. It all starts with Witherspoon."
The offensive line wasn't left out, either. Senior Javontez Spraggins was a four-year varsity stalwart who Sunkett praised for his leadership on the line this season, especially with freshmen Miles McVay and Paris Patterson.
"You start two freshmen on that O-line, they had Spraggins leading them. They had a great leader," Sunkett said. "These guys put forth a great effort."
You might even call it historic.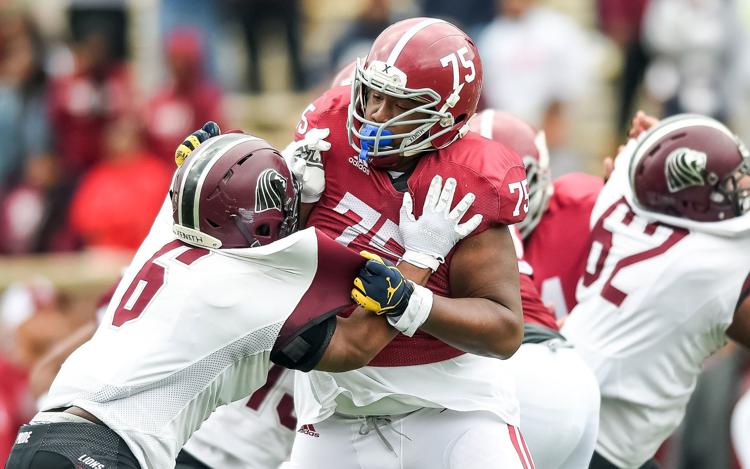 ODOM FIRING LEAVES RECRUITS IN FLUX
Barry Odom's dismissal as Missouri's football coach has affected the incoming 2020 recruiting class for the Tigers. Mizzou had  a rock-solid class lined up with some of the area's top talent pledging to matriculate to Columbia.
That has been put in flux with the change at the top.
Trinity offensive tackle Jalen St. John has reopened his recruiting and said he will take his remaining four official visits and skip signing in the early period, which begins Dec. 18, and instead sign in February. A 6-foot-3 and 305-pound tackle, he'll have opportunities. Before committing to Missouri he had 19 offers including Illinois, Auburn, Mississippi State, Mississippi, Minnesota, Nebraska, and Tennessee.
East St. Louis defensive end Kevon Billingsley said he's open to listening to other schools but remains committed to the Tigers.
Kirkwood receiver Jay Maclin tweeted that he's not answering any questions about Mizzou's coaching change but remained firmly committed prior to the Pioneers' 42-28 win over Webster Groves on Turkey Day.
Chaminade quarterback and newly minted Metro Catholic Conference offensive player of the year Brady Cook remains committed completely. He shut his recruiting down before his junior season after verbally committing to the Tigers.
Another potential recruit to consider is Lutheran North linebacker Antonio Doyle, who was committed to Mizzou but backed off that pledge in August. He has since listed a final three of Missouri, Illinois and Texas A&M.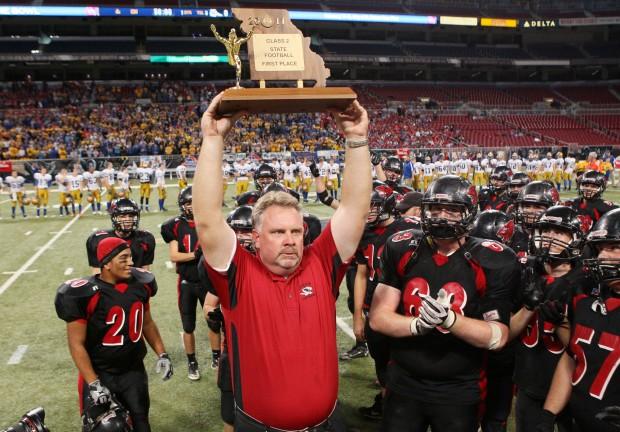 LAMAR'S BAILEY RESIGNS AFTER 14 YEARS, 7 CHAMPIONSHIPS
Scott Bailey has resigned as Lamar's coach according to Joplin TV station KOAM. Bailey informed the team of his decision Monday.
In 14 seasons at Lamar, Bailey went 151-41 and guided the Tigers to seven Class 2 championships between 2011-2016. The seven consecutive state championships are a state record. In the midst of Bailey's tenure, Lamar held the nation's longest winning streak at 57 games.
There is some speculation that Bailey could be considered as the next coach at Pittsburgh State University just across the border in Pittsburgh, Kansas.
Tim Beck resigned as Pitt State coach two weeks ago. He put in 33 years with the Gorillas, the last 10 as its head coach.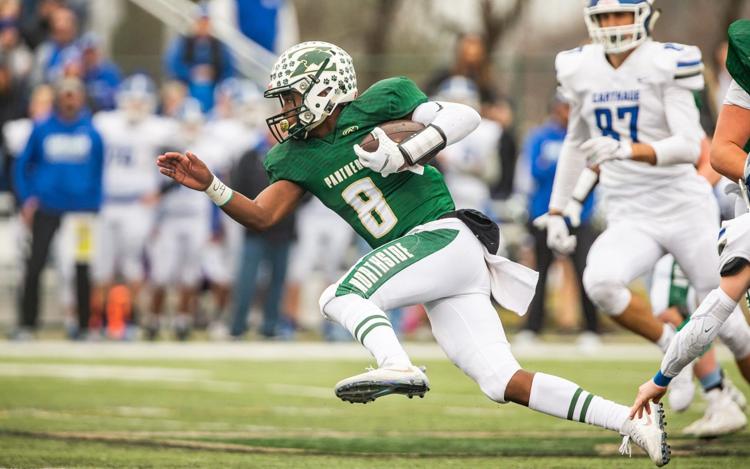 CRUCIAL CATCH ALL-STAR GAME COMING SOON
If you're feeling down because this is the last weekend of high school football until next August, fear not! There is one more game on the docket.
The American Cancer Society of St. Louis is hosting its first "Crucial Catch" All-Star game at 1 p.m. on Dec. 15 at Lindenwood University's Hunter Stadium.
Team Red and Team White will take the field in an effort to raise money and honor those who have battled and those that continue to battle cancer in all its form.
Team Red will have Larry Frost as its coach. Team White gets Bob Bunton, who ended his long tenure at Parkway North after the 2018 season.
The quarterbacks for Team Red are Cardinal Ritter's Mekhi Hagens, McCluer's Jaylen Gardner and Webster Groves' Enrique Quinones. Team White's quarterbacks are Fort Zumwalt North's Cairo Payne, St. Mary's Cam'Ron McCoy and O'Fallon Christian's AJ Snow.
Tickets are $10 at the gate and all proceeds benefit the American Cancer Society. For more information call (314) 286-8185.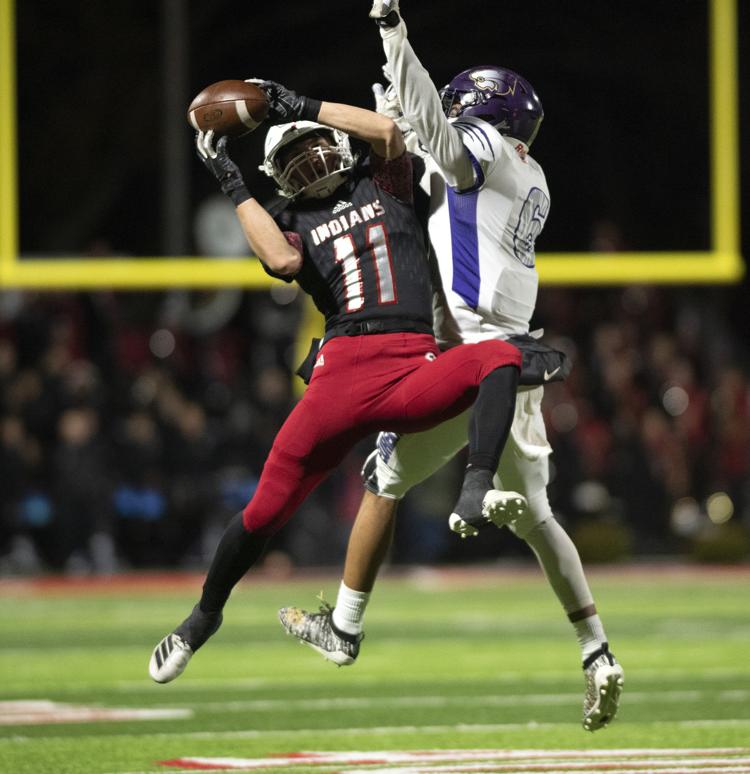 JACKSON CHASES FIRST CHAMPIONSHIP
For the first time since 1995, Jackson will play for a state championship.
For the first time since 1995, Jackson had to worry about a football game interfering with its Christmas parade.
The Jackson Christmas Parade was scheduled for the evening of Dec. 7. That changed shortly after the Indians knocked off Staley last week, 20-7. The Class 5 state championship is set for 7 p.m. that night.
The parade was pushed back a day.
Jackson's band performs in the parade but will now be in Columbia. The parade organizers wanted to make sure all the Indian fans that wanted to attend the title game would have the chance.
Jackson (13-0) faces Carthage (11-2). It's the third championship game appearance for Jackson. The Indians played for the Class 4A title in 1994 and 1995 and lost both in heartbreaking fashion.
Excelsior Springs edged the Indians 12-6 in 1994. The next year, Camdenton won 20-19.
Jackson never made a trip to the Edward Jones Dome when it hosted the championship games between 1996-2015. The 1994 game was held at Faurot Field. The 1995 game was played at Plaster Stadium in Springfield.
Jackson beat Webster Groves, Parkway North, Parkway Central and Hillsboro in the regular season. The Indians then knocked out Seckman and Fox in the postseason before toppling Eureka in a quarterfinal.