WENTZVILLE — Ethan Place looked around the locker room and was impressed by what he saw.
Or, better yet, by what he didn't see Saturday afternoon.
The Holt football team trailed rival Troy 28-13 at halftime of its own homecoming game. The Indians hadn't played their best football and trailed by two touchdowns. Yet they remained calm, focused and confident at the break.
"Getting hit in the mouth, as they say, early, we went into halftime down and there was no panic," said Place, Holt's coach.
The Indians outscored the Trojans 28-3 in the second half and rallied for a 41-31 victory. The win pushed Holt to 6-0 for the first time in as long as anyone can remember. The previous high-water mark for the program in the last two decades was a 5-0 start in 2003. That team went on to finish 10-3 and gave the Indians their only state semifinal appearance in school history.
Place, who graduated from Holt in 2001, said he can't remember a better start in the 1990s.
"It's tremendous, it's a great honor," said senior linebacker Clayton Reed. "The last few years we haven't had a good record. Being 6-0 means a lot to me."
That this team has found its way to rarefied air is a testament to its toughness. The backbone of Holt's roster is sophomores, many of whom have stepped into prominent roles on the offense — including both quarterbacks.
Cooper Brown and Payton Hoker competed for the starting job all offseason. Brown had an edge after being named the starter as a freshman but four games in he suffered a season-ending knee injury. The 6-foot-2 and 180-pound Brown returned from injury in the offseason and won the job again before another injury in the preseason jamboree. Though it wasn't season ending, Brown was down and out.
Hoker took the reins and the Indians didn't miss a beat.
"We didn't know how long he'd be out. Payton stepped in and did a great job," Place said.
In the past, Holt has hung its hat on a rushing attack. The now-graduated Cole Mueller was the most prolific running back in the area the past three years as he rushed for 6,390 yards. But the Indians have some different strengths this season and have tailored the offense to be more pass oriented. In his first four games, Hoker completed 38 of 59 passes for 818 yards, nine touchdowns and was intercepted once.
Brown returned from injury after four weeks and shared snaps with Hoker for one game then resumed starter duties the last two. He's completed 45 of 63 passes for 753 yards, eight touchdowns and has been intercepted twice.
"My mindset (coming back) was just get the win for the guys and continue on the hot streak," Brown said.
Place couldn't say enough about how Brown and Hoker handled their competition in the offseason, at practice and in games. Both of them want to help the team win and have shown themselves willing to do what it takes to make that happen.
"That was the toughest situation I've ever had in coaching and the kids have handled it great," Place said. "It shows a lot to their character, how they were raised and how they approach the game."
It certainly doesn't hurt to have some talented playmakers to pitch the ball. Sophomore receiver Jackson Smith has caught 41 passes for 762 yards and seven touchdowns. He's also averaged nearly 25 yards on 11 kickoff returns.
"It feels great to get everything together," Smith said. "We're winning some games and showing what we're made of."
Sophomore receiver Colin Bunner has caught 28 passes for 536 yards and scored six touchdowns.
"Our talent and strength is on the outside in our receiving corp and our quarterback position," Place said. "They've developed quite a bit of chemistry throughout the year and with that they know you have multiple weapons that can score."
In Place's five seasons, Holt has averaged 34 or more points the last three years after not breaking 20 the first two. The Indians have been able to score enough to win games, they just weren't able to consistently stop their opponent. Holt allowed 35 or more points per game the previous four seasons.
This year they've allowed an average of 19 per game.
"When you look at defenses are you getting multiple hats to the ball and are they there in a bad mood?" Place said. "They were doing that on Saturday in the second half."
Place, a quarterback in his time at Holt, heaped the praise on defensive coordinator Darryl Daleen. A former college coach who grew up in the area, Daleen has made strides in reshaping the defense in just his second season on the job.
"We're glad to have him here for as long as we can," Place said.
Holt will get to see just how far it has come when it hosts Fort Zumwalt West at 7 p.m. Friday. The Indians are currently sitting atop the Class 6 District 2 standings with 44.17 points. Fort Zumwalt West (4-2) is second at 34.83 and Blue Springs (4-2) is third with 32.67.
When the regular season ends, the district field will be seeded with the top point scorer receiving the No. 1 seed and home field advantage throughout the tournament. Head-to-head matchups figure prominently as a team with fewer district points can leap frog the team directly in front of it if it beat that team on the field. Whoever comes out ahead Friday night will have a leg up when the playoffs begin.
Fort Zumwalt West has won four in a row over Holt and six of the last seven. Fresh off a loss to rival Francis Howell on Saturday, the Jaguars will be itching to get back on track.
"Our coaches have been doing a great job getting us ready mentally and physically for this game," senior center Cale Bunner said. "We have to come out and be ready to play."
Place doesn't know what Friday night holds but he's excited to find out. The underclassmen have more than held their own on the varsity and the seniors have performed at a high level all season. It'll be a good test to see just how far the Indians have come.
"It's a chance for us to see where we measure in our district," he said. "It's a great program and great tradition there. We're excited to play them at home."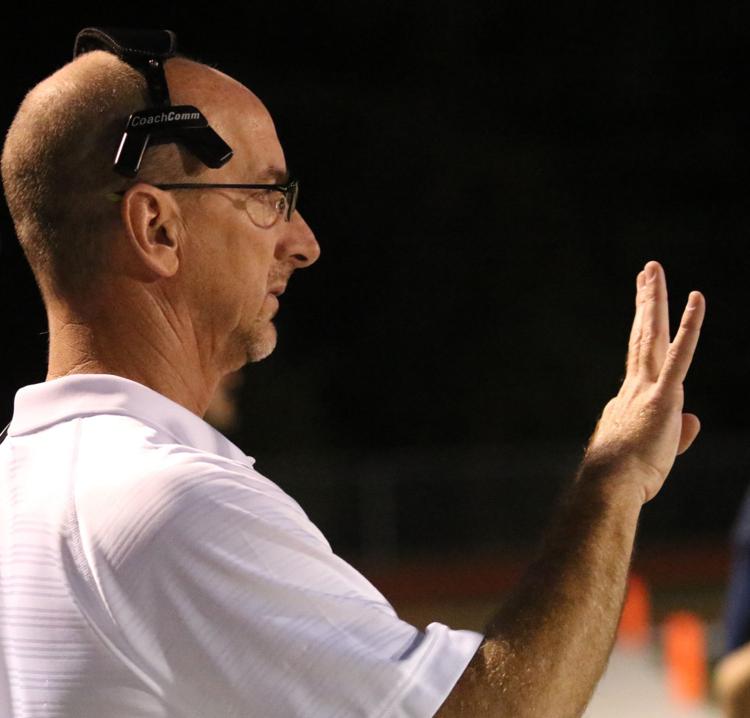 PARKWAY SOUTH COACH RESIGNS
Parkway South is under new management six games into the season.
Joe Rosewell resigned as coach in the midst of his eighth season at the helm of the Patriots. He tenured his resignation following a 47-0 loss to Lafayette Friday, according to Parkway South athletics director Pat Burns.
Assistant coach John Barnabee took over as interim coach and will finish out the season.
In Rosewell's first season as coach at Parkway South in 2012, the Patriots won their first seven games and finished 8-3. Since then, Parkway South has not won more than four games in a season. In Rosewell's tenure, the Patriots went 23-54. They have lost 13 consecutive games and have not scored 20 or more points in 18 consecutive games.
Rosewell will remain as the boys track and field coach.
"Our focus has always been and remains on the kids," Burns said. "We want to put them in the best position to be successful. We'll continue to focus on that the next four weeks."
Burns said Parkway South will begin looking to fill its vacancy in December.
Parkway South (0-6) hosts Summit (5-1) at 7 p.m. Friday.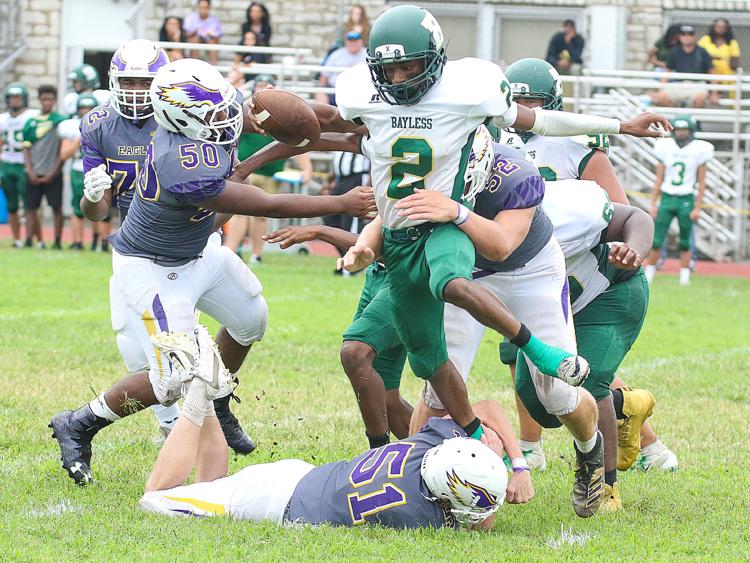 BAYLESS PREPS FOR SECOND NIGHT HOME GAME
It's just different under the lights.
And for the second time this season, Bayless will get to see how different when it welcomes Valle at 7 p.m. Friday.
It will be the second game under the brand-new lights for the relatively new program. Bayless (1-5) hosted Lift for Life on Sept. 13. That week, the Bronchos didn't know if they'd actually get to play since installation of the lights wasn't completed until two days before.
"It was a nail-biter for that first game," Bayless coach Ryan Knight said.
Construction was delayed in part because of the deluge of rain over the summer. But now the lights are in and the Bronchos are hoping to put on a good show against one of Missouri's all-time powerhouse programs.
Valle (5-1) has won 14 state championships, its most recent in 2015 when it took the Class 1 crown. The Warriors were the runner up in 2017.
It'll be a tough draw for Bayless, which was awarded a forfeit victory last week when Confluence was unable to field a team due to a lack of healthy players.
The Bronchos picked up the victory but were unable to play on homecoming. Instead of taking the field, Knight said the team was able to march in the homecoming parade and interact with the community in a positive way. The Bayless soccer team beat Affton 6-1 in the makeshift homecoming showcase game.
Knight said the Bronchos had a few key upperclassmen cleared to return from injury this week and hope to put a good showing on the field against an outstanding opponent.
"They are very technically strong. They throw the ball well, catch the ball well," Knight said. "Hopefully (our returning guys) can help us."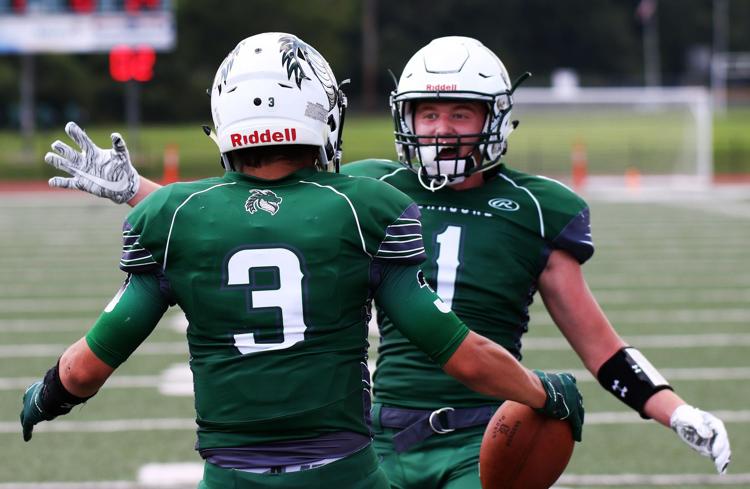 DE SOTO CHASES RARE OPPORTUNITY
Two weeks after scoring its first win over Festus in 18 years, De Soto is on the cusp of more history.
The Dragons are one win away from a conference championship.
De Soto (4-2 overall, 3-0 league) tussles with Mississippi Area Red foe and rival Hillsboro (2-4, 2-1) at 7 p.m. Friday. Should the Dragons find themselves on the right side of the scoreboard, it would give them just the third conference championship in school history and first in nearly 50 years.
De Soto is in the driver's seat but more often than not Hillsboro has had its way with its neighbor. De Soto broke an 11-game losing streak to Hillsboro last season with a 14-8 win. Since 1999, Hillsboro leads the series with De Soto 17-7.
The Hawks' record isn't pretty but they have played a tough schedule that includes showdowns with St. Charles West (6-0) and Farmington (5-1). They're also coming off a 42-36 loss to North County (1-5).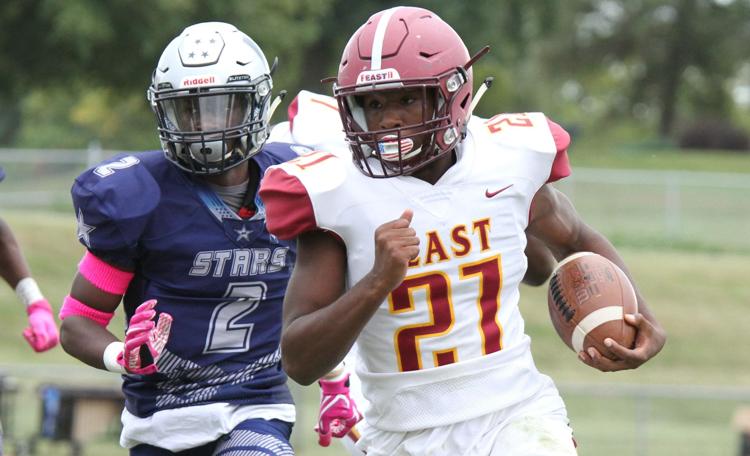 HAZELWOOD EAST TO PLAY FIRST FRIDAY NIGHT GAME
For the first and possibly only time this season, Hazelwood East will get to play under the lights on Friday night.
The Spartans travel to Fox for a 7 p.m. kickoff. Hazelwood East (3-3) will play for just the second Friday this season after it hosted Lafayette on Sept. 6 for an afternoon showdown.
East took a tough 32-14 loss to McCluer North last week after scoring one of its biggest wins in nearly a decade by knocking off rival Hazelwood Central 28-19 on Sept. 28.
It was the first win for the Spartans over the Hawks since 2011 and broke a seven-game losing streak. East had lost nine of its last 10 to Central.
Central (1-5) is not the juggernaut of the past but that didn't stop East from savoring its win. Even coach Lorenzo Brinkley, a Central graduate, was thrilled the Spartans managed to break through. His team? Not so much.
"The kids don't get it," East coach Lorenzo Brinkley said. "The tradition isn't resonating in their heads."
Brinkley said some of that can be attributed to the overall youth of the program. The Spartans are leaning heavily on freshmen and sophomores this fall. 
GRANDVIEW SCORES RARE WIN
For the first time in four years, Grandview won a football game.
The Eagles eked out a 28-22 win over I-55 Conference foe Herculaneum Friday at home. Junior running back David Creath rushed for 157 yards and three touchdowns.
Grandview (1-5 overall, 1-2 league) has struggled on and off the field in its recent past. Last season, the Eagles were 0-10 and in 2017 did not field a varsity team. They were 0-9 in 2016 and went 1-9 in 2015. That season they broke a nine-game losing streak with an 8-6 win over Crystal City.
Since 2001, Grandview has finished without a win six times and never won more than four games in a season. The last time the Eagles won four games was 2010.
Grandview travels to Jefferson (2-4, 2-2) for a 7 p.m. kickoff Friday.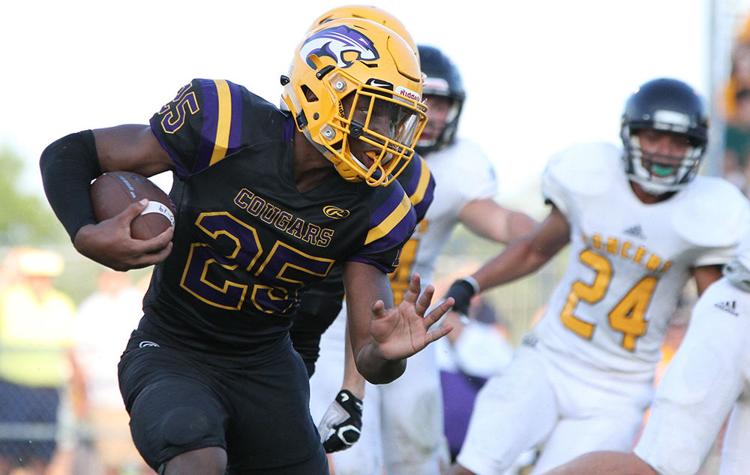 There are two games on Thursday as Lutheran North travels to John Burroughs for a Metro League game at 4:15 p.m.
The No. 2 small school in the STLhighschoolsports.com rankings and No. 2 team in the Class 2 Missouri Media poll, Lutheran North (4-1 overall, 3-0) has won three in a row over the Bombers and owns a 12-10 lead in the series since 1999.
Burroughs (4-2, 2-2) is coming off of back-to-back losses to MICDS and Priory.
Both teams will have to play fast. Burroughs does not have lights on its field and sunset is expected by 6:30 p.m.
Gateway STEM (4-2) travels to Affton (5-1) for a 7 p.m. kickoff. The Jaguars have a quick turnaround after playing Roosevelt Saturday afternoon. They suffered several key injuries. Coach Jason Dulick was hopeful some of his players would be able to return.
The Cougars have been on a roll this season after going 4-6 last year. Affton has scored 40 or more points in four of its six games and broke the 40-point barrier twice in the previous three seasons combined.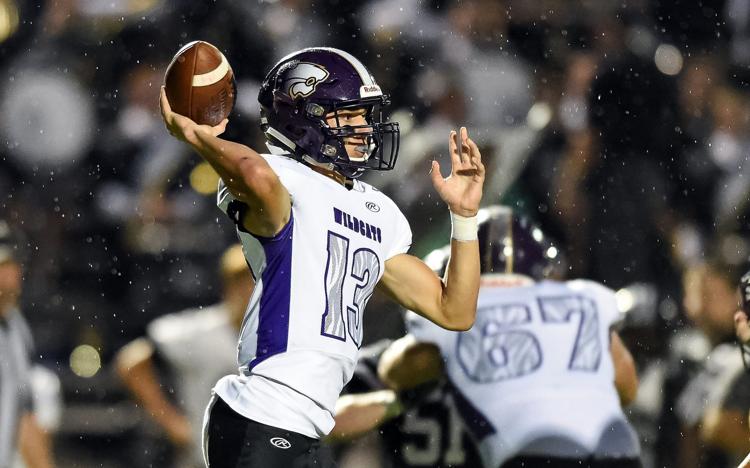 THIS WEEK'S RIVALRY GAMES
Streak: Split two meetings last season with Kirkwood winning a Class 6 district semifinal.
Note: Kirkwood has won three of its four games with Eureka since 1999.
• Chaminade at St. Louis U. High
Streak: Chaminade has won six in a row and eight of the last 10.
Note: Half of the Red Devils wins during their streak are by seven or fewer points.
Streak: CBC has won nine in a row and 12 of the last 13.
Note: During its win streak, CBC has beaten Vianney by 32 or more points six times.
Streak: De Soto won last season to break an 11-game skid.
Note: De Soto can clinch its third conference title in school history with a win.
Streak: Highland has won three in a row and six of the last seven.
Note: Triad has thrown for 225 total passing yards this season. It has five players that have rushed for 225 or more yards.
• Breese Central at Columbia
Streak: Breese Central broke a seven-game losing streak last season.
Note: Columbia's defense has allowed three combined points its last four games and just 20 total points this season.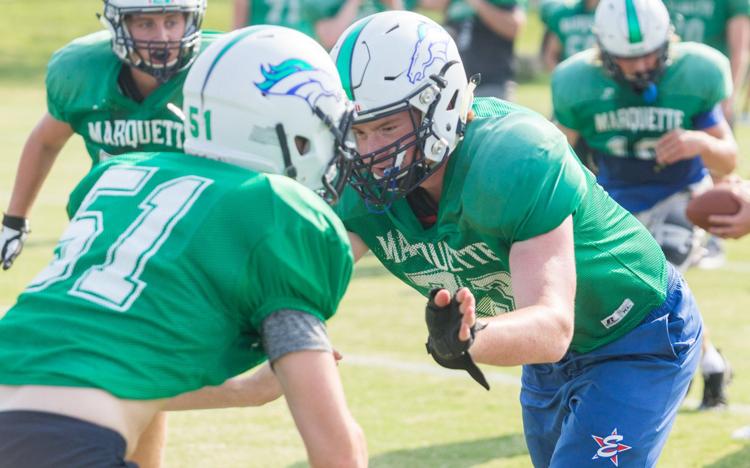 • Starting next season, Crystal City will no longer compete in the I-55 Conference. According to the Jefferson County Leader, the Crystal City school board voted unanimously for the Hornets to leave the league that includes Grandview, Herculaneum, Jefferson, St. Pius X, St. Vincent and Valle Catholic.
Crystal City (0-6 overall, 0-3 league) has struggled with football participation and has been unable to field a junior varsity team recently.
• Lafayette's homecoming game with Parkway North will begin at 7:30 p.m. Friday. Lafayette (5-1) lost the first meeting between the two schools in at least two decades last season when Parkway North (1-5) pulled out a 36-30 win.
• Marquette (6-0) plays its final home regular season game at 7 p.m. Friday when it hosts Pattonville (1-5). The Mustangs are currently the top seed in the Class 6 District 3 tournament with 47 points. Joplin (6-0) won a district title last season and is right behind the Mustangs with 45 points. Lafayette is third and Kirkwood is fourth.
• Chaminade (4-2) is the top seed in the Class 5 District 3 tournament with 45.5 points followed by McCluer North (5-1) with 44.67 and Parkway West (5-1) with 40 points.
• The Class 4 District 2 field is one of the most diverse in the area. McCluer (4-2) currently sits atop the standings with 43.5 points followed by Affton (5-1) with 42.8 points, Hazelwood East (3-3) with 41.33, Gateway STEM (4-2) with 34.17, St. Mary's (3-3) with 32.88 and Riverview Gardens (0-6) with 25.67.
• Priory (5-1) sits atop the Class 3 District 3 standings with 45.02 points  ahead of No. 2 seed Trinity (4-2) with 42.26.  No. 3 John Burroughs (4-2) has 38.33 and No. 4 Jennings (2-4) has 35.67 .
• Roosevelt (5-1) is the top seed in the Class 3 District 2 standings with 48.44 points, just ahead of St. Clair (6-0) with 47.67 and Borgia (3-3) with 44.83.
• St. Charles West (6-0) is the No. 1 seed in the Class 3 District 4 standings with 52.67 points followed by Lutheran St. Charles (5-1) with 43.67.