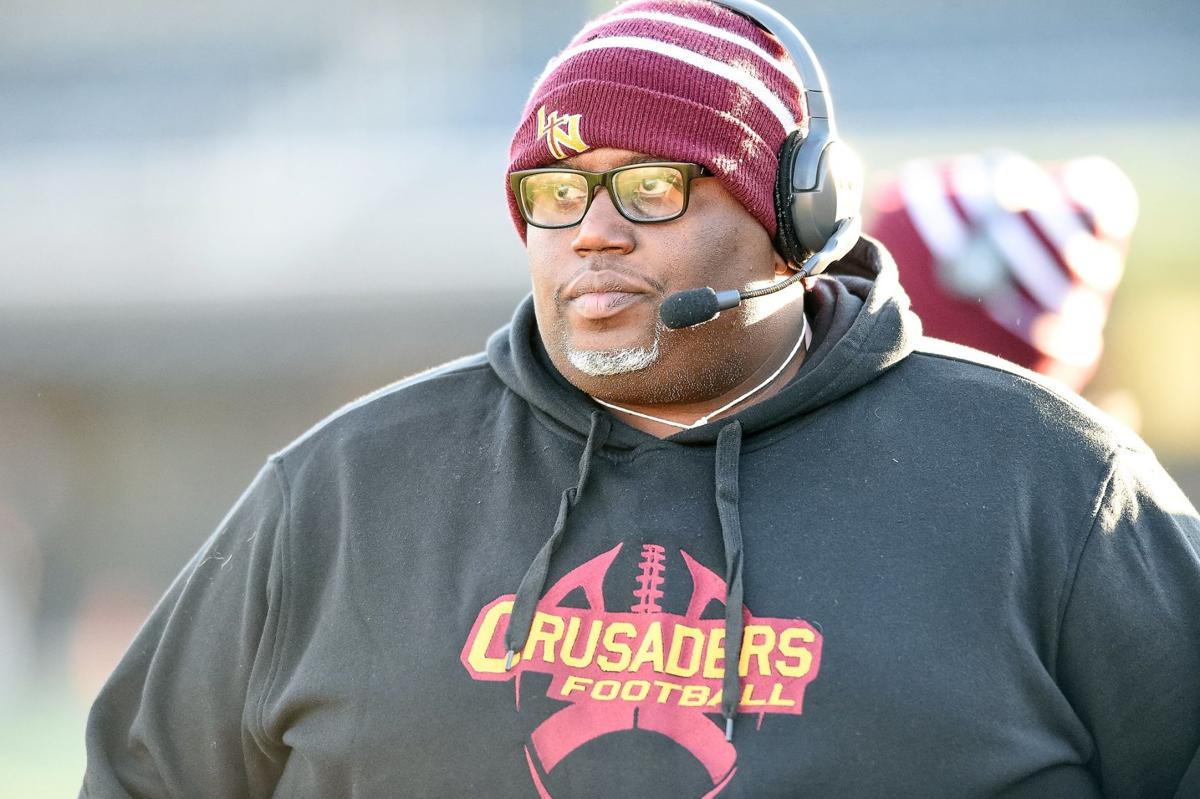 Jordan Smith was perfectly content to make the switch from quarterback to wide receiver when his team needed him.
Giving up his social media accounts, however, was a much bigger challenge.
A senior playmaker for the Lutheran North football team, Smith and his team were going to celebrate their Class 2 championship Friday night with an old friend — Twitter.
"Super happy we get to get back on it tonight. I'm posting all the pictures," Smith said with a smile. "We're lit!"
Near the start of Lutheran North's postseason run, several of the Crusaders posted a video of themselves on Instagram in their locker room doing the same chant Cardinal Ritter did prior to its games this season. Many of the comments on the video voiced a severe displeasure. It was not well received by anyone on Lutheran North's staff, coach Carl Reed in particular.
Reed subsequently punished his team by forbidding the players from using their social media accounts until the season was complete. He did not let the players talk to the various media outlets in the area and the recruiting media that routinely covers Lutheran North's roster of college prospects.
It was radio silence for Lutheran North. It wasn't a decision the players liked, but it appeared to work out just fine.
"We were all kind of mad when he took it from us, but we knew he had our best interests at heart," senior safety Aubrey Parkter said. "Six weeks later look where we're at. No social media, state champs. We didn't need it like that."
Reed said he saw more focus out of his team when it didn't have all the distractions social media brings. The things people say to each other online can be vitriolic in nature. Trash talk from the upcoming opponent in the week leading into the game is not unheard of.
The Crusaders never had to worry about what was being said. They did their talking on the field.
"To me social media is just another distraction," senior running back Jalen Head said. "I don't care to have it."
Reed learned a valuable lesson about how to interact with the current generation of players. He has one more tool in his kit that includes running five miles at the crack of dawn.
"Taking away Twitter, that's the best way to discipline their age group," Reed said. "That got more cooperation than anything I've done in my 17 years. It completely changed their behavior in such a positive way."
Fresh off the program's sixth state championship and first since 1999, Reed said he doesn't plan on making a social media blackout a tradition going forward. It was effective and necessary for this team.
"Every team is different. If another team handles it right they'll be on there," Reed said. "If they don't, they won't. I don't think you can handle everything with a cookie cutter mentality."
Reed's first state championship as a coach is less than a week old, but he was back on his grind Tuesday. He spent the day meeting with a litany of college coaches who have worn out a path to his office as they come to recruit the Crusaders. Reed said this is the measuring stick by how he judges his program's success.
"This program is about college scholarships and getting kids to the next level," Reed said. "Everything else is second to that."
The early-period for football players to sign binding letters of intent is Dec. 18-20. The regular period begins Feb. 5. Reed said he expects all nine seniors in his program to sign to play at college.
VALLE WINS 15TH TITLE WITH 13-MAN ROTATION 
Judd Naeger isn't into rings. Trophies and banners are all right, but rings are small and hard to keep track of for the longtime Valle football coach.
"I couldn't tell you where six or seven of them are," Naeger said with a chuckle. "My wife would be upset if she heard me say that."
Rings aren't Naeger's thing, but that hasn't stopped him from collecting them. Now in his 16th year as the coach of his alma mater, Naeger guided the Warriors to their state-record tying 15th state championship with a 30-27 win over Lincoln in the Class 1 title game Saturday.
Valle and Webb City both have 15 state championships. Webb City defeated Platte County on Friday to win the Class 4 title.
It's the first championship for Valle (14-1) since 2015 and it came despite tough circumstances. Naeger said the Warriors had nine players who started on both sides of the ball. There were only 13 or 14 who played regularly. Only three players weighed 200 or more pounds. Even for a small school, Naeger relied on a skeleton crew.
"This group was special. We didn't have a superstar level kind of team," Naeger said. "It was a team that had to get every ounce of talent out of it."
Last season, Valle was knocked out of the playoffs in the district title game by Hayti, 28-7. Hayti would go on to win the championship in dominating fashion, which was a not-so-subtle reminder to Valle how close it was to being on that well-worn path to the championship game.
"Last year we felt we were close," Naeger said. "We felt we were one of the best teams in the state."
That was despite not having a single player weighing more than 195 pounds.
Since 2010, Valle has either won the state championship or lost to the state champion every season. In eight of the last 10 years, the Warriors made the title game. Saturday's victory gave them six championships in that stretch. The two times Valle did not make it to the final day of the season were last season and 2016, when it lost to Hamilton-Penney in the semifinals.
Long playoff runs are part of the program for the Warriors. Naeger said they're a valuable teaching tool.
"Your kids really grow up in the playoffs," Naeger said. "They understand how important their jobs are."
The scout team, which can be considered a less-than-ideal assignment for a player in August, is crucial in October and November when seasons live or die by the slimmest of margins. Valle experienced that in its quarterfinal, when it managed to survive Thayer with a 15-14 win. The Warriors turned the ball over four times, were shut out on four different occasions inside Thayer's 10-yard line and still managed to rally for the win in the final five minutes.
"Our guys grew up a lot this year in the postseason," Naeger said.
That growth should only help the Warriors next season. The way Naeger sees it, Valle will have more depth.
"We're going to have 20 to 25 guys ready to play," he said.
The Warriors may or may not get the chance to defend their championship. A "success factor" has been adopted in Missouri, which will bump up private schools beyond their raw enrollments when the Missouri State High School Activities Association sets the classifications for the season. Naeger doesn't know where the Warriors will land. But one thing is for sure, Valle is going to compete no matter what level it lands in. The ties that bind the community will make sure of that.
"A lot of the kids have dads, uncles, older brothers that have won state titles," Naeger said. "It's really a family affair for us."
WEBB CITY FOCUSES ON ITS FUTURE 
John Roderique walked out on the turf at Edward Jones Dome in 1997 and looked around in awe. It was his first state championship game as the Webb City coach and he didn't know if he'd ever be back.
"I remember telling our captains I was so appreciative," Roderique said. "We might never get this chance again."
Under Roderique's watch, the Cardinals have had that chance again and again. Webb City has made 14 championship game appearances since that day in the dome and won 12 championships.
Webb City rolled over Platte County 48-0 on Friday to claim the program's 15th title to remain tied for the state lead with Valle.
It was a year of redemption for the Cardinals. Ladue beat them on their home turf in the semifinals last season. That loss stung and none of the returning players forgot it.
Durand Henderson wouldn't let them.
Now a freshman at Northwest Missouri State, Henderson's senior year ended with that semifinal defeat. Before he graduated Henderson pinned a reminder to the returning players on the bulletin board in the locker room. It was his scouting report for the Ladue game, the last scouting report ever prepared for him as a Cardinal. He tacked it up in May and it hung there all through summer work outs and into the fall.
Roderique didn't really notice it for awhile and when he did he considered taking it down.
He didn't. Instead he took a photo of it and sent it to Henderson.
On Nov. 30, Ladue once again came to Webb City in a Class 4 semifinal. Henderson was there for the game and the Cardinals took care of business with a dominating 35-0 win. In the semifinal and final Webb City outscored Ladue and Platte County a combined 83-0.
Roderique said that pinned scouting report and what it represented made a point to his team.
"They wanted to avenge the loss," Roderique said. "It certainly motivates kids."
Motivation isn't hard to come by in Webb City. The program's standard is sky high and there's plenty of competition just to get on the field. Roderique counted 100 players in the sophomores through seniors. He said there were another 40 or so freshmen. With all those players vying for roles and time dues must be paid. To crack the regular rotation as an underclassmen you have to be pretty special. In many cases the seniors that are on the field have waited what feels like an eternity to get there. So when they do get there they want to make the most of it.
"You have to look at it as a unique team with new leaders and new players," Roderique said. "Every year is kind of special."
This season was very special as Webb City won its 20th consecutive district championship. It remains tied with Valle for the lead in state championships. But these aren't the things Roderique and his staff spend time thinking about.
"We go on to the next one," Roderique said. "If you sit and talk about it too much that's when it goes south on you."
In the 22 years since he made his debut at the dome, things haven't gone that way yet for Roderique. It doesn't appear they ever will.
JACKSON FALLS IN ANOTHER HEARTBREAKER
For the third time in school history, Jackson played for a state championship.
For the third time in school history, Jackson lost the state championship in heartbreaking fashion.
Carthage quarterback Patrick Carlton clinched the championship with a 2-yard touchdown run in overtime for a 27-21 in the Class 5 title tilt.
It's the first state championship for Carthage (12-2) and it came in the Tigers' first title game appearance.
Jackson (13-1) thought it had scored a touchdown on its possession in overtime only to have it called back due to a penalty. The Indians were unable to score which gave Carthage the ball and set up the Tigers' dramatic victory.
It's the third runner-up finish for Jackson (13-1). The Indians fell to Excelsior Springs 12-6 in the 1994 Class 4A title game. A year later Camdenton survived Jackson, 20-19.
Saturday night's championship game was the first to require overtime since 2010 when Valle Catholic nipped Westran 22-21 for the Class 1A title in 2010.
Jackson made its first championship game appearance in 24 years but don't expect it to take that long to make it back again. The Indians depended on a slew of underclassmen on both sides of the ball.
Quarterback Cael Welker is a junior. His entire offensive line is expected back and a year bigger and stronger. Sophomore Kannen Turley led the team with 44 catches for 672 yards and 14 touchdowns entering the championship.
Junior linebackers Bryce Norman and Randol McDowell combined for 322 tackles and eight sacks.