CHESTERFIELD — Chase Callahan might as well have been the intended receiver.
A senior linebacker for the Marquette football team, Callahan spent the better part of a week studying the Kirkwood offense. When the Pioneers' outside receiver went into motion, Callahan recognized the upcoming play and reacted accordingly.
"It was a bubble. They were going to try and block me outside to get outside of me. I knew exactly what the play was," Callahan said. "I kind of sidestepped (the blocker) inside and avoided him because he wanted to keep pushing me. He whiffed, I got inside and I knew it right when he threw the ball, it was mine."
Callahan stepped in front of Kirkwood quarterback Kannon Nesslage's screen pass and returned it 25 yards for a game-tying touchdown less than two minutes into the second quarter of Friday night's game at Kirkwood.
The 5-foot-9 and 170-pound Callahan didn't just put points on the board for his team. He gave the Mustangs a spark that carried them to a 42-23 win, their first over the Pioneers in over two decades.
"Once that pick-6 happened, because we were down, it brought the whole team up," senior linebacker Matt Kadlec said. "It gave us that feeling we're in this game."
The No. 9 large school in the newest STLhighschoolsports.com rankings, Marquette (3-0) needed its defense to let it hang around the first three quarters. Kirkwood (1-2) led 17-7 when the fourth quarter began.
Then Christopher Kreh found some room to maneuver.
"The things he did that game I've honestly never seen before," senior tight end/defensive lineman Josh Merz said.
A 5-foot-10 and 196-pound junior, Kreh rushed for 246 yards and scored all five of his touchdowns in the fourth quarter. Four of which came unanswered in a seven and a half minute stretch that turned a 10-point deficit into an 18-point lead.
"We felt like our depth, fitness and our edge would get us through to the end," Marquette first-year coach Michael Stewart said. "Some of our seniors made big plays when you have to make big plays in the fourth quarter and got the ball back to our quarterback. Chris ran a heck of a game for us."
Marquette's defense recovered a fumble, forced a punt deep in Kirkwood's end that turned into a short field and managed to shut down an offense that erupted in a 61-35 win at Jefferson City in Week 1.
The defense got the ball back and the offense took advantage. Before the Mustangs knew it they were on their way to something they had not done since beating Kirkwood 27-17 on Oct. 4, 1996. 
"A few things like that happen and you look up and you've flipped the scoreboard," Stewart said. "I'm just really proud of the kids. They never gave up. When we felt like we really started to gain momentum we kind of pushed the pedal to the floor and got after it."
It was a particularly sweet night for Marquette's defense. The Mustangs were lit up for 575 yards of offense last season as Kirkwood rolled to a 58-20 victory at Marquette. That never sat well with the returning players who believed they were better than what they showed on the field that day. A year later, they were given another chance against a strong Kirkwood offense.
"I was out with a knee injury but it was still just as hard to experience on the sideline, maybe even worse just seeing that happen," Kadlec said. "The 575 was something we kept saying to ourselves over the week to motivate ourselves, that's why it made it even greater. It was great to get that win."
The Mustangs had their share of challenges to overcome. Kirkwood opened the scoring when Nesslage found junior receiver Jackson Fortner for what turned into a 76-yard touchdown with about three minutes to play in the first quarter.
Callahan's interception return tied the game but Kirkwood pulled ahead when Nesslage hooked up with Melvin Simmons for a 43-yard score late in the second quarter. The Pioneers led 14-7 at halftime.
In the locker room during the break, Stewart shared some observations and thoughts with his team rather vividly. It made an impression because the Mustangs played at a much higher level in the third and fourth quarters.
"We started clicking in the second half after the halftime speech," said junior left tackle Connor Throneberry. "We figured out we could do this."
With each possession that ended with Kreh in the end zone, the Mustangs grew more confident in themselves and their preparation for this season. Marquette has 29 seniors on the roster and there is a palpable bond between the players, especially on the defense. It was fully on display as the Mustangs shutout Parkway North and Parkway Central, their first two opponents.
"We have been playing defense together for three years," Callahan said. "We have a connection, a bond on the field that is unmatchable. That connection can take us far."
Just how far is to be determined. Marquette has not won a district championship since 2008. The Mustangs were eliminated by Pattonville last season. The prior two years it was powerhouse CBC that beat them.
This year the districts were realigned and Marquette was put into Class 6 District 1, which includes Jefferson City, Joplin, Kickapoo, Kirkwood, Lafayette, Lindbergh and Northwest-Cedar Hill.
When the district standings are finalized at the end of the regular season to seed the tournament, Marquette will hold the upper hand on Kirkwood for home-field advantage due to its head-to-head victory.
First things first. Marquette just wants to be 4-0 when the week is over. The Mustangs haven't won their first four games in a season since 2000. They host Parkway South (0-3) at 7 p.m. Friday.
That's where Marquette's attention remains. Another bonus of having so many seniors on the team is they don't have time to savor wins in Week 3. There are bigger objectives to be accomplished.
"The kids know that we have to work on playing our best football," Stewart said. "We can't worry about what opponent we're playing each week. We've got to worry about getting better to make a long run."
Added senior right tackle Isaiah Brisseaux, "I think we need to keep our focus and continue to work on the team we have ahead of us. Just stay focused and continue to work together as a team."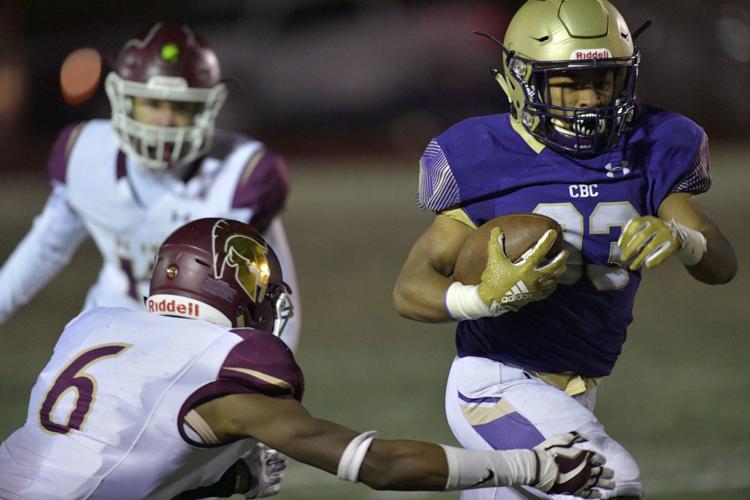 CBC-DE SMET GAME SOLD OUT
If you didn't get your tickets to Friday's showcase showdown between the top two teams in the Metro Catholic Conference, you're in luck.
You can watch it on television.
There are are no more tickets available and none will be sold at the door when CBC hosts De Smet in its home opener at 8 p.m. Friday. The game will be broadcast nationally on ESPNU as one of 14 high school football games on the network this fall.
The No. 2 large school and top-ranked team in the Class 6 Missouri Media poll, CBC (3-0 overall, 1-0 MCC) is the two-time defending state champion and has won 37 consecutive conference games. The Cadets overpowered Chaminade 56-26 on Thursday night after winning at O'Fallon and Edwardsville the first two weeks of the season.
The No. 3 large school and No. 2 in the Class 6 Missouri Media poll, De Smet (3-0, 1-0) has made mincemeat of its first three opponents. The Spartans outscored Hazelwood Central, Rock Bridge and St. Louis U. High a combined 134-14. They shutout the Hawks and then allowed the Bruins and Jr. Billikens each to score a fourth-quarter touchdown with the mercy-rule running clock in effect.
CBC has won 10 in a row against De Smet and 13 of its last 14. The Spartans shocked the Cadets with a 56-35 win in the 2012 postseason. CBC responded by winning nine of the next 10 meetings by 35 or more points.
Friday's game will be the first in the area broadcast nationally since Parkway West hosted Parkway North on ESPNU October 5, 2007, when Blaine Gabbert was the featured recruit his senior season at West. Gabbert didn't play his senior year after suffering an injury. Parkway North stole the show as it rolled to 476 rushing yards in a 42-14 victory.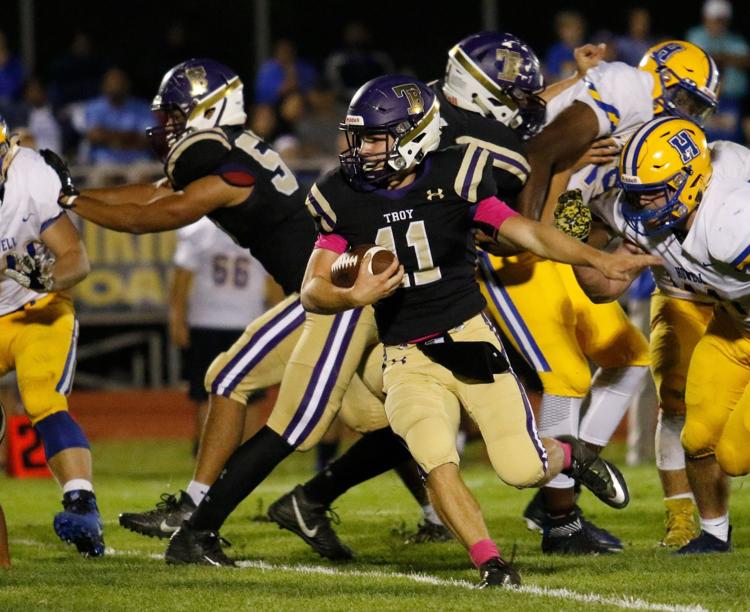 TROY STARTS TOUGH STRETCH
For the first time in at least two decades, Troy won its first three games in consecutive seasons. In that time, the Trojans have never opened with four straight wins in any season.
They'll have their hands full as they try to break through this year.
Troy (3-0) travels to Fort Zumwalt West (2-1) for a 7 p.m. kickoff on Friday. The Jaguars have won their last 15 meetings with the Trojans. Last year, Fort Zumwalt West escaped with a 24-21 victory in the tightest contest between the teams since their first in 2002 was also decided by three points.
Troy's lone success in the series came in 2004 when running back Brad Homer rushed for 213 yards in a 27-15 win.
Fort Zumwalt West is fresh off a 35-14 win at Belleville West and is at home for the first time since it beat Eureka 23-22 in its rain-soaked season opener.
Following Friday's stop at Fort Zumwalt West, Troy then has to prepare to play at Francis Howell (2-1). Since 2002, Howell has won all 20 of its games with Troy.
Troy returns home on Oct. 5 when it hosts Holt at 1 p.m. Holt (3-0) is off to a fast start after securing a rare win over rival Timberland on Friday. Troy defeated Holt last season 61-35.
THIS WEEK IN RIVALRY GAMES
In every pocket of the area there are rivalry games on tap for Week 4. Here's a quick look at some of the highlights.
• De Smet (3-0) at CBC (3-0)
Streak: CBC has won the last 10 with a margin of victory greater than 35 points nine times.
Note: Sold out, watch it live on ESPNU.
• Eureka (2-1) at Lafayette (3-0)
Streak: Eureka has won four in a row and eight of the last 10.
Note: Lafayette is 3-0 for the first time since 2012. It beat Eureka twice that season.
• Vianney (1-2) at Chaminade (2-1)
Streak: Vianney has won four in a row and five of the last seven.
Note: Vianney defeated Chaminade in the playoffs on the way to Class 5 state titles in 2016 and 2018.
• Festus (2-1) at Hillsboro (1-2)
Streak: Hillsboro has won six in a row and eight of the last nine.
Note: Hillsboro has outscored Festus 98-7 in the second half of their previous four games, including a 16-0 fourth quarter last year that propelled the Hawks to a 22-20 win.
• St. Mary's (2-1) at Borgia (2-1)
Streak: Borgia has won two in a row and six of their seven meetings since 2012.
Note: St. Mary's only win since the series began was a 16-15 thriller at Borgia in 2016.
• Northwest-Cedar Hill (3-0) at Seckman (1-2)
Streak: Seckman won 14-6 on the road last season to break a three-game skid to Northwest.
Note: Northwest is 3-0 in back-to-back seasons for the first time in at least two decades.
• McCluer North (2-1) at McCluer (3-0)
Streak: McCluer North won 41-0 at home last season, has won five of the last six and 15 of the last 20 against McCluer since 1999.
Note: McCluer has not been scored on in games against Jennings (shortened due to weather), Lutheran South or Oakville.
• Hazelwood Central (1-2) at Hazelwood West (2-1)
Streak: Hazelwood West won 20-14 in the district tournament last season to end its 14-game losing streak to Hazelwood Central.
Note: Last season Hazelwood West defeated Hazelwood Central, Hazelwood East and McCluer North in the same season for the first time in school history.
• Belleville West (1-2) at East St. Louis (3-0)
Streak: East St. Louis has won three in a row and 16 of the last 18.
Note: Winner takes home the Alton Southern Bell, which was at one point atop an Alton & Southern Railways locomotive. "The Bell" has been the traveling trophy for these teams since 1916.
• Lutheran North junior defensive end Travion Ford's appeal hearing with the Missouri State High School Activities Association's board of directors is scheduled for Wednesday. Should it rule in his favor, Ford would be eligible to return to the lineup for the Crusaders game at 1 p.m. Saturday at Westminster. If his appeal is denied, Ford would be ineligible to compete for the Lutheran North varsity team this season and would return to playing for the junior varsity as he has done since the start of the season.
Lutheran North coach Carl Reed stated previously that any player in his program that is not eligible for the varsity but is eligible to compete for the junior varsity will play on the JV team.
• Trinity (1-2) defeated DuBourg (1-2) 90-6 last Friday. The game was called after the third quarter. Trinity senior running back and Illinois recruit Reggie Love did not play.
Trinity hosts O'Fallon Christian (2-1) in its home opener at 7 p.m. Friday.
• Mascoutah will celebrate the 40th anniversary of its 1979 Class 3A state championship team Friday at home against Highland. All former players, coaches and managers are welcome to take part. Those interested should meet at the south end zone at 5:30 p.m.
Mascoutah (2-1) opens up Mississippi Valley Conference play against three-time defending champion and perennial contender Highland (1-2). The Indians have lost seven in a row to the Bulldogs and 11 of the last 12.
• Edwardsville is looking to schedule an opponent for Week 1 in the 2020 season. Contact Edwardsville athletics director Alexander Fox if interested.