MASCOUTAH — Josh Lee is no stranger to the state semifinals.
In his fourth season as Mascoutah's football coach, Lee estimates he's been to about 30 of them in his life.
But when Mascoutah welcomes Rochester for a 5 p.m. kickoff Saturday, this one will be different.
Lee won't have to buy a ticket.
"I've always been on the other side of the fence," Lee said with a laugh. "It's a dream come true for me. It's something I've thought about often."
An Illiopolis native, Lee said his father would haul him and his brother to local high school games when they were kids. As he grew older and became a coach himself he continued to travel and watch playoff games even after his team's season ended. He's been a regular at Champaign and DeKalb, both of which have hosted the Illinois High School Association's state championships.
"I've been a football nerd since I was about 4 years old," Lee said. "Bless my wife."
Lee's love of the game and his roots around Springfield mean he's well acquainted with the Indians' Class 5A semifinal opponent. Rochester (11-1) is a certified powerhouse with the hardware to prove it.
In coach Derek Leonard's 14 seasons at the helm the Rockets have won seven state championships, all since 2010. Rochester has advanced to the semifinals 10 of the last 11 years, including last season when it was beaten by Class 4A runner-up Kankakee McNamara.
"We know they are a juggernaut and have the utmost respect for them," Lee said. "We're going to be as prepared as we can be."
Mascoutah (9-3) is in the semifinals for the first time since 2006 and understands the challenge that awaits it Saturday. But the Indians have made a habit of overcoming adverse situations on this playoff run.
In the first round Mascoutah trailed Carbondale 28-27 until standout senior running back Devin Wills scored the go-ahead touchdown with 59 seconds remaining. He tacked on a pick-6 with 13 seconds to go that made the final score 40-28.
In the second round the Indians needed to stop Kankakee on fourth-and-1 at the 2 in the final minute to keep their season alive. The defensive unit that calls itself the "Dark Side" stuffed Kankakee's run and saved the season in front of a raucous home crowd.
Last Saturday, Wills came up big again as he scored a 1-yard touchdown with 16 seconds to play to lock down a 21-14 win at defending 5A state champion Joliet Catholic. The 5-foot-10 and 195-pound workhorse has rushed for 1,989 yards and 29 touchdowns. 
Three playoff games. Three wild finishes. Not one crack in Mascoutah's armor of confidence.
"I felt confident we just had to do our thing. It felt like another game," Wills said. "I felt confident because my coaches felt confident in me. The fans, my team and everything. I just wasn't nervous at all."
Lee said when the team stepped off the bus in Joliet the players exuded a unique energy. The Indians were locked in. It didn't matter they were coming into the defending state champion's house, they were ready to see what would happen between the lines.
"It feels like a regular game," Wills said. "I know it's important but I don't get nervous. I find my inner peace. I just don't feel pressure any more."
If anything, Mascoutah relishes its role as the underdog. The Indians want their opponents to remember them for all the right reasons when the game is over.
"I like being in that role," senior safety Terrance Buckingham said. "We step up and show we're about that."
Mascoutah will have to show what it's about once more.
Rochester brings an unquestioned pedigree into Saturday's showdown. The Rockets have proven hard to beat on this stage year after year. There's a reason for that.
"The stuff they're running, everybody else runs," Lee said. "The only difference is they do it better and faster and out of multiple formations. They'll run the same play out of 20 formations and you have to adjust to all of that."
It's enough to make Lee's head spin. When he saw himself coaching in this game in his mind, he didn't think it'd be so exhausting.
"In my dream having a home semifinal game I didn't envision myself being this worn out on a Tuesday," he said with a laugh.
Lee might be sporting bags under his eyes, but his team is as rested and ready as it's been in years. The Indians shifted their training and conditioning program this offseason in an attempt to be at their best at the end of the season. The results speak for themselves. At the end of the fourth quarter, Mascoutah has been the better team. It's going to require something special for that to be true once more.
Wills said the Indians will be ready.
"I know the senior class will put their all into trying to make it to state," Wills said. "The crowd is going to be wild. We'll be fine. We just need to do our thing. Just worry about what's happening in front of us. We'll be OK."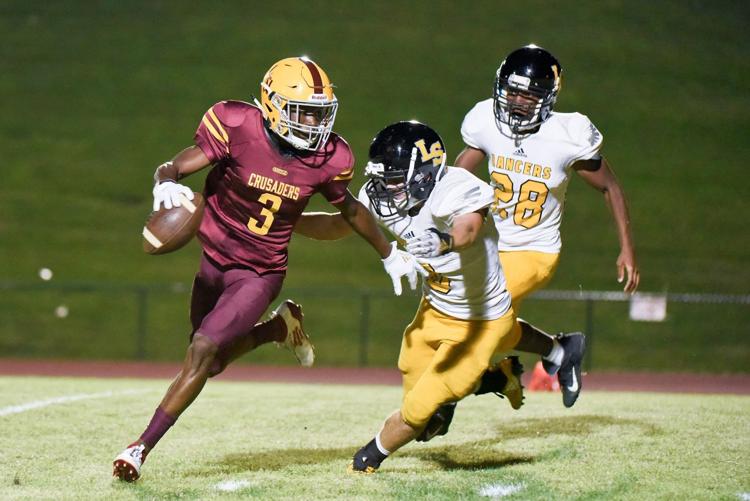 LUTHERAN NORTH SURVIVES LIFT FOR LIFE
Of all the results from last weekend's Missouri district championships, no result resonated like Lutheran North's narrow 6-0 win over Lift For Life on Friday night in the Class 2 District 2 title game.
The No. 1 small school in the STLhighschoolsports.com rankings and top-rated Class 2 team in the Missouri Media poll, Lutheran North (12-0) overlooked Lift For Life (10-2), which it defeated 51-0 a year prior in the district final.
After steamrolling through its first two district opponents and then seeing a familiar face the Crusaders had already thumped, they weren't prepared to be in a dogfight. But that's exactly what they got. Lutheran North broke the scoreless tie with 7 minutes and 59 seconds to play when senior Jordan Smith punched in a 1-yard touchdown run.
"I knew in pregame (Lift For Life was ready). The way they were flying around," Lutheran North coach Carl Reed said. "Our kids should consider themselves fortunate their season didn't end Friday night."
Lift For Life earned an immense amount of respect from Reed and the Crusaders for the way it played the district final. Reed was particularly impressed by the how the players and the program responded in the year between the 51-0 defeat and Friday night's rematch.
"They were highly motivated. They played harder than our guys. They wanted to win more than our guys," Reed said. "They didn't forfeit and refuse to play the game. They went to work and took another crack at it. That's what football is supposed to be about."
The final score might not have been what was expected, but Reed is just happy his team found a way to win when it wasn't playing at its best. It's the third consecutive district championship for Lutheran North and the sixth in the last seven seasons.
"You have to take the wins as they come," Reed said. "Lift For Life is a good football team. If they were in a different district they'd be going on a deep run."
Instead Lutheran North continues on. It will travel to Scott City (11-1) for a 7 p.m. kickoff Friday. The Rams lost one game this season and it came against last year's Class 1 champion Hayti, 46-41. Scott City averages nearly 48 points per game and Reed expects it to test his vaunted defense.
"They have an excellent quarterback and an excellent running back," Reed said. "We better be prepared to play football Friday."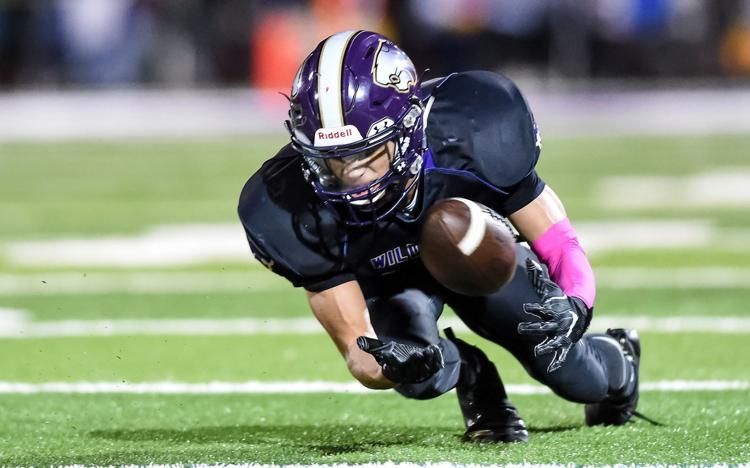 EUREKA PREPARES FOR HIGH-POWERED JACKSON
It's been a decade since Eureka and Jackson last played each other.
On Friday night, the Wildcats and Indians expect to make up for lost time.
The No. 9 large school and No. 3 team in the Missouri Media's Class 5 poll, Eureka (10-1) travels to Class 5 No. 2 Jackson (11-0) for a 7 p.m. kickoff.
It's a renewal of what was an intense rivalry that had tight games and even a bit of controversy.
Between October 2005 and October 2009, Eureka and Jackson played six times. Of those six games, five of were decided by eight or fewer points. Jackson won two of those six. One of those wins was a 21-20 district round-robin game in 2007 where the Indians blocked the game-tying extra point kick. Photos and video show Jackson had 12 men on the field for the crucial play but was not whistled for a penalty.
Jackson went on to win the district tournament that season and Eureka went home with a 9-1 record and a district runner-up finish.
Eureka coach Jake Sumner was a young assistant on staff then and said he's looking forward to seeing what happens when the Wildcats and Indians meet again at Jackson's home field, "The Pit."
"It's going to be a fun and exciting football environment," Sumner said. "Ten years later, the expectations are the same."
The expectations are the same, but the methods will be different. Since the last time these programs met they have replaced their coaches. Sumner took over for longtime skipper Farrell Shelton at Eureka. Brent Eckley was given the reins at Jackson in 2012 and brought a high-powered offense he honed during stops at Union and Montgomery County.
The Indians have continued in that tradition of trying to blow out all the bulbs on the scoreboard. Jackson has scored 50 or more points in seven games and hit 48 and 49, too. Cape Central and Farmington allowed 35 points in their games with the Indians.
Slowing down Jackson's attack is a challenge, but Sumner is confident his defense will be up for it.
"We've got a phenomenal staff and when you look at our results it reflects that," Sumner said. "They're explosive and we have to make plays."
Eureka's defense has been its best asset. The Wildcats allowed two opponents to break 21 points this season. The first was Class 6 semifinalist Fort Zumwalt West in a season-opening 23-22 defeat. The other was Lafayette, which Eureka held  off, 24-22. Everyone else had a hard time breaking into double digits. Lindbergh and Marquette scraped their way to 14 and 13 points, respectively. Kirkwood's explosive offense was held to a single touchdown.
Eureka did not allow Oakville or defending Class 5 champion Vianney to score on its way to the Class 5 District 2 championship.
The Wildcats did do the Indians a bit of a favor by beating the Golden Griffins. This is the first time since 2014 Jackson won't have to see Vianney, which ended its season four years in a row. In two of those four years Vianney went on to win the state championship.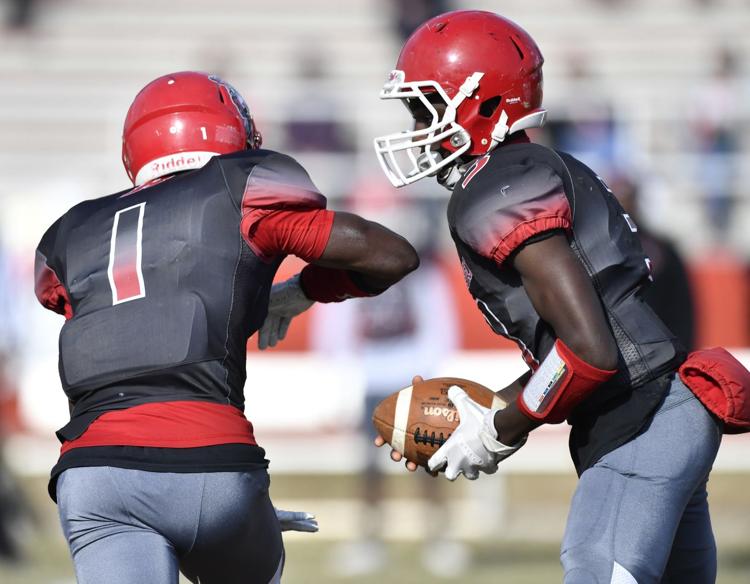 ROOSEVELT ROLLS TO THE BOOT HEEL
All fall Roosevelt has asked its fans, supporters and alumni to pack the stands, make noise and provide a true home-field advantage.
It sounds like the Roughriders will get what they're looking for on the road, too.
Roosevelt (11-1) travels to Kennett (12-0) for a 2 p.m. kickoff Saturday in a Class 3 quarterfinal. It's a road game for the players but a homecoming for the Roughriders' coaching staff.
Former coach Trey Porter played at Malden, Kennett's main rival which it plays every year in the "Delta Bowl." Roosevelt interim coach Lorenzo Jackson is a Hayti graduate, which is a stone's throw from Malden and Kennett.
Kennett coach Joel Wyatt spent seven years at Malden. While he was there, Porter and Jackson matched up against him as young assistant coaches. In his stops at East Prairie and Hayti, Porter went 0-4 against Wyatt. Jackson fared no better in single seasons at Hayti and Caruthersville. The duo are a combined 0-6 and share a vivid memory of Malden hammering Hayti while they were on staff in 2014, 68-6.
Now they have the chance to show what the players in their program are capable of after Roosevelt beat Borgia 48-43 on Saturday to win its first district championship since 2005.
With so many connections to the Bootheel, Roosevelt is expecting an overwhelming amount of support when it takes the field Saturday afternoon.
The Roughriders will need all the help they can get. Kennett has won consecutive district titles for the first time in school history. The Indians defense has been dynamic. Only Caruthersville and Potosi managed to score more than a single touchdown. They have shut out six opponents this season, including four of their last five. Kennett beat Ste. Genevieve 40-0 to win the Class 3 District 1 championship.
Roosevelt's offense has scored 40 or more points nine times this season.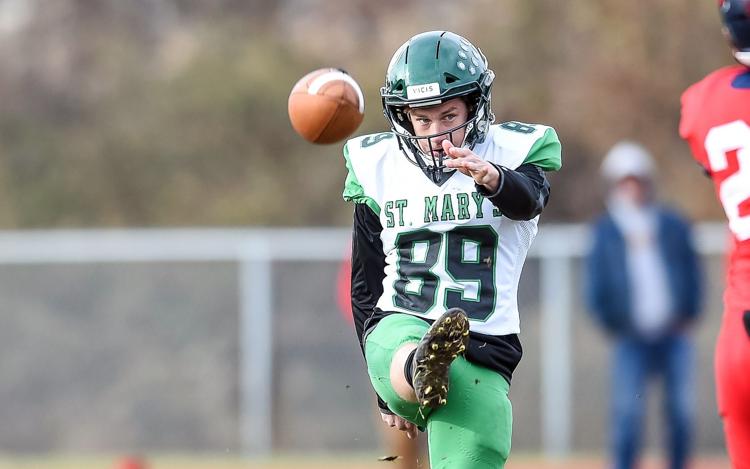 ST. MARY'S RETURNS HOME, HOSTS FARMINGTON 
After winning consecutive elimination games on the road, St. Mary's will put its season on the line at home this week. St. Mary's (10-2) hosts Farmington (10-2) at 7 p.m. Friday in a Class 4 quarterfinal. It's the first quarterfinal appearance for the Dragons since 2012 and they are thrilled it's at their house in South City.
"I'm happy we're able to play it at home on a Friday night," St. Mary's coach Corey Bethany said.
It's a return to the norm for the Dragons, who had to do some things they weren't used to in their wild 18-14 win over McCluer last Saturday to win the Class 4 District 2 title. They had to play on a Saturday and on a natural grass field, something that has become abnormal with the proliferation of artificial surfaces across the area and state.
For a roster that's overloaded with underclassmen, handling the changes in game days and playing surfaces could have had an effect but Bethany said the first two weeks of the season set the tone.
St. Mary's opener was washed out and moved back a day to Saturday. Its Week 2 game against Chicago Phillips was a Saturday afternoon game at the Gateway Scholars Classic at East St. Louis.
"It helped us," Bethany said. "It did prepare us for playing on Saturday."
The Dragons have their hands full with Farmington. The Knights' two losses this season came to Jackson, the No. 2 ranked team in Class 5; and at Lutheran North, the No. 1 team in Class 2. Farmington had to battle past a rock-solid Cape Central, 45-35, to win the district title last Friday. It was the slimmest margin of victory this season for the Knights.
"They remind me a lot of Borgia," Bethany said. "They run the ball really well and defensively they fly around. They're strong and sound up front."
It's telling Bethany cited Borgia as the team Farmington resembles the most. St. Mary's went to Borgia on Sept. 20 and lost 33-13. Bethany's hope is that loss will give his team a blueprint of what not to do as it prepares for Farmington. He felt the Dragons underestimated Borgia. He does not believe that will be the case with Farmington.
"I put that in the minds of the kids," he said. "Hopefully that helps."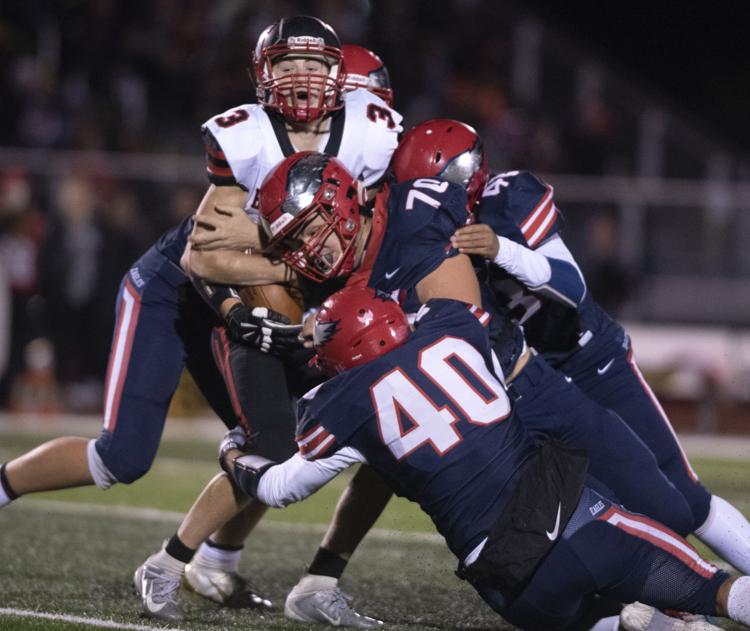 PLAYOFF MATCHUPS THIS WEEK
• Lutheran North at Scott City
Note: First meeting between these two since 1999, which Lutheran North won 47-21.
Up next: Winner of Summit Christian-Lathrop
Note: Kennett lost to Cardinal Ritter 42-9 in last year's quarterfinal appearance.
Up next: Winner of Odessa-Savannah
• Lutheran St. Charles at Trinity
Note: Trinity has won four in a row and 11 of its last 12 against Lutheran St. Charles.
Up next: Winner of Blair Oaks-Cassville
• Farmington at St. Mary's
Note: First meeting between these two in at least two decades.
Up next: Winner of Grain Valley-Platte County
Note: Liberty won its first district championship last Friday.
Up next: Winner of Camdenton-Webb City
Note: Eureka holds a 5-2 edge over Jackson since 2004, two have not played since 2009.
Up next: Winner of Raytown-Staley
• Fort Zumwalt North at Chaminade
Note: Chaminade defeated McCluer North 55-0 for its first district title since 2016.
Up next: Winner of Glendale-Carthage
• De Smet at Raymore-Peculiar
Note: Ray-Pec defeated Kirkwood to win the 2006 Class 5 state championship.
Up next: Winner of Fort Zumwalt West-Joplin
• Joplin at Fort Zumwalt West
Note: Joplin was defeated by CBC 56-21 in the 2018 Class 6 semifinals.
Up next: Winner of De Smet-Raymore-Peculiar
• Chatham Glenwood at East St. Louis
Note: East St. Louis lost in the Class 7A quarterfinals the last two seasons. 
Up next: Winner of Crystal Lake Prairie Ridge-Deerfield.
Note: Rochester has won seven state championships since 2010. 
Up next: Winner of Chicago St. Rita-Rockford Boylan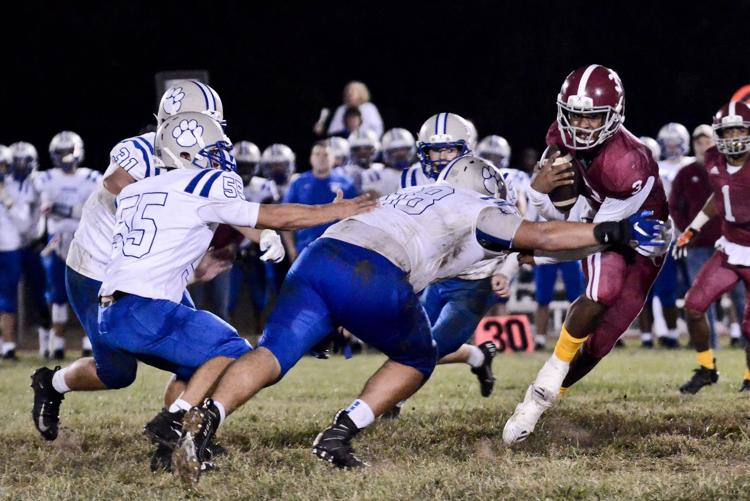 •  Lutheran St. Charles defeated Mexico 42-14 Friday night to win its first district championship since 2004. During the game junior defensive lineman and Notre Dame recruit Gabriel Rubio had one sack, which gave him 17 for the season and tied him the program's single-season record with Travion Ford who transferred to Lutheran North last winter. 
The No. 10 small school, Lutheran St. Charles (10-2) faces defending Class 3 champion and No. 3 small school Trinity (8-3) at 1 p.m. Saturday in a Class 3 quarterfinal.
The two Archdiocesan Athletic Association members met Oct. 4, with Trinity pulling out a 34-14 win. It's the closest game these rivals have played since the Cougars scored a thrilling 28-27 win over the Titans in the first round of the district tournament in 2015.
Trinity has won the last four meetings.
• Defending Class 4 champion Ladue (11-1) hosts Liberty (9-3) at 1 p.m. Saturday. After not playing on its campus for three seasons, Ladue has played four consecutive home playoff games. Should the Rams win and punch their ticket to a fourth consecutive semifinal appearance, there's a chance they could play five home playoff games. The winner of Ladue-Liberty faces the winner of Camdenton-Webb City in the semifinal. Should Camdenton win, the way the bracket is set up would give Ladue home field. Should Ladue and Webb City both win then the Rams would travel to Webb City for a second consecutive season.
Should Liberty, fresh off its first district championship in the school's sixth year with a varsity program, knock off the defending champs it would be in line to host the school's first semifinal no matter who it would see in the next round.
Missouri postseason football scores, schedules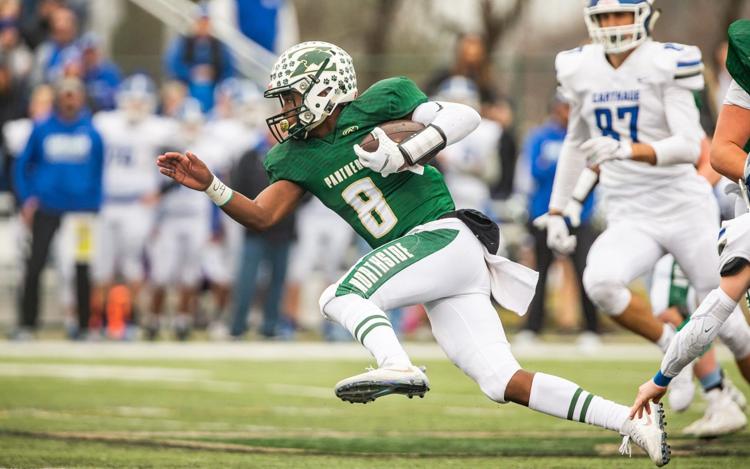 — CLASS 6
Championship
De Smet 35, Joplin 20
— CLASS 5
Carthage 27, Jackson 21 (OT)
— CLASS 4
Championship
Webb City 48, Platte County 0
— CLASS 3
Championship
Odessa 49, Cassville 28
— CLASS 2
Championship
Lutheran North 49, Ava 0
— CLASS 1
Championship
Valle 30, Lincoln 27
Illinois postseason football scores, schedules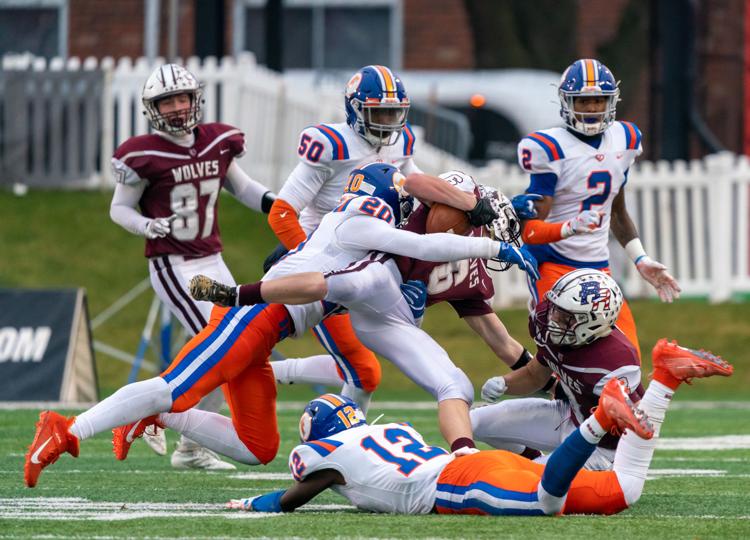 — CLASS 8A
Championship
Lincoln-Way East 12, Gurnee Warren 0
— CLASS 7A
Championship
Chicago Mount Carmel 37, LaGrange Park Nazareth Academy 13
— CLASS 6A
Championship
East St. Louis 43, Crystal Lake Prairie Ridge 21
— CLASS 5A
Championship
Rochester 42, Chicago St. Rita 28
— CLASS 4A
Championship
Richmond-Burton 50, Murphysboro 14
— CLASS 3A
Championship
Williamsville 46, Byron 42
— CLASS 2A
Championship
Sterling Newman Central Catholic 35, Nashville 14
— CLASS 1A
Championship
Lena-Winslow 58, Central A&M 20