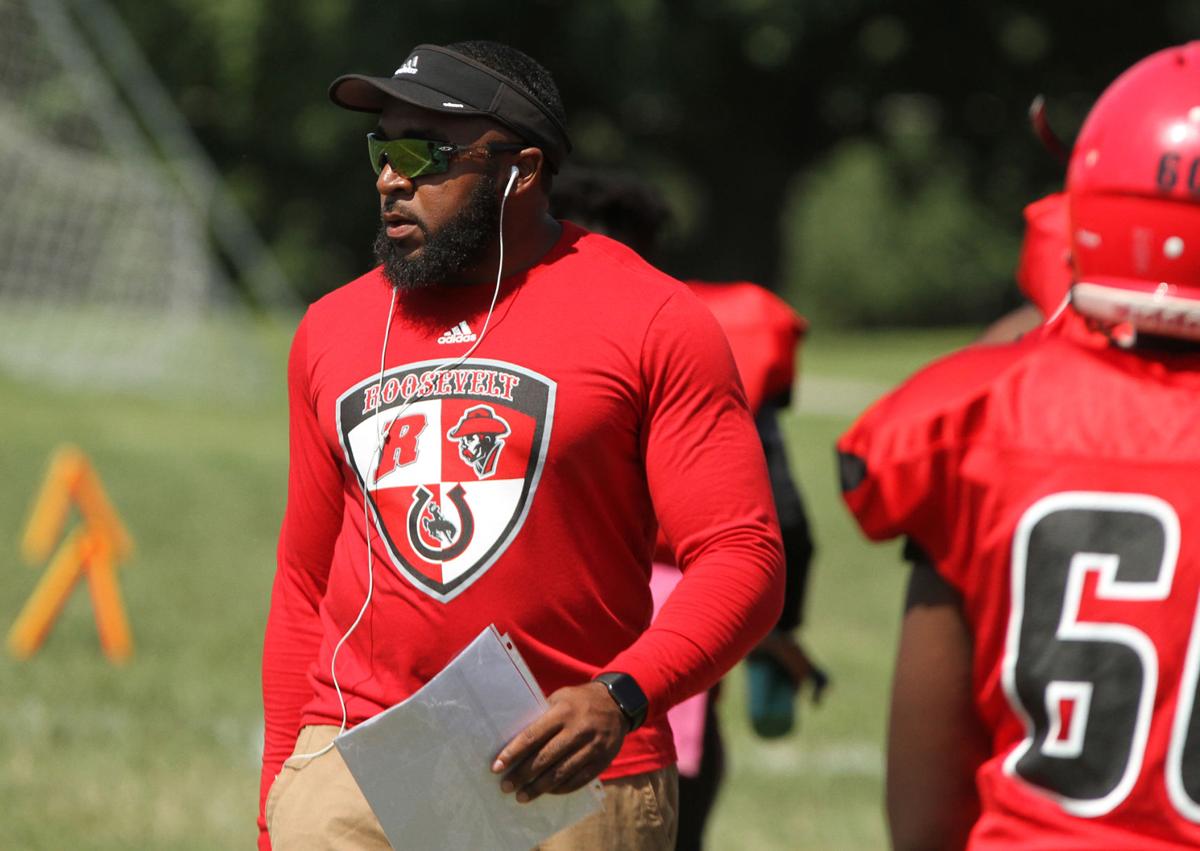 Every Wednesday is "Winning Wednesday" at Roosevelt High.
The football team dons button up shirts, slacks and goes to school in its best business casual. It's part of the changing culture at Roosevelt.
The architect of that culture won't be there to see it this week, nor has he seen it the last two weeks.
Roosevelt football coach Trey Porter remains missing in action for reasons no one will explain.
When asked why Porter, who is also Roosevelt's athletics director, has not been allowed on campus or the sideline for more than two weeks, Public High League athletics director Teron Sharp said she was unable to comment.
"It's a personnel matter," Sharp said. "I can't talk about that."
Sharp referred the matter to St. Louis Public Schools communications director Meredith Pierce. Pierce did not return a call seeking comment.
When reached by phone, Porter said he was unable to comment.
The effects of Porter's absence are being felt most by the student-athletes at Roosevelt. Since Porter was hired as Roosevelt's coach prior to the 2017 season, the program has made remarkable strides.
"He's the reason why a lot of us come to school," senior offensive lineman Alex Mugisha said. "If you look at our attendance from sophomore year when we didn't have a coach, our attendance was horrible as student-athletes."
Porter has missed two games during his unexplained absence and appears likely to miss his third when Roosevelt (6-1) hosts Miller Career Academy (3-4) at 4 p.m. Thursday.
The players have not been offered an explanation as to why Porter has been unable to be at school, practice or games.
"We just know he's not here," senior slot receiver and defensive back Ali Hall said. "They don't talk to us that much about the logistics about everything because we're young and we don't understand.
"Like, we're not young kids in the inner city of St. Louis, but this is too much for us."
Without Porter, the coaching staff has reshuffled itself to pick up the slack. Lorenzo Jackson has been tabbed the interim coach while Porter is away. Jackson, the offensive coordinator, said it's been an unexpected challenge in his second year on staff to try and steer the ship without the captain.
"I can tell you it's different when he's not here," Jackson said. "We're holding it together but every day the kids are asking, 'Where's Coach?'"
Porter took over a program that went 1-8 in 2016 with its only victory coming via forfeit. The Roughriders lost 26 consecutive games on the field over parts of four seasons before beating Cleveland 42-14 on Oct. 7, 2017.
Last season, Roosevelt went 8-3 and won the PHL championship. It was the fourth PHL crown for the Roughriders since 2000 and the 14th in school history.
This season was supposed to be one of growth. Roosevelt has eyes on making a prolonged postseason run after advancing to a Class 4 district semifinal last season.
With Porter as a driving force, Roosevelt had a new scoreboard and play clocks installed. The grandstands and bleachers were repaired in an effort for Roosevelt to host a home playoff game, something it was unable to do last season because its facility did not meet the minimum requirements.
It has required an immense amount of time and energy by Porter and his staff. Porter designed posters with team schedules on them to raise money for his program. The Roughriders have done multiple car washes. They have sold season tickets that included discount coupons to retailers that are in the school's neighborhood.
"We sell anything we can get our hands on," Jackson said. "Anything we can to raise funds to help these kids, we'll do it."
The staff includes Cleveland Scott, Ryan Moore, Julius Dominick, William Norris and Keiler Swartz. Roosevelt was down another coach Tuesday when Norris, the defensive coordinator, was summoned from the practice field by the principal and did not return. His status going forward was uncertain.
The players have remained remarkably resilient as they have won both games without Porter and continue to grind at practice. But it is taking a toll. Football is a place where the players would like to get away from the everyday challenges that come with living in the city. Every day Porter isn't with them is a reminder things are not the way they are supposed to be.
"They're getting immune to it. It's not normal to have chaos all the time," Jackson said. "We're just trying to show them something different. You can be chaos free."
Roosevelt was in dire straights when Porter arrived. He helped reshape the team and how the players go about their business in the school and in life. He's been a constant in their lives. That is no longer the case.
"He's like a father figure to a lot of us," Hall said. "When he first got here he changed everything around. There was no 'Winning Wednesday.' We didn't feel like winners at all. When he came he lifted us up and made us feel like young men."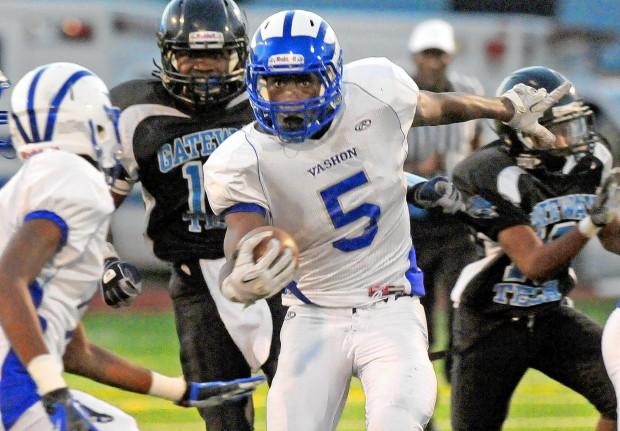 SERVICES SET FOR FORMER VASHON STANDOUT
Funeral arrangements have been set for Derrick Mitchell Jr. The visitation will be from 4-9 p.m. Friday at William C. Harris Funeral Directors in Spanish Lake. The funeral service will be held at 11 a.m. Saturday at New Spring Church in Spanish Lake. Mitchell's burial will take place at Oak Grove Cemetery.
A 2013 Vashon graduate and football standout that went on to play at the University of Iowa, Mitchell died last Wednesday after injuries sustained in a car accident the previous Friday. He was 24 years old.
Mitchell was an assistant coach at Miller Career Academy.
Career Academy and Roosevelt were scheduled to play on Saturday but have moved up their game to 4 p.m. Thursday to accommodate the funeral services.
NEW POSTSEASON PROPOSAL FLOATED IN ILLINOIS
The Illinois High School Association restructured its playoff format beginning in the 2021-22 school year.
What that format should look like is now up for debate.
Currently the IHSA does not classify teams before the season and only upon conclusion of the regular season does it take its playoff eligible teams and distribute them into its eight classifications. Each classification has 32 teams. Teams clinch a playoff berth by winning their conference or winning six regular season games. Teams with five wins are considered and potential ties are broken by total number of opponent wins.
Last December, the member schools voted in Proposal 23, which directed the IHSA to implement a regular season district-style format. Schools would have their classification determined before the season and would be put into eight geographic groups or "districts." The teams in each district would then play a round-robin schedule with the top four teams in each district advancing to the playoffs based on their results within the district. The remaining regular season games would be left to the schools to schedule and would not be factored into playoff eligibility. Conferences would be completely eliminated. The districts would be set for two years.
Proposal 23 passed 324-307 with 69 voting no opinion.
Some of the downsides to the district format are the distance teams, especially large schools in the Metro East, would have to travel for regular season games. The IHSA put together a mock up of what a district would look like and one of the Class 8A districts included Belleville East, Edwardsville, O'Fallon, Lincoln-Way East, Joliet Central, Joliet West, Lockport and Minooka.
"It's a lot of travel," Edwardsville coach Matt Martin said.
Among the questions Martin had about the new system would be how would it affect junior varsity games. Generally junior varsity teams play the Monday after their varsity counterparts and it would be hard to justify putting the junior varsity on a bus to a Chicago suburb Monday morning to have it play and return late Monday night.
In the current system, East St. Louis and Edwardsville would not play a regular season game unless they scheduled one. How many people would travel from Minooka to Edwardsville for a regular season game?
"Concessions are a huge part of our fundraising," Martin said.
A cohort of Chicago-area schools have released a counter proposal to the district format. Under its proposal, the current format would be expanded from 32 teams to 48, it would take three wins to qualify for the playoffs and Week 9 games would be played by non-playoff eligible teams.
"I'm not a fan," Columbia coach Scott Horner said. "I think it waters down the playoff system."
Horner said the current system puts an emphasis on every regular season. That would also be true in the district format.
"Every game controls your postseason fate," Horner said. "Every game matters."
Horner did say he would miss the lack of conferences under the district system. There's a camaraderie and mutual respect that can be nurtured when you play in a league.
"You develop great relationships and great respect for opposing coaches and coaching staffs," he said. "That's a shame."
Martin's initial read on the Chicago-area proposal is positive. He understands Horner's objection to the watering down of the playoffs but he remembers when the IHSA expanded to eight classes from six in 2001, and many of those same concerns were voiced.
"Illinois is still really tough," Martin said.
For the newest proposal to have the chance to be voted in, it would have to be submitted to the IHSA then be brought up at town hall meetings around the state. On Nov. 25, the IHSA legislative commission would then vote for it to be placed on the state-wide ballot or not. Should the proposal pass the legislative commission, it would then be voted on by the member schools in early December.
Regardless of whether it passes or the district system remains in place for 2021, both Horner and Martin agreed there is no perfect playoff system.
DESIR GIVES BACK TO HOWELL CENTRAL
Pierre Desir never forgot where he came from.
The former Francis Howell Central star returned to Cottleville for a ribbon-cutting ceremony Friday. He was honored and celebrated at the opening of Howell Central's new state-of-the-art fitness center and weight room. A defensive back for the Indianapolis Colts, Desir donated $185,000 for the project. He was recognized at halftime of the Spartans game Friday night against Troy.
Desir played college football at Washburn University and Lindenwood University. While at Lindenwood he made 25 career interceptions, which is tied for second-most in NCAA Division II history.
Howell Central (3-4) hosts Fort Zumwalt West (5-2) at 7 p.m. Friday in its final regular season home game.
Miller Career Academy at Roosevelt
Streak: Roosevelt won last season's meeting 54-36.
Note: Roosevelt ended Career Academy's eight-game winning streak last season.
Parkway Central at Parkway West
Streak: Parkway West won last season 39-30.
Note: Parkway West broke a 10-game losing streak to Parkway Central last season.
Streak: Marquette won last season's meeting 13-12.
Note: Marquette's win was the first in school history over its Rockwood School District rival.
Streak: Trinity won last season's meeting.
Note: The Titans are the last of four defending state champions on SLUH's schedule.
Streak: Belleville West has won 12 in a row against Alton.
Note: Alton needs to win Friday and in Week 9 against DeKalb to be playoff eligible.
Streak: Howell has won the last six.
Note: Spartans can lock up the GAC South title with a victory.
Fort Zumwalt North at Timberland
Streak: Timberland won last season 34-32.
Note: Timberland ended a six-game skid to Fort Zumwalt North and snapped its 24-game league winning streak.
McCluer North at Hazelwood West
Streak: Hazelwood West has won three in a row over McCluer North.
Note: The winner will be the last champion of the Suburban North as it is currently configured.
• CBC travels to Rockhurst on Friday for a 7 p.m. kickoff. Before the season, Rockhurst coach Tony Severino announced he would be retiring after 37 years at the school and half a century as a football coach.
According to the Kansas City Star, Severino is a member of five halls of fame and has the most wins of any coach in Kansas City history. His record at Rockhurst is 342-91-1.
CBC (6-1) beat Rockhurst (4-3) for its first state championship in the 2014 Class 6 title game. The Cadets defeated the Hawklets to win the state championship last season, too. CBC has won all five of its matchups with Rockhurst since 2014.