UNIVERSITY CITY — After the bodies cleared, there were outstretched hands waiting to pull DeAngelo Davis to his feet.
It's a small gesture, one that is easy to overlook. But it speaks volumes about where the University City High football team is and where it wants to go.
"It's a lot more fun when you've got your brothers there riding for you," Davis said.
It hasn't always been that way for Davis, a senior running back in his fourth varsity season. When he was a freshman, the Lions went 0-10. As a sophomore, they were 2-8. Last season, U. City was 1-9 and didn't win until its final regular-season game. All of that losing eats away at camaraderie, team unity and discipline. It can make for a miserable fall and Davis had his share of those.
STLhighschoolSPORTS.com rankings - 9/10/2019 Large SchoolsLast Week1. East St. Louis (2-0)12. CBC (2-0)23. De Smet (2-0)34. Ladue (2-0)45. Edw…
So when U. City went out and earned a 25-13 win Saturday at home over neighbor and rival Clayton, Davis knew something had changed and it wasn't just on the scoreboard.
U. City (1-1) didn't let a season-opening 38-0 loss at Hazelwood East linger.
"I knew we were different because last year and so many times in the past we'd face adversity on the field and we'd turn on each other, start pointing fingers," Davis said. "This year we did not have that at all. We were all uplifting each other and kept our heads up."
In 2017, the Lions were outscored 131-0 in their first three games and were shut out six times.
It was Jason Wells' first season as U. City's coach after more than a decade as an assistant at various stops around the area.
"I've never had nothing like this. I embraced it," Wells said. "But you talk about humbling and going home frustrated. Things that worked at previous schools, it just wasn't clicking here."
Working against Wells and his coaching staff was a program that had little interest from its own student body. U. City's football program was 18 players deep when Wells took over. And half of those guys were seniors and on their third coaching staff in four years. There was no junior varsity. There weren't enough bodies to practice a full offense against a full defense. Some days there would only be eight players at practice. It was a challenge Wells had never faced.
"I used to go home to my wife and say, 'I don't know,' " Wells said.
Now in his third season, Wells began addressing the Lions' ailments one at a time. A physical education teacher at the high school, he got his hands on as many freshmen and sophomores as he could and sold them on playing football to increase the numbers. The Lions now count 38 players in the program and have a junior varsity team.
In his first season, Wells was inundated with emails from fellow faculty about situations and issues related to players' academics or behavior. He's since changed the mentality of program. One small but visible change was instituting a dress code. Instead of wearing their jerseys on Friday at school, the Lions game-day attire of choice is a shirt and tie. It's business. If you want to get on the field and make plays, you have to handle your business in class.
"The first couple weeks the whole mindset of our program has changed in this building. They know it's no nonsense," Wells said. "My first year those emails were coming. I get emails now and they're compliments."
The offseason is where football teams make or break themselves. Wells said this summer was unequivocally the best in his tenure at U. City. Through two games, the Lions can already feel the dividends of all that work.
"My freshman year I didn't come like that. I've been here all summer and it showed. It's much easier," junior linebacker Dariaun "Red" Pointer said. "When we first started it was so hard. Now it's starting to pay off."
Over the last two years, Wells has reshaped the minds and bodies of the Lions. The last piece was their heart and soul. He had a plan for that, too.
U. City spent more time bonding together as a team this offseason. When they weren't lifting and sweating, there were barbecues and paintball battles. The Lions have embraced each other. The value that brings to the field cannot be understated.
"That's huge. Once you're playing for one another and you know he's got your back and you've got his back, working together you can't be stopped," Wells said. "You're fighting for the same common goal. Egos are checked. You understand you're playing for something greater than you, they get that."
The results were apparent Saturday when U. City beat Clayton for just the second time in their last six meetings. The 5-foot-11 and 175-pound Davis rushed 122 yards on 10 carries and scored.
Sophomore wide receiver and safety Tyler Jackson caught a pair of touchdown passes from quarterback Christian Carter. He scored another touchdown on a defensive return while playing safety. Jackson has been a nice addition to the team this season after forgoing football as a freshman. His older brother, Bill Jackson, scored three times in Cardinal Ritter's win over Lutheran North on Saturday at the Gateway Scholars Classic. Watching his older brother play well keeps a fire burning in Tyler.
"I made a freshman mistake. I regret (not playing). I felt like I needed to redeem myself, it's my makeup year. I have to show who I am," Jackson said. "(Bill is) the one that keeps me pushing myself. I want to go just as hard as him."
Pointer anchored the defense as the 6-foot and 205-pound outside linebacker was credited with 11 tackles. He leads the Lions with 26 over their first two games. U. City feasted on Clayton as it ended the afternoon with seven sacks. When did Pointer know the defense was going to be on point?
"When we're talking, not arguing, not fussing," he said. "We're just communicating, cheering each other on and stuff like that. You see our sideline amped you know we're doing good."
The good times have been few and far between recently at U. City. The players hear about their lack of success more than they would like. They can't change the past, but they can make their own future.
One that, for the first time in awhile, appears to be bright.
"People always say we're a terrible team and we're no good. I work with these guys in practice and I see what they're capable of. All that is nonsense to me," Jackson said. "I know what we can do, I trust in my team and we came out and played. We played as hard as we could."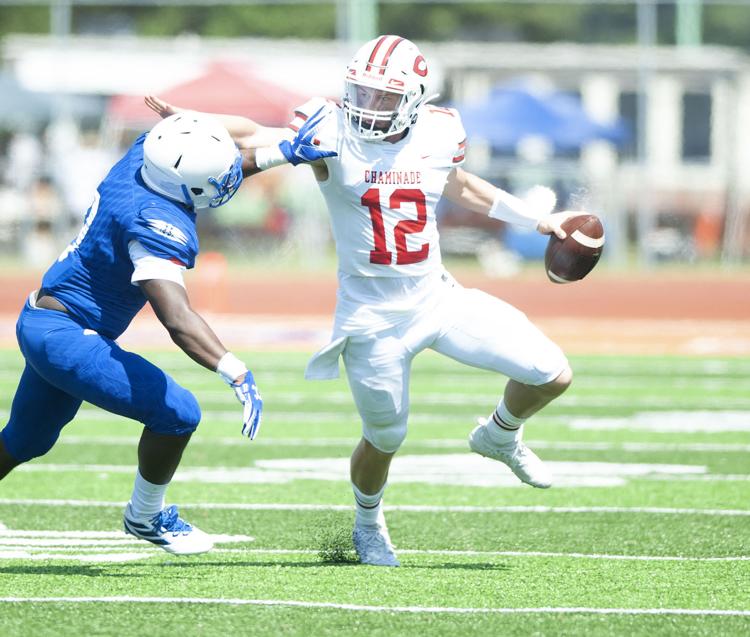 CHAMINADE HOSTS CBC ON THURSDAY
There's a light slate of Thursday night football this week, but there's a marquee matchup.
CBC travels to Chaminade for the Metro Catholic Conference opener for both teams. Kickoff is at 7 p.m.
The No. 1 large school in the STLhighschoolsports.com rankings and the two-time defending Class 6 champion, CBC (2-0) turned over nearly its entire offense, almost all of its defense and has shown no signs of slowing down. The Cadets opened the season with wins at O'Fallon and Edwardsville, two members of the always tough Southwestern Conference. Sophomore quarterback Ayden Robinson-Wayne has proven to be a true dual-threat. Fellow sophomore quarterback Patrick Heitert threw a touchdown pass in last week's win over Edwardsville in his only series.
CBC is the reigning nine-time unbeaten MCC champion and has won 36 consecutive conference games.
The No. 7 large school, Chaminade (2-0) also picked up a pair of wins over Illinois teams to start the season. The Red Devils beat Belleville East 50-6 then took out a strong Cahokia 41-22 at the Gateway Scholars Classic at East St. Louis High on Saturday to win their first two games for the first time since 2016.
Senior running back Loren Fortune Jr. caught eight passes for 252 yards and scored five touchdowns.
This season is the one Chaminade has been building toward when it rolled with a lot of underclassmen on its varsity two seasons ago. Those players are now the backbone of the team and eager to make a statement. A strong showing against CBC would do just that.
Chaminade has lost its last 10 games to CBC. It's most recent win was a 27-7 decision in 2008 on a night star running back Rob Standard rushed for 224 yards and two touchdowns.
The Cadets have scored 40 or more points seven times in their decade-long win streak. The Red Devils have scored 20 or more twice and been held to seven or fewer points six times with one shutout.
Also on Thursday, Clayton (1-1) hosts Jennings (0-2) at 6 p.m. Crystal City (0-2) will play at Principia (1-1) at 7 p.m.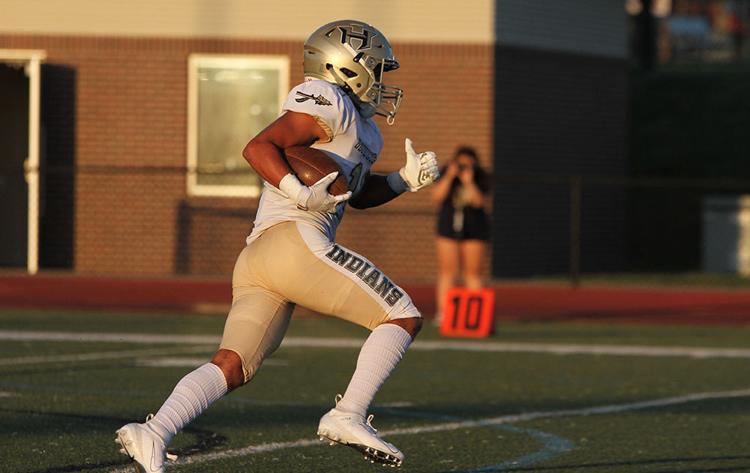 HOLT 2-0 FOR FIRST TIME IN 10 YEARS
When Holt plays its home opener Friday, it will do so with an unblemished record.
For the first time since 2008, Holt is unbeaten through the first two weeks of the season. The Indians survived a thriller Friday at Pattonville and emerged with a 23-21 win. Sophomore quarterback Payton Hoker completed 13 of 23 passes for 262 yards, two touchdowns and was intercepted once. He spent much of the night finding sophomore receivers Colin Bunner and Jackson Smith. Smith caught seven passes for 111 yards and a score. Bunner caught four passes for 127 yards and a touchdown. He scored the deciding touchdown seven seconds into the fourth quarter.
Holt (2-0) will try to carry its momentum forward when it hosts rival Timberland (0-2) at 7 p.m. Friday. The Wolves have had the better of the Indians lately as they've won the last seven, including last year's 30-28 win on a field goal with six seconds left.
Timberland has been a tough-luck loser to start the season, losing 14-10 to Lafayette in Week 1 and 10-0 to Eureka in Week 2.
During its recent win streak in the series with Holt, Timberland hasn't scored fewer than 20 points against the Indians. Last season was the first time in eight meetings the Indians scored more than 21 points on the Wolves.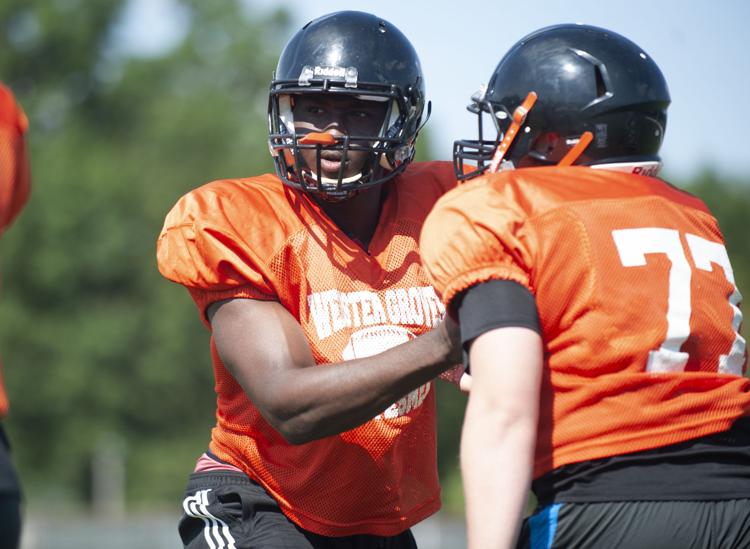 WEBSTER GROVES' ARINZE COMMITS TO OKLAHOMA
Before Webster Groves opened up at home against Hazelwood Central last Friday, Noah Arinze had to take care of some personal business.
One of the most sought-after recruits in the area, the 6-foot-5 and 240-pound defensive end verbally committed to Oklahoma. He chose the Sooners from a list that included Missouri, Illinois, Arizona State, Nebraska, North Carolina, Tennessee, Texas and more.
Verbal commitments are nonbinding. The first day senior football players can sign national letters of intent is Dec. 18.
Webster Groves (0-2) dropped its home opener with Hazelwood Central (1-1) 28-14. The Hawks scored two touchdowns in the second half to break the 14-14 tie. One was an 85-yard field goal block return. Kayden Jackson rushed 65 yards for the other touchdown.
Webster Groves has lost 14 consecutive games. The Statesmen's last victory was October 20, 2017, when they defeated Parkway South 24-14. 
JOPLIN STUNS WEBB CITY AFTER TRAGEDY
In the midst of unimaginable tragedy, Joplin found its resolve.
Last Wednesday, Joplin sophomore lineman Kadin Roberts-Day died after he went into cardiac arrest during conditioning drills at practice. He was 16.
Joplin was scheduled to play at Webb City on Friday, but both schools agreed to reschedule to Saturday to allow an additional day of grieving.
Joplin then went out and beat Webb City 35-28. It's the first win for the Eagles over the Cardinals in their four meetings since 1990. It was just the second home loss in Central Ozark Conference play for Webb City (1-1).
An emotional Curtis Jasper, Joplin's coach, told the Joplin Globe, "These guys are the most resilient team in the world. With what we've been through this week as a family, I can't even begin to explain it. I have no words. It's overwhelming right now."
Joplin (2-0) is a program several area teams are familiar with after it won a Class 6 district title by knocking out Lindbergh and Kirkwood before ultimately succumbing to CBC in the semifinals of the state tournament.
This season, Joplin joins Kirkwood, Lafayette, Lindbergh, Marquette and Northwest, plus Jefferson City and Kickapoo, to comprise the District 3 field.
Joplin hosts Carthage (2-0), the No. 2 team in the Missouri Media Class 5 poll, on Friday.
• Trinity is 0-2 for the second consecutive season after losing at East St. Louis on Saturday. Last season the Titans brushed themselves off after two tough losses and then ripped off 13 consecutive victories on their way to the Class 3 state championship. The No. 3 small school in the STLhighschoolsports.com rankings, Trinity begins Archdiocesan Athletic Association play this week when it travels to DuBourg (1-1) at 7 p.m. Friday. That's followed by the Titans' home opener Sept. 20 against O'Fallon Christian (2-0).
• Kirkwood was supposed to open up its season at home on a Friday night in Week 1. Then thunderstorms rolled through and the Pioneers found themselves playing in Jefferson City on Saturday as junior quarterback Kannon Nesslage shredded the record book with a nine touchdown performance.
Two weeks later than expected, Kirkwood (1-1) will get the chance to play in front of its home fans when the Pioneers welcome Marquette (2-0) at 7 p.m. Friday.
The Mustangs have been on the upswing the last several years and appear to be clicking this fall. Marquette has outscored its first two opponents, Parkway North and Parkway Central, a combined 68-0. But beating Kirkwood is something completely different.
Kirkwood is 11-0 against Marquette in the last 20 seasons, including last year's lopsided 58-20 victory. The Mustangs have not played the Pioneers within one touchdown in those 11 meetings since they lost 22-15 in 2000.
• Hazelwood Central (1-1) travels to Eureka (1-1) for what should be an exciting showdown between two of the area's better public school programs. They've played four times since 1999, with Eureka taking a 3-1 edge in the series, including a 28-6 victory at Central a year ago. That was the most lopsided decision of their four most recent meetings. The rest have all been decided by eight or fewer points. Central's victory came in 2014 when it hit a 33-yard field goal in the waning moments to go ahead 23-21.
• Break out the charter buses, the two best teams in the Southwestern Conference are headed to Chicago. No. 1 large school East St. Louis (2-0) and No. 5 large school Edwardsville (1-1) take their shows on the road Friday. East Side plays at Neuqua Valley (2-0), a regular in the Class 8A playoff bracket. Neuqua Valley defeated Glenbard North and Stevenson to start the season.
Edwardsville travels to DeKalb (2-0), which has made six consecutive playoff appearances in either Class 6A or 7A. The Barbs have not been scored on this season in wins over Lake Park and Sycamore.
2019-20 Post-Dispatch preseason Super 30 countdown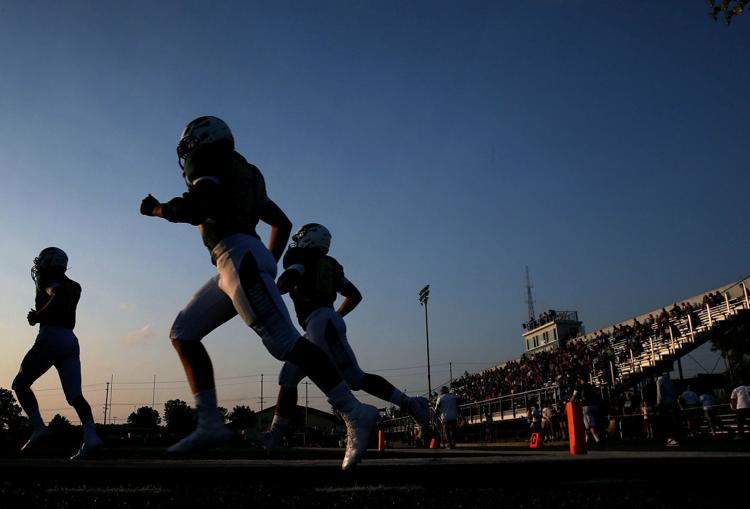 No. 1: Teriyon Cooper, Pattonville, ATH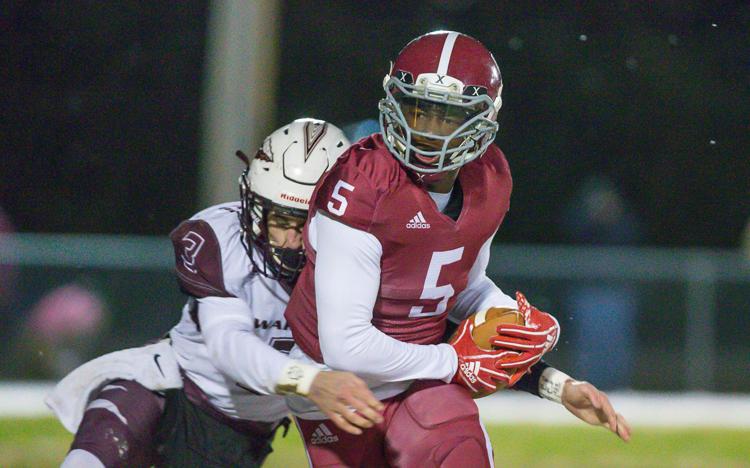 No. 2: Antonio Doyle, Lutheran North, LB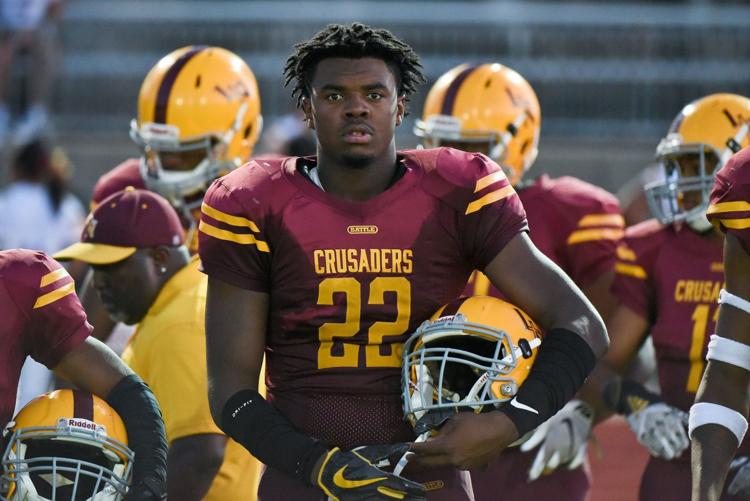 No. 3: Jordan Johnson, De Smet, WR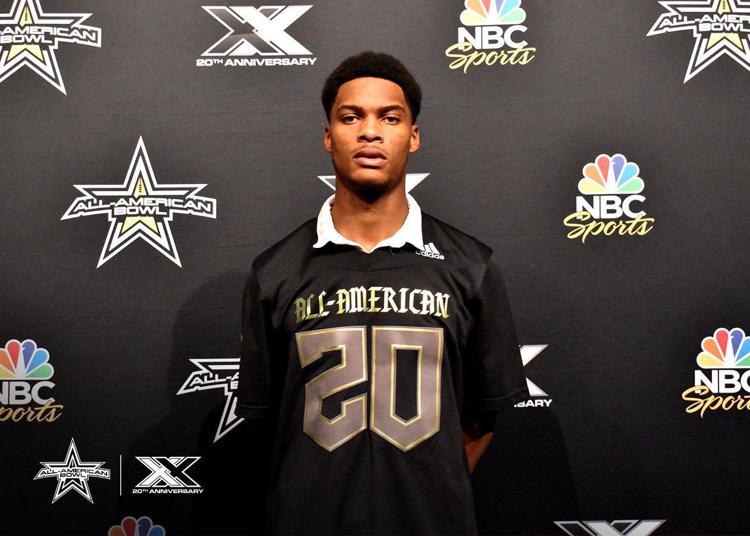 No. 4: Antonio Johnson, East St. Louis, S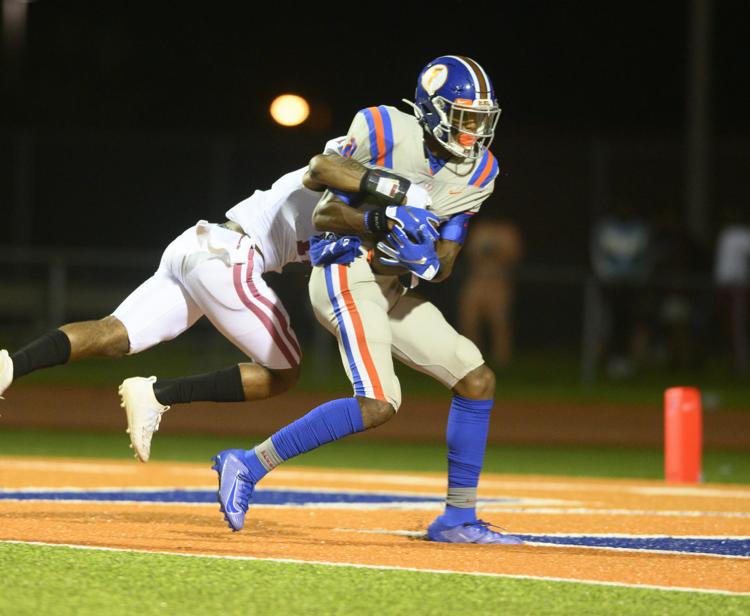 No. 5: Itayvion Brown, Lutheran North, WR/LB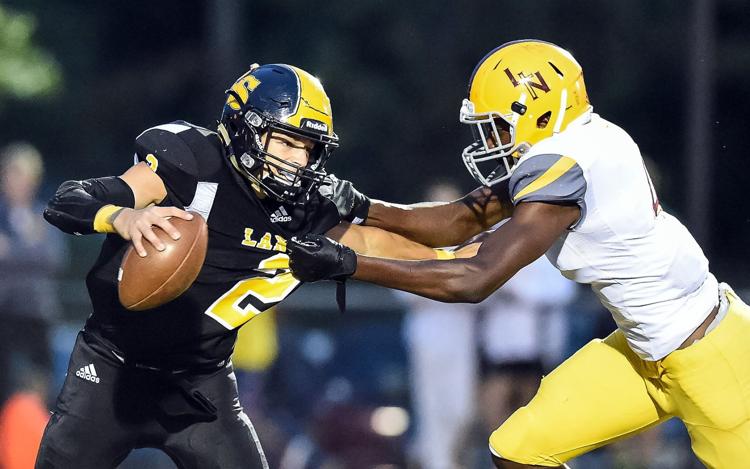 No. 6: Reggie Love, Trinity, RB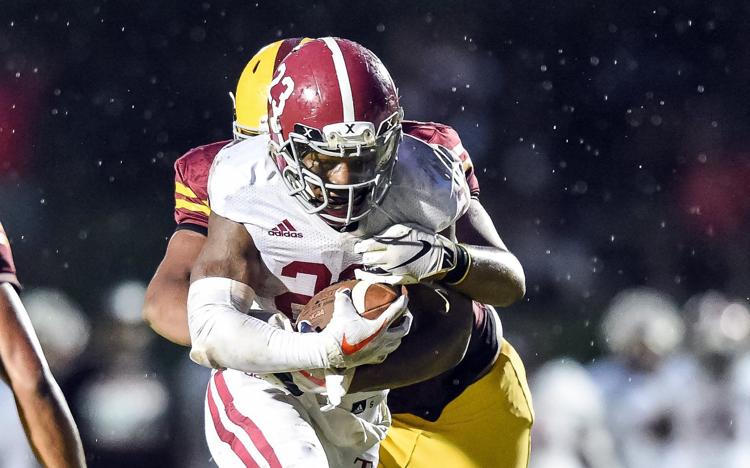 No. 7: Noah Arinze, Webster Groves, DE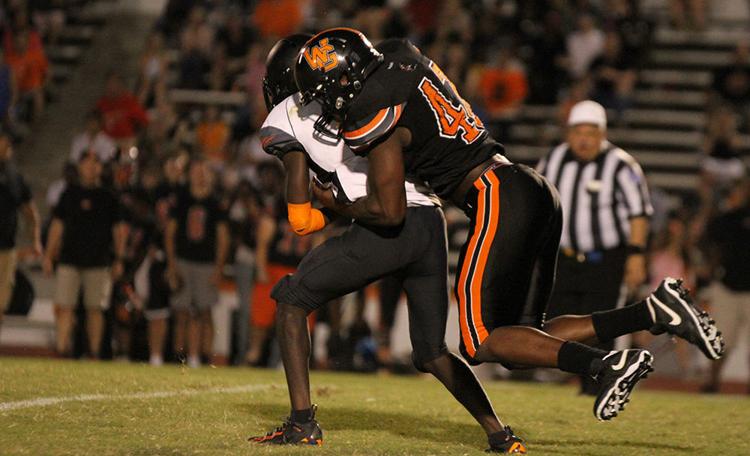 No. 8: Joe Moore, Cardinal Ritter, DE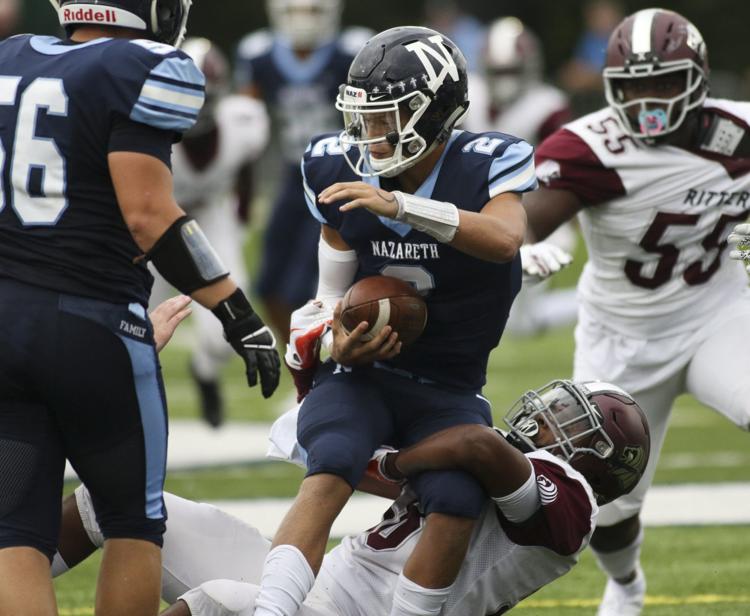 No. 9: Lanell Carr, De Smet, LB
No. 10: Javontez Spraggins, East St. Louis, OL
No. 11: Kevin Tyler, Ritenour, OL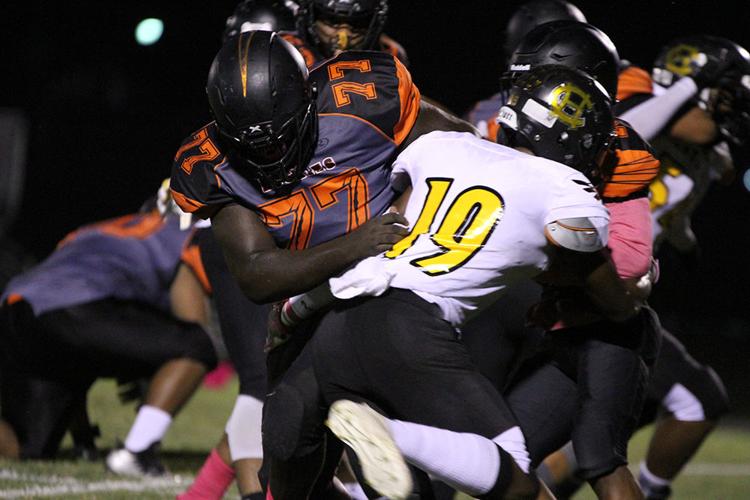 No. 12: Jalen St. John, Trinity, OL
No. 13: Kevon Billingsley, East St. Louis, DT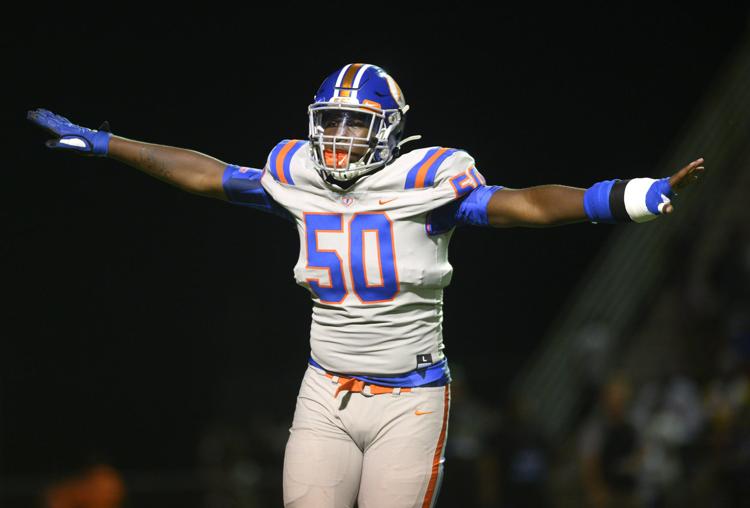 No. 14: James Frenchie, Trinity, WR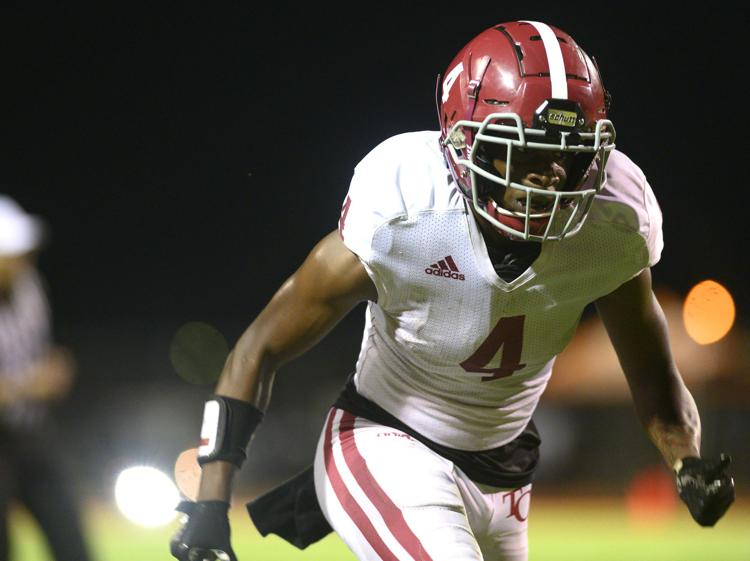 No. 15: Lawaun Powell Jr., East St. Louis, WR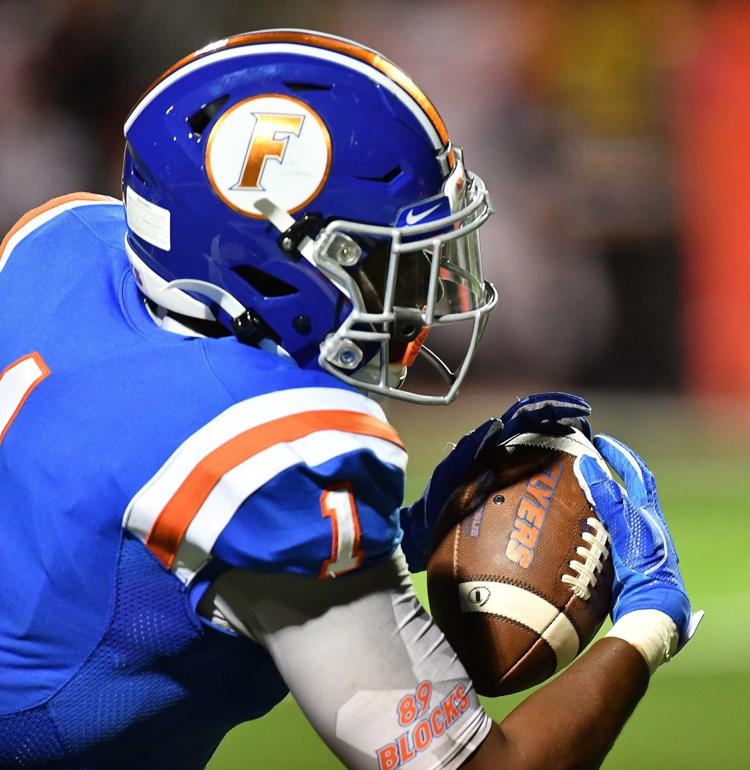 No. 16: Mekhi Hagens, Cardinal Ritter, QB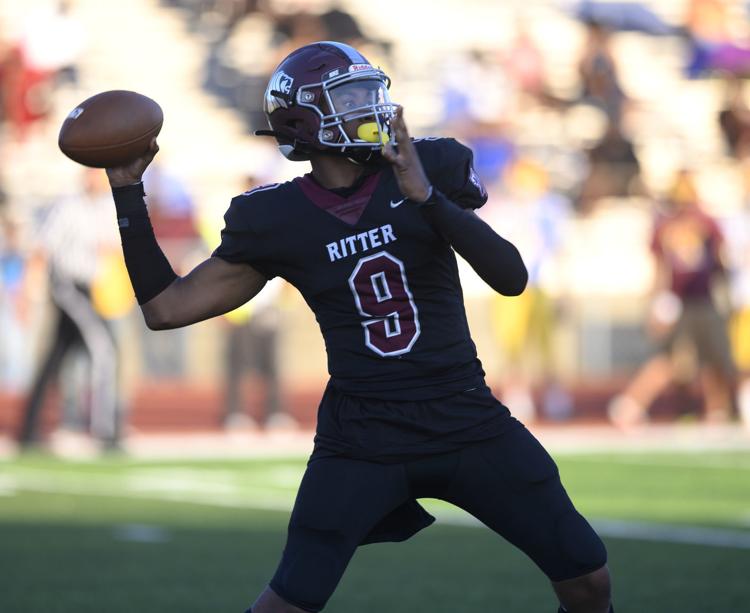 No. 17: Traevon Williams, Hazelwood West, OL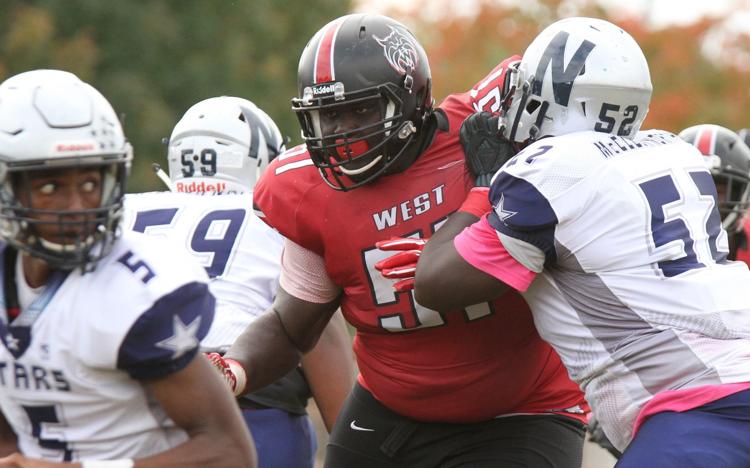 No. 18: Jay Maclin, Kirkwood, WR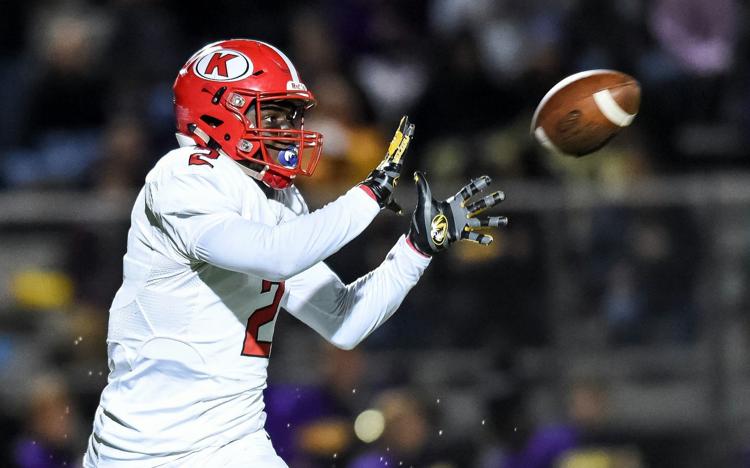 No. 19: Brady Feeney, CBC, OL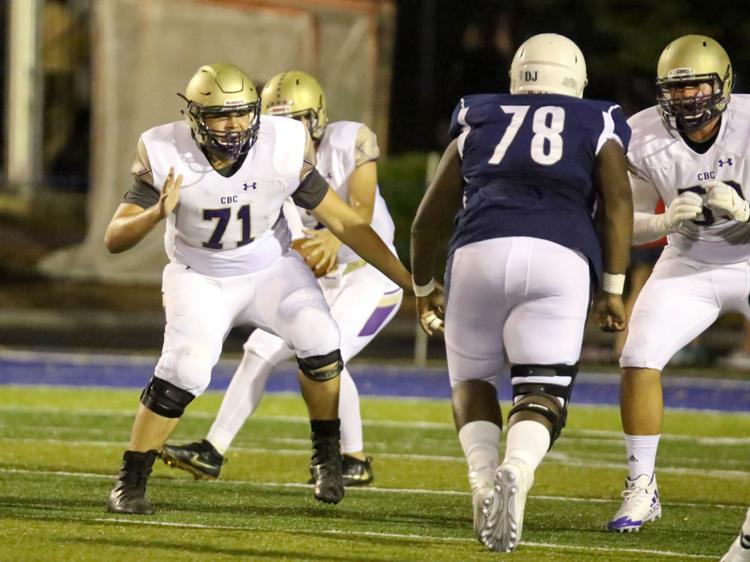 No. 20: Mitchell Walters, Mehlville, OL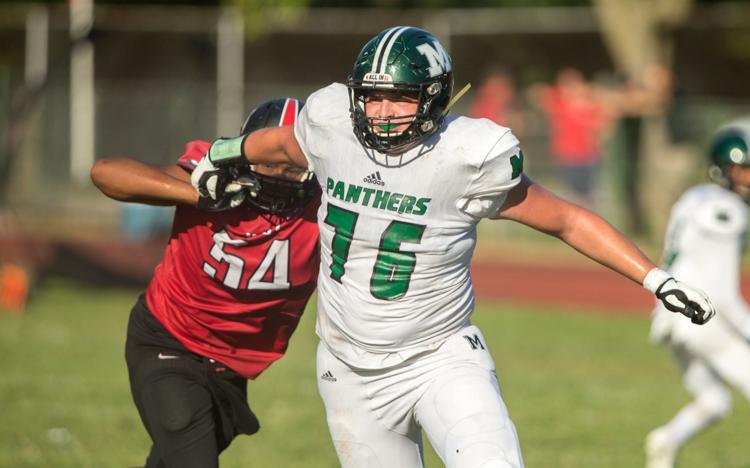 No. 21: Drake Heismeyer, Francis Howell, OL
No. 22: Josh Baker, Eureka, OL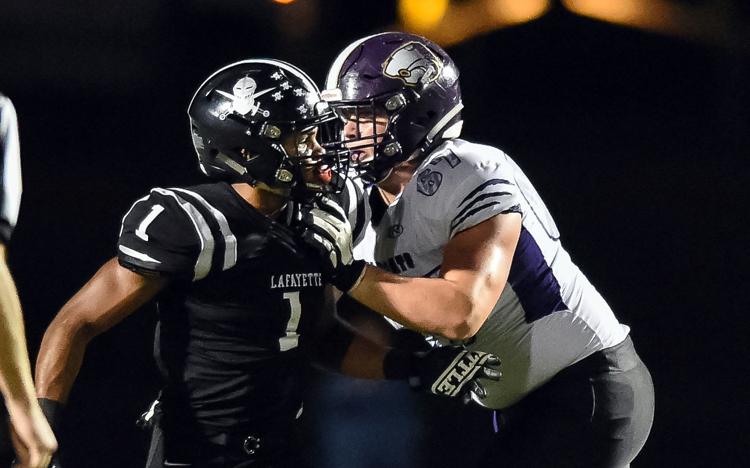 No. 23: Armon Wallace, De Smet, DT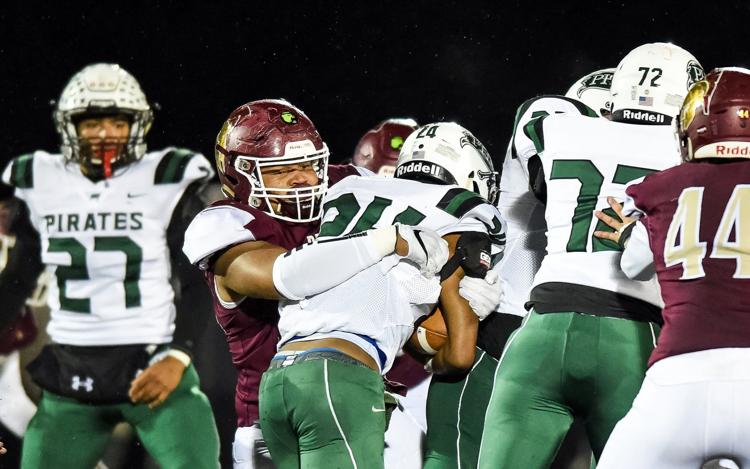 No. 24: Demetrius Washington, Riverview Gardens, WR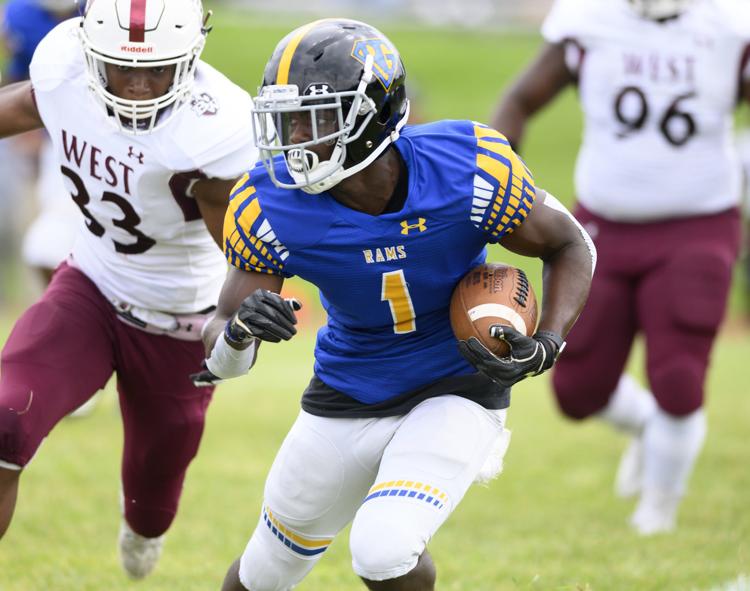 No. 25: Cam Griffin, Lutheran North, DB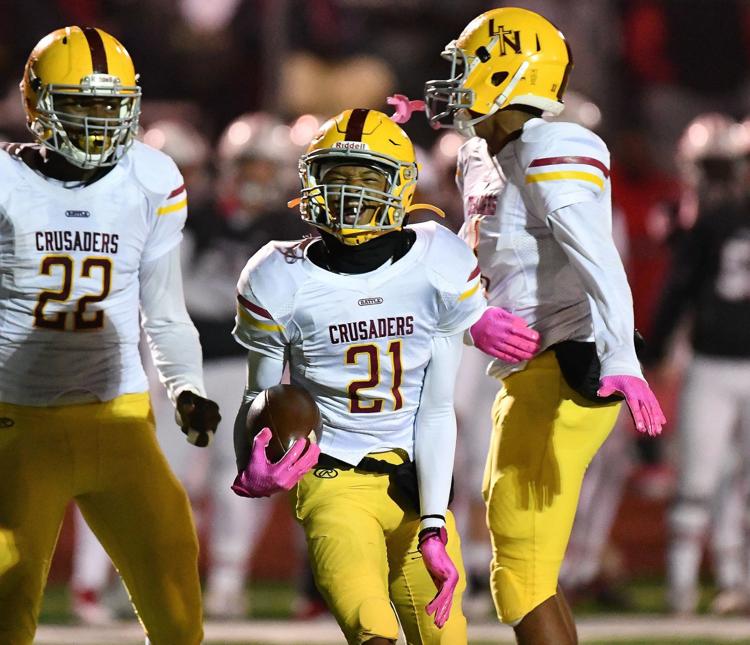 No. 26: Freddy Edwards, Granite City, QB
No. 27: TJ Rush, Trinity, S
No. 28: Jaden Williams, Cardinal Ritter, S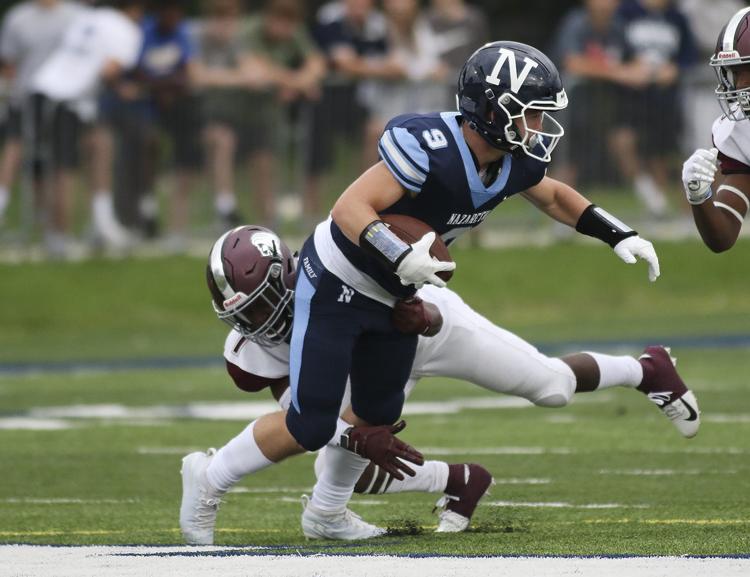 No. 29: Latrez Shelton, Cardinal Ritter, CB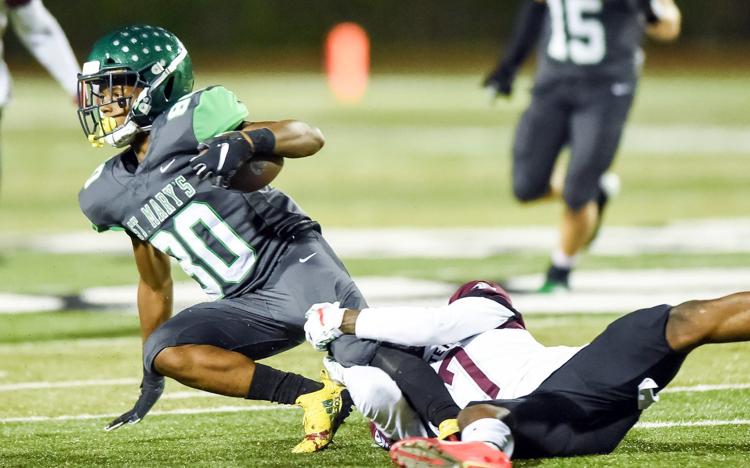 No. 30: Jake Seidel, Seckman, OL