Derrick Helfin knows what awaits his Washington High football team.
It's unlike anything the Blue Jays have experienced this season.
"They haven't seen anything like what we're going to see Friday night," said Heflin, Washington's coach.
Washington (9-1) will make the long haul to Camdenton (10-0) for a Class 4 District 5 tournament semifinal at 7 p.m. Friday. Located near the Lake of the Ozarks, Camdenton is about a three hour bus ride for the Blue Jays. They'll depart Washington around 1 p.m., make a stop along the way and then get into their pregame routine around 5 p.m.
Waiting to greet Washington at Bob Shore Stadium will be a sea of purple and gold. The Lakers are given an immense amount of love on their home turf and the fans aren't shy about being loud and proud, especially as the team chases its 28th district championship.
"They have great community support," Heflin said. "It's kind of an intimidation factor."
The team on the field isn't half bad either. Camdenton has won 17 in a row at home. Its last home loss came to West Plains, 25-24, on Aug. 25, 2017. The last time the Lakers lost a postseason game at home was also to West Plains, 29-28, on Oct. 21, 2016.
Camdenton was a tough-luck loser last season when perennial powerhouse Webb City escaped with a 28-27 victory in a Class 4 quarterfinal. The Lakers have returned with a vengeance this season as they've won two games by a touchdown or less. Their other eight wins have been decisive. Camdenton's use of a spread offense has proven tough to defend for its opponents. The Lakers have scored 49 or more points six times and topped out with an 88-0 win over at Springfield Central. Keeping the Lakers from putting up gaudy scoring totals is a challenge Washington will try to manage.
"They have an empty backfield with five wide (receivers) 98 percent of the time," Heflin said. "It's something new and different for our group of guys."
Heflin said the key will be if the Blue Jays can create some pressure up front with their defensive line. Freshman Trevor Burr has 13 tackles for loss and seven sacks. Junior Ryan Hoerstkamp has 14 tackles for loss and four sacks. Junior linebacker Seth Ruether has 44 tackles and six sacks. All of them will have to be at their best if Washington is going to slow Camdenton's high-powered attack.
"It presents some unique challenges," Heflin said. "We have to create a pass rush with our limited resources."
Camdenton's defense has been pretty salty much of the season, too. Nicknamed the "Purple Haze," the Lakers defense allowed three opponents to score 27 or more points. Glendale put up 42, West Plains managed 34 and Pacific scored 27 in last week's district quarterfinal. The Lakers had three shutouts this season.
"They're going to put a lot of guys in the box and be aggressive," Heflin said.
Washington will have its hands full but it'll be a learning experience for a program on the rise. When the Blue Jays beat Marshfield 20-14 last Friday, it was their first home playoff win since 2016 and just the second postseason victory at home since the current district system was implemented prior to the 2012 season. For a senior class that suffered through an 0-10 season as sophomores and then a 3-7 campaign as juniors, Friday night's victory and the extra week of practice it bought them was validation that all their years of work served a purpose.
"It was a big moment," Heflin said. "We talked about getting a home district game and winning it. It's very rewarding for these guys."
They now get to test themselves against one of the best teams in the state. These two programs have some history. In 2012, Washington made the trip to Camdenton and was beat 35-7. Since 2002, Camdenton leads the series 3-2 with three consecutive wins, all of which have come in a district tournament. In 2002, Washington won at Camdenton, 34-29.
"We have one goal in mind and that's to win a football game," Heflin said. "We're playing with house money. (The players) know what they're capable of. We're going to band together, compete and play our tails off for 48 minutes."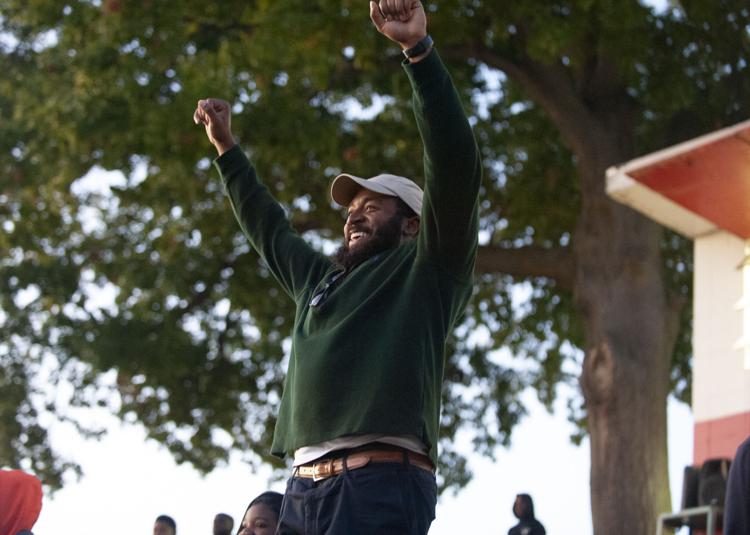 PORTER'S COACHING FUTURE ON HOLD AT THE MOMENT
Trey Porter will coach football again.
Where he lands will be ironed out in the near future.
The former Roosevelt football coach and athletics director who was terminated by St. Louis Public Schools for violating its social media policy in October, Porter said he has been contacted by other programs in the area about his plans and has told them all the same thing.
"I'm not talking coaching football until the end of the Roosevelt Roughriders season," Porter said.
In the meantime, Porter recently accepted a teaching position with Lift for Life Academy teaching middle school English. His first day at his new job was Monday.
"They needed a teacher and I needed a job," Porter said.
Porter said it's been an adjustment moving from high school students to middle school. It didn't take long for his pupils to recognize their new teacher.
"They asked, 'Are you the coach the kids walked out for?'" Porter said.
Porter's career with SLPS has come to an end but he's not done with SLPS. He said he plans to attend the SLPS Board of Education meeting Tuesday and talk directly to the board in a public forum.
"I'll speak for my three minutes," he said.
The meeting will be held at 6:30 p.m. at SLPS's Central Office at 801 N. 11th Street.
Before he gets there, Porter will be in the stands supporting Roosevelt's football team as it continues its postseason run. The Roosevelt (9-1) hosts Sullivan (6-4) in a Class 3 District 2 tournament semifinal at 1 p.m. Saturday.
The Roughriders beat Confluence 54-6 in a district quarterfinal. Sullivan advanced with a 27-0 win over Owensville. The victor draws the winner of the St. Clair-Borgia game set for 7 p.m. Friday at St. Clair.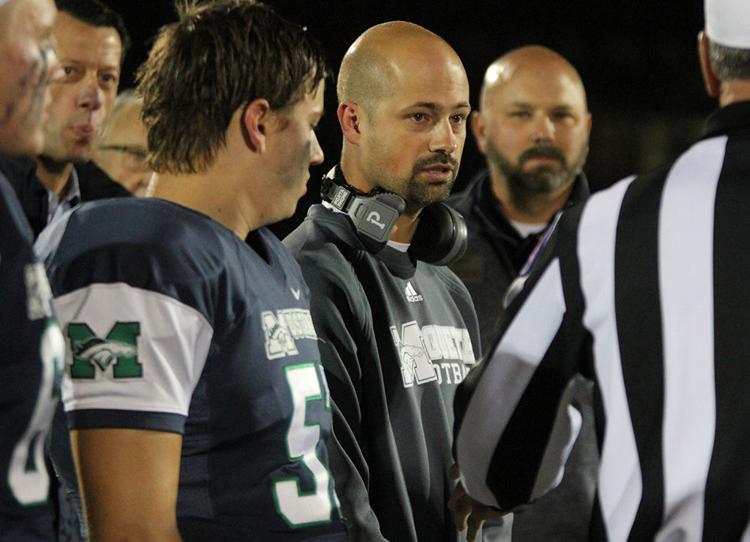 KLEIN, BLUE SPRINGS SOUTH MAKE RETURN TRIP
Matt Klein spent five seasons as Marquette's football coach. He resigned last spring to take the reins at Blue Springs South. His first season in suburban Kansas City started rough but he has had a strong finish. The No. 7 seed in the Class 6 District 2 tournament, Blue Springs South (3-7) travels to No. 3 seed Troy (7-3) for a 7 p.m. kickoff on Friday.
The Jaguars opened up with a 23-21 loss to Raytown (7-2) in Week 1 then dropped their next four games. They've lost three games this season by a touchdown or less and played a brutal schedule that, for better or worse, prepared the team for its postseason push. Even as Blue Springs South took its losses, Klein saw progress week after week.
"You can't focus on the scoreboard all the time," Klein said.
The scoreboard looked pretty good after Blue Springs South made the trek to Holt and grabbed a 42-13 win. That trip could prove fruitful as it gave the Jaguars an idea of what to expect this week when they hit the road again. The players left school and hit the road before noon on Friday with a stop along the way to stretch their legs and then another to get some food before arriving at Troy and beginning the pregame routine.
"Hopefully we've got it down pat," Klein said.
It will be a familiar trip for the returning players. Blue Springs South rolled into Troy last year and won their district quarterfinal game, 35-14.
Klein doesn't think that game will have much affect on the rematch.
"There are so many new kids, a new coach and it's a new year," he said. "We have to come over and play at a high level."
Troy will be looking to keep its season rolling, too. When the Trojans beat Hickman 14-6 last week, it was the first playoff win in school history.
Should Klein and the Jaguars be victorious, they would be in line for another road trip. The only question is how far. The winner of Blue Springs South and Troy will advance to play either top seed Fort Zumwalt West (8-2) or No. 4 seed Blue Springs (6-4). The Jaguars could make a third consecutive trip to the eastern side of the state or play their district rival. Either way, Klein has no plans on worrying about any of that until late Friday night when he's back on the bus headed west.
"Hopefully on that long bus ride home we'll worry about those details," he said.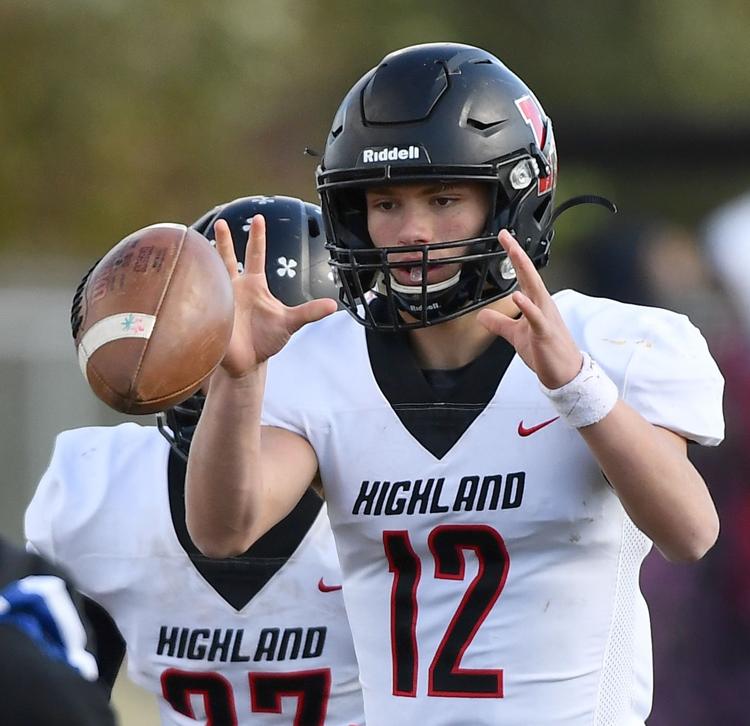 METRO-EAST TEAMS HIT THE ROAD SATURDAY
All but two of the area's Illinois playoff participants will play on the road in Saturday's second-round games.
In Class 5A, No. 10 seed Highland hosts perennial powerhouse and No. 2 seed Rochester (9-1) at 2 p.m. No. 12 seed Mascoutah (7-3) hosts No. 4 Kankakee (9-1) at 5 p.m.
The other area teams will all pile into a bus and spread out across the state.
In Class 8A, No. 16 seed Edwardsville (8-2) will head toward Chicago where it'll face top-seeded Minooka (10-0) at 4 p.m.
One of two No. 1 seeds in Class 6A, East St. Louis (10-0) travels to the Quad Cities where it'll face No. 9 Rock Island (8-2) at 1 p.m.
Class 5A No. 14 Triad (7-3) plays in Springfield at No. 11 Sacred Heart-Griffin (7-3) at 2 p.m.
Class 4A No. 2 Columbia (10-0) motors past Bloomington to Fairbury where it'll take on No. 10 Prairie Central (8-2) at 2 p.m.
In Class 3A, No. 5 seed Mater Dei (9-1) travels southeast to No. 4 seed Fairfield (10-0) for a 4 p.m. kickoff.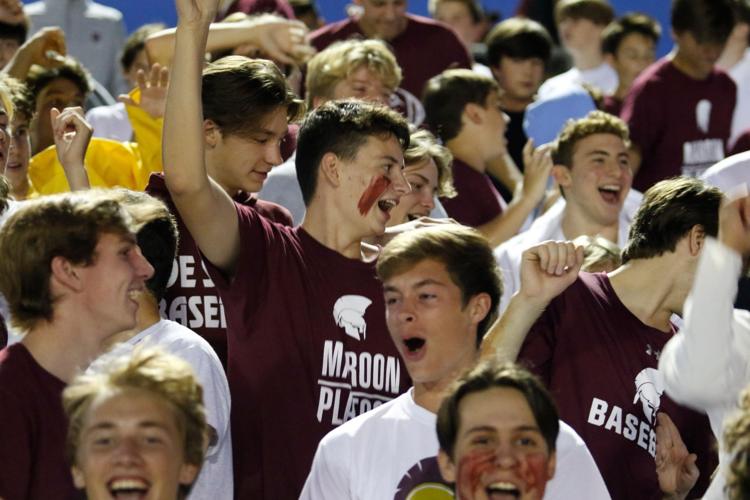 INTRIGUING PLAYOFF MATCHUPS
Note: De Smet beat CBC in the regular season for the first time in 10 years in September.
Up next: Winner of Francis Howell and Hazelwood Central.
• Hazelwood Central at Francis Howell
Note: Howell coach Brent Chojnacki is a 2006 Hazelwood Central graduate and was the head coach at Central for the 2017 season.
Up next: Winner of De Smet and CBC.
• Webster Groves at Chaminade
Note: Webster has won its last five meetings with Chaminade including the 2009 state semifinal game known as "The Miracle at Moss."
Up next: Winner of McCluer North and Parkway West.
• Duchesne vs. Lift for Life at Bayless
Note: Duchesne is coming off a bye after Cardinal Ritter received a the No. 6 seed in the district tournament despite dissolving its football program in October.
Up next: Winner of Lutheran North and Cuba.
Note: Summit has won six in a row after a 27-13 loss to Kirkwood on Sept. 20.
Up next: Winner of Ladue and Westminster.
Note: This will be the first meeting between the two in at least the last two decades.
Up next: Winner of Eureka and Oakville.
• John Burroughs at Priory
Note: Priory has won back-to-back meetings with Burroughs after losing its previous nine in a row.
Up next: Winner of Trinity and University City.
Note: Rochester eliminated Highland in the Class 4A semifinals in 2017.
Up next: Winner of Triad and Sacred Heart-Griffin.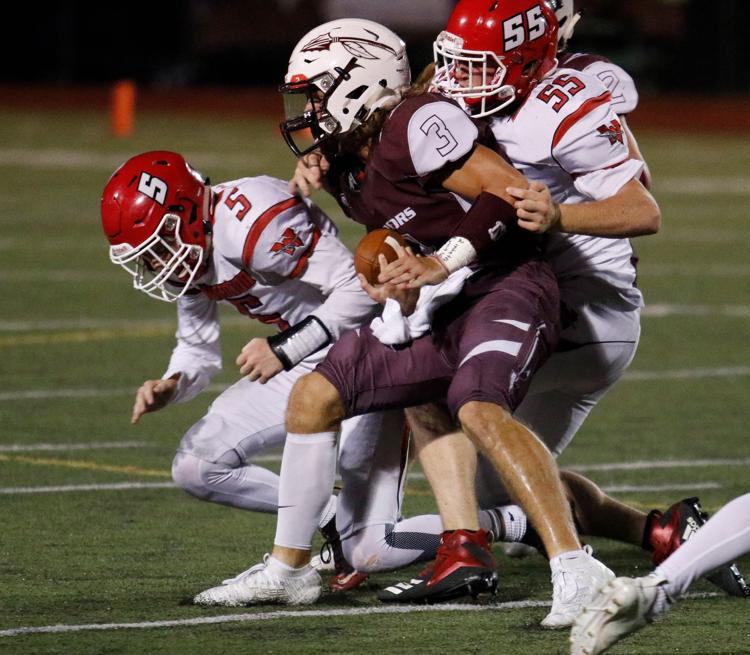 • St. Charles West's quest for its first district championship in five years took a hit when senior quarterback Brendan Sportsman suffered a knee injury in last week's 51-22 win over Winfield. On the season, Sportsman threw for 740 yards, 11 touchdowns and was intercepted twice. He rushed for 769 yards and 11 touchdowns, too. He's the latest in a slew of injuries to ravage the Warriors this season. Senior running back Jamesen Reese rushed for 592 yards and scored 11 total touchdowns before he was hurt against Orchard Farm on Oct. 4. He has not returned to action. Senior running back Dominic Flint rushed for 914 yards and 15 touchdowns but hasn't played since the Warriors rolled to a 40-12 win over St. Charles on Oct. 18.
The top seed in the Class 3 District 4 tournament, St. Charles West (8-2) hosts No. 5 seed Mexico at 7 p.m. Friday
• All four area defending state champions remain in the hunt, for at least one more week. In Class 6, CBC (8-2) has its hands full playing at De Smet (10-0). Reigning Class 5 champ Vianney (1-8) got an extra week to prepare for its trip to Mehlville (6-3) due to Class 5's setup that left it with only four district games played across the state last week. In Class 4, Ladue (9-1) draws a rejuvenated Westminster (5-5). Class 3 champion Trinity (6-3) hosts University City (6-4).
Class 2 will have a new champion this season after defending champion Blair Oaks was bumped into Class 3.
• Affton travels to St. Mary's on Friday for a Class 4 district semifinal. It'll be a contrast in styles as the Cougars like to keep the ball on the ground and the Dragons have found their success through the air.
Last week, Affton's Derrick Baker and Cameron Moore combined to rush for 483 yards in a 55-20 win over Soldan. St. Mary's DeShawn Fuller leads the team with 394 rushing yards this season.
St. Mary's quarterback Cam'Ron McCoy has thrown for 2,231 yards, 29 touchdowns and been intercepted five times. Affton quarterback Will Apple has thrown for 376 yards, seven touchdowns and been intercepted twice.
Since 1999, St. Mary's leads the series with Affton, 6-5. The Dragons have won their last two against the Cougars including last year's district game, 48-6.
STLHighSchoolSports.com is the most comprehensive source of stats, scores and stories from any and all area high schools.