WASHINGTON, Mo. — Trevor Rinne won collarbone bingo.
The senior quarterback for the Washington High football team, Rinne's sophomore year ended when his right collarbone was busted up four games into the season. His junior year was over before it began when he shattered the left one nine plays into the Blue Jays' summer scrimmage.
"You have to be crazy to come out here and do this," Rinne said with a smile.
Crazy and maybe a little stubborn.
When Rinne's sophomore season ended due to injury, Washington was 0-4. It went on to finish that season 0-10 with the sophomore class as the backbone of the varsity roster. They weren't ready to carry the load then. Last season they went 3-7. Now they're seniors and doing things that haven't been done at Washington in more than a decade.
Washington is 4-0 for the first time since 2006 and hosts Liberty (2-2) for homecoming at 7 p.m. Friday. These Blue Jays have yet to walk off the field a winner on homecoming. They're hoping that changes this year.
"It's our senior year so we want to enjoy it while it lasts," senior slot receiver Christian Meyer. "We're going to stay focused and do whatever it takes."
Washington did just that when it survived a 7-6 nail nibbler to beat Seckman in its season opener. On a wet, slick first night, the Blue Jays coughed up the ball routinely. They fumbled six times, four of which came deep inside Seckman territory. Instead of putting points on the board, Washington continued to shoot itself in the foot.
The defense saved the day as Ryan Hoerstkamp returned a fumble for Washington's only score. It was enough to get the Blue Jays through the night.
"The defense played good and put up a touchdown so we won," the 6-foot-4 and 180-pound Rinne said. "It's nice knowing that no matter what our defense is going to have our back."
The defense bailed them out then. It could not, however, save the Blue Jays come Monday. Every turnover was paid for in full with conditioning drills.
"They did a lot of running that Monday and Tuesday," Washington coach Derick Heflin said.
It wasn't the most fun way to spend part of two practices, but this Washington team does not fear hard work. Hard work has been the remedy for what the players fear most — defeat.
"For so long we were losing and I don't think anybody understands what we had to go through to get where we are now," Meyer said.
Instead of turning tail, the returning Blue Jays made the choice to get better and embrace the plan Heflin laid out. Now in his fourth season as Washington's coach, Heflin inherited a program that counted one player that weighed over 200 pounds. With an emphasis on year-round strength training, the Blue Jays now have four of their five offensive linemen and their front six defensive players all over 200 pounds.
"We take a week for Christmas. We take a week off for spring break and we take the two dead weeks. Other than that we're lifting 48 weeks a year, four days a week," Heflin said. "They've all bought into it. We start with our seventh graders. They understand what the culture is and what we expect. It's just kind of rolled, it's been a snowball effect."
Heflin helped establish Washington's feeder program, which has become a real boon. Even when it went 0-10, the program added players. Washington is carrying about 90 kids, freshmen through seniors, and can field varsity, junior varsity and freshmen teams. The mere ability to have all three levels is an achievement because the number of schools that can are rapidly dwindling.
"That's a tribute to them, the community and the support we have," Heflin said. "Their work ethic is second to none."
Helfin knew what worked in his previous stops. He played in high school at Rolla then was an assistant coach at Salem, Houston and Waynesville. Even as the Blue Jays had their struggles on the field, Heflin sold them on reaping what you sow. Put in the work and the rewards will come. Just keep working.
"There's times in your life your boss is going to hate you, your wife isn't going to like you and your dog is going to run off," Heflin said. "You still have to get up and go to work the next day. You have to keep grinding."
Since its offense misfired against Seckman, Washington has found its stride. It outscored Pacific, Warrenton and Fort Zumwalt East a combined 133-45. Meyer has had a hand in that as he's rushed for 406 yards and scored a team-best seven touchdowns.
Liberty brings a new set of challenges with it this week. Washington will be ready. The Blue Jays are giving every opponent their undivided attention. When you've come as far as they have going backward is not an option.
"We just have to remember back to how it felt being 0-10 and no one wants to feel that way again, losing a game," Rinne said. "With that in the back of our mind, I think it pushes us to work hard and not to lose again."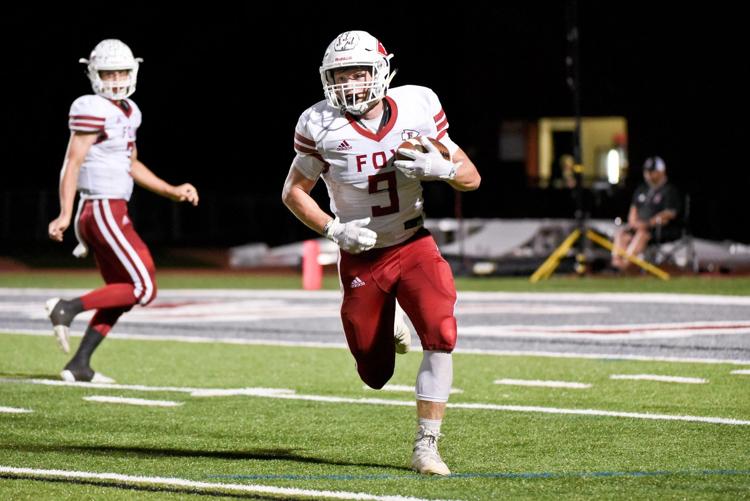 FOX MAKES MOST OF FORFEIT VICTORY
Brett Tinker tells his players they should only worry about what they can control.
The Fox football coach had to take his own advice.
Fox hosted its annual "Huddle Up 4 Heroes" event with Mehlville last Friday. It was the seventh year the two schools got together to raise money for local charities that assist military families.
Only this one did not go as planned.
Mehlville was forced to forfeit its scheduled game due to lack of available players. Mehlville's varsity roster was decimated as a result of a large number of players coming on to the field when a fight broke out against Hazelwood West near their sideline the previous week. Any player that steps on the field in that type of situation, be it as peacemaker or instigator, is ejected and automatically suspended for the next game, per national guidelines.
Instead of calling off the event, Fox and Mehlville sent out their junior varsity teams.
It was a rousing success.
"Our crowd was huge," Tinker said. "The kids came out, the parents came out, it didn't look like a JV game at all."
It didn't feel like a JV game either. Fox pulled out all the stops for the underclassmen, many of whom were making their debut under those Friday night lights.
"We decided to treat everything like a varsity game," Tinker said. "I think they had a blast."
Mehlville managed to eke out a 29-28 victory on the field but the varsity result was a 13-0 win for Fox.
Fox (3-1) plays at Oakville (1-3) at 7 p.m. Friday.
Mehlville (1-3) travels to Seckman (1-3) at 7 p.m. Friday.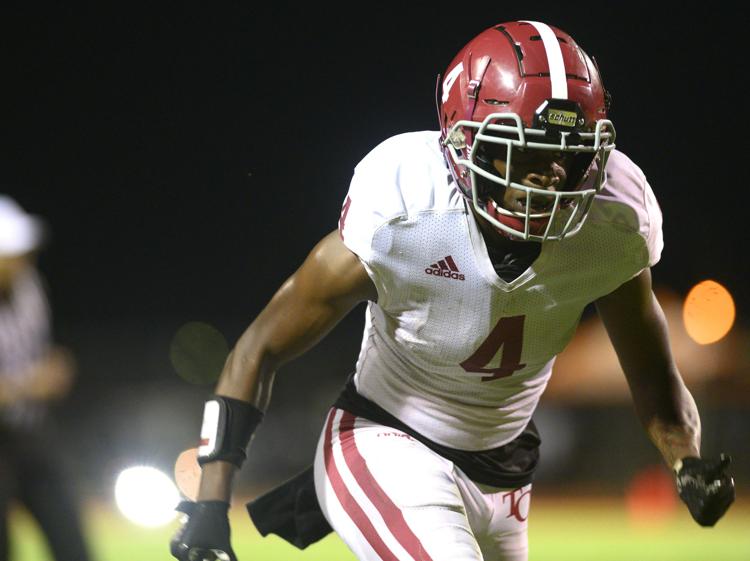 RANDLE TAKES THE WHEEL AT TRINITY
John Randle was named Trinity's football coach Thursday following the dismissal of Terrence Curry three games into the season.
Randle was the defensive coordinator and is in his first season on staff at Trinity. He has head coaching experience after a stint at Soldan. He was also an assistant at Hazelwood West, Lutheran North and Sumner.
"He's been coaching in the area for awhile," Trinity athletics director Bruce Smith said. "He was part of the staff, the kids already knew him. It's been a pretty easy transition."
Randle is currently listed as the interim coach. Whether or not that changes will be determined in the future.
The No. 3 small school in the STLhighschoolsports.com rankings, Trinity (2-2) gave Randle a victory in his first game as the Titans shut out O'Fallon Christian 36-0 in their home opener last Friday.
Trinity travels to Duchesne (3-1) for a 7 p.m. kickoff Friday before returning home the following week to take on No. 8 small school Lutheran St. Charles (4-0).
PARKWAY SOUTH WILL PLAY FRIDAY
A rash of injuries forced Parkway South to end its game with Marquette last week before halftime.
Marquette led 42-0 when the game was called late in the second quarter. The game started ominously when a Parkway South player suffered a broken arm on the first play. More injuries occurred, particularly on the offensive line, that led to Parkway South athletics director Pat Burns and Marquette athletics director Shane Matzen discussing and agreeing to end the game.
"In the interest of safety we felt it was best to stop," Burns said.
The Patriots will take the field at 7 p.m. Friday at Eureka for their scheduled game. Burns said Parkway South has every intention of playing out the rest of its season. The Patriots are shifting around some personnel and are expected to have players return from injury. This will be an ongoing challenge the rest of the season.
"It's something we'll have to monitor on a weekly basis," Burns said.
The Patriots will have their hands full on Friday when they visit Eureka for homecoming. Parkway South (0-4) has dropped its last 11 games to Eureka (3-1) and hasn't scored on the Wildcats in five games dating back to 2013.
GATEWAY STEM REMAINS UNDER RENOVATION
Construction has taken a bite out of the Public High League's most vital facilities. The football field and track at Gateway STEM are undergoing renovations that were originally scheduled to be completed for the start of the fall season but have run over. There isn't a definite timetable to when the project will be finished. The PHL has had to shuffle around its use of its other facilities to accommodate its football and boys soccer teams.
Soldan and Roosevelt have their own fields. Cleveland NJROTC and Visual and Performing Arts are located at the old Southwest High, which has a soccer and football field.
Carnahan, Gateway STEM, Miller Career, Roosevelt, Soldan and Vashon are fielding football teams this fall.
Gateway STEM (3-1) plays Vashon (1-3) at 1 p.m. Saturday at Soldan. Miller Career (1-3) hosts Soldan (1-3) at 1 p.m. Saturday at Southwest. Roosevelt (3-1) hosts Confluence at 1 p.m. Saturday. Carnahan (0-4) plays at St. Joseph Lafayette (2-2) at 7 p.m. Friday.
Fall is officially here and that means more gridiron rivalry games are in store. Here's a quick glance at some of the games from around the area featuring traditional rivals.
• CBC (3-1) at SLUH (2-2)
Streak: CBC has won the last 16.
Note: The Cadets 63-0 win last season was the first shutout in the series for either team since 2000.
• Breese Central (2-2) at Mater Dei (3-1)
Streak: Mater Dei has won three in a row and 13 of the last 15.
Note: Crosstown rivals play in the Milk Bowl for the traveling trophy, a milk can with results of the rivalry games inscribed on its side.
• Clayton (1-3) at Ladue (4-0)
Streak: Ladue has won 11 in a row.
Note: This will be Ladue's third consecutive home game at its new stadium before it goes on the road for two weeks.
• Parkway Central (0-4) at Parkway North (0-4)
Streak: Parkway North has won four of the last six including last season, 19-16.
Note: Since 1999, Parkway North holds an 11-10 edge on Parkway Central.
• Lutheran South (0-4) at Lutheran North (2-1)
Streak: Lutheran North has won six in a row and 19 of the last 20.
Note: Last season's 49-0 win was the first shutout for Lutheran North in the series since 2009.
• St. Clair (4-0) at Union (3-1)
Streak: Union won last season and has taken three of the last four. Since 1999, Union holds a 13-7 edge.
Note: Contrast of styles as St. Clair brings its punishing running attack and Union goes with an air-raid offense.
• Hazelwood Central (1-3) at Hazelwood East (2-2)
Streak: Central has won seven in a row and nine of the last 10.
Note: Central has scored six offensive touchdowns through four games.
• John Burroughs (4-0) at MICDS (3-1)
Streak: MICDS has won three in a row after losing its previous four.
Note: MICDS beat Burroughs a combined 92-0 the last two seasons.
• East St. Louis and De Smet agreed to play one another in the featured game of the Gateway Scholars Classic next season. East Side will open the season against CBC, then follow with De Smet.
De Smet will get a taste of the Southwestern Conference prior to seeing East Side as it has also agreed to play at Edwardsville in Week 1 next season.
Edwardsville also will keep its regularly scheduled game with CBC.
• Highly rated college prospect Antonio Doyle will make his season debut at linebacker for Lutheran North when the Crusaders host Lutheran South at 7 p.m. Friday. Doyle, who had been committed to Missouri but has since reopened his recruiting, was ineligible the first four weeks of the season following his transfer back to Lutheran North last fall. He enrolled at Lutheran North as a freshman before transferring to Hazelwood West for his sophomore year.
• Webster Groves ended a 15-game losing streak when it defeated Pattonville 41-20 Friday night. Webster Groves (1-3) had not won since it defeated Parkway South 24-14 on October 20, 2017.
Senior Jacobie Banks had a huge game as he rushed twice for 63 yards and a touchdown, caught four passes for 137 yards and a score. He also returned three kicks for 101 yards for a total of 301 all purpose yards.
The Statesmen host Ritenour (1-3) at 7 p.m. Friday and then play at Parkway Central (0-4) on Oct. 4.
• Columbia quarterback Nic Horner set the school's career touchdown passing record in last week's 51-3 win over Wesclin. Horner threw three on Friday and now has 40 for his career. His twin brother, Sam, a receiver, is third all-time in receiving touchdowns and fourth all-time in career receiving yards. 
The No. 5 small school, Columbia (4-0) plays at Carlyle at 7 p.m. Friday. 
• Priory ended a four-game losing streak to MICDS with a rousing 38-37 Metro League victory last Saturday. Priory (4-0) won just its third game against MICDS (3-1) in 16 years. The Rebels are unbeaten through four games for the first time since 2010 when they opened up 5-0.
Priory hosts Westminster (0-4) at 1 p.m. Saturday.