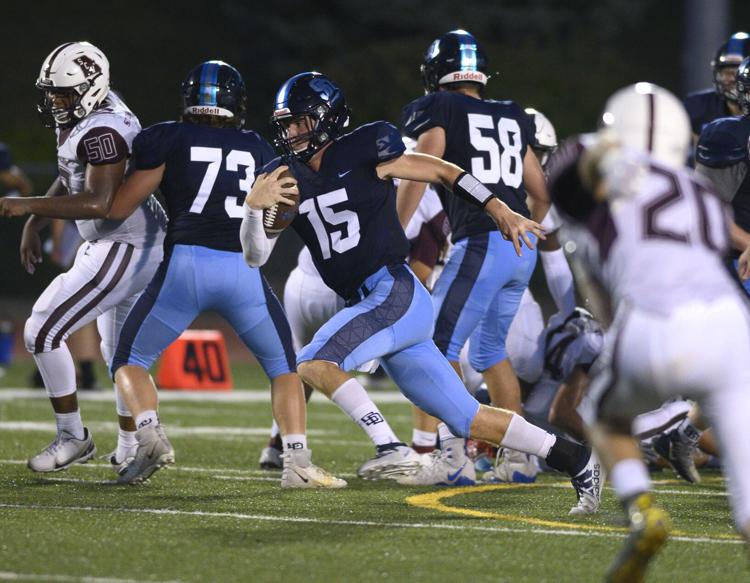 Records: O'Fallon Christian 0-1; St. Dominic 1-0.
Last week: Palmyra 38, O'Fallon Christian 0; St. Dominic 43, St. Charles West 20.
On O'Fallon Christian: The Eagles were shut out in their first meeting with Palmyra and for just the second time since the 2017 season. Senior quarterback Kaden McMullen completed 6 of 8 passes for 83 yards before he was knocked out of the game with an injury. He did not return. Without its quarterback the Eagles offense was grounded. The explosive senior duo of running back Roddy Alexander and receiver Kalin Black were held to 44 total yards of offense. The Eagles did not use senior receiver and Miami (Ohio) recruit Angelo Butts, who recently transferred from McCluer North. … Senior safety Colby Bolden made an interception. Senior safety AJ Taylor made 11 tackles and senior defensive end Cole Wunderlich made 10.
On St. Dominic: Won its only previous two meetings with O'Fallon Christian (2016, 2017). ... Scored 30 unanswered points in season-opening win over St. Charles West. Sophomore running back Jackson Overton rushed for 141 yards and two touchdowns. Senior quarterback Gabe Serri completed 14 of 28 passes for 249 yards, one touchdown and was intercepted once. Serri rushed for 55 yards and a pair of touchdowns. ... The Crusaders knocked in three field goals as senior Jack Heinrich hit from 22 and 33 yards away. Senior Carson Prescott connected from 45 yards out. …Senior defensive backs Tate Cross and Colin Courtois led the team with seven tackles each. Senior linebacker Knoll Hirtz had a pair of sacks.
STLHighSchoolSports.com is the most comprehensive source of stats, scores and stories from any and all area high schools.