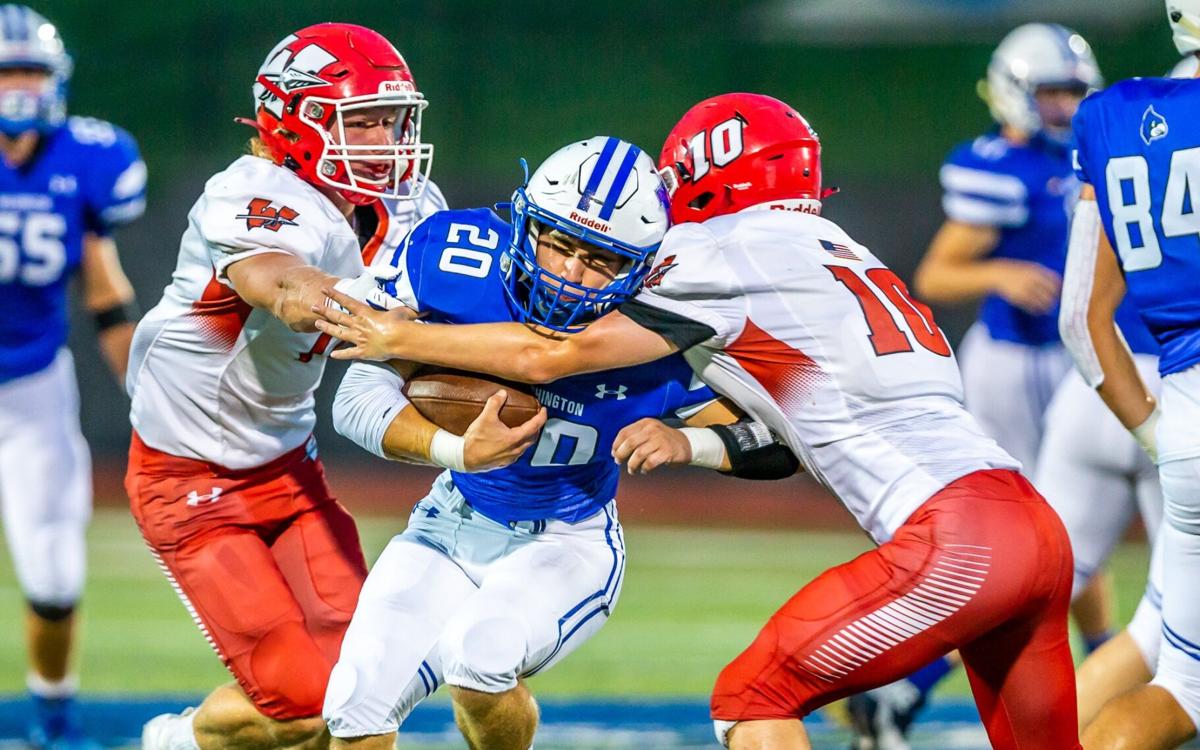 Fort Zumwalt North pushes past Timberland in fourth
Chris Futrell scored on a 30-yard burst up the middle with 8 minutes and 24 seconds left to break a tie and give the Panthers a 41-21 win in O'Fallon.
The touchdown started a 20-point outburst.
Tyler Oakes added some insurance with a 47-yard scoring gallop for a 35-21 lead.
D.J. Jones scored on a 7-yard run midway through the second period to put the hosts up 14-7.
Zumwalt North (2-1) has won eight of the last nine games between the teams.
Timberland (1-2) was coming off a 17-14 win over Liberty in week 2. 
Washington 30, Warrenton 7 — Senior running back Louis Paule scored on a 9-yard run early in the second quarter to break a 7-7 tie and send the Blue Jays to a win in Franklin County.
Washington (3-0) has outscored its opponents 119-20 this season.
Junior quarterback Cam Millheiser hit Cole Nahlik on a 35-yard scoring toss in the first period to kick-start the attack.
Millheiser pumped the lead to 21-7 on a 5-yard TD run midway through the second quarter.
Paule added another short run midway through the third period to push the lead to 23 points.
Warrenton (0-3) has given up 120 points.
St. Charles West 35, Fort Zumwalt East 12 — Dominic Flint scored on a scintillating 71-yard run late in the first quarter and the West defense did the rest in this nonconference contest at East.
Deleon Smith pushed the lead to 21-0 on a 50-yard scoring gallop with 25 seconds left in the half. He also added a 54-yard TD run early in the final quarter.
West (1-2) had given up 85 points over its first two games.
Zumwalt East fell to 0-3.
Owensville 49, Cuba 8 — Junior quarterback Brendan Decker connected with sophomore Bryce Payne on a 61-yard scoring strike midway through the first quarter to get the Dutchmen off and running in this contest in Owensville.
Decker, who threw for four TDs in the first half, also hit Austin Lowder and Derek Brandt on short tosses to push the lead to 22-0.
Brandt added a key interception.
The Dutchmen (2-1) were coming off a 47-0 win over Eldon last week.
Owensville improved to 13-0 against Cuba (2-1) since the outset of the 1999 campaign.
Union 14, Sullivan 0 — Liam Hughes and Dalton Voss scored on first-quarter runs in this battle of winless teams in Union.
The Wildcats have won the last five meetings.
Union used a defensive goal-line stand in the fourth quarter to keep the Eagles off the board.
Wright City 21, Winfield 14 — Senior running back Dalton Wiser scored a pair of first-half touchdowns to lead the Wildcats to a win on the road.
Wright City (3-0) is off to a 3-0 start for the first time since 2010.
The Wildcats have outscored their opponents 84-42.
St. Dominic 48, St. Charles 0 — Colin Courtois returned the second-half kickoff 80 yards for a touchdown to highlight the Crusaders easy win in St. Charles.
Senior quarterback Gabe Serri threw for three scores in the opening half including two to Ryan Schwendeman. Serri capped his night with a 40-yard bomb to Tyler Kohout.
St. Dominic (3-0) is off to its best start since the 2016 team won its first seven contests.
St. Charles fells to 0-3.
Hannibal 41, Fort Zumwalt West 21 — The Jaguars held early leads of 7-0 and 14-7 before faltering in the second half of this game in Hannibal.
West (0-3) also lost its first three games in 2018.
Hannibal improved to 2-0.
Hillsboro 47, Cape Central 20 — The Hawks scored 21 unanswered points in the first half to take charge at home.
Central had won four of the previous five games between the teams.
Festus 49, Windsor 13 — The Tigers scored 49 unanswered points to win this game in Imperial.
Cole Rickermann highlighted the blitz with a 79-yard scoring run.
The Tigers are 3-0 for the first time since the 2013 team won its initial four games.
Monroe City 62, South Shelby 14 — The Panthers improved to 3-0 by scoring early and often in the rivalry contest between neighboring towns in downtown Shelbina.
Monroe City, which has also beaten South Callaway and Winfield, racked up 46 points in the first half.
STLHighSchoolSports.com is the most comprehensive source of stats, scores and stories from any and all area high schools.