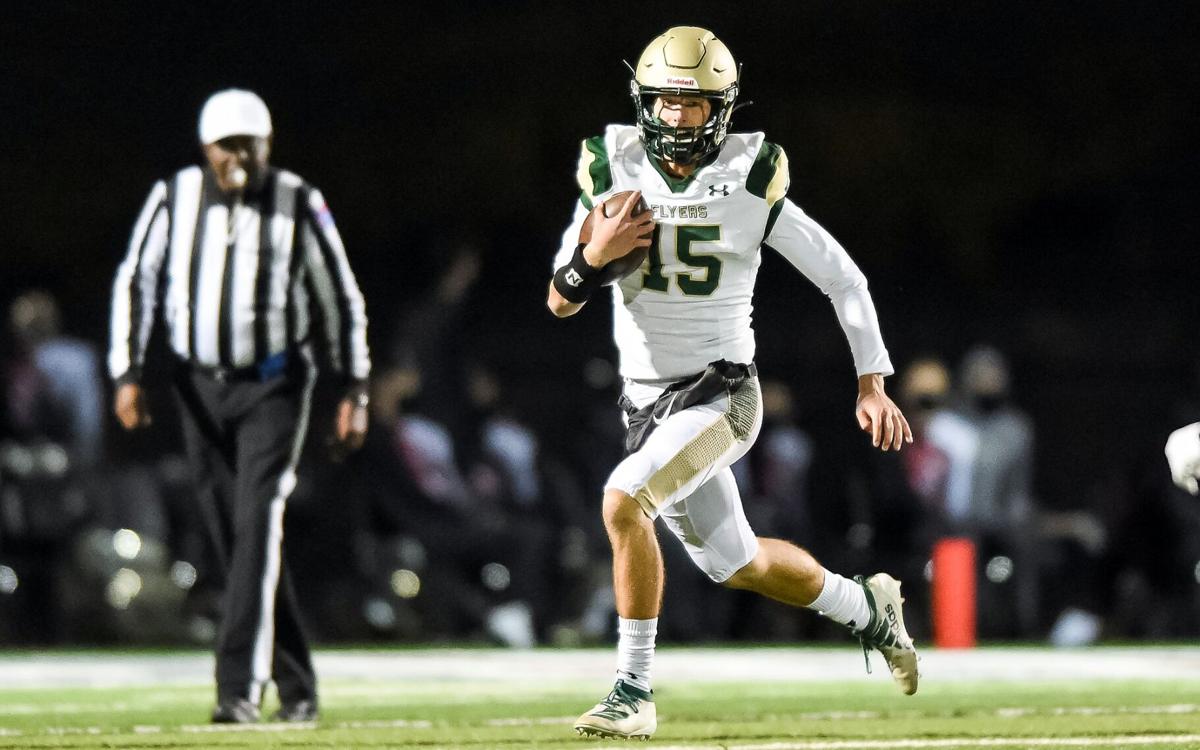 Senior quarterback Blake Micek threw for three touchdowns in the first half and Mitchel Hoffman scored twice as Lafayette beat Parkway Central 40-7.
Lafayette (2-1) added a pair of field goals from Josh Reynolds to zip to a 33-0 lead.
Micek hit Hoffman on a 12-yard scoring pass on the Lancers opening possession. Hoffman scored on a 4-yard run to pump the advantage to 16-0 with 45 seconds left in the opening period.
Micek hit on 29 of 34 passes for 304 yards and four touchdowns.
Seckman 35, Park Hills Central 33 — Sophomore quarterback Cole Ruble rushed for an area single-game best 401 yards and five touchdowns as the Jaguars beat previously unbeaten Central.
Ruble rushed touchdowns of 1, 29, 39, 50 and 1 yards as Seckman (4-2) won its third successive game. It was Seckman's first meeting against Central (7-1) this century.
Seckman also got two sacks each from Justice Ashlock and Brandon Granger.
Farmington 10, Festus 7 — The Tigers tied the game on a pass from junior quarterback Cole Rickermann to Kaian Roberts-Day in the fourth quarter but the Knights rallied on a 29-yard field goal by Kael Krause as time ran out in this showdown in downtown Farmington.
Festus (7-1) also won seven of its first eight games in 2013.
Lindbergh 27, Summit 23 — Logan Kopp scored a fourth-quarter touchdown and the Flyers (2-1) used a late goal-line stand to hold off the Falcons (2-1). 
Borgia 35, Hillsboro 8 — Quarterback Sam Heggemann and running back Alonzo MacDonald scored on short runs in the opening period to kick-start the Knights to a win in Jefferson County.
Borgia (4-3) has won two in a row after snapping a three-game losing streak.
MacDonald scored on a 4-yard run later in the third period to put the running clock in motion.
Hillsboro fell to 4-4. This was the first meeting between the schools in this century.
CBC 42, Vianney 3 — Jordan Clay reeled off a 96-yard touchdown run to highlight a 28-point first-half blitz as the Cadets (2-1) rolled in this Metro Catholic Conference game.
Junior quarterback Patrick Heitert hit Zach Hahn and Chevalier Brenson on first-period TD tosses for a 21-0 lead after just 9 minutes and 25 seconds.
Ralph Dixon added a late touchdown run to round out the scoring.
CBC, which was coming off a 41-21 loss to defending Class 6 champion De Smet, has won its last 11 games against Vianney (0-3). The Golden Griffins' last win in the series was a 48-35 triumph on Oct. 9, 2009.
De Smet 38, SLUH 22 — Seth Marcione tossed a pair of first-half touchdown passes to help De Smet win this battle of longtime rivals on Oakland Avenue.
The Spartans (2-0) scored 24 unanswered points to take control. Rico Barfield added a 55-yard scoring gallop to push the lead to 17-7.
Marcione hit JK Johnson on a short pass along the left sideline with seconds left in the half for a 24-7 cushion. Marcione also connected with Gavin Bomstad on a TD pass earlier in the half.
SLUH (0-2) climbed to within two scores late in the third period on back-to-back touchdown passes from Luke Johnston to Chris Brooks and Ryan Wingo.
De Smet has won 16 in a row and 22 of its last 23.
SLUH still leads the overall series against De Smet by a 33-20-1 margin.
Washington 48, Fort Zumwalt East 20 — Cole Nahlik scored on a 6-yard run on the Blue Jays' first possession and Cam Millheiser hit Jason Sides on a 14-yard scoring toss later in the opening period.
The Blue Jays (7-1) have won four in a row.
Fort Zumwalt West 28, Troy Buchanan 16 — The Jaguars rallied from an early 9-0 deficit with three unanswered scores in the second period to record their second win in a row after six losses to begin the campaign.
Mike Ludwig ran for one score and threw for another to trigger the 21-point blitz.
Liam Webb ran a fumble 21 yards for a score in the third quarter to push the lead to 28-9.
Zach Collins scored twice for the Trojans (3-5), who have lost four in a row.
Francis Howell 41, Timberland 13 — Senior Jackson Hetzel made a leaping catch of a 24-yard pass from Alex Pipes to start the Vikings off and running at home. The score capped a 72-yard drive on the opening possession.
Brady Hultman followed with a short run on the next possession as the hosts put together a lengthy 84-yard drive for a 14-0 lead.
Pipes and Hetzel hooked up again for another scoring play and a 21-0 lead after just 9:17.
Howell (6-1) has won five in a row after a 33-28 loss at Fort Zumwalt North.
The Vikings have never lost in series, winning all nine games.
Owensville 34, Lutheran South 7 — Junior quarterback Brendan Decker hit Derek Brandt on TD tosses of 4 and 38 yards in the first half as the Dutchmen waltzed to a win at home.
Decker also connected on a 56-yard TD toss to Bryce Payne.
Owensville (7-1) has won seven in a row after a season-opening loss at Potosi.
Duchesne 49, Winfield 0 — Sophomore Jamond Mathis scored three times in the first quarter to lift the Pioneers to a win at home.
Mathis tallied on a 60-yard run on the first play from scrimmage. He then caught a 19-yard scoring strike from Taron Peete just over three minutes later for a 14-0 lead. He capped the opening period with a 13-yard run on the last play of the quarter.
Antwon Hayden pushed the lead to 28-0 with a 20-yard scamper. Peete closed out a 35-point half with a 5-yard run.
The Pioneers (6-1) have won four in a row. Their only loss was a 35-13 setback to Lutheran St. Charles on Sept. 11.
Parkway West 55, Webster Groves 20 — Ja'Marion Wayne scored on a 70-yard TD run just 16 seconds into the game to help the Longhorns (1-2) to a win at Webster Groves.
Wayne also tossed TD passes to Josh Gansen and Griffin Snyder in the first period. Synder went 30 yards with a fumble for a score to push the lead to 35-7 early in the second quarter.
Ryan Lanouette tossed two TD passes for Webster (0-2).
Monroe City 52, Hermann 32 — The Panthers scored three times in the second period to cruise to a win in Gasconade County.
Monroe City (6-2) has won three in a row after a 30-20 loss to rival Palmyra on Sept. 25.
STLHighSchoolSports.com is the most comprehensive source of stats, scores and stories from any and all area high schools.