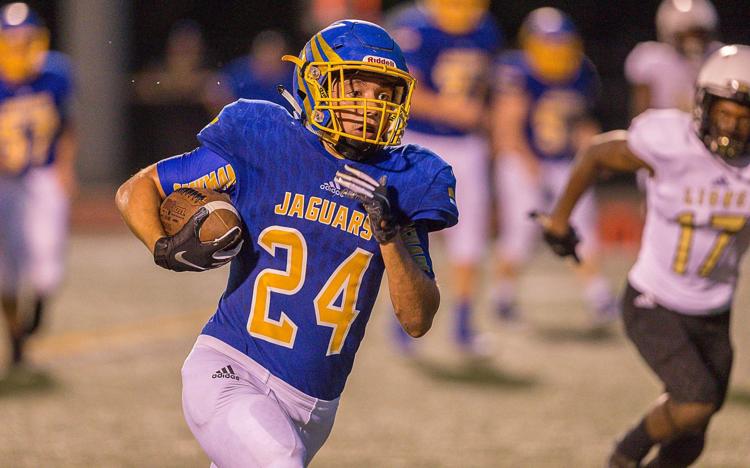 Records: Seckman 3-0; Northwest 3-0
Last week: Seckman 50, University City 16; Northwest 33, Riverview Gardens 0
On Seckman: Off to best start since first varsity football season in 1999. School record for most wins in a season is five set in 2006. Outscored Washington, Windsor and University City 124-43. ...Senior fullback Drew Campbell has rushed for 355 yards and five touchdowns. Seckman has rushed for 1,038 yards and 15 touchdowns. Senior quarterback Seth Lounsbury has completed 7 of 19 passes for 174 yards. ...Junior linebacker Braden Briggs has 29 tackles and three sacks. Sophomore defensive lineman Colton Critchlow has three sacks. Senior defensive back Bryce McKinnon has four interceptions.
On Northwest: Unbeaten through first three games for first time since at least 1999. Owns a three-game win streak over Seckman and has won four of six meetings since 2012. Defense has allowed 17 combined points to Francis Howell North, Parkway South and Riverview Gardens. ...Senior running back Tanner Campbell has rushed for 376 yards and four touchdowns. Senior running back Jacob Pirkle has rushed for 210 yards and two scores. Senior quarterback Seth Fornter has completed 11 of 28 passes for 160 yards and one touchdown. Senior tight end Ryan Depew has six receptions for 118 yards and a score. ...Senior linebacker Robbie Spencer has 26 tackles and senior linebacker Kyle Cicero had 24 tackles. Campbell has two interceptions.
STLHighSchoolSports.com is the most comprehensive source of stats, scores and stories from any and all area high schools.