O'FALLON, Mo. — The only part of the scoreboard that catches Gavin Stricker's eye during a game is the clock.
Everything else is a blur of lights until time runs out.
A senior left tackle for the Fort Zumwalt North football team, Stricker doesn't want the score to affect the way he plays. Whether the Panthers are up 14 points or down 14, the 6-foot-3 and 230-pound Stricker is focused on what's in front of him.
"You don't really pay attention to the score," he said. "You just play your game and go out there and give it your best."
It was for the best that Stricker wasn't scoreboard watching last Friday night. He and his fellow Panthers were in a 14-0 hole at the end of the first quarter at Chaminade. It was the first time all season Fort Zumwalt North trailed by that many points. It was just the second time this season they didn't score in the first quarter. Fort Zumwalt West was the only other opponent that shut the Panthers out in the first 12 minutes.
It was the kind of adversity Fort Zumwalt North had not overcome in the 10 weeks since it beat Fort Zumwalt West 37-20 on Sept. 6.
"They couldn't have handled it better than they did," Fort Zumwalt North coach Joe Bacon said. "We have to know it's OK if we struggle a little bit, we can't freak out. We have to stick to the plan."
The Panthers rallied on their way to a 24-21 victory and their third Class 5 semifinal berth in four seasons. The No. 5 large school in the STLhighschoolsports.com rankings and the No. 1 team in the Missouri Media's Class 5 poll, Fort Zumwalt North (12-0) hosts No. 5 Carthage (10-2) at 3 p.m. Saturday. The winner advances to play in the state championship game at 7 p.m. Dec. 7 at Faurot Field in Columbia.
Carthage is no stranger to the semifinals. This is the Tigers' fourth appearance in the penultimate game since 2015. So far it has proven the place where Carthage's season comes to an end. The Tigers have never played for a state championship. They will be hungry, motivated and focused on breaking through.
"They'll be physical. They're athletic," Bacon said. "They're experienced and they're not going to be overwhelmed by the moment so it's going to be a big challenge for us on Saturday."
Carthage is saying something similar this week. Fort Zumwalt North is playing in its third semifinal in four years. When these seniors were freshmen the Panthers made their championship game debut. Now they want to make it back and take another crack at the big trophy that has eluded them and those that came before them.
"There were guys before us that would dream to be in the position we are," senior receiver/defensive back Izaiah Hartrup said. "I want it for us but I want it for them too because they deserve it after all the stuff they did for us."
Those previous classes helped lay the foundation for what has become the most dominant football program in St. Charles County. This season the Panthers left no doubt about their status as they beat Francis Howell 38-24 in Week 1 then took down crosstown rival Fort Zumwalt West in Week 2. Afterward they mowed through much of their Gateway Athletic Conference Central competition. So much so that come halftime most nights the result was never in doubt. Which is why falling behind Chaminade early and then rallying was such a heartening sign.
"It was a gut check and we were able to come together as brothers and start fighting," Hartrup said.
When the Panthers get on a roll they can be hard to hold back. The offense churns out the yards on the ground behind what Bacon has said is the deepest and most talented offensive line in his tenure. Senior quarterback Cairo Payne has rushed for 1,498 yards and 24 touchdowns. Hartrup has 1,213 combined rushing and receiving yards and scored 23 touchdowns. Junior running back Chris Futrel has rushed for 601 yards and nine touchdowns. Junior running back Tyler Oakes has 483 combined rushing and receiving yards and 12 touchdowns, too.
They haven't shown it much but the Panthers can make plays through the air. Payne has completed 61 of 83 passes for 980 yards, 15 touchdowns and been intercepted four times.
Because it spent much of the fall posting gaudy point totals Fort Zumwalt North hasn't been forced to play its starters the whole game. It has its drawbacks, like Friday's thriller, but Bacon sees the benefits.
"We could have used (the adversity) during the middle of the season," Bacon said. "The trade off is we're real healthy. We'll take that."
Added Payne, "It's a blessing. When we're healthy we're rolling."
Payne tried to slow down this week and drink in everything around him. This time of year every practice is a gift. Every day you don't have to turn in your helmet and pads is a good one.
"We're going to savor every moment because it's our senior year," Payne said. "At the same time I know me and my guys want to get on the field and get the job done."
That the game will be played at Fort Zumwalt North is a nice reward for the seniors who have been such a significant part of the program in their tenure. The classes that came before showed them the way and this group maintained that level of excellence. No matter what happens on Saturday, the Panthers get four more quarters at their house on the north side.
"As seniors its our last home game we'll ever play on this field," Stricker said. "We're playing a really good team and we respect them. I think we're a really good team too. It's going to be a good game. We're going to play like we always play."
Missouri postseason football scores, schedules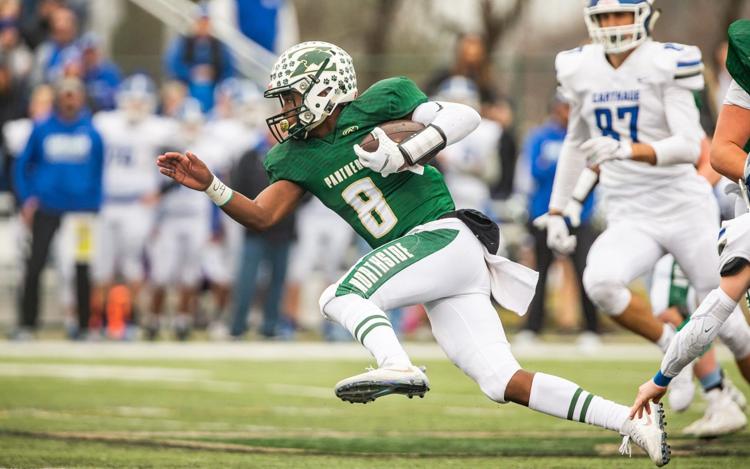 — CLASS 6
Championship
De Smet 35, Joplin 20
— CLASS 5
Carthage 27, Jackson 21 (OT)
— CLASS 4
Championship
Webb City 48, Platte County 0
— CLASS 3
Championship
Odessa 49, Cassville 28
— CLASS 2
Championship
Lutheran North 49, Ava 0
— CLASS 1
Championship
Valle 30, Lincoln 27
Illinois postseason football scores, schedules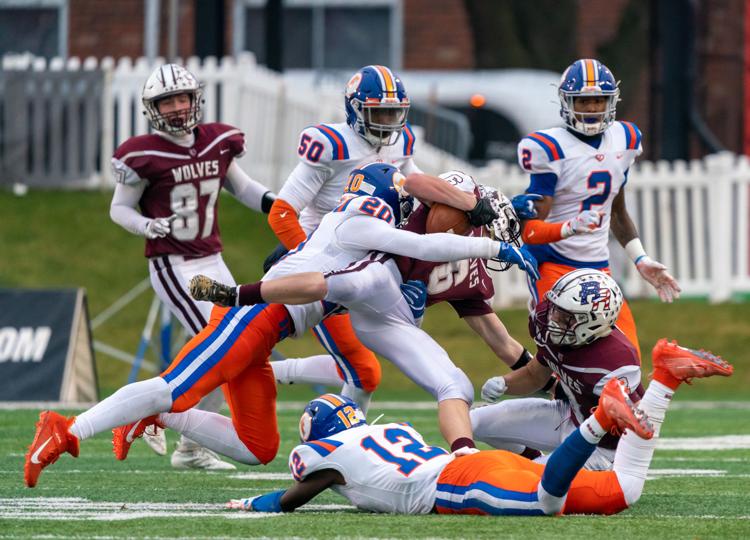 — CLASS 8A
Championship
Lincoln-Way East 12, Gurnee Warren 0
— CLASS 7A
Championship
Chicago Mount Carmel 37, LaGrange Park Nazareth Academy 13
— CLASS 6A
Championship
East St. Louis 43, Crystal Lake Prairie Ridge 21
— CLASS 5A
Championship
Rochester 42, Chicago St. Rita 28
— CLASS 4A
Championship
Richmond-Burton 50, Murphysboro 14
— CLASS 3A
Championship
Williamsville 46, Byron 42
— CLASS 2A
Championship
Sterling Newman Central Catholic 35, Nashville 14
— CLASS 1A
Championship
Lena-Winslow 58, Central A&M 20