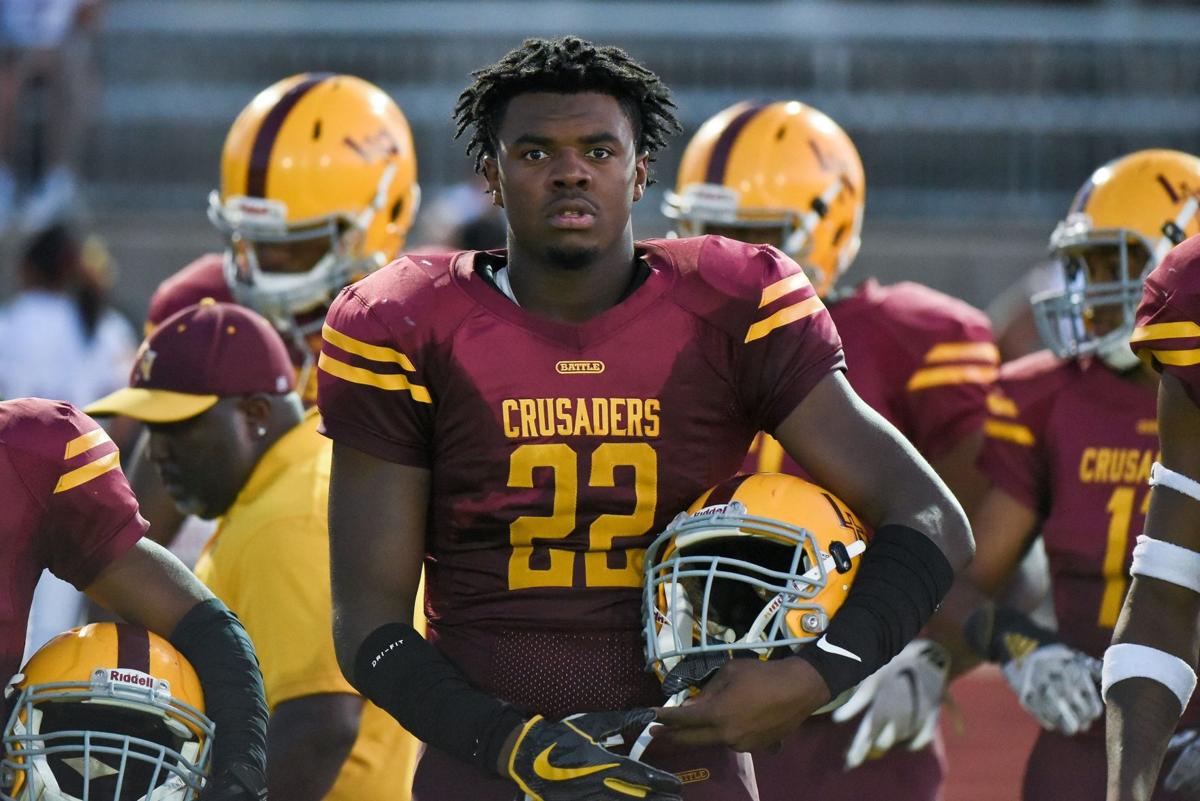 The football season that wouldn't quit is almost over.
When Lutheran North takes Faurot Field for the Class 2 championship game at 3 p.m. Friday in Columbia, it will be the final game for an area team in a season unlike any in recent memory. It's been 16 weeks filled with drama, scandal and even violence.
To mark the end of a the 2019 season, here are 10 stories that defined football in St. Louis.
In the last two decades, only four area teams have scored 90 or more points. It happened twice this season. The first was Trinity beating DuBourg 90-6 (more on that later). The second came two weeks later on Sept. 27 when Lutheran North unleashed its fully loaded defense against rival Lutheran South. Senior linebackers Antonio Doyle and Roni Rutledge both returned to the field after sitting for 365 days following their transfer to Lutheran North. Rutledge came from Ritenour. An All-American selection, Doyle began at Lutheran North as a freshman then transferred to Hazelwood West only to return to Lutheran North three weeks into his junior year.
After a full year on the bench, the duo stepped in and spearheaded the Crusaders' dismantling of the rival Lancers. Lutheran South actually scored first when it earned a safety in the first 12 seconds of the game. What followed was a rough sketch of Lutheran North's capabilities. The Crusaders threw for two touchdowns, rushed for four more, returned two interceptions for scores, added their own safety and returned the ensuing free kick for a touchdown — in the first half.
Lutheran North led 71-8 at the break. The Crusaders rushed for a touchdown on their first play of the third quarter and returned another interception. Freshman Rico Merriweather scored his only touchdown of the season in the fourth.
The score alone drew ire and complaints of a lack of sportsmanship. However, Lutheran North never sacked Lutheran South freshman quarterback Logan Slinkard, who attempted 30 passes. The Lancers offense had 11 rushing attempts for the entire game. The Crusaders stopped rushing the punter in the second half. Their starters, two of whom waited a year to get back on the field, got a solid two quarters of action as the reserves took the field for the majority of the second half.
"You can't prepare for guys like that," Lutheran South coach Derrick Colquitt said that night. "Hats off to Lutheran North and their team, just stars across the board."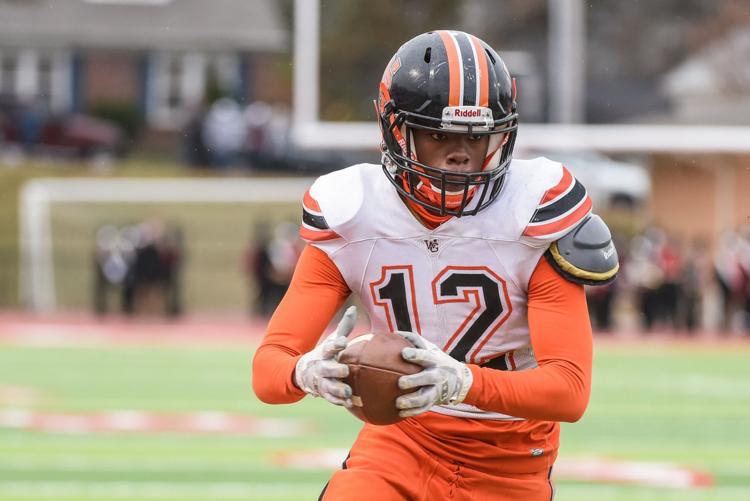 For the first time in more than 100 years of football, Webster Groves went a full season and didn't win a game in 2018. The Statesmen returned in 2019 and didn't start great. They were beaten by Class 5 finalist Jackson in Week 1. Hazelwood Central blocked a field goal that would have given the Statesmen a lead in their Week 2 showdown and returned it for a touchdown to catapult the Hawks to victory.
Webster Groves was the first opponent to play at Ladue's brand-new facility. The reigning Class 4 champion, Ladue handled its business for a 42-8 win.
It wasn't until Week 4 that the Statesmen finally broke through with a 41-20 win at home over Pattonville. The celebration was pure joy for Webster as the student section whooped it up with the players after the game. When the Statesmen made the long walk up to their locker room at Hixon Middle School, they whooped it up some more. It rivaled the state championship celebrations of Webster's glorious past. Nearly two years removed from their last win, it might as well have been the Statesmen's state championship.
"I have to tell you, 15 in a row wears on a guy," Webster coach Cliff Ice said. "It was getting really tough."
Webster went on to win its next four games, including a 37-35 thriller over Lindbergh that only came after senior receiver Kevin Jones snagged a deflected pass in the end zone for the go-ahead touchdown with 6 seconds to play.
"It was rough, but I come from rough," Jones said. "We stuck through it. It's all we can do."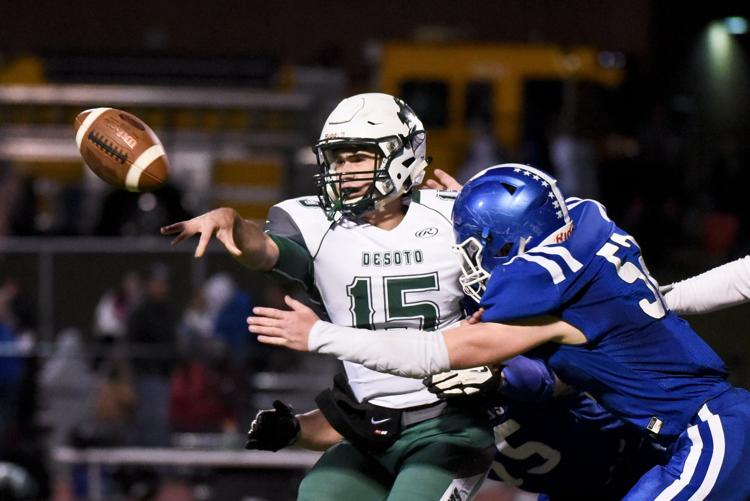 "The Streak" was old enough to be a senior at De Soto this fall.
It did not survive October.
After 18 years and 19 consecutive losses against rival Festus, De Soto turned the tables. The Dragons scored a 38-20 win on the road. It was the first win against the Tigers since 2000 and the first win on their field in as along as anyone could remember.
The Dragons had been close to ending "The Streak" at different points over nearly two decades. In 2010, the Tigers scored in the last minute to escape, 20-19. In 2011, it wasn't as dramatic as they scored with less than three minutes remaining to pull out a 38-35 win.
This time there was no drama as De Soto scored the first 10 points and never looked back.
"That 10-point lead was big for our kids," De Soto coach Chris Johnson said. "It really calmed our guys down. It let everybody go play football."
When "The Streak" was over, the Dragons celebrated together on the field. Senior offensive lineman Landon Porter led the team through its postgame chant and channeled his best Ric Flair while a large swath of family and fans savored a moment years in the making.
"I was trying not to cry like a little baby in front of the whole town," Porter said.
De Soto won the regular-season meeting, but Festus took the rematch in a Class 4 district quarterfinal. The Tigers earned their revenge with a 41-7 win.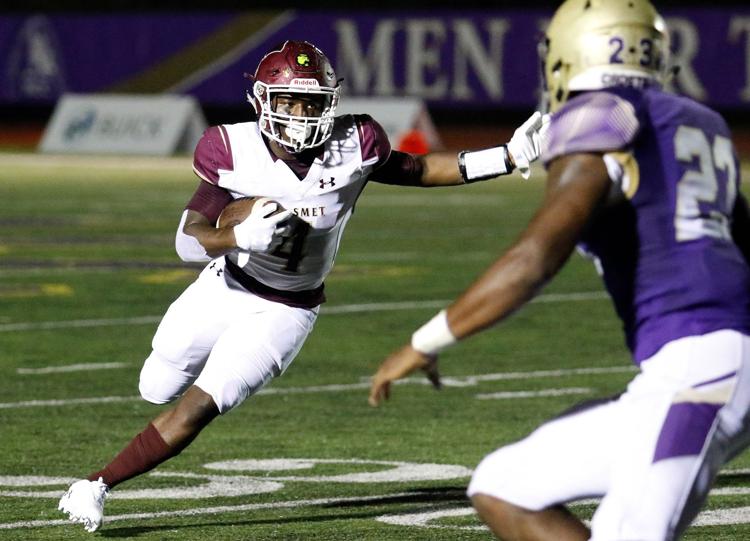 For 10 years De Smet was unable to overcome CBC during the regular season to earn even a share of the Metro Catholic Conference championship. Yes, the Spartans scored a surprise win in the 2012 postseason, but the Cadets would go on to win three Class 6 state championships and become the standard by which other programs would be measured.
As CBC ascended, De Smet struggled. The Spartans went 1-9 in 2017 and lost 13 consecutive MCC games. Last season they ended that streak.
This season they ended CBC's.
Televised to a nationwide audience on ESPNU, De Smet defeated the reigning two-time Class 6 champion 42-14 on Sept. 20. It ended the Cadets' MCC winning streak at 37 games and helped lift the Spartans to their first conference championship in a decade. The Spartans beat the Cadets again in a Class 6 district semifinal Nov. 8 and went on to win its second state championship last week, 35-20 over Joplin.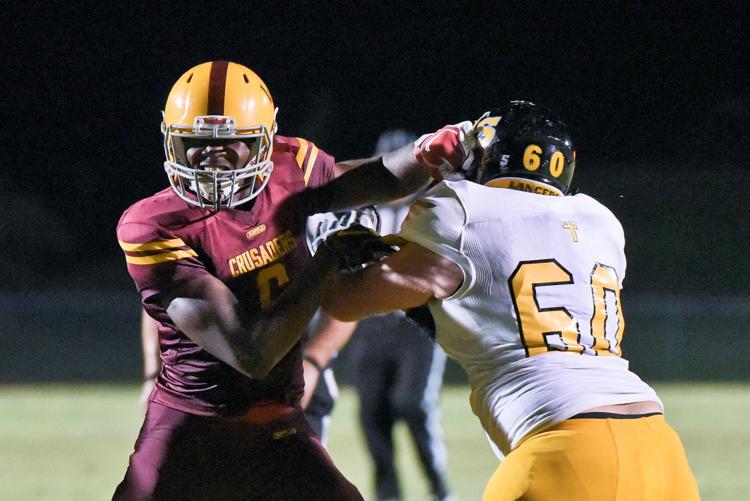 Following his transfer from Lutheran St. Charles to Lutheran North last winter, Travion Ford never imagined he'd be ruled ineligible. His parents, Robert Ford Jr. and Tricia Ford, sold their house in St. Peters and moved their family to Illinois. They took Robert III, Travion and their younger twin sisters with them. Robert attended O'Fallon High for his last semester of high school. Travion enrolled at Lutheran North.
All appeared well until Travion's hearing with the Missouri State High School Activities Association's appeals board. Lutheran St. Charles argued the Ford's family move was done deliberately to enroll Travion at Lutheran North and that the reasons the Ford family gave for the move were disingenuous.
Tricia Ford alleged upon withdrawing her son from Lutheran St. Charles that then-athletics director Doug Kuhlmann told her he would do what he could to ensure Travion did not play his junior year.
When asked about the allegation, Kuhlmann declined comment.
Ford was ruled ineligible in August before Week 1. He sat the first two games before his second appeal hearing with MSHSAA's board of directors. At that appeal hearing, the board reinstated Ford's eligibility and he made his Lutheran North debut Sept. 21 at Westminster.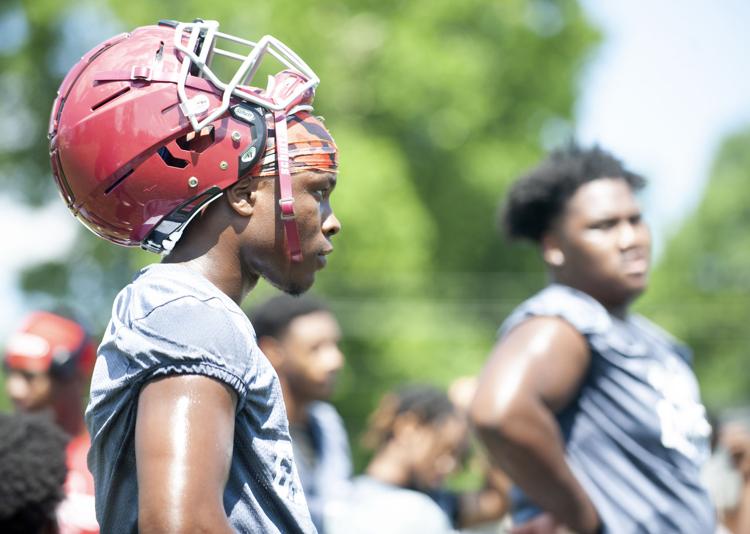 The defending Class 3 champion, Trinity appeared poised to repeat after winning the program's first state title in 2018. Led by a slew of NCAA Division I recruits, the Titans were going to be a force.
Three days before the season opener at Lutheran North, Ohio State recruit Teriyon "Mookie" Cooper withdrew from Trinity and enrolled at Pattonville. The No. 1 recruit on the Post-Dispatch Super 30 and the top-rated athlete in the country, Cooper never played a down his senior season.
Trinity declined comment on what spurred Cooper's transfer. Cooper did not specify why he choose to forgo his senior season and transfer to Pattonville.
"I had to look at the bigger picture," he said in August.
Cooper is on track to graduate from Pattonville at the end of the first semester. He has been accepted into Ohio State and will enroll for the spring semester. 
The loss of Cooper was just the first rough patch in what was a tumultuous start to the season for Trinity.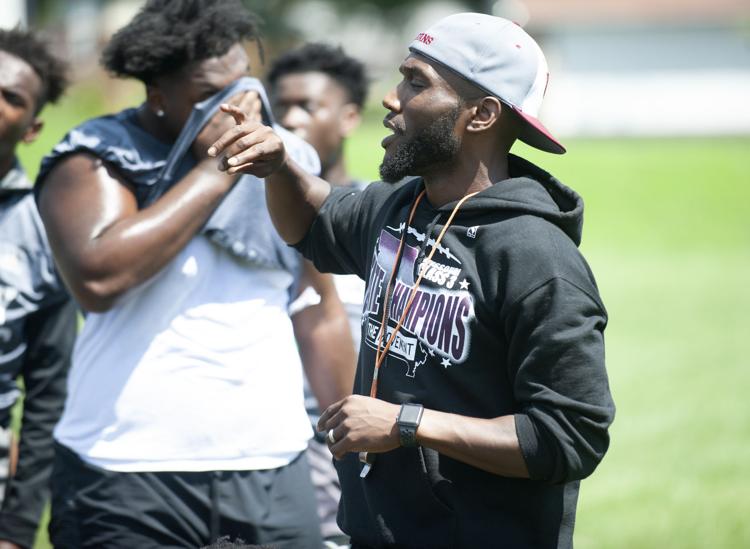 Terrence Curry's first season as Trinity's coach couldn't have gone better. The Titans shook off an 0-2 start to win their next 13 games. They beat rival Cardinal Ritter in the Class 3 championship game to claim the program's first state championship.
Curry didn't make it to his second October with the Titans.
After the loss of Cooper, an 0-2 start and then a 90-6 win over DuBourg in a game that was called after three quarters, Curry was terminated as Trinity's coach.
Curry did not return calls seeking comment at the time. Trinity would not discuss what led to Curry's dismissal three games into the season. Assistant coach Chris Shannon also was let go from the football staff. John Randle was promoted from within as the interim coach.
Trinity rallied as it won the Archdiocesan Athletic Association Division II crown and claimed the fourth district championship in school history and third in the last four years. The Titans' season ended in a Class 3 semifinal with a 13-0 loss at Cassville.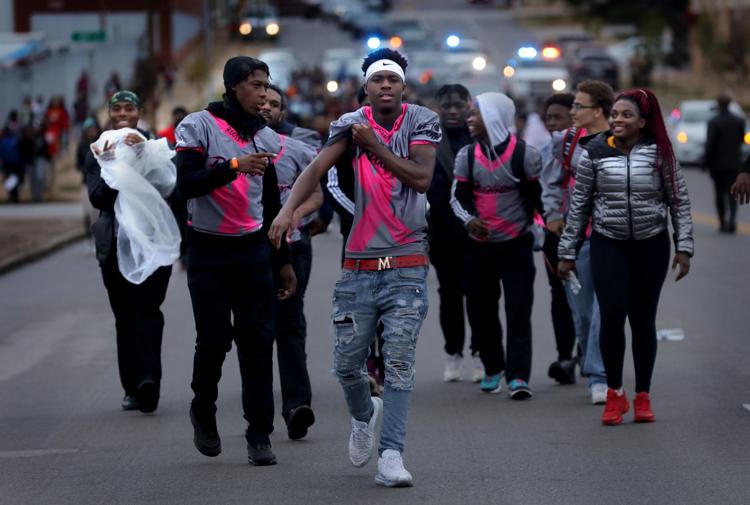 Trey Porter's third season as Roosevelt's coach was shaping up to be a memorable one before it started.
The defending Public High League champions, the Roughriders returned a significant number of impact players who were ready to make some noise in the playoffs. Porter, his staff and the team spent the summer working on their bodies and on their facility. They raised money for a new scoreboard, two new game clocks and paint to upgrade their own grandstand.
It was all good until it was time for Roosevelt's homecoming. Confluence, the Roughriders' opponent, forfeited their game Sept. 28 citing a lack of healthy players. To try to have some semblance of a homecoming celebration, Porter and Roosevelt organized a tailgate where the players and alumni could mingle. Days before it was scheduled to happen, St. Louis Public Schools canceled the tailgate and rescheduled it for two weeks later. Ultimately, the tailgate never happened.
Porter did not coach Roosevelt's next game against Gateway STEM on Oct. 5 after he was put on administrative leave. On Oct. 12, SLPS terminated Porter. SLPS does not comment on personnel matters, but Porter said he was fired for violating the district's social media policy.
An outspoken proponent of trauma informed coaching, Porter said he maintained contact with his players through various social media apps to stay up on their whereabouts in a city that is violent. 
Several players and two team mothers met with SLPS superintendent Kelvin Adams the day Porter's termination was revealed. Students walked out of Roosevelt High on Oct. 21 and marched four miles to the SLPS administrative building, where they voiced their concerns with Adams.
Porter remained an active and avid supporter of the Roughriders from the stands following his termination. Roosevelt finished 11-2, defended its PHL title and rallied to beat Borgia to win a Class 3 district championship, the first for the program since 2005.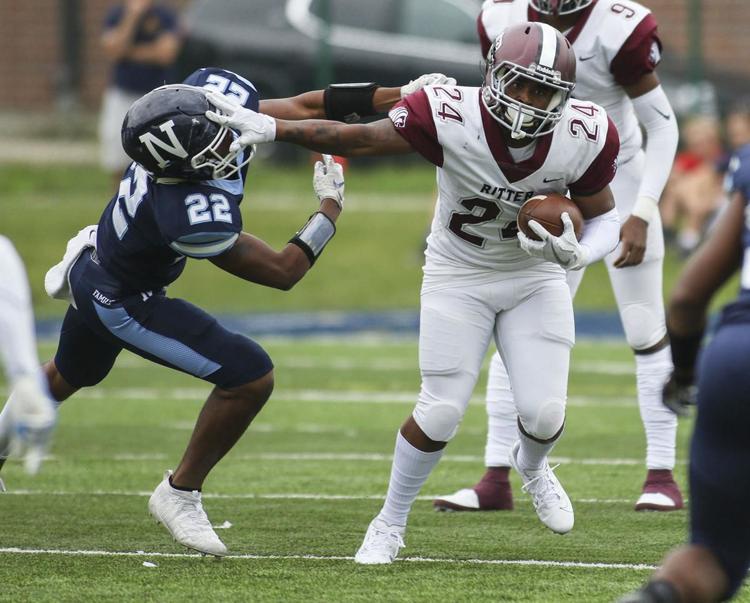 Cardinal Ritter made national waves when it went to suburban Chicago and beat defending Class 7A champion Nazareth Academy in Week 1. The Lions showcased their dynamic secondary by intercepting nationally rated quarterback recruit JJ McCarthy four times after he'd thrown just four interceptions as a sophomore.
Ritter ripped through its first seven opponents, posting video-game like numbers along the way and earning the nod as the No. 1 small school in the country. 
Against Nazareth, Jackson was not listed on the roster. He wore a different number and was identified as freshman Marvin Burks. Photographic evidence showed it was Jackson, not Burks, who played in the opener.
When approached with this information, Cardinal Ritter self-reported its violation to the Missouri State High School Activities Association. In conjunction with the Archdiocese of St. Louis, Cardinal Ritter's self-imposed punishments included forfeiting all seven of its wins, forfeiting its remaining games, firing the entire coaching staff and dissolving the football program. Cardinal Ritter athletics director Preston Thomas also retired.
Jackson's mother told KSDK that her son received an eight-game suspension for his senior season.
In the ensuing fallout, Jennings, DuBourg and McCluer North all self-reported the use of ineligible players. 
The Friday before the season began, the Public High League conducted its preseason jamboree at Soldan. There were several fights as it was wrapping up. Up the street, shots were fired in the vicinity of the event. Jurnee Thompson, 8, was killed and three other people were wounded.
That same night there were fights at Parkway North's preseason jamboree. There were reports of a gunshot but no injuries.