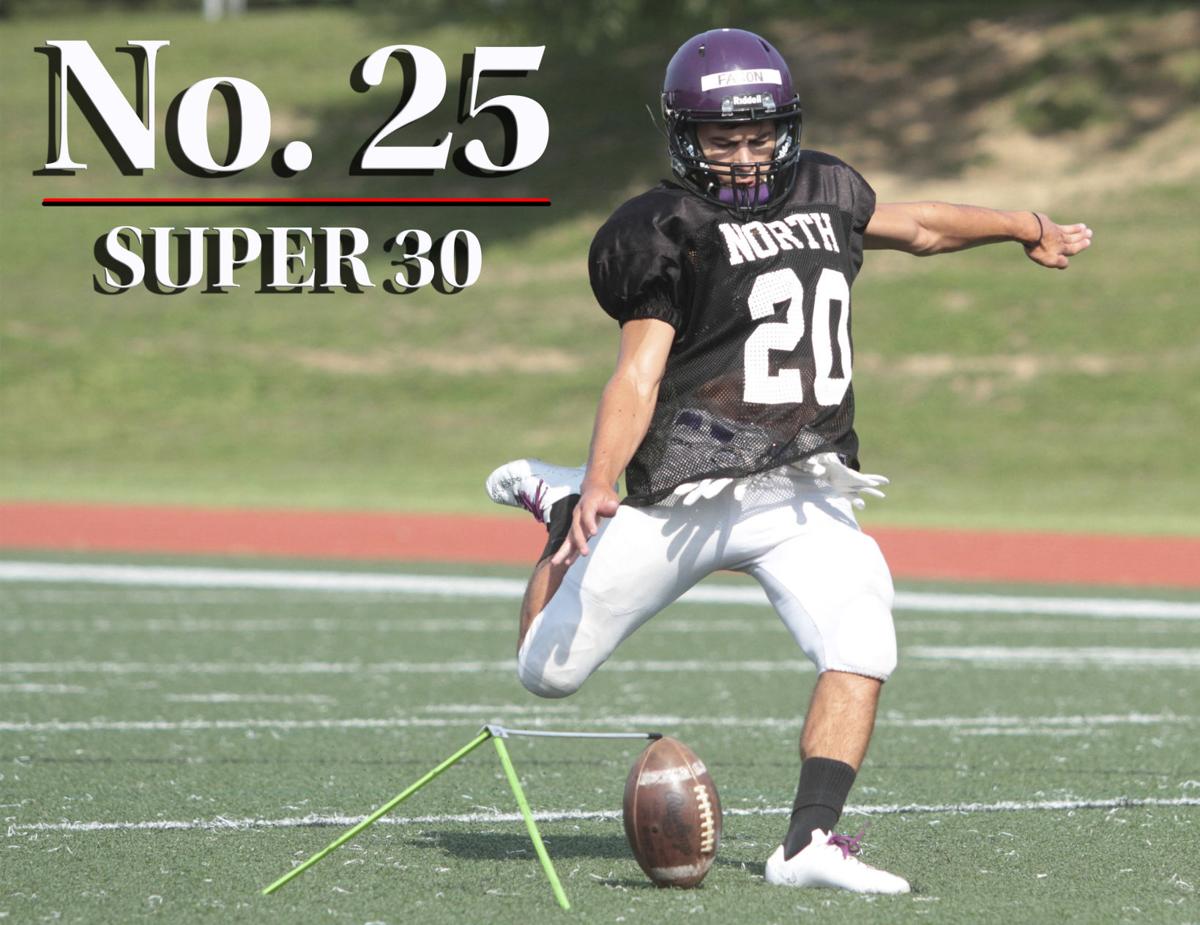 As a youngster, Parkway North senior Jack Faron listened to his grandfather, Richard Darling, tell stories of his time as an Army pilot in Vietnam.
Those tales were something Faron — a kicker and punter for the Vikings — never forgot.
Properly inspired, Faron could end up following in his grandfather's footsteps. The Army, Navy and Air Force have offered him scholarships as a placekicker. Tennessee Tech is also knocking on the door.
But Faron has always been interested in becoming a pilot, thanks to Darling.
"I just would listen to him tell stories about his experiences and I knew that was something I possibly would want to do," Faron said. "I always knew that being in the cockpit was something that made for an interesting possibility for me. I always felt that need for speed."
The 5-foot-9, 165-pound Faron, who is ranked No. 25 in the Post-Dispatch Super 30 for area college football recruits, has impressed his grandfather both on and off the field.
"Jack's always said that he wanted to go to the Air Force Academy and become a pilot or a fighter pilot," Darling said. "We went up there, and all I know is, they want him. He kicked real well. I went in as an enlisted man and became an officer and went to flight school and my whole family was proud. I certainly feel proud of (Faron) for what he's doing."
Faron has spent the offseason perfecting his craft.
After converting 31 extra points and amassing a kickoff average of 58.6 yards and a punting average of 44.0 yards, Faron has remained busy to get ready for his final season of high school football.
Faron stood out at a variety of local and national kicking camps. He won the punting competition at the Oklahoma State camp, the field goal competition at SIU-Carbondale and was the kickoff champ and MVP at the Chris Sailer regional kicking camp in Atlanta.
"I'm kicking every other day," Faron said. "I've really been practicing hard at this. I know that I want to improve my field goal kicking. It has been important to me. Another thing that's important is that people realize just how much work goes into this. I know what some people think of kickers and punters, but there is so much athleticism necessary to do this job and I love it."
Faron, who has been Parkway North's first-string kicker and punter since he was a freshman, has impressed coach Bob Bunton with his ability and knowledge.
"We try to stay out of his way in terms of coaching him," Bunton said. "Jack knows far more about his craft than his coaching staff put together. Jack is a perfectionist when it comes to his performance on and off the field. As a student, he helps tutor some of his teammates, academically, during the school year."