CLAYTON — Stacy Taylor lived in the backfield of his opponents last season, leading the area with 21 quarterback sacks.
He still makes his home in the backfield, only this season he is under center, playing quarterback for the Jennings High football team.
Taylor accounted for three touchdowns Thursday — one rushing, one throwing and one receiving — to lead Jennings to a 56-8 victory over Clayton at Gay Field.
"I've been getting a lot of coaching on it, and I went to camp for it," Taylor said of his transition from defensive and special teams leader to quarterback. "I've been focused, learning how to read defenses better, and just working hard at it."
Taylor's first touchdown came on a play that he could not believe came in from the sideline.
On second-and-5 from the Clayton 20-yard line, the call was for a quarterback sneak — a play that is usually reserved for short yardage.
"I didn't think that was the right play to call, but I scanned the defense and there was nobody in the middle," Taylor said. "I snapped it before they could get set up, and it went in for six."
Later in the half, Taylor showed off his touch as a passer.
With tailback Brandon Tate barreling for 74 first half rushing yards, Taylor went to play-action, finding Jalyn Seals on a perfect, 22-yard parabola in the back left corner of the end zone, opening up a 24-0 Jennings lead.
"I just read the defense, I saw the mismatch and changed the play," Taylor said. "It was a nice throw, just me working on my technique."
Tate was having a tremendous start to last season when it abruptly came to an end with an injury against Clayton. He was ready for the rematch.
Early in the first half, a poor shotgun snap landed on the shoe-tops of Tate, who stepped to the right, saw nothing there and reversed field, outracing the Clayton defense to the left pylon for a 16-0 lead.
"I came into this game with a chip on my shoulder. The last time we played them, it ended my season," Tate said. "I came into this season with something to prove. Last year I was leading the area in yards per carry and touchdowns, and after I got hurt I felt that everyone forgot what I was doing."
Tate added an 80-yard interception return for a touchdown in the second half. It was his second defensive score and fifth touchdown of the season.
Neither Jennings or Clayton could advance the ball forward on its first two possessions, but the tide began to turn when the Clayton offense started to go backward. Three times errant shotgun snaps sailed outside the grasp of Greyhounds quarterback Tyler Sucher, resulting in losses of 37 yards. The third time, the snap squirted out of the end zone, and Jennings led 2-0.
The Warriors never looked back. And their special teams were a big part of it.
Seals returned the ensuing free kick 38 yards, placing Jennings inside the Clayton 25 yard line. From there, Taylor called his own number to make it 8-0.
Pinning the Greyhounds deep in their own territory again, the Jennings defense again pushed Clayton backwards. This time, De'Marion Mahone broke through the Greyhounds' line to block a punt, setting up Jennings at the Clayton nine-yard line, where Tate finished the drive.
The Jennings defense surrendered just 11 rushing yards in the first half, and missed few tackles throughout the game.
"We communicated. That's what messed us up last game," linebacker Demetrius Armstrong said. "We communicated, held each other accountable, and got it done."
Down 24-0, Clayton finally began to move the ball offensively, but bad breaks and miscues kept them off the scoreboard. Twice Sucher found Ahmad Weston for what appeared to be long touchdown passes, but each time Weston was flagged for offensive pass interference, negating the scores.
It was part of a larger problem for the Greyhounds, as 10 first-half penalties resulted in 95 yards, a number eerily close to their output of 111 total yards through the first 24 minutes.
Jennings actually had three touchdowns called back in the first half, but kept churning up yards and points.
"Life is about how you respond," Jennings coach Leon Hite III said. "They didn't get upset. 'OK, ref, it's called back, not a problem, on to the next play and we'll do it again,' so I was proud of them for that."
Right before the half, Clayton mounted a drive that resulted in points. A six-play, 77-yard drive, ended with a 10-yard pass from Sucher to Derick Chatman. The yards were gained exclusively through the air, and set the game plan for the second half.
In the second half, Jennings' defense flooded the passing lanes and let loose the pass rushers. Sacks by Jordan Bohlen and Kenyon Wofford pushed the Greyhounds back, and when Sucher finally found time to throw, Tate stepped in front of his receiver, returning an interception 80 yards for a touchdown.
Later in the half, Donta Williams intercepted another pass near the goal line, and took it 94 yards to set up another score.
All three phases were in top form. Where last year, defense and special teams were led by Taylor, the number of athletes on Jennings roster, including freshmen, now allows Taylor to stay fresh in his new role. Even so, Taylor still finds his way on to the field on defense, and even scored as a wide receiver late in the game.
"Stacy doesn't like coming off the field," Hite III said. "We've got to keep his brain busy because he's an athletic kid, and he really makes it happen.
Clayton vs. Jennings football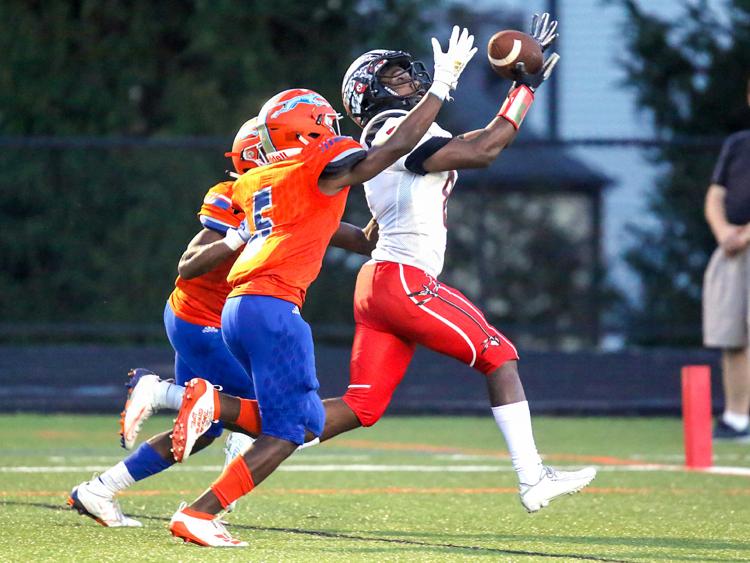 Clayton vs. Jennings football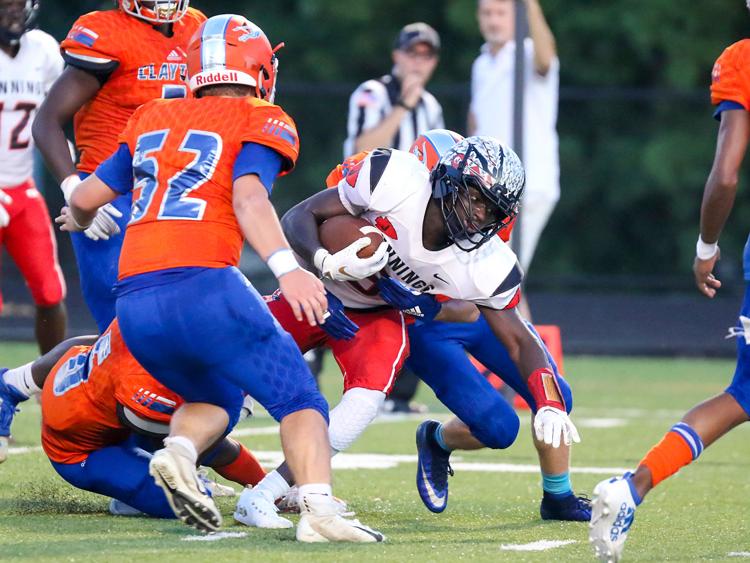 Clayton vs. Jennings football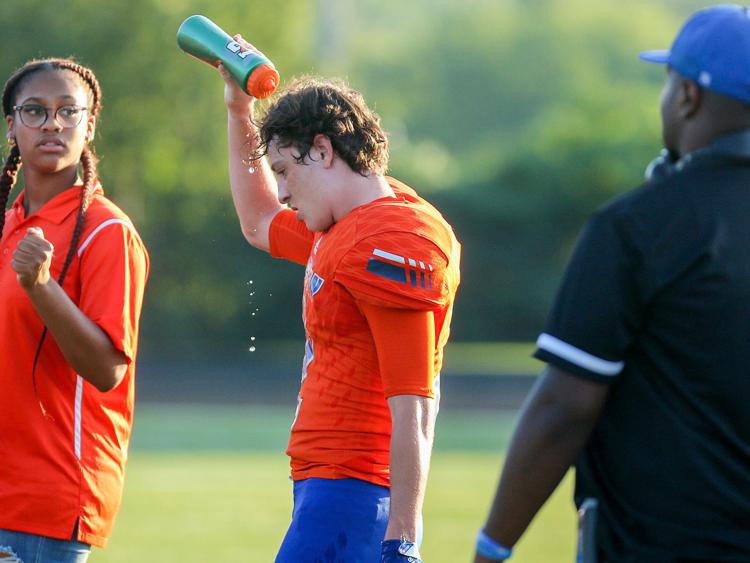 Clayton vs. Jennings football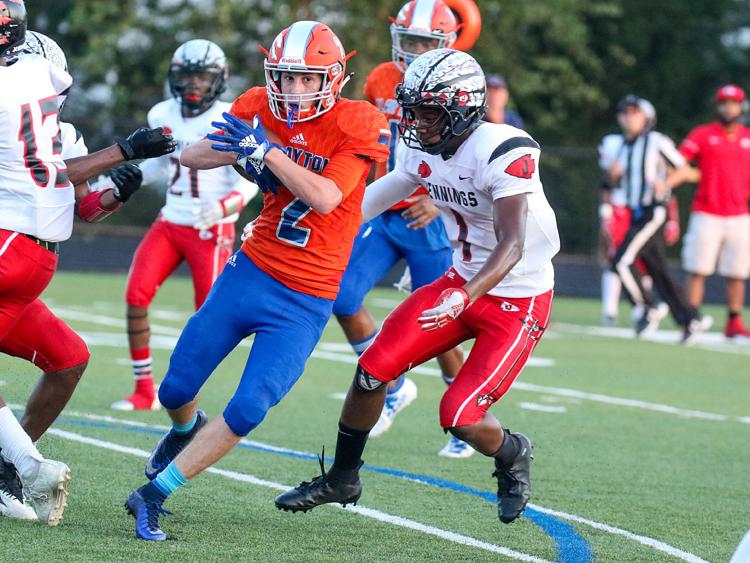 Clayton vs. Jennings football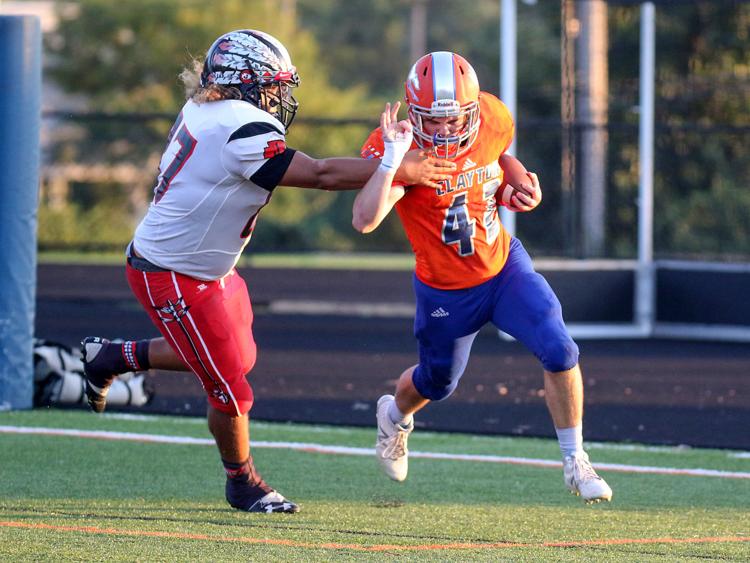 Clayton vs. Jennings football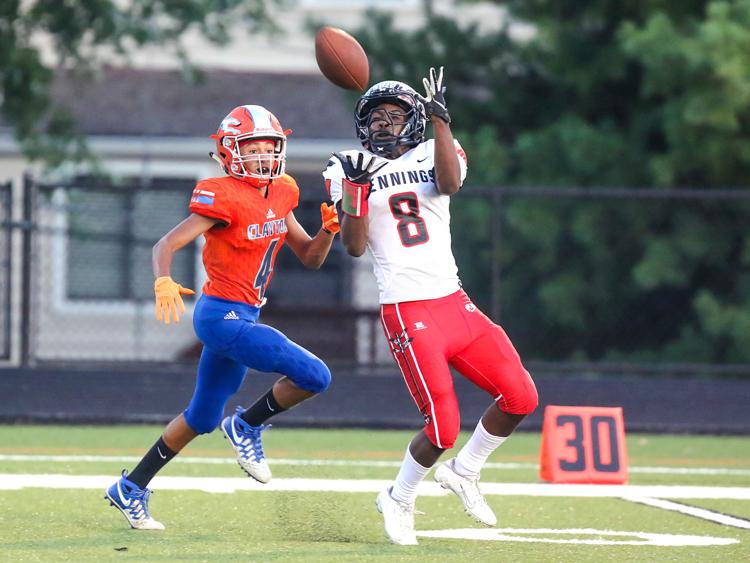 Clayton vs. Jennings football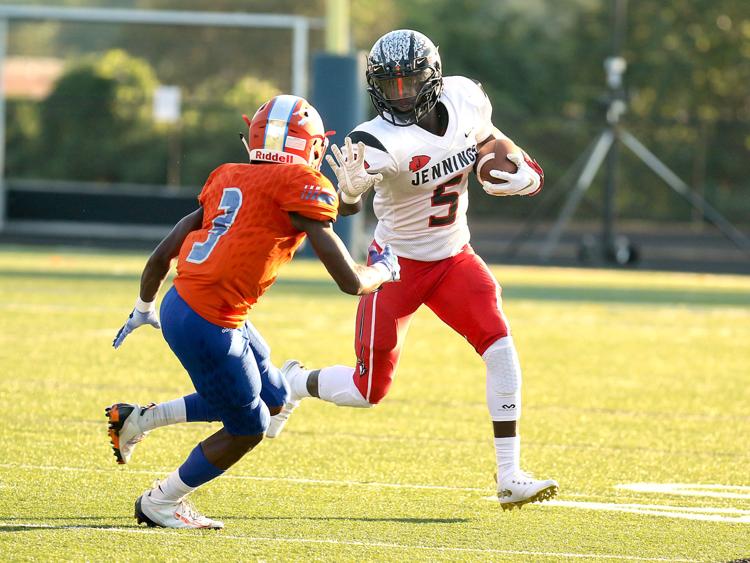 Clayton vs. Jennings football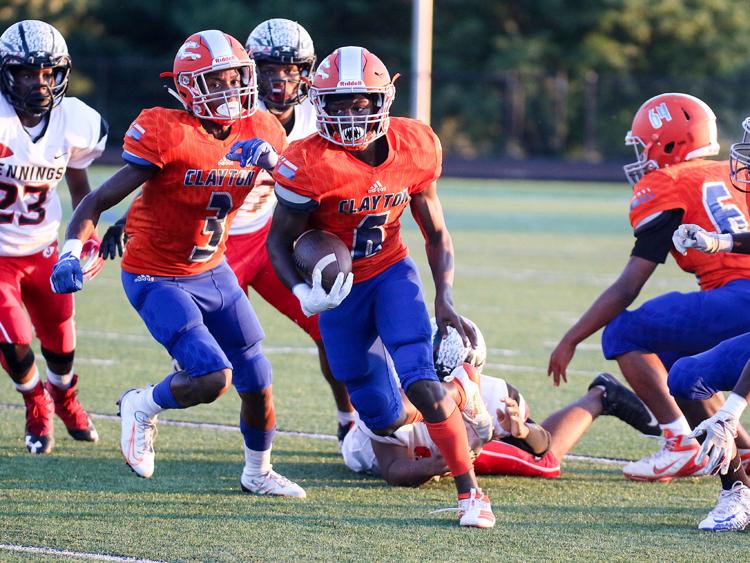 Clayton vs. Jennings football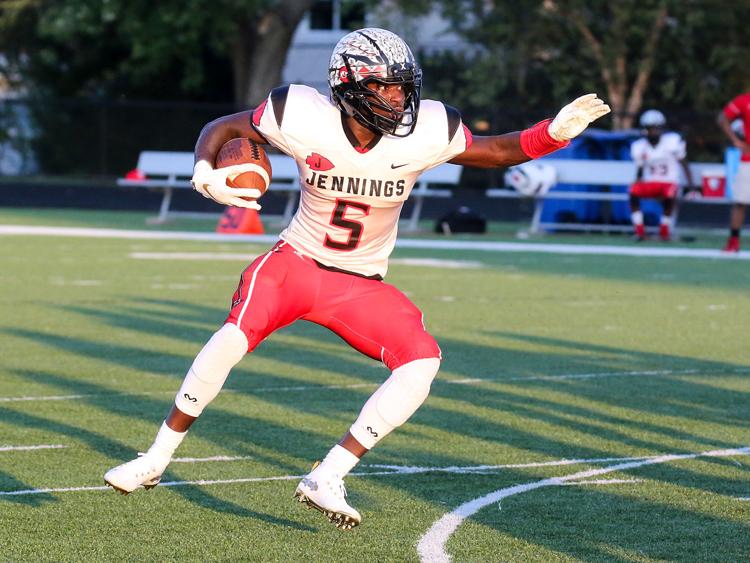 Clayton vs. Jennings football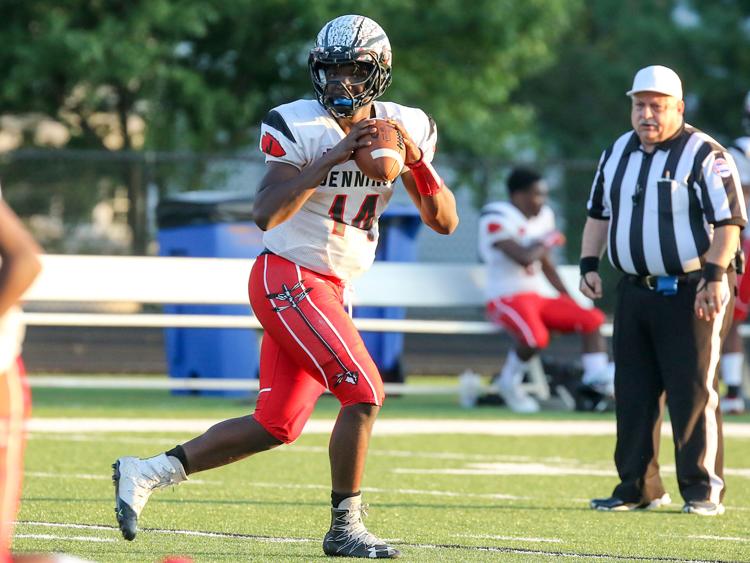 Clayton vs. Jennings football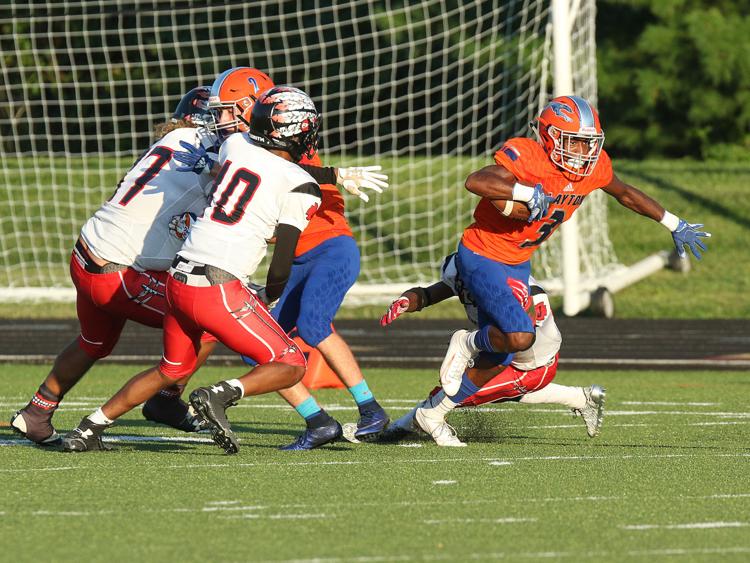 Clayton vs. Jennings football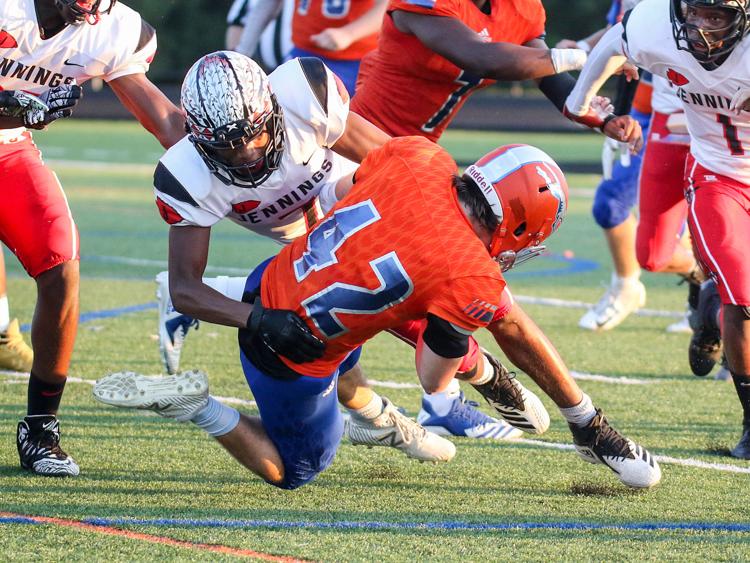 Clayton vs. Jennings football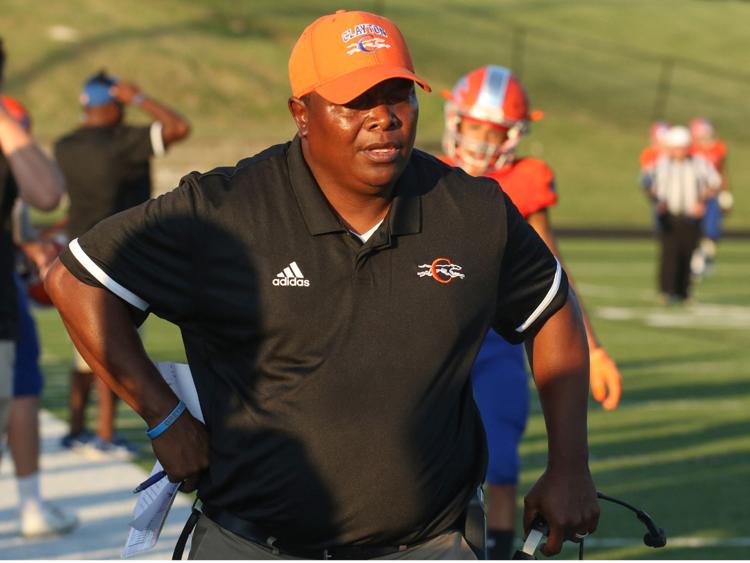 Clayton vs. Jennings football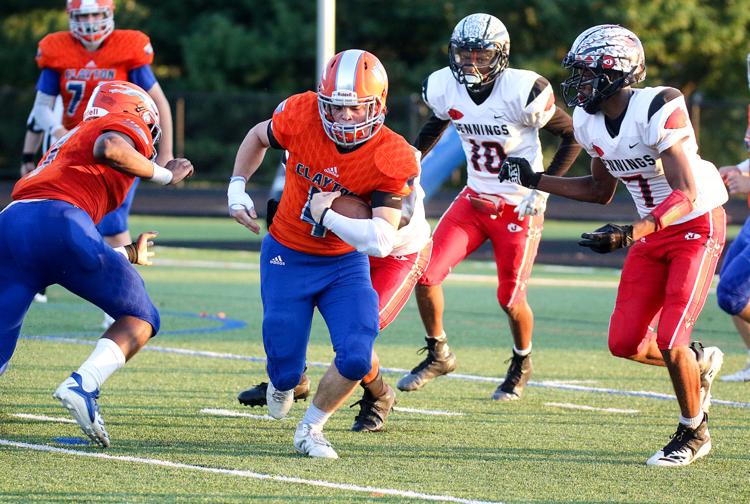 Clayton vs. Jennings football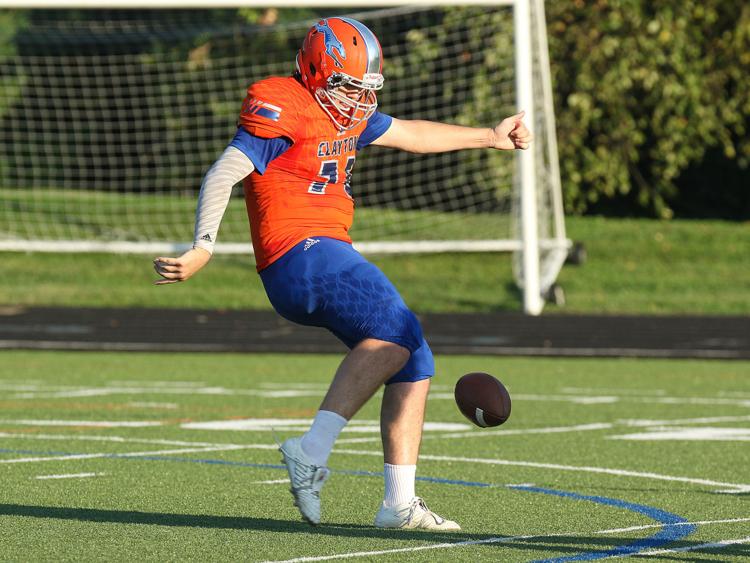 Clayton vs. Jennings football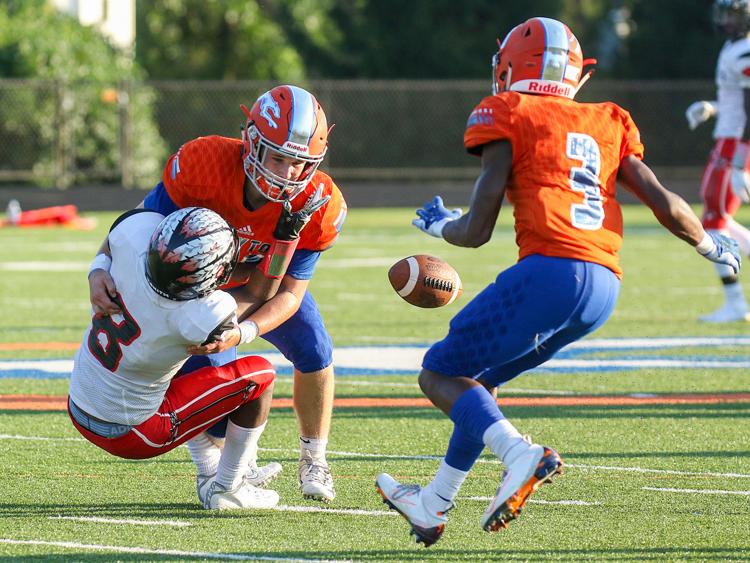 Clayton vs. Jennings football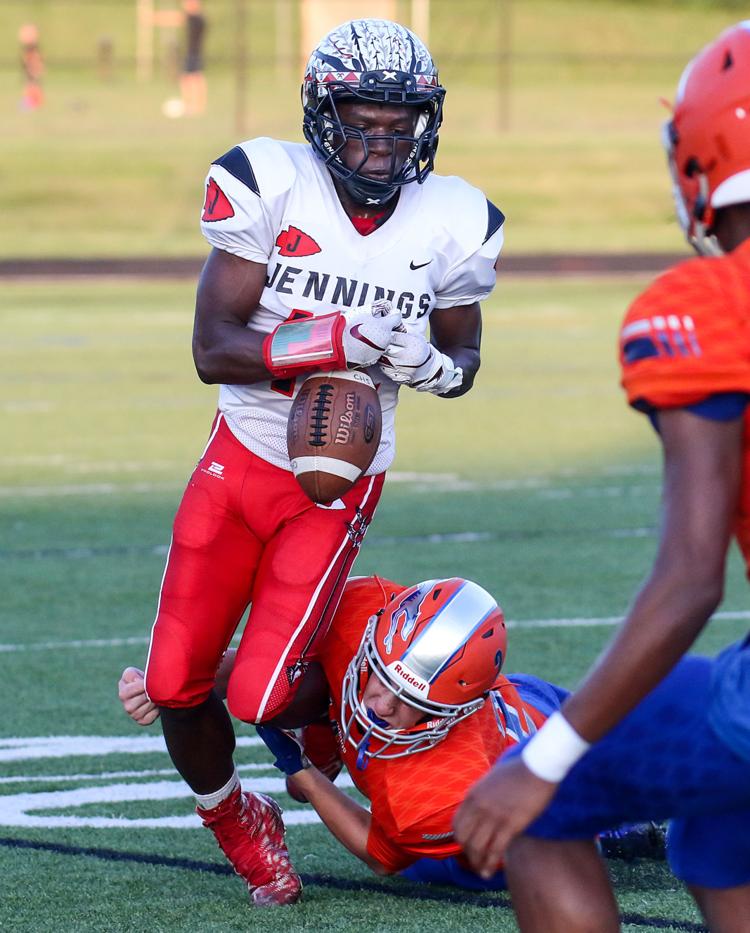 Clayton vs. Jennings football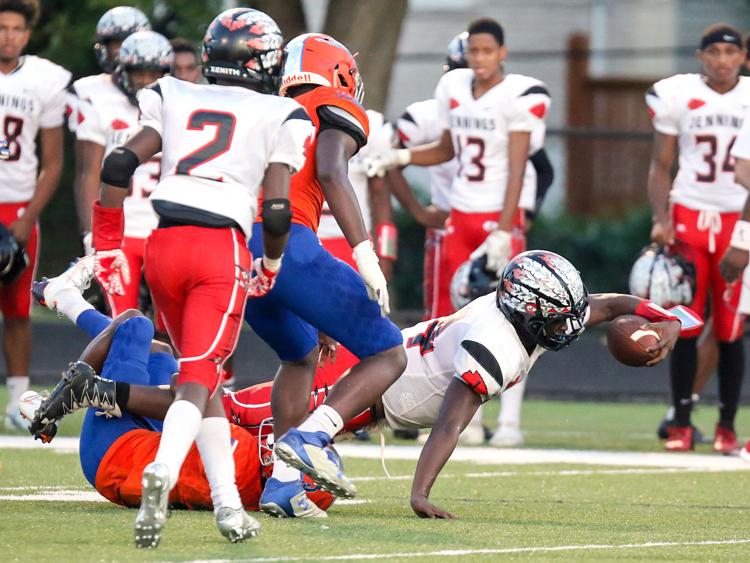 Clayton vs. Jennings football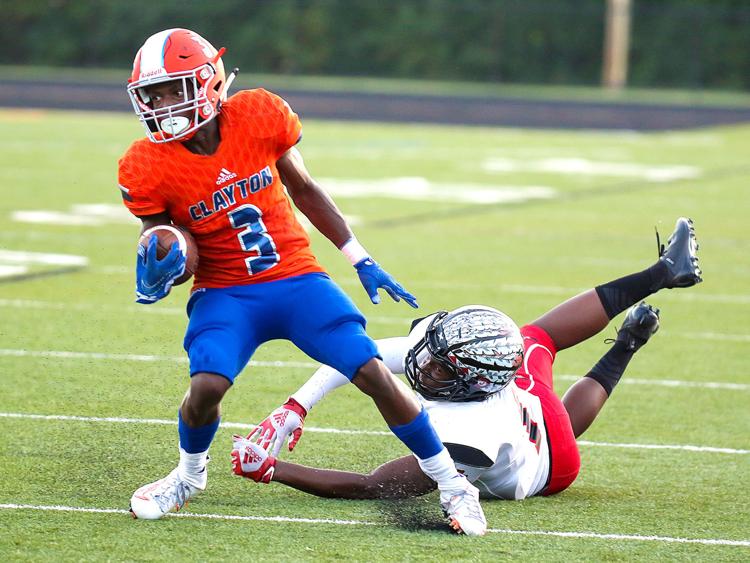 Clayton vs. Jennings football