The Cardinal Ritter football team appears to have used an ineligible player Aug. 31 in its season opener at Nazareth Academy in suburban Chicago.
The No. 1 small school in the STLhighschoolsports.com rankings and top-ranked team in the Missouri Media Class 2 poll, Cardinal Ritter (7-0) could be forced to forfeit all seven of its games this season, per the Missouri State High School Activities Association by-laws, and could potentially be ruled ineligible for the postseason. The Lions are the top-ranked small school in the nation according to MaxPreps.
Junior running back Bill Jackson was suspended for Week 1 this season because he was ejected in the fourth quarter of the 2018 Class 3 state championship game. Per National Federation of State High School Associations guidelines, he was ruled ineligible for Cardinal Ritter's next game — Week 1 of the 2019 season Aug. 31 against Nazareth.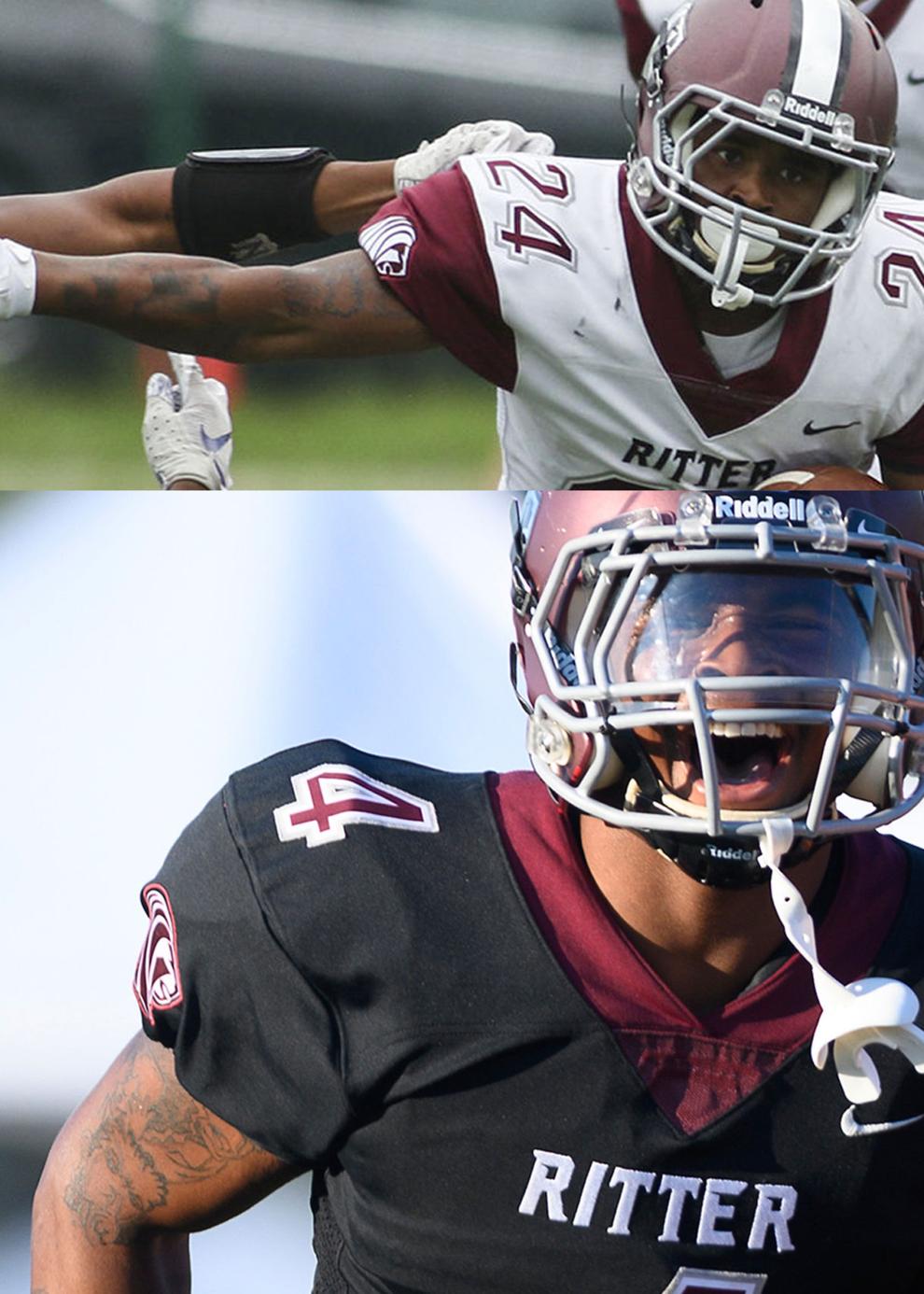 Against Nazareth, a player who appears to be Jackson wore No. 24 but was identified on the roster as freshman Marvin Burks. When Jackson was eligible to return the following week against Lutheran North, he was properly identified and wore his traditional No. 4.
Photographs from both games show Jackson played against Nazareth. He has unique, identifying tattoos running down his right bicep and forearm which are visible in photos from both games. 
When reached for comment, Cardinal Ritter athletics director Preston Thomas said, "We have initiated an investigation and are working with the state to take the appropriate next steps."
Video posted on Cardinal Ritter coach Brandon Gregory's Instagram account shows No. 24 leading the Lions through their pregame huddle call and response routine prior to the Nazareth game. A similar video posted to Gregory's account shows No. 4 in the same role doing the same routine Sept. 7 prior to a 27-13 victory against Lutheran North at East St. Louis.
Attempts to reach Gregory were unsuccessful. 
While wearing No. 24, Jackson rushed for 109 yards and had a 56-yard touchdown run in a 32-21 win against Nazareth, the preseason No. 1 team in Chicago and the defending Illinois Class 7A champion.
After rushing for 147 yards against Lutheran North, Jackson and Gregory told STLhighschoolsports.com that Jackson sat out Week 1.
"Watching last week, it wasn't fun at all," Jackson said. "It gave me a spark."
Gregory said, "He earned it, he deserved it. It was his time to play ball."
According to MSHSAA by-law 5.5.4, "games in which an ineligible player plays shall be forfeited."
Because Jackson never served his suspension, he still could be considered ineligible, and every game he participated in would be subject to forfeit.
If Cardinal Ritter is judged by MSHSAA to have violated its by-laws, the board of directors has a wide latitude of punishments it can implement. Among those are fines, prohibition from hosting district tournaments and exclusion from the postseason for one or more years.
Cardinal Ritter is scheduled to host Granite City at 7 p.m. Friday.