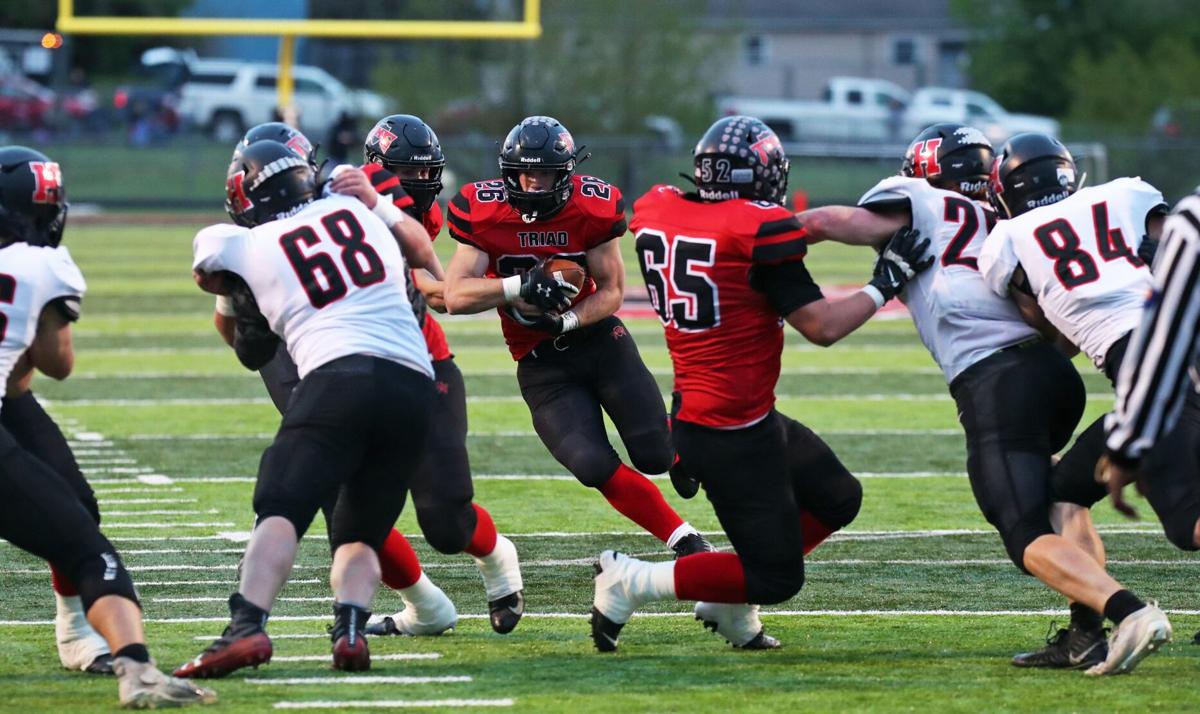 TROY, Ill. — In the second overtime, Triad quarterback Devin Wilkins turned to hand the ball to Sam Yager, the star of the second half.
But Yager was on the other side.
So Wilkins tucked the ball under his right arm, buried his head and powered in for a 2-yard touchdown run in the second overtime to complete a dramatic 35-29 comeback victory over Highland in a Mississippi Valley Conference Bowl Series football semifinal Friday at Triad.
Triad (5-0) will play at Mascoutah (4-1) in the MVC Bowl Series championship game next Friday.
Wilkins and Yager saw the game-winning play in a slightly different way.
"I actually did do it wrong, I guess I was caught up in the moment, but I saw an open hole and I dove for it," Wilkins said.
"I believe he might have been a little selfish there," Yager joked.
One thing in which they agreed is that there was no jocularity in the Triad locker room at halftime after Highland senior Jeffery Blunt blocked a field goal in the closing seconds and Liam Gallagher scooped it up and raced 72 yards to put the Bulldogs ahead 21-0 at intermission.
Triad committed three first half turnovers and were getting gashed by the inside rushing attack of Highland.
"I think everything that possibly could have gone wrong went wrong in the first half," Triad coach Paul Bassler said. "But we did save a formation for the second half and I intentionally kept it in my back pocket so they wouldn't have time to adjust at halftime."
It was out of that formation that the Triad offense began to hum late in the third quarter.
Wilkins, who was starting his first game after a collarbone injury sidelined starter Drew Staub, found senior Gino Riggar out of the backfield on a wheel route and Riggar did the rest, breaking a tackle and scampering 33 yards for a touchdown.
The Highland offense, which had gained 114 rushing yards in the first half, could not find the same running lanes in the second half.
Yager gained 155 of his 169 yards in the second half. He took an option pitch 36 yards around right end and then senior Josh Edison burst up the middle for a 33-yard touchdown run midway through the fourth quarter to cut the deficit to 21-13.
Another defensive stop gave the ball back to the Triad offense and Yager, who broke off runs of 11 and 16 yards, before taking a handoff to his left, reversing his field and scooting 53 yards down the right sideline for a touchdown. His wildcat formation 2-point conversion tied it at 21 with 2 minutes 32 seconds remaining.
"The blocking up front was really good, we made great adjustments at halftime and it just sort of opened up," Yager said.
Triad actually had a chance to win the game in regulation but a 34-yard field goal attempt by junior Jake Ellis drifted wide, sending the game into overtime, where Wilkins came of age.
Wilkins, who had fumbled the shotgun snap on his first pass attempt of the game, went 7-for-14 for 153 yards and made a courageous throw in traffic to junior Roger Wolf on third-and 14 to put the Knights ahead in overtime.
"That was a risky play, but I saw the safety move over before the play. I saw (Wolf) come open over the middle and I let him go make a play," Wilkins said.
Yager punched in the 2-point conversion and Triad led 29-21, but Highland sophomore quarterback Brent Wuebbles had the answer, finding Eli Jones on a throwback pass against the flow of the play, then finding Cade Altadonna at the back pylon for two points to send it to second overtime.
"We struggled understanding success tonight, but I thought our guys played tough — mentally tough and physically tough — and I'm proud of them for that," Highland coach Jim Warnecke said.
Led by junior Kaden Marmon and senior Andrew Gula, Triad stuffed Highland's bruising senior running back Logan Chandler in the second overtime. Chandler, who scored both of Highland's offensive touchdowns in the first half, was stuffed on third-and-1 from the 1-yard line, then again on fourth down from the four, giving the ball back to the Triad offense.
"We knew they were going to try to pound the ball there, they had been doing it all night and we we're having success stopping it," Marmon said. "They ran outside zone, we were there and made the play."
And Wilkins finished the rest, whether he meant to or not.
"What a nice backup to have," Bassler said.
Mississippi Valley Bowl Series semifinal: Triad 35, Highland 29 (2OT)
Highland vs. Triad football
Highland vs. Triad football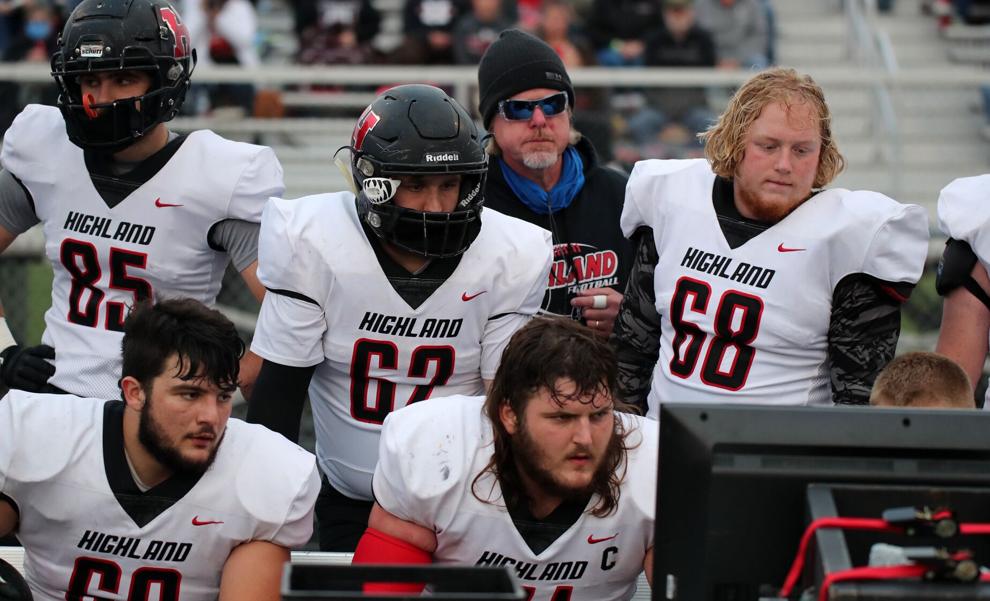 Highland vs. Triad football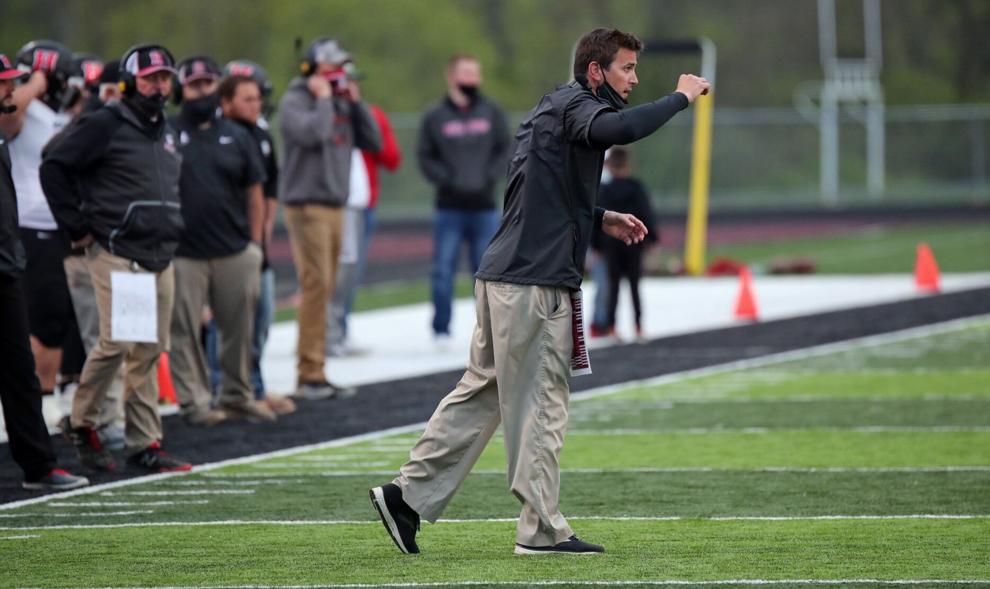 Highland vs. Triad football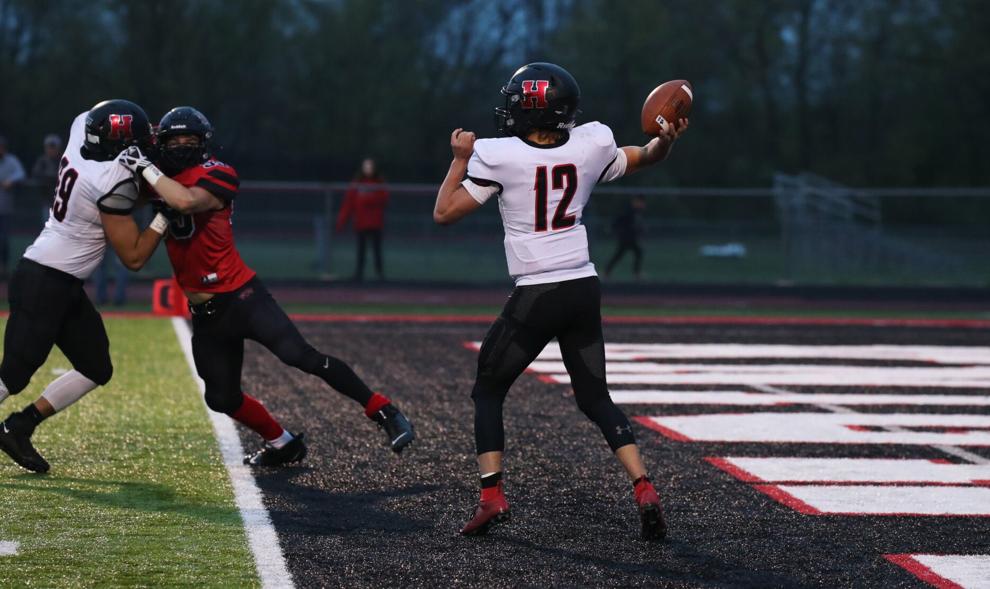 Highland vs. Triad football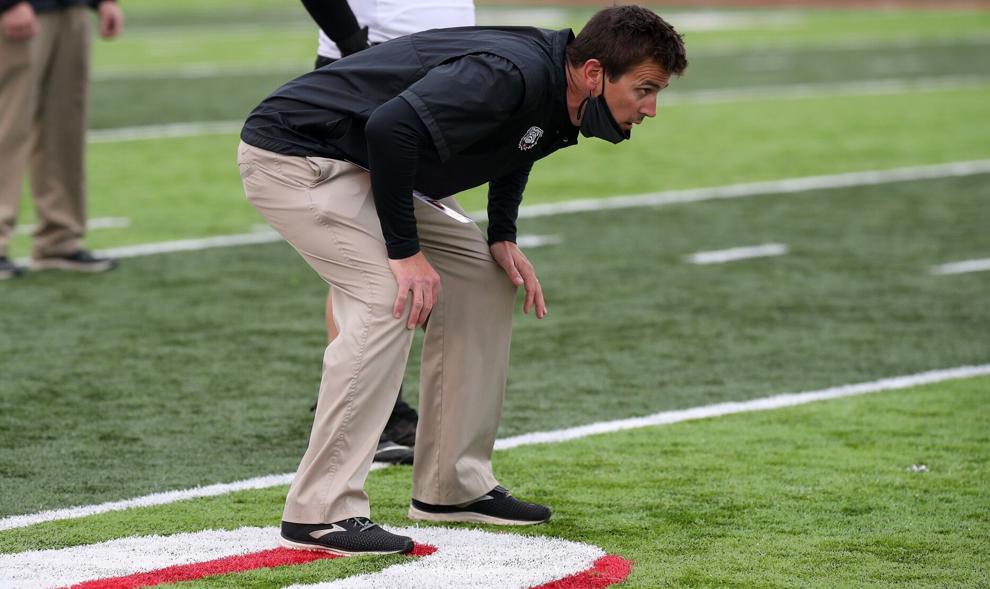 Highland vs. Triad football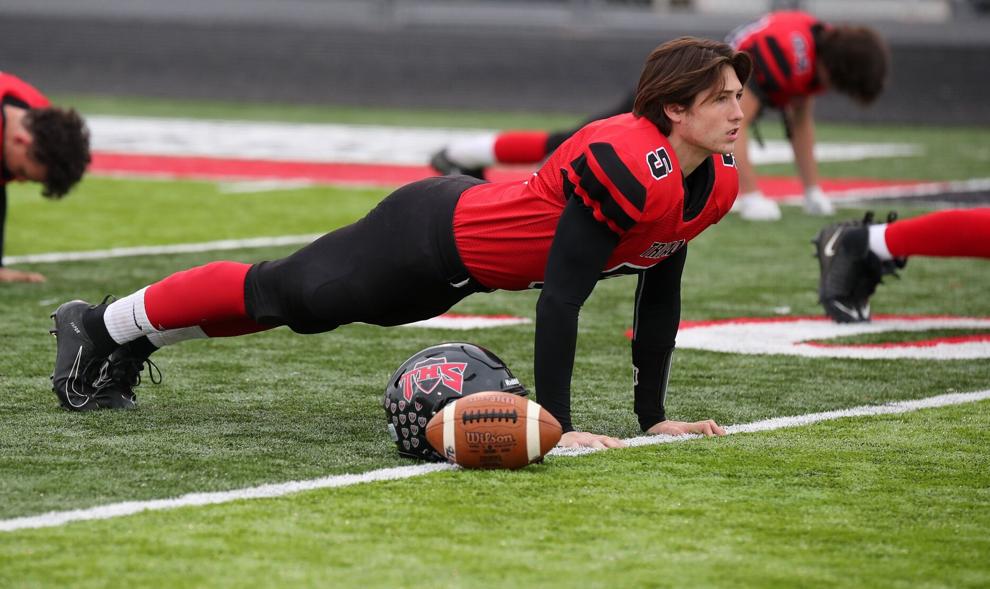 Highland vs. Triad football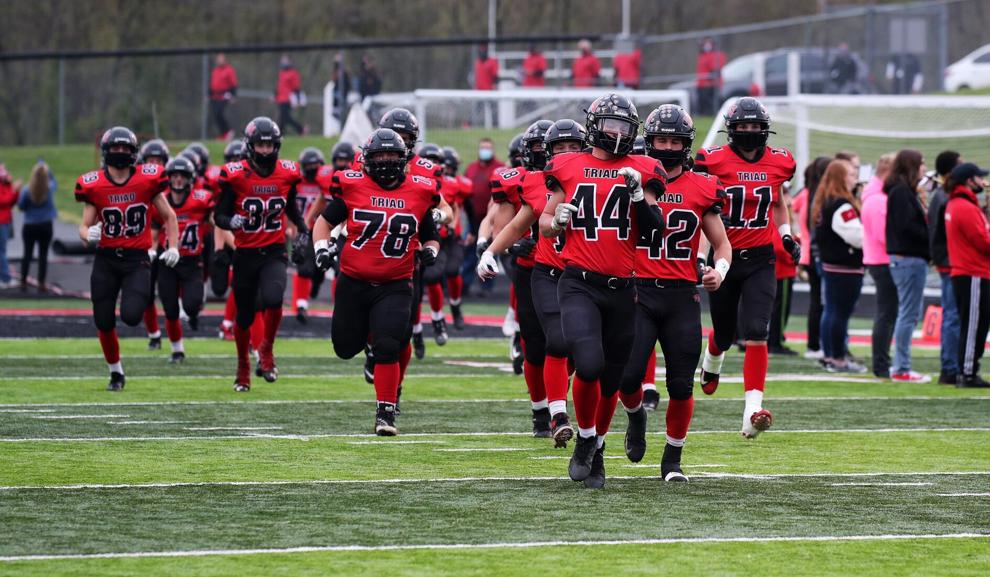 Highland vs. Triad football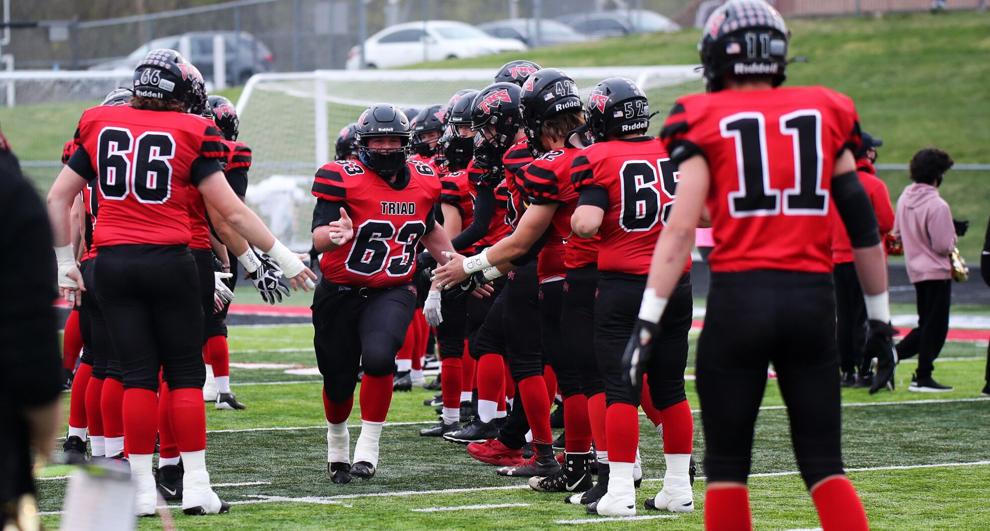 Highland vs. Triad football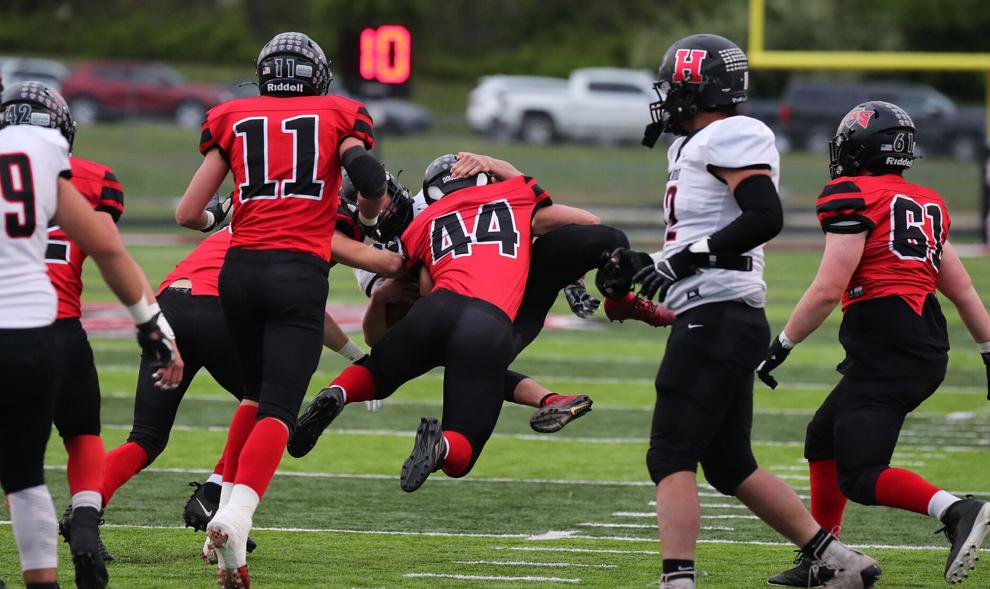 Highland vs. Triad football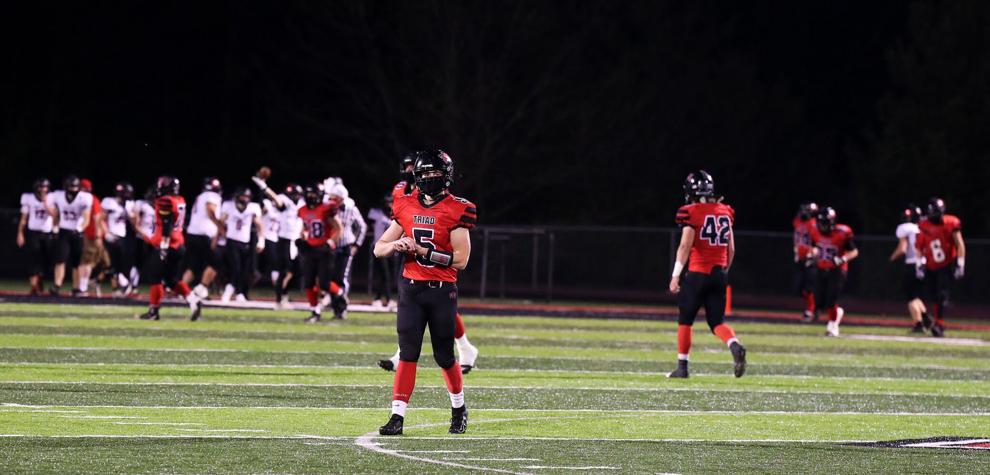 Highland vs. Triad football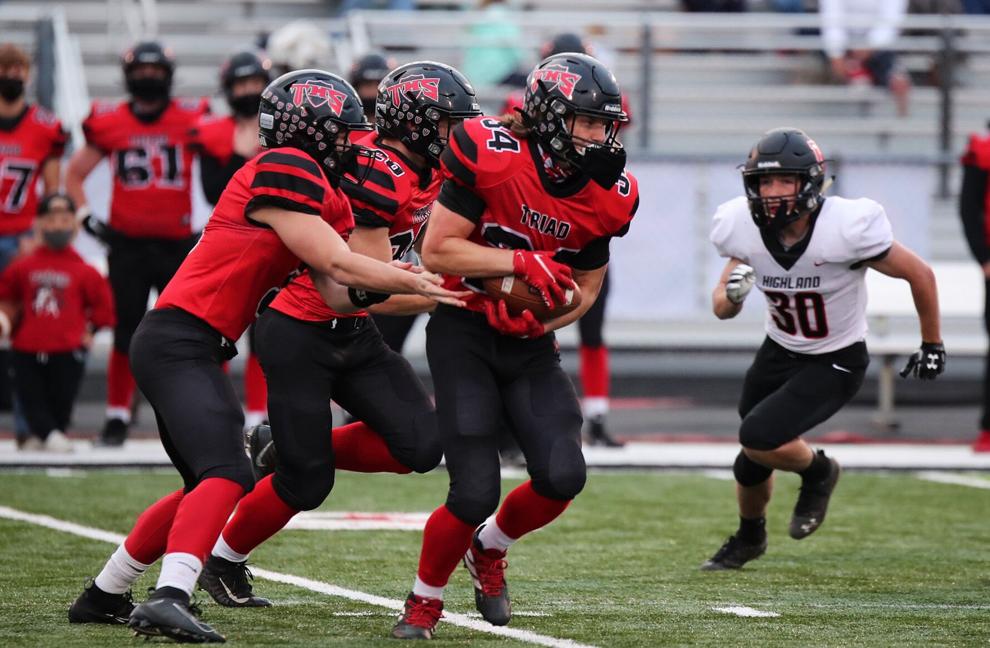 Highland vs. Triad football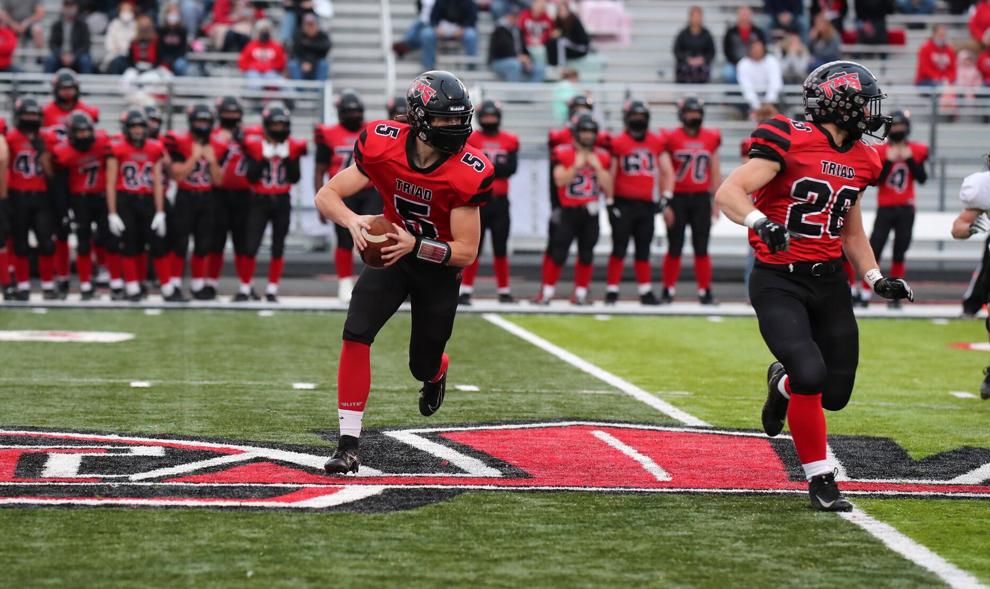 Highland vs. Triad football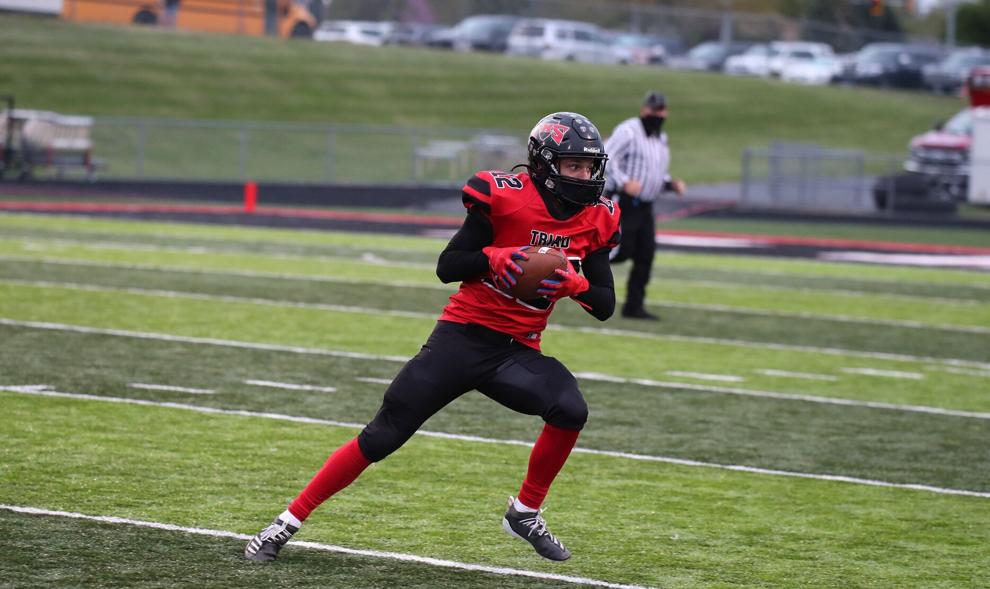 Highland vs. Triad football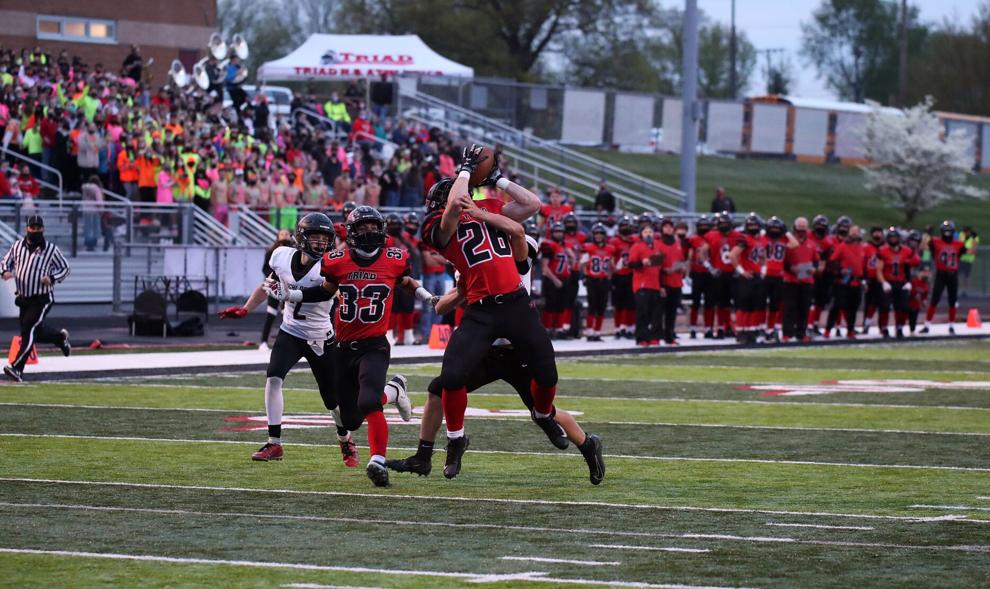 Highland vs. Triad football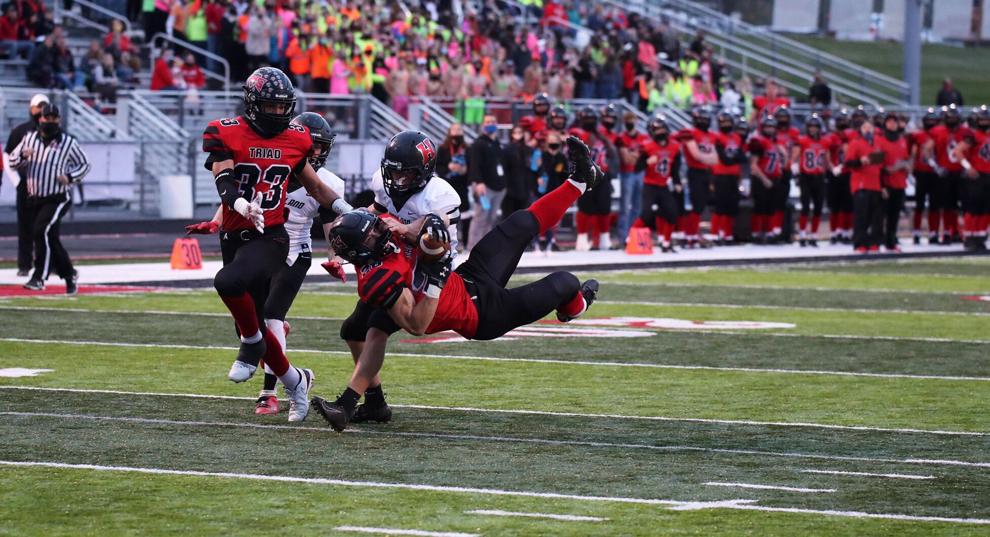 Highland vs. Triad football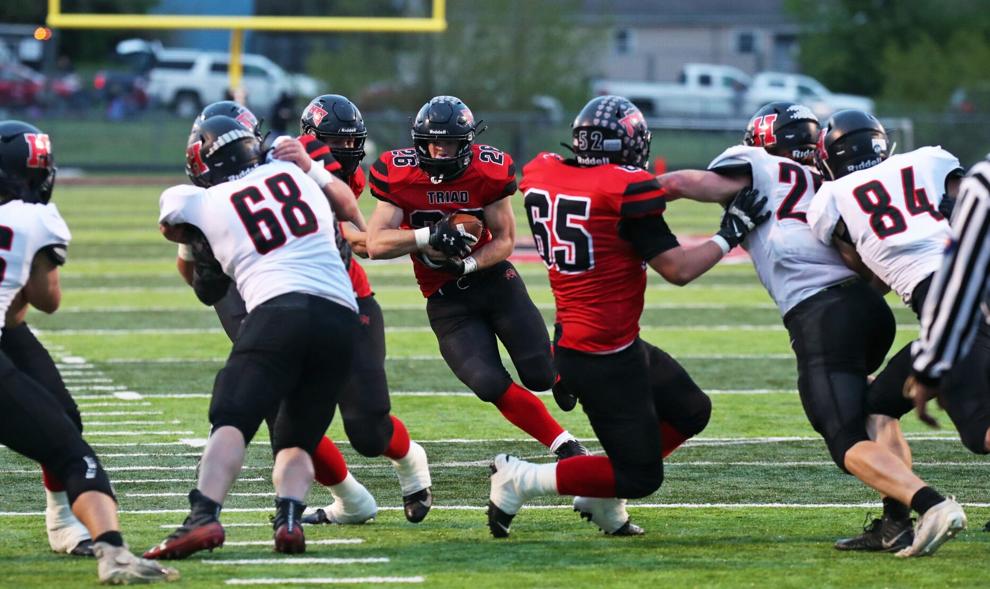 Highland vs. Triad football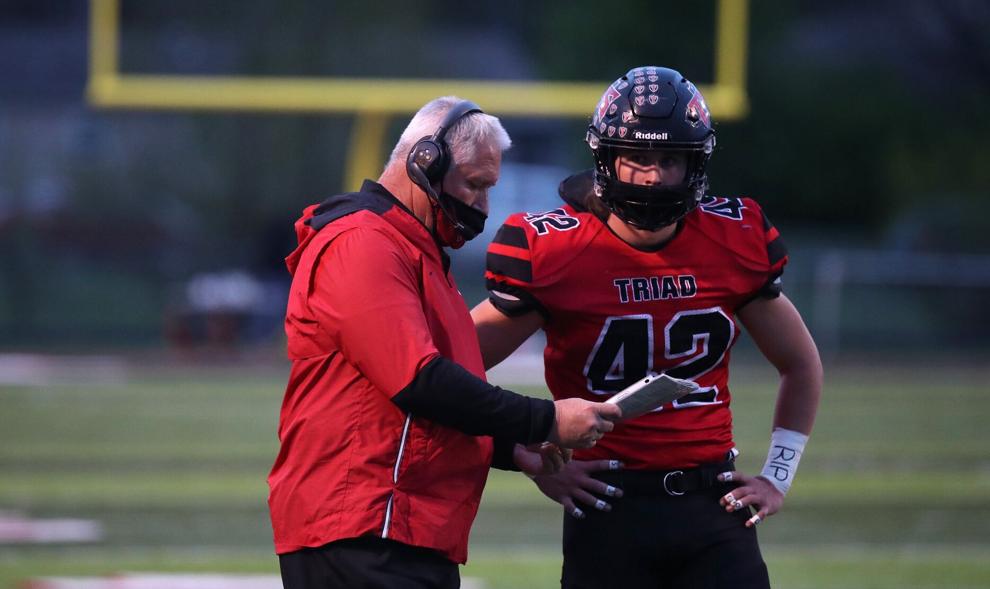 Highland vs. Triad football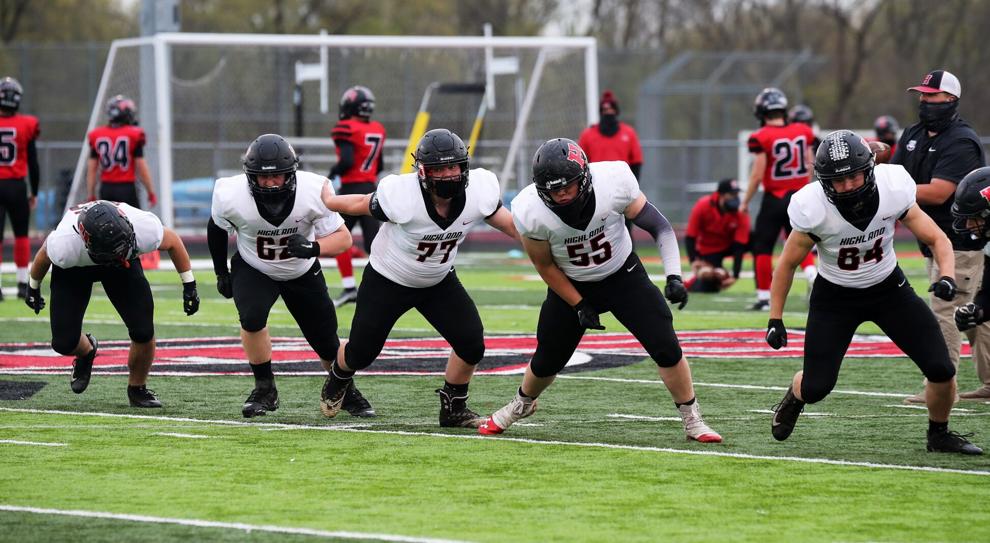 Highland vs. Triad football
Highland vs. Triad football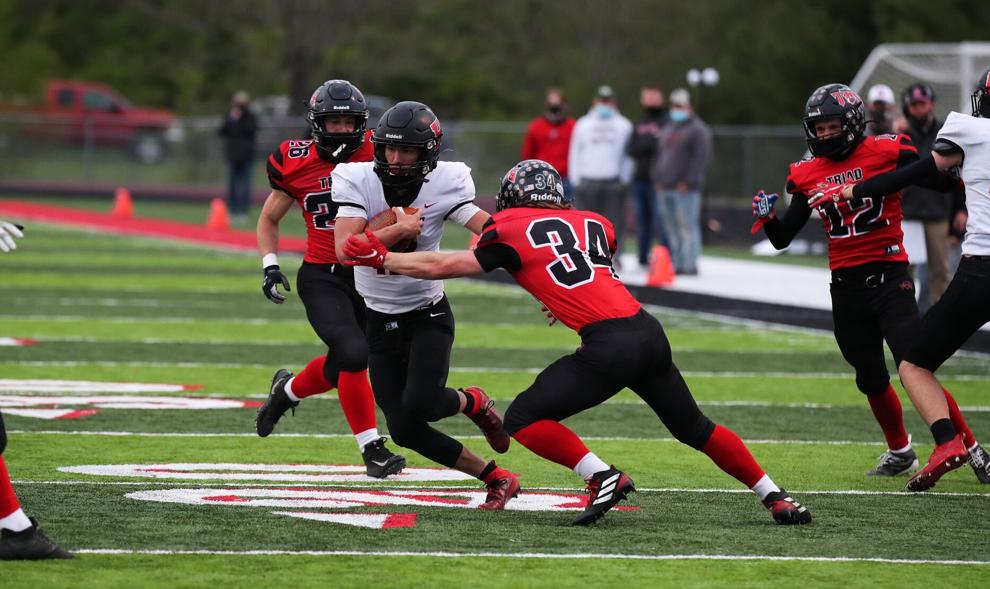 Highland vs. Triad football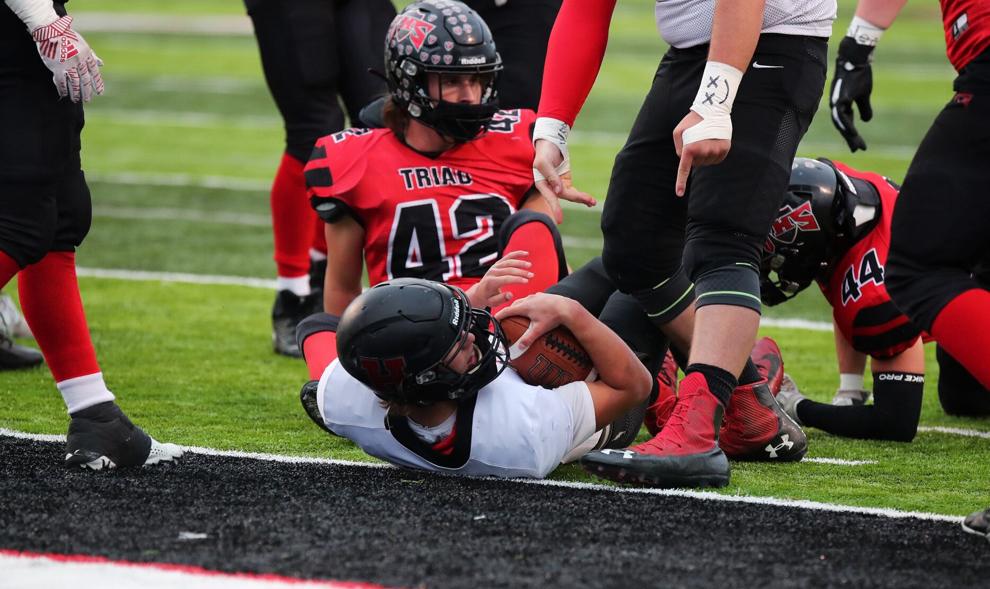 Highland vs. Triad football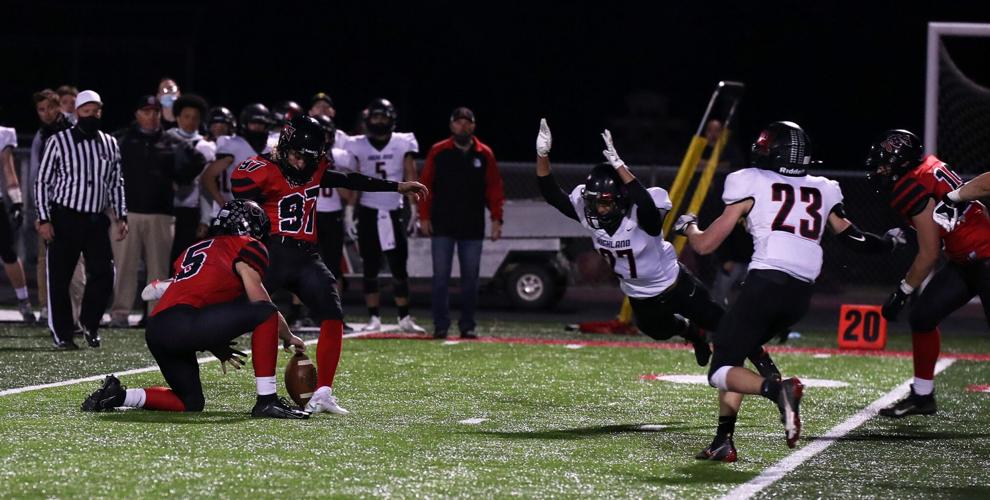 Highland vs. Triad football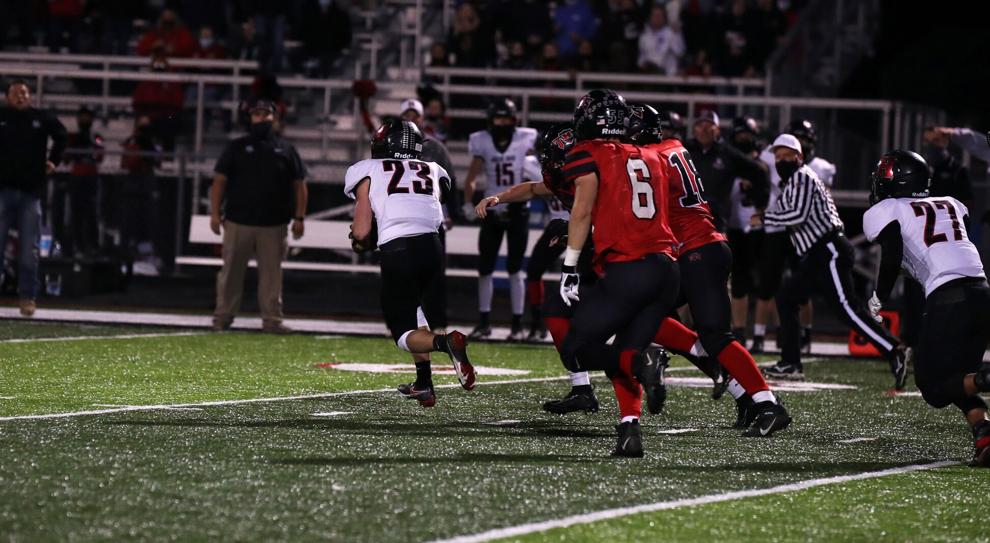 Highland vs. Triad football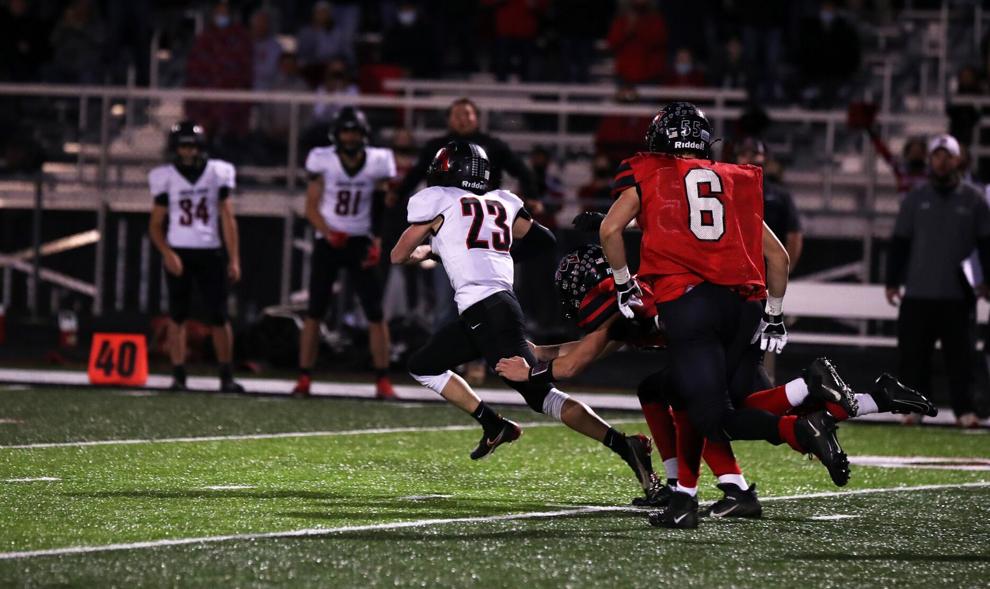 Highland vs. Triad football