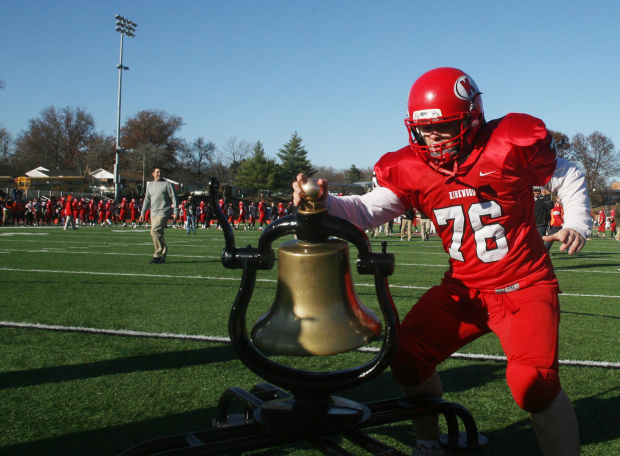 Their paths were dramatically different. Yet here they are, together again.
For the second time in five years the varsity football teams from Kirkwood and Webster Groves will line up and knock the stuffing out of one another in the 80th annual Turkey Day rivalry game.
Kickoff is set for high noon at Moss Field in Webster Groves.
Kirkwood and Webster spent the regular season piling up the wins. Kirkwood went 10-2 and had its playoff run come to an end when CBC beat it 55-10 in a Class 6 semifinal.
Webster Groves was 7-2 but was unable to hold off Ladue in the Class 5 District 2 championship game. The Rams scored 28 unanswered points in the second half to pull the upset. Webster had visions of ending its season in the state championship game at Edward Jones Dome. Class 5, in the end, was wide open and the Statesmen feel they missed a golden opportunity.
"We thought we had a legitimate chance to get down to the dome this year," Webster coach Cliff Ice said. "We needed to stay healthy and we didn't stay healthy."
Kirkwood put together an exceptional season before running into the CBC machine. The Pioneers don't carry that same sense of remorse like the Statesmen.
"It would have been a tall order for us," Kirkwood coach Matt Irvin said. "The kids really competed well. We just ran into a really, really good team which will prove to be one of the better teams, not just this year, but for many years."
So, here we are. Two talent-rich programs with weeks to get healthy and prepare for what is expected to be an all-time classic.
"It'll be an old-school Americana football game," Ice said. "It will come down to the wire, I think."
That would be a drastically different outcome from Kirkwood's 44-0 thrashing of the Statesmen last season. Then again, the circumstances surrounding this year's rivalry game are drastically different. Webster was beaten less than a week before in the Class 5 semifinals by Parkway Central. To advance that far the Statesmen had to dethrone defending state champion Kirkwood in the district title game at Kirkwood, which it did, 21-19.
"I hope that was an isolated situation. We didn't have much of a turnaround to get over it and we had knocked them out of the district championship," Ice said. "So they had a pretty big motivation factor last year. I don't see that motivation factor there this year."
While Kirkwood did take so much joy in pounding its rival into paste, the Pioneers understand that was an anomaly. The seniors on these teams lined up and played a JV Turkey Day game in 2012. Webster won that showdown 29-21, handing Kirkwood the only "loss" on its record as it claimed the Class 5 state title the next day, its first in school history.
"Last year was such a stand alone event," Irvin said. "No one on our sideline thinks this is going to be a cakewalk."
Both teams feature explosive offenses.
Webster quarterback Rob Thompson, a three-year starter, has thrown for 2,2389 yards, 27 touchdowns and six interceptions. Kirkwood's Wil Hadler has thrown for 2,170 yards, 17 touchdowns and eight interceptions.
Kirkwood has a fierce rushing attack as Robert Columbus and Reece Goddard have combined for 1,272 yards and 31 touchdowns.
Webster's running game is a question mark at the moment. Senior Nick Delgado suffered an ankle injury and is a game-time decision. Junior Djakeem Frederick is out for the season with an injury suffered against Summit in October.
"You'd have to give them a big advantage at the running back position," Ice said. "But as you go through the matchups it's pretty even."
If it's not enough the teams are even, so is their record. Entering today's game Webster and Kirkwood are 37-37-5 in Turkey Day showdowns. Both Ice and Irvin acknowledge that, if given their choice, winning the state championship edges the tradition-rich gridiron showdown. However, both said there's nothing worse than ending the season with a loss, whether it's at Edward Jones Dome or on Thanksgiving.
"If you win it it's very special," Ice said. "If you lose it's even worse."
Added Irvin, "If you're not winning the state championship you're better off winning Turkey Day. You get to finish with a win."