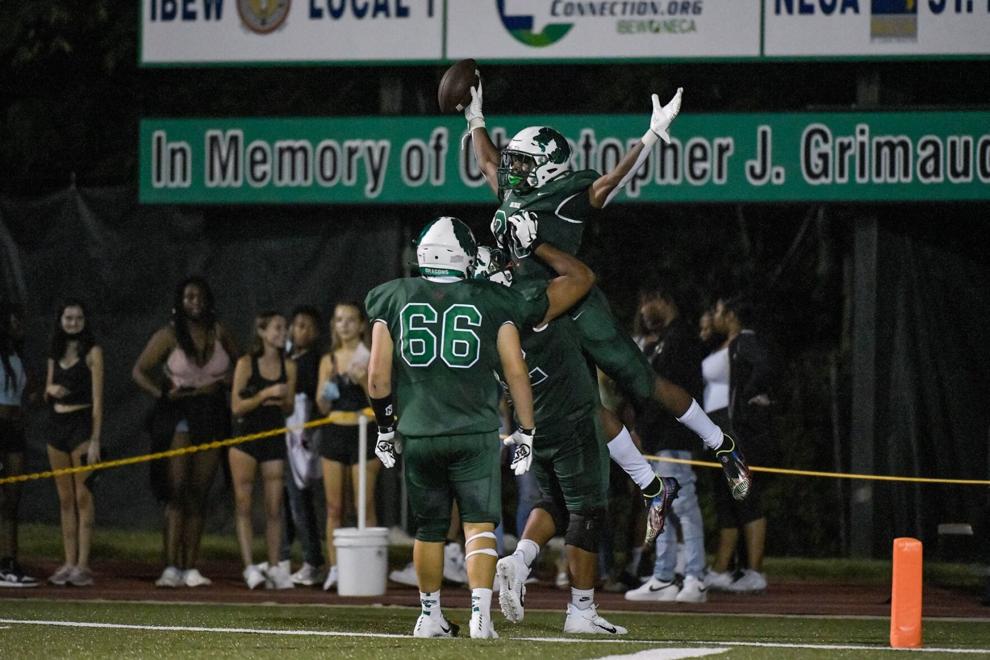 Records: Lutheran St. Charles 3-1; St. Mary's 2-1.
Last week: Lutheran St. Charles 50, Hermann 0; St. Mary's 42, Borgia 0.
On Lutheran St. Charles: Faces St. Mary's for the first time since 2013 and is 1-7 in its previous eight meetings with the Dragons. … Since losing 35-14 to Denver Lutheran in Week 1, has outscored its next three opponents a combined 152-25. … Senior running back and Stanford recruit Arlen Harris Jr. has rushed for 424 yards and 10 touchdowns and caught eight passes for 160 yards and a score. Senior quarterback Aaron Coffey has passed for 738 yards, seven touchdowns and been intercepted once. Sophomore running back Ayden Harris has rushed for 269 yards and four touchdowns. Junior receiver Michael Parr Jr. has seven receptions for 220 yards and three touchdowns. Sophomore receiver Kaleb Mays has eight receptions for 155 yards. … At linebacker Ayden Harris has made a team-high 46 tackles and three tackles for loss. Senior defensive lineman Jaydon Wannstedt has made six tackles for loss and 13 total tackles. Senior defensive lineman and Arkansas State recruit Ashtin Rustemeyer has made 16 tackles and four tackles for loss.
On St. Mary's: Bounced back after first loss of the season to shut out Borgia for the first time since the schools began playing as part of Archdiocesan Athletic Association in 2012. Last week's win against the Knights was just the second for the Dragons in nine meetings. Star receiver Kevin Coleman Jr. did not play against the Knights. … Senior quarterback Caron Spann made his season debut against Borgia as he passed for 169 yards and three touchdowns. Junior running back Jamal Roberts has rushed for 246 yards and three touchdowns. In two games Coleman has rushed for 248 yards and two touchdowns. Junior receiver Chase Hendricks has caught three passes for 42 yards and three touchdowns. Senior Cyril Ikeh has three receptions for 120 yards and a touchdown. … Senior linebacker Achille Kpeya Jr. has made 20 tackles, four tackles for loss and three sacks. Junior linebacker Kaliel Boyd has made 21 tackles and two sacks. Senior defensive back De'Shawn Fuller has made nine tackles and two interceptions. Junior cornerback Farand Washington has two interceptions.