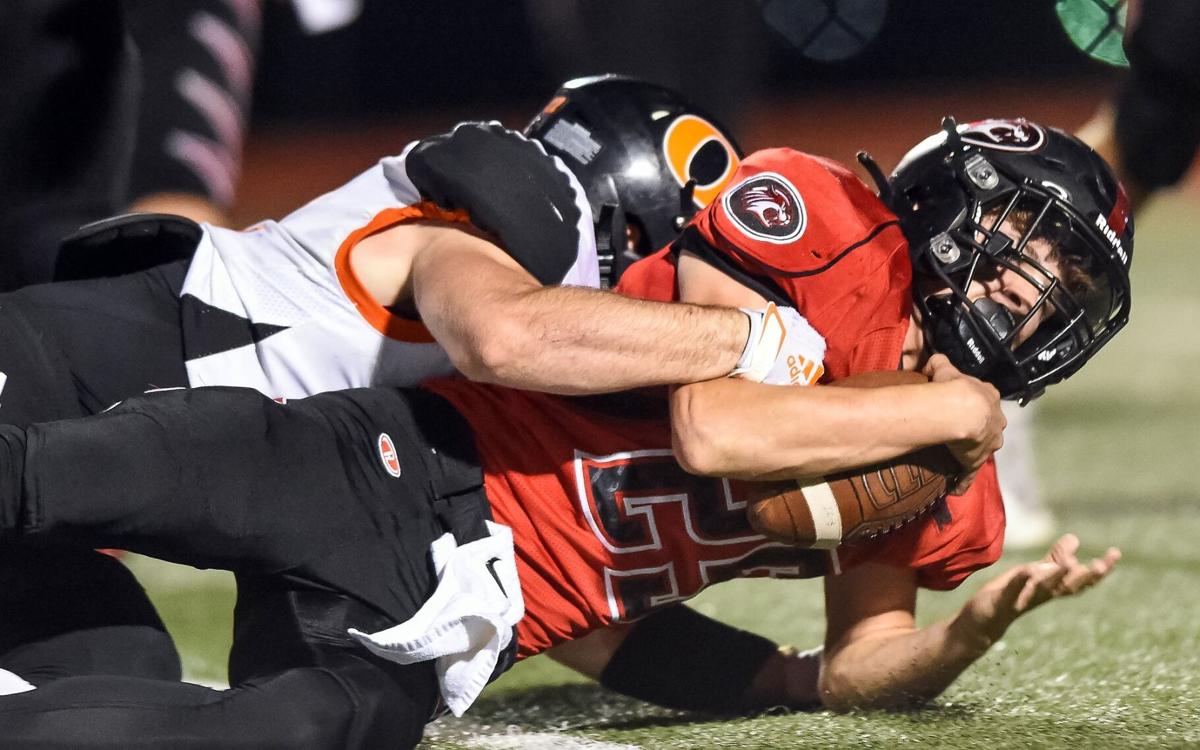 Union used a goal-line stand in the closing seconds to knock off Owensville 28-26 in a Four Rivers Conference football battle in Franklin County.
Wyatt Birke scored the winning touchdown on a 35-yard run with 1 minute and 7 seconds left in the third quarter. He also recovered an Owensville fumble in the final period.
Union (7-0, 4-0) trailed 26-14 before Hayden Parmenter returned a kickoff 98 yards for a score to get his team to within 26-21 midway through the third quarter.
Derek Brandt returned the second half kickoff 85 yards for a score for the Dutchmen (5-2, 2-2).
Union quarterback Liam Hughes gave his team a 14-13 lead with a 45-yard strike to Colton Morrow midway through the second quarter.
The Wildcats are off to their best start since the 2011 team won its first 10 games.
Eureka 57, Pattonville 21: Kevin Emmanuel staked the Wildcats to an early 21-0 lead with three first half touchdowns.
Rhemi Watson scored on a 49-yard run to push the lead to 36-0 in the second quarter.
Carson Smith threw for three scores for the winners.
Eureka (6-1) has won four in a row after a 25-20 loss to Hazelwood Central on Sept. 10.
DeAndre Haron returned a kickoff 98 yards for a score for the Pirates (3-4)
Ladue 26, Lafayette 23: Jared Rhodes scored on a 17-yard run with 8:16 left in the fourth quarter to lift the Rams to a home win.
Lafayette took a 19-17 lead on a 12-yard pass from Brandon Ken to Owen Butler with 4:28 left in the third period.
The Rams improved to 6-1 with their third successive win. Lafayette is 2-5.
Francis Howell 44, Francis Howell Central 0: Dashon Hudson kick-started the Vikings to a win over their rivals with an 85-yard punt return for a score midway through the opening quarter.
Hudson also added a 9-yard TD run for a 21-0 lead later in the period.
Booker Simmons connected with Jude James on a 39-yard scoring strike to add to the early blitz.
Howell (6-1) was coming off a 42-32 loss to Holt.
The Vikings have won the last 15 meetings between the schools. Central's last win in the series was a 29-0 triumph on Oct. 26, 2007.
Seckman 48, Webster Groves 21: Cole Ruble broke the game open with a 62-yard TD run as the Jaguars won on the road.
Ruble also scored on a 38-yard run. Plus, he hit Anthony Westervelt on a pair scoring tosses in the final 3:14 of the half for a 34-7 cushion.
Ty Kitchen also caught a TD toss for Seckman (5-2).
Webster Groves fell to 0-6. Its last win was a 49-6 triumph over Ritenour on Nov. 1, 2019.
Festus 35, Pacific 32: Landon Yates scored on a 14-yard run with four minutes left to rally the Tigers to a win in Jefferson County.
Cole Rickermann hit Isaac Stucke on an 88-yard scoring strike to bring Festus to within 32-28 midway through the final quarter.
Emily Holt added four extra points for Festus (4-3).
Makai Parton scored three times for Pacific (2-5).
De Smet 28, Rockhurst 14: Keshawn Ford scored three times to help the Spartans to a win at home.
Ford scampered in from 26 yards out with 4 minute, 10 seconds left in the fourth quarter to put the game away. He also scored on a pair of short TD runs in the opening period.
Chris Cotton broke a 14-14 tie with an 8-yard run late in the third quarter.
The Spartans (5-2) have won four in a row.
Washington 34, Francis Howell North 7: Landon Boston scored on runs of 50 and 4 yards less than four minutes apart in the opening quarter to spur the Blue Jays to a GAC Central win in Franklin County.
Washington (4-3) has won two in a row after a two-game losing streak.
Devon Deckelman added a 4-yard TD run in the third period that pumped the lead to 34-0.
The Blue Jays have won the last four meetings between the schools.
Lutheran North 51, Alton Marquette 0: Caldra Williford returned a fumble 5 yards for a score in the first quarter to get the Crusaders off and running in this game at home.
Brian Brown hit Ricky Dixon on a 28-yard scoring strike in the opening period.
North (4-3) was coming off a 56-37 loss to MICDS.
St. Dominic 54, Borgia 14: Matthew Willenbrink returned the second-half kickoff 81 yards for a score as the Crusaders romped in O'Fallon.
Willenbrink also hauled in a 79-yard strike from Kelly Welby to push the lead to 14-0 midway through the second quarter.
Clayton Arrowood recovered a fumble and ran it in for a score to cap off the blitz.
Jackson Overton got the ball rolling with an 8-yard run just over five minutes into the contest.
The Crusaders (4-3) snapped a three-game losing streak.
Borgia (0-7) had won seven of the previous eight games with St. Dominic.
Mascoutah 70, Civic Memorial 28: Chase Hanson tossed a pair of long-first half scores to help the Indians to a win in this Mississippi Valley Conference game in Bethalto.
Hanson hit Quincy Hall on a 65-yard toss in the first quarter and connected with Allen Middleton on a 72-yard catch-and-run in the second period as the teams combined for 56 points in the opening half.
Logan Turbyfill tallied on a pair of runs for the Eagles (4-3, 1-3) in the first half.
Mascoutah (7-0, 4-0) has outscored its opponents 342-128 this season.
CBC 48, Chaminade 14: The Cadets scored 27 unanswered points in a span of 20:17 in the first half to take control of this Metro Catholic game at Chaminade.
Jeremiyah Love and Dylan Van got the ball rolling with a pair of short scoring runs. Patrick Heitert capped the blitz with a 2-yard run. He also hit Gavin Conley on a 47-yard TD strike late in the third period.
CBC, which has won six in a row, is 6-1 overall and 4-0 in league play.
Chaminade (3-4, 1-3) jumped to a 7-0 lead on an 80-yard run by Cam Epps just 100 seconds into the game.
The Cadets have won the last 13 games between the teams.
Columbia 46, Salem 7: Dominic Voegele ran for two scores, including a 63-yard gallop in the second quarter, as the Eagles romped on the road.
Colin Cygan returned an interception 45 yards for a touchdown with 22 seconds left in the second quarter to help the visitors take a 33-7 lead into the break.
Columbia (4-3) has won four of five after an 0-2 start.
Northwest-Cedar Hill 8, Parkway South 7: Chase Viehland scored on a 2-yard run in the second quarter and then ran in the two-point conversion to lead the Lions (3-4) to a win on the road.
LaRon Eason gave South (1-5) a 7-0 lead with a 73-yard scoring gallop midway through the opening stanza.
Northwest has the last four games between the teams after South reeled off 13 wins in the previous 14 contests.