EAST ST. LOUIS — When Antonio Johnson Jr. sealed off the safety, DaMonta Witherspoon saw the end zone Friday night.
A senior running back for the East St. Louis High football team, Witherspoon rushed for three touchdowns and caught another as the Flyers pulled away from Edwardsville 43-21 at Clyde C. Jordan Stadium on the campus of East Side High.
The No. 1 large school in the STLhighschoolsports.com rankings and top-ranked team in the Illinois Associated Press Class 5A poll, East St. Louis (6-0 overall, 3-0 league) extended its win streak over Edwardsville to four and gave itself the inside track to its fourth consecutive league championship.
The winner of the East St. Louis-Edwardsville showdown has claimed the Southwestern Conference crown the last seven years.
"I just saw great blocking from my offensive linemen and my guy, AJ, he had a great block on the safety," Witherspoon said. "I just took off his block and I saw the end zone."
The senior night party was on, but East Side had to work for it.
"It was an amazing game. I really appreciate the challenge Edwardsville gave us," senior left guard Javontez Spraggins said. "We came out, took the fight to them and they brought it right back. We regrouped and we got that 'W.'"
The No. 5 large school and No. 10 team in Class 8A, Edwardsville (4-2, 2-1) proved more than game to the daunting task of hanging with the high-powered Flyers.
East St. Louis scored 66 seconds into the game when junior quarterback Tyler Macon hit junior receiver Dominic Lovett for a 69-yard touchdown strike.
The Tigers answered immediately as junior quarterback Ryan Hampton capped a 59-yard drive with a 5-yard keeper with 6 minutes and 39 seconds to play in the first quarter.
Edwardsville took its only lead of the game on the first play of the second quarter when Hampton found Mason Ahlers across the middle. Ahlers managed to corral the pass with one hand and rumble through the empty defensive backfield for a 62-yard touchdown and a 14-13 lead.
Hampton completed six of 21 passes for 158 yards, one touchdown and was intercepted twice. But the passing game was incredibly effective for the Tigers as they were able to make some big plays or draw defensive pass interference penalties on the Flyers.
"We just have to do a better job on the back end of covering and playing more with our feet and not reaching," East St. Louis coach Darren Sunkett said.
Edwardsville was in a pickle as it did not have a healthy Justin Johnson Jr. in the backfield. A talented junior running back and the Tigers' primary ball carrier, Johnson was injured in last week's win over Belleville East. He played sparingly Friday night and gave way to junior running back Torrence Johnson, who rushed 17 times for 93 yards.
"He wanted to go, he couldn't," Edwardsville coach Matt Martin said. "He tried."
Despite facing a defense that has dominated its conference opponents, Edwardsville made enough plays to hang around. Hampton punched in a 1-yard touchdown on the second play of the fourth quarter to cut East Side's lead to 27-21.
The Tigers recovered the ensuing onside kick on the East St. Louis 32-yard-line, but a holding penalty on third down put them in a long down-and-distance situation and they were forced to punt.
That's when the Flyers went for the kill.
Leaning heavily on Witherspoon and Macon, East Side drove 80 yards in just over three minutes. Witherspoon scored an 8-yard touchdown and then Macon hit senior receiver Lawaun Powell Jr. for the 2-point conversion to make it 35-21.
Three plays into Edwardsville's ensuing drive, Johnson came up with an interception. Witherspoon followed his offensive line and then Johnson for the game-clinching 41-yard touchdown on the third play of the Flyers' drive.
Witherspoon rushed 17 times for 158 yards. He caught four passes for 73 yards and scored a 28-yard touchdown.
Macon hit on his first eight passes and completed 19 of 31 attempts for 328 yards and two scores. He rushed for 61 yards and punched in a 6-yard touchdown with a little help from Spraggins at the goal line.
"It felt good," Spraggins said with a smile. "It's a great feeling to be able to help your teammate."
Edwardsville didn't get the result it came for, but Martin felt there would be plenty of things to take from Friday's slugfest. East St. Louis presents a myriad of challenges on both sides of the ball.
"It's tough. They beat you deep. They can throw short, make you miss and run long. Their run game is tremendous as well," Martin said. "Our kids competed hard. They have so many weapons."
Edwardsville at East St. Louis football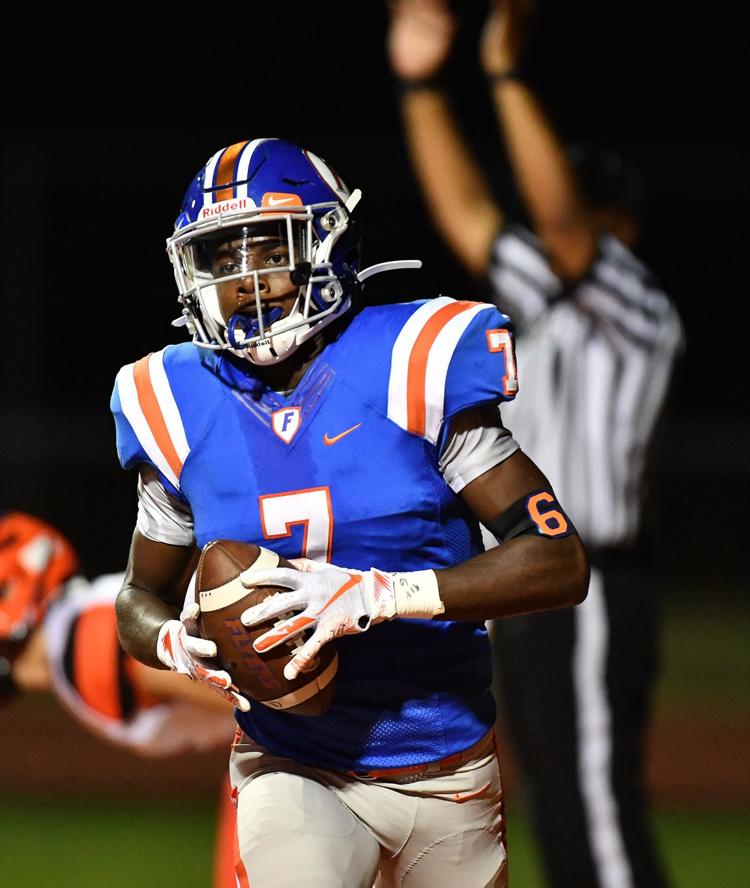 Edwardsville at East St. Louis football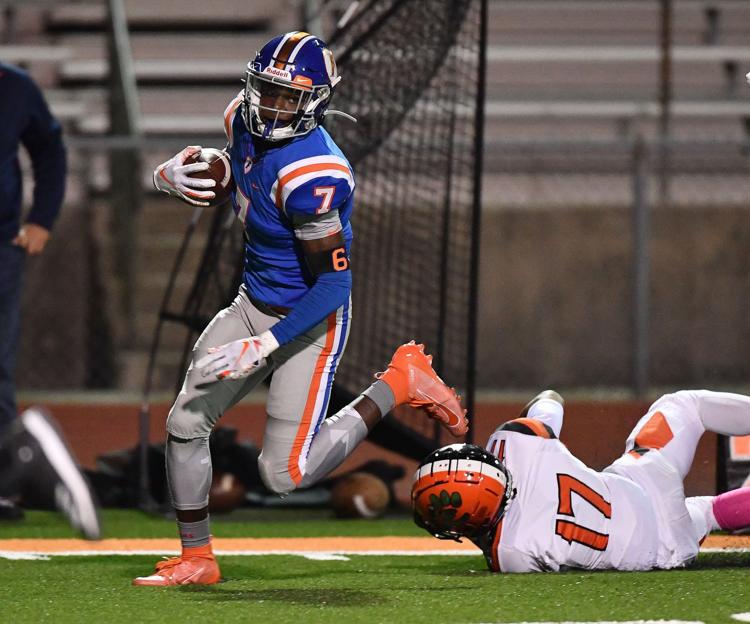 Edwardsville at East St. Louis football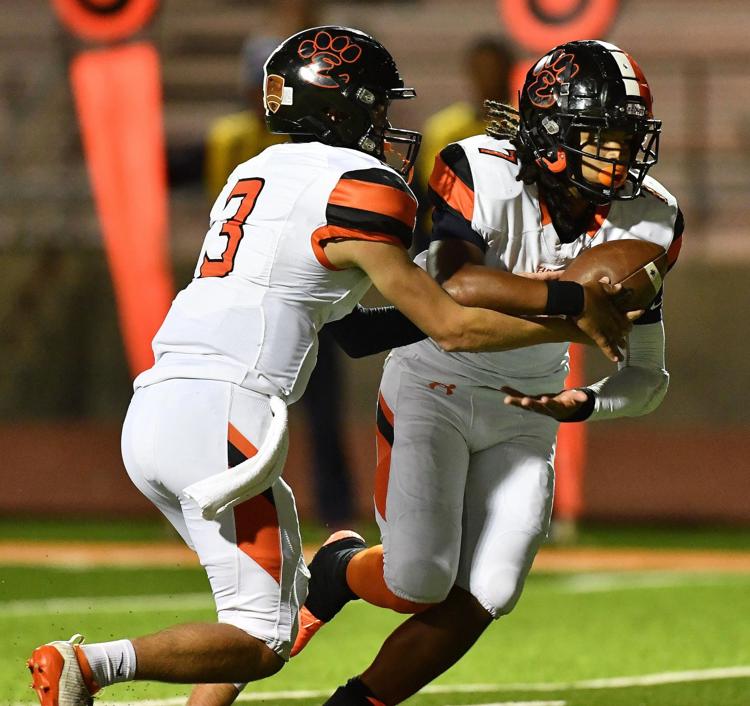 Edwardsville at East St. Louis football
Edwardsville at East St. Louis football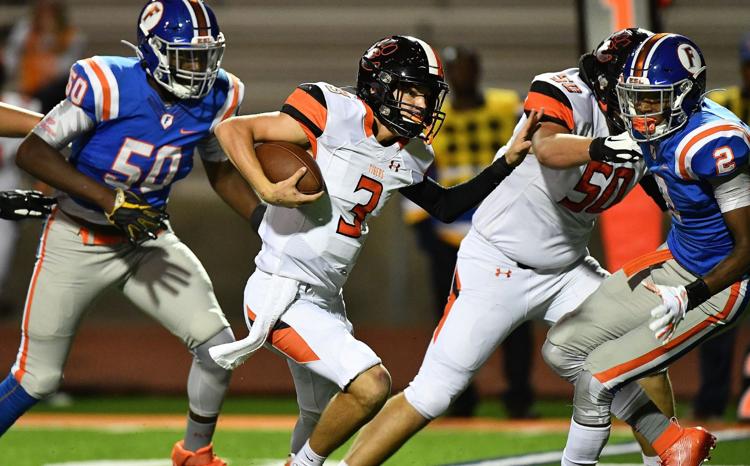 Edwardsville at East St. Louis football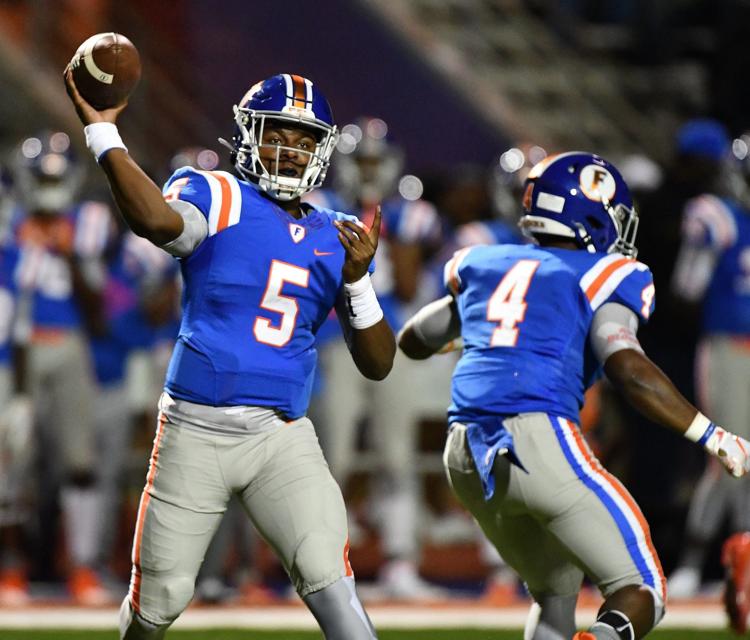 Edwardsville at East St. Louis football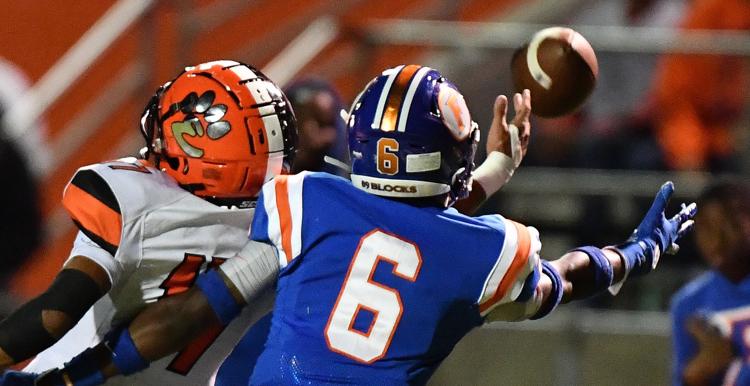 Edwardsville at East St. Louis football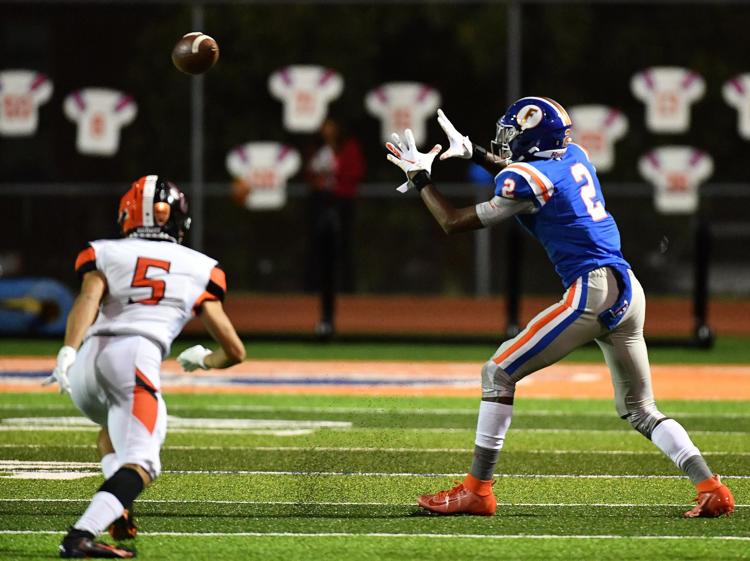 Edwardsville at East St. Louis football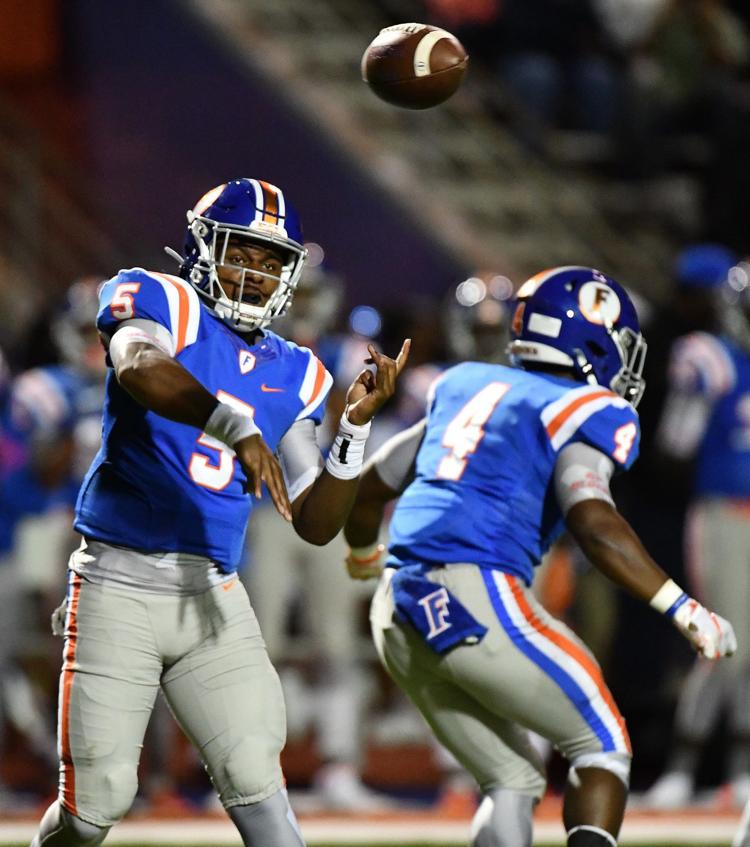 Edwardsville at East St. Louis football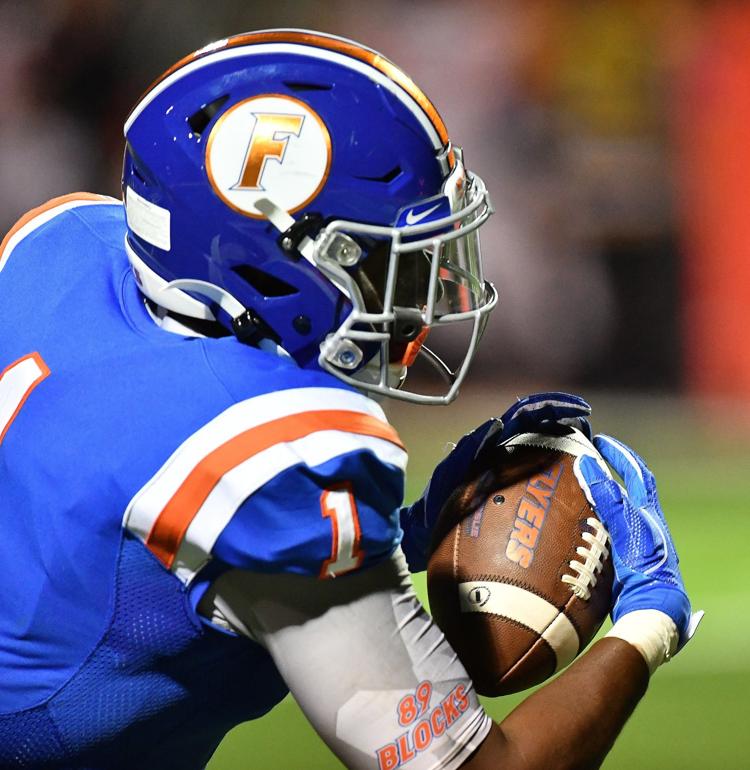 Edwardsville at East St. Louis football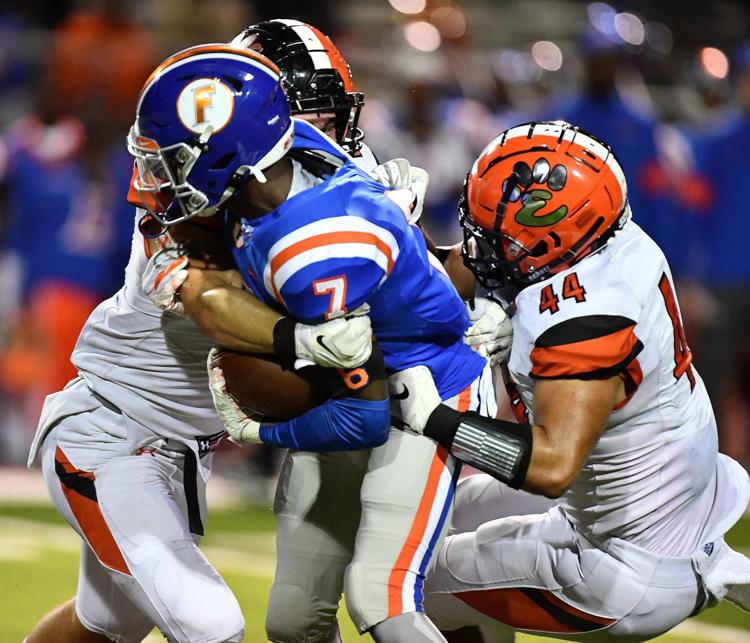 Edwardsville at East St. Louis football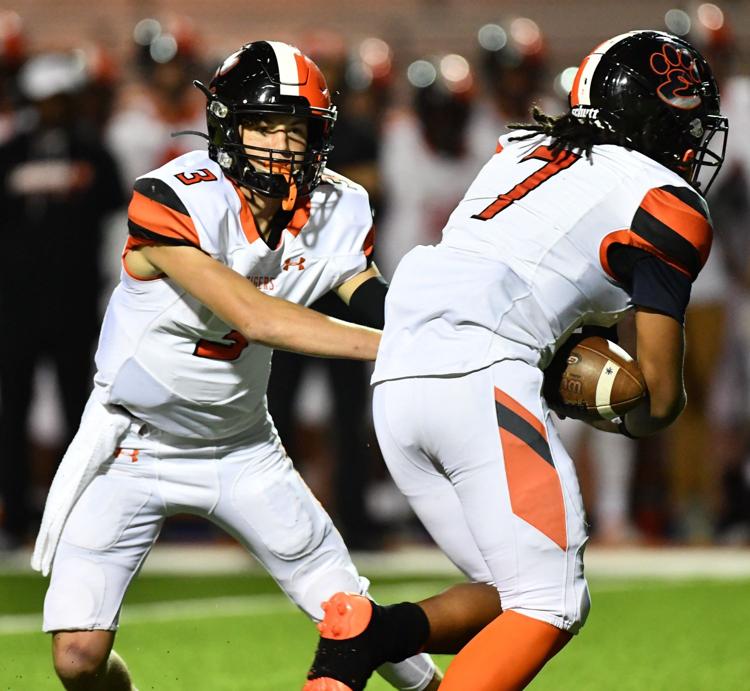 Edwardsville at East St. Louis football
Edwardsville at East St. Louis football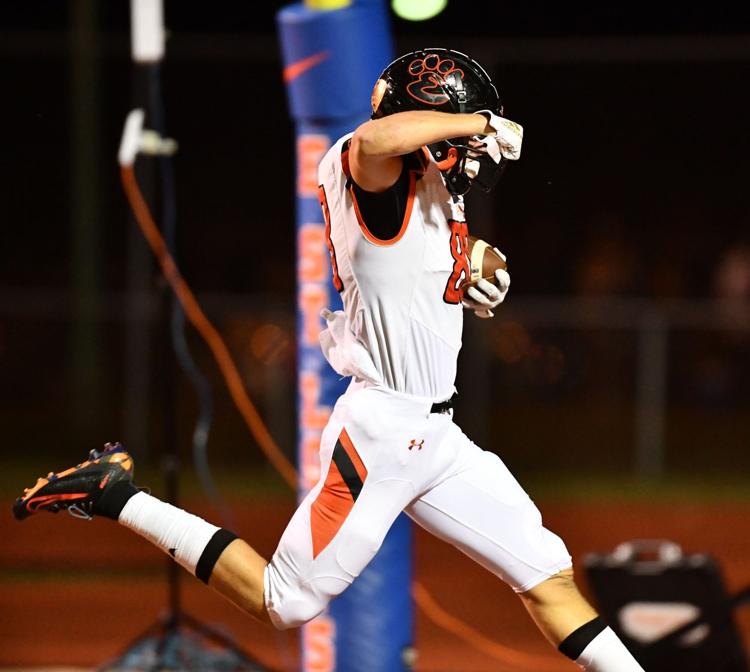 Edwardsville at East St. Louis football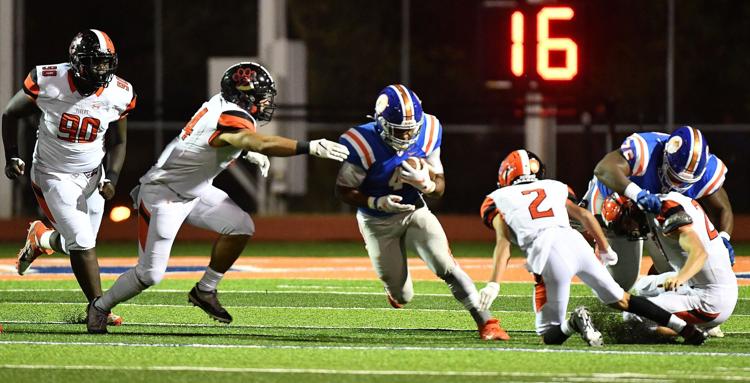 Edwardsville at East St. Louis football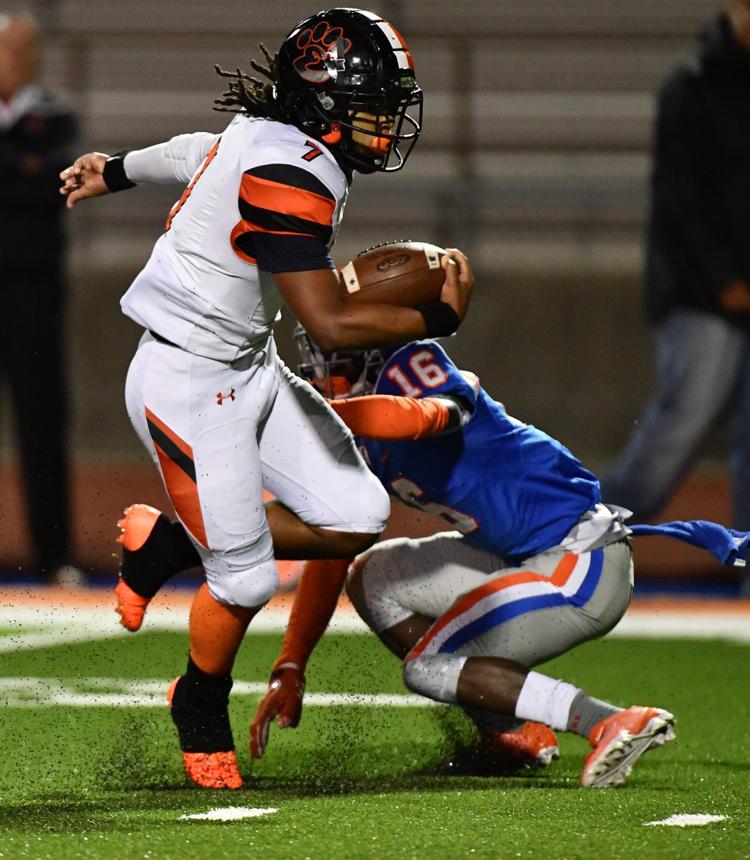 Edwardsville at East St. Louis football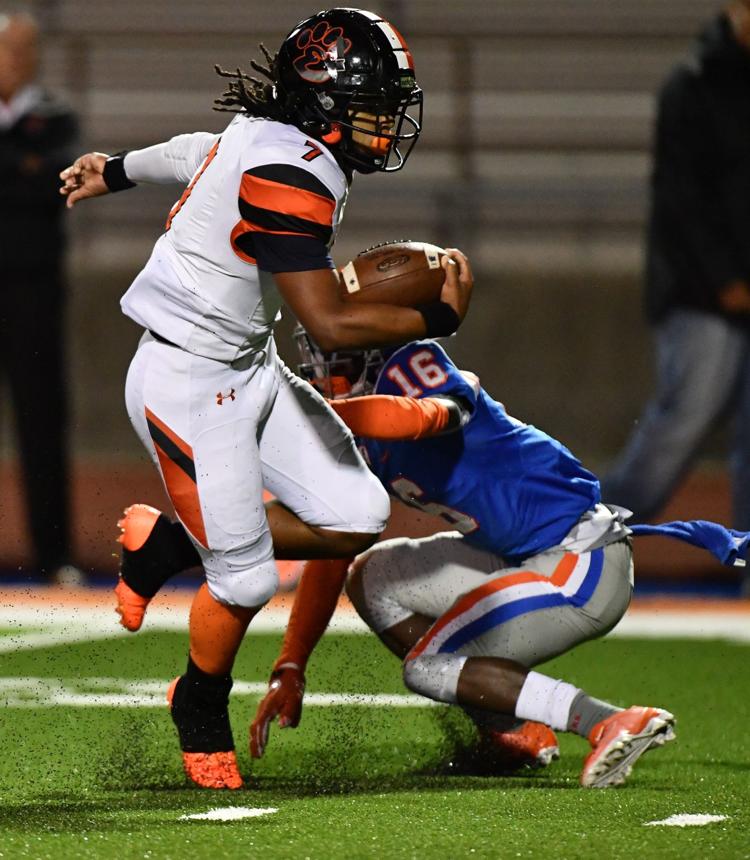 Edwardsville at East St. Louis football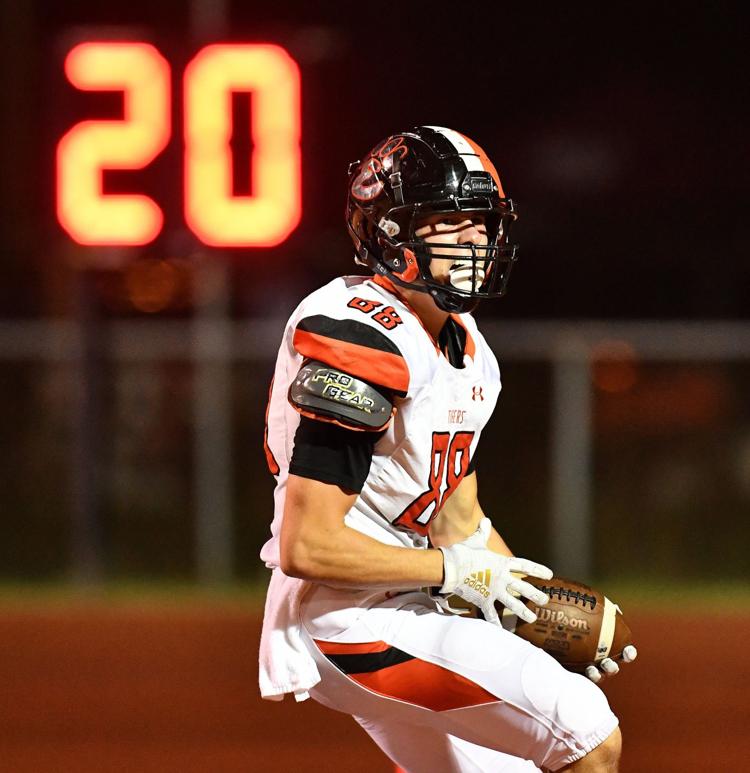 Edwardsville at East St. Louis football