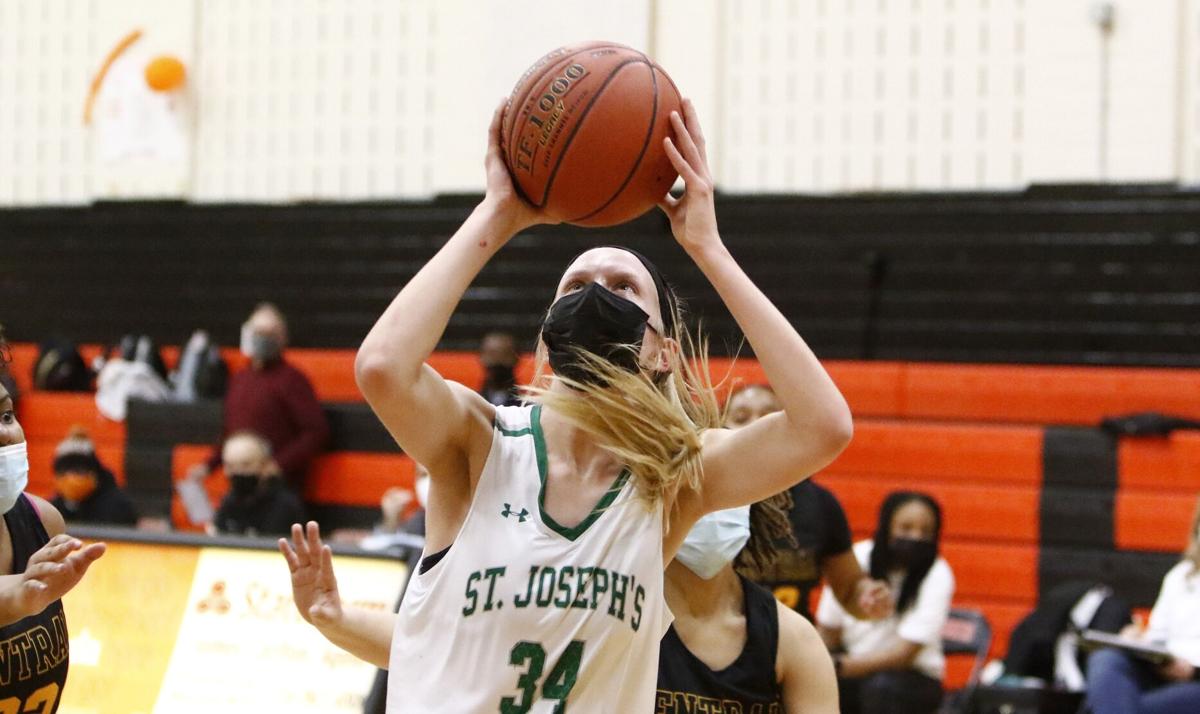 WEBSTER GROVES — Kayla Jansen made the most of a big opportunity Wednesday.
The St. Joseph's freshman post player combined with fellow bigs in junior forward Kiley Duchardt and senior forward Michele Origliasso to account for a definite size advantage.
St. Joseph's made the most of its advantage in rolling to the 63-46 win over Hazelwood Central Wednesday in an opening round game of the 13th annual Webster Winter Challenge.
"Usually, you don't have three bigs in the lineup at the same time in something like this," Jansen said. "We can all play inside and we can all play outside. We are able to just balance off one another. We know how to look for each other and move the ball around."
The win means St. Joseph's (10-4), No. 7 in the STLhighschoolsports.com large-schools rankings) will play at Incarnate Word at 6 p.m. Friday in a tournament semifinal for the chance to play for the championship at 4:30 p.m. Saturday.
As the three bigs got rolling, it was Jansen who stepped to the forefront.
St. Joseph's opened up a 21-8 lead after the first quarter with 14 points coming in the paint and 10 of those belonged to Jansen. Angels coach Julie Matheny said that Jansen, whose career high came with 19 points in a win over Visitation at the Visitation Christmas Tournament Dec. 27, just keeps getting better.
In total Wednesday, her 18 points in just three quarters paced the team.
"We'd like to have that every quarter," Matheny joked. "She just adds another layer of respect that's needed on the defensive end. She's developing into a great inside presence. She also hit a nice shot from the outside."
After Jansen, St. Joseph's 14 points from Duchardt.
Hazelwood Central (0-2) was led by 17 points from senior guard Jada Wiley while fellow senior guard Tristan Stith added 16.
The teams also played Saturday at Francis Howell Central as part of the Missouri Hall of Fame Shootout. St. Joseph's won that game 53-34 behind 14 points from Lally.
"Hazelwood Central has so much talent but we've been able to get a few more weeks in," Matheny said. "They're a nice young group of girls that made us work hard again. There were spurts where you could see what their energy and capabilities are. We just had to keep playing our game and not let (the spurts get too big)."
Now, St. Joseph's will take aim at something it hasn't had since finishing third in 2018 – a championship bracket trophy.
That could prove tough, however, with Incarnate Word (17-0, No. 1 in the STLhighschoolsports.com small-schools rankings) standing in the way.
Wednesday in its quarterfinal, Incarnate trounced Ladue 88-31 behind 40 points from sophomore forward Natalie Potts.
"We're going to try and hold her to 39," quipped Matheny of Potts. "They start, what? Five Division I players? They're just a powerhouse but that doesn't mean we won't be coming in ready to give them everything we've got. That's what we're going to do."