BELLEVIEW — The bumper sticker on the back of the pink Chevy Cavalier is worn and faded.
But the message still comes across loud and clear.
"You just got passed by a girl," it reads.
Yes, Lexie Black has been doing a lot of passing these days.
Black, a former high school basketball standout at tiny Valley R-VI High in Caledonia, is spending her summer frustrating male drivers throughout Jefferson and Saint Francois counties.
The dirt-track princess has turned heads with an initial season that will long be remembered.
The 5-foot-3 speedster became the first rookie, male or female, to win a Pro 4/Mini Stocks event when she took the checkered flag in a 15-lap feature at her home track of Doe Run Raceway on June 19.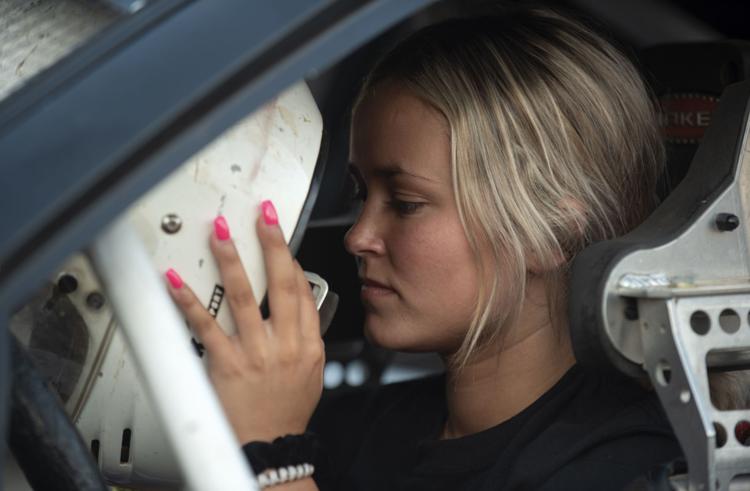 The next night, instead of defending her title at I-55 Raceway in Pevely, she chose to attend the Park Hills Central High prom with friends.
Black plays basketball at Blackburn College in Carlinville, Illinois, and admitted her decision to spend the spring and summer racing cars may be considered a little strange.
But she grew up around racing, spending most of her childhood watching her grandfather Steve, father Bobby and uncle Jimmy zip around short tracks throughout Missouri and Illinois.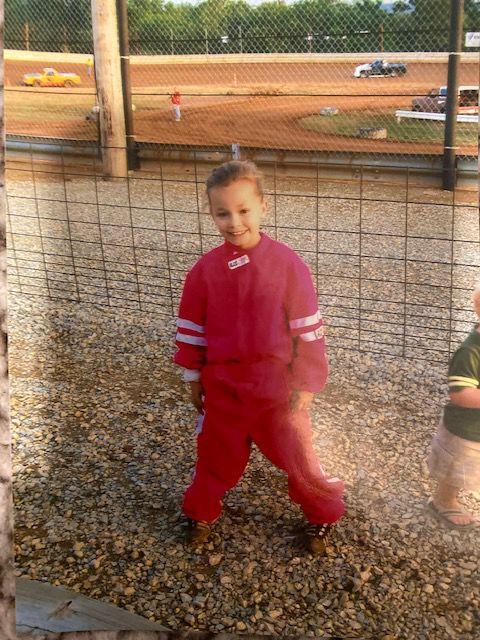 So this spring when Doe Run reopened after a five-year hiatus, Lexie asked her father about resuming a racing career she abandoned as an 8-year-old running go-karts.
Black, 20, hasn't missed a beat with a win, a second-place finish, and four fifth-place performances in nine starts. She has yet to finish lower than seventh and sits in second place in the point standings behind veteran Kyle Jarrett.
"I'm so competitive and being a girl in racing, most people don't think I can do it," Black said. "They tell me, 'You can't hang with the boys.' I said, 'I want to try it — let's do it.'"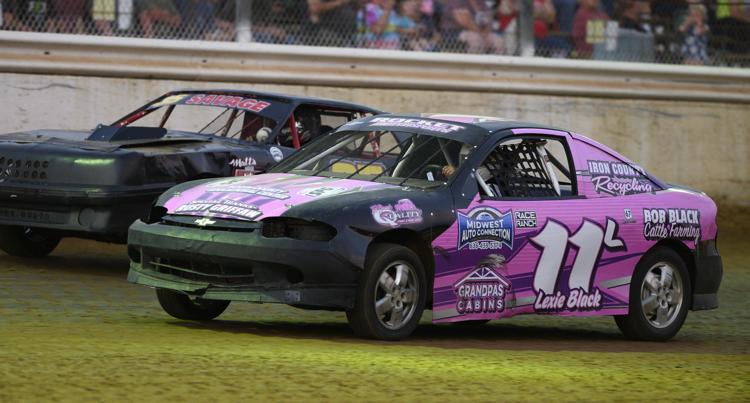 Black's success has ruffled some feathers among the veteran drivers, especially the 30-and 40-somethings who race at Doe Run on a regular basis.
That's where the sticker abuse comes into play.
Black said she has been hit from behind more than 90 times over her nine races — most of the love taps occur right where the sticker sits. Some bumps even come after the races are complete.
"They just don't like losing to a girl," said fellow racer Bradley Stanfill, who also competes in the P4 division. "They think it's a bad thing when they should realize that she's just pretty good."
Black laughs at the old-fashioned notions and keeps on rolling.
"It's part of the sport," she said. "I'm used to it. It makes when I win or do real (well) a lot more fun."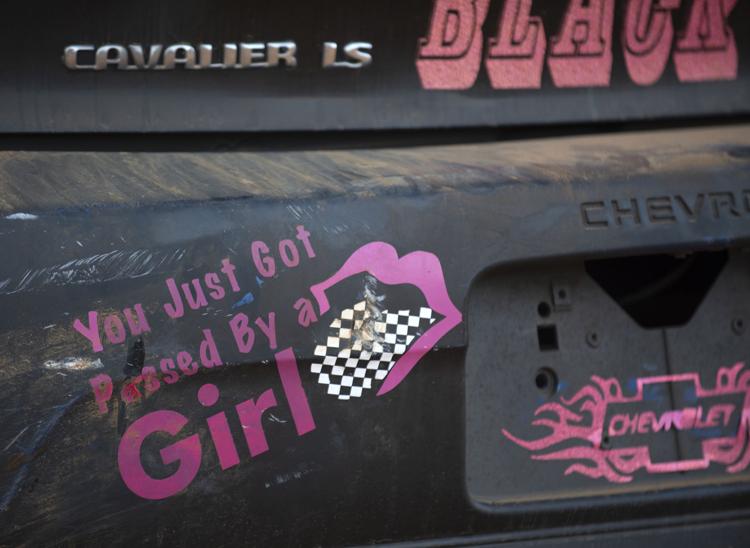 Black's winning ways have given her heroine status at the tracks around her home town of Belleview, a small community of 823 located in Iron County, 89 miles south of St. Louis.
Little girls flock around her car after every race. The tiny fans have dubbed her No. 11 Chevy "the Barbie Car" from its pink hue. Black even likes to be called "Barbie" by her little admirers who wait patiently for autographs and pictures. Her Facebook account has blown up since the season started.
"I never thought this would be so popular," Black said. "It's good for (racing), it's bringing a whole new crowd and maybe someday these girls will want to (race) themselves."
Black is under the direction of her father, Bobby, who serves as her crew chief. Her mom, still not sold on the idea of Lexie speeding down the track, watches nervously from the stands.
"I tried to talk her out of it," Chrissy said. "It didn't work."
The Black family, steeped in short track racing history, comes out en masse to watch Lexie perform. Family friend Portia Kniffin designed the famous bumper sticker, which will be getting an overhaul real soon.
Black is one of the most talented basketball players to come out of Valley R-VI. She holds the school record for most points in a career (1,715) and averaged 23 points and six assists as a senior.
Most importantly, the Vikings fashioned a winning record in each of Black's last three seasons. They had not posted an above-.500 mark since 1999 prior to Black's uprising during her sophomore campaign.
"She just had a knack for doing the right things at the right time," said Caleb Tiefenauer, who coached Black in her final three years in high school. "It doesn't surprise me that she's doing well at something outside of basketball."
Still, basketball remains Black's first love. She has developed into more of a playmaker at Blackburn, where she will be begin her junior campaign in the fall.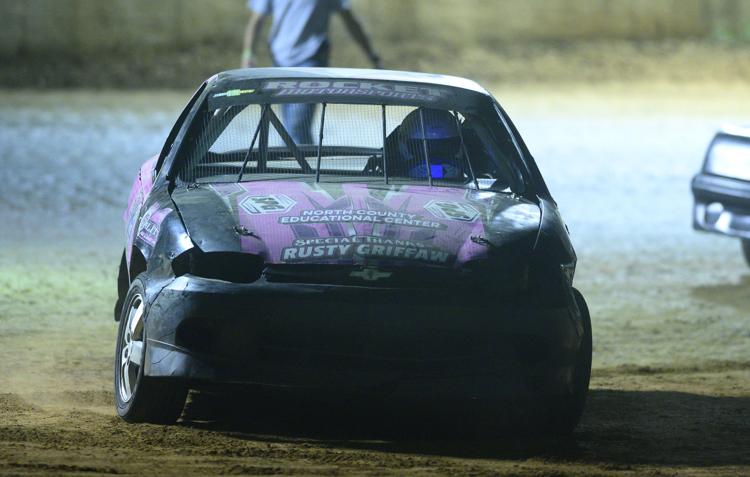 For now, Black is content on sharpening her racing skills. Her aggressive driving style came into play in her lone win as she jetted to the front at the opening flag and never looked back.
A self-confessed "country girl," Black works on the family farm during the summer while honing her racing skills. She is the first to deflect credit for her rise to those around her.
"It's such a family thing — that's what makes it so fun," she said.
The male drivers might have to get used to taking a back seat to the only female in the field over the next few Friday and Saturday nights.
The driver of the pink barbie car is here to stay.
"This is so much fun," she said. "I don't ever want it to stop."
STLHighSchoolSports.com is the most comprehensive source of stats, scores and stories from any and all area high schools.