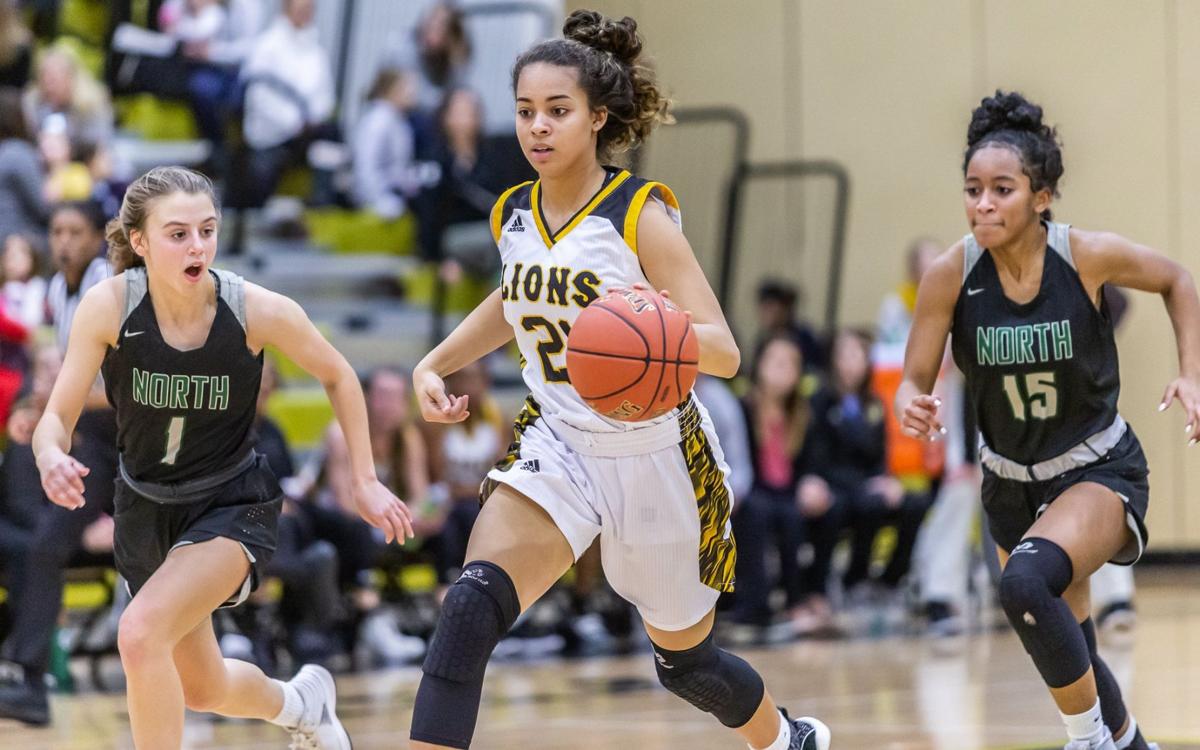 While Behan had a big season with 18.7 point and 13.4 rebounds a game, Edmonson was right there with 15.0 points and 5.9 rebounds a game for the Lions (3-2).
Edmonson said she's taken much from what she learned last season in an effort to put it to practical use this season.
"Liz was a great leader on and off the court," Edmonson said. "I learned a lot about work ethic and keeping your head in the game. She was a great teammate and I hope to take on that role of being an amazing leader like she was."
As East moved out to a solid start, winning the Winfield Tournament for the first time since the 2015-16 season, Edmonson was front-and-center in powering the offense.
Her current scoring average of 19.2 points a game includes totals of 22, 20 and 16 points in the three games at the event. The 5-foot-11 Edmonson said that East had to contend with more than just the opponents on the court to get the title.
"Winning the tournament was awesome," she said. "We've had a few bumps in the road with players being hurt and quarantined, but I think being able to persevere and get through that together made the experience a lot more exciting for all of us."
East coach Kyle Brown said that Edmonson's scoring and her average of 10.6 rebounds a game are just what the team has needed.
"Honestly, we are not surprised by Yasmine's play so far," Brown said. "We really feel she can just dominate a game. The difference from this year to last is she is playing with lots more confidence and is very comfortable with her teammates."
That comfort level will only serve to help everyone on the court, Edmonson agreed.
The junior said she really wants to see things go smoothly for the team, just like it did last season when East won a program-high 19 games.
"My expectations for myself have always been to continue to get better, but also help to make my team better," Edmonson said. "We had one of the best seasons ever last year. I'm hoping and expecting to top what we did last season and continue to grow as individual players as well as a team."
NEWLAND SHINES IN QUICK START FOR UNIVERSITY CITY
While things may not be going exactly the way coach Danna Walker-Dove would like for the University City girls basketball team this season, there is a definite bright spot.
The Lions (0-2) have not only had trouble getting games in at this point, but the team also is giving up, on average, 12 points more a game than the 44 the team is scoring.
The bright spot for the team has been the play of freshman guard Zoe Newland. Newland is averaging 18.0 points per game to lead the team after she scored 16 against Lindbergh and 20 against Clayton.
For Newland, catching on to things at the high school hasn't been that difficult.
"I'm really just trying to get comfortable with everyone," said Newland of her biggest challenge. "I'm very confident and I just have to keep working hard because I know I want to play at the next level."
Walker-Dove said she's been familiar with Newland's capabilities for some time and is excited that the guard is now in high school.
"Her start has exceeded my expectations," Walker-Dove said. "I was excited when I saw her walk into practice on the first day. I had been following her since about the sixth grade, so I already knew what she could do. It was just a matter of getting her here."
Walker-Dove said that Newland's basketball IQ, just as much as her ability, have been the great things about her.
"She's very knowledgeable of the game," Walker-Dove said. "Not only can she shoot, she can dribble and she reads the floor well. It's going to be exciting to watch her mature as a player."
Newland and senior guard Aaliyah Brown (14 points per game) have combined to provide the punch in the Lions' line-up. That punch will be needed as University City will next take to the court for the Visitation Christmas Tournament at 4 p.m. Saturday against top-seeded Incarnate Word.
CURRENT CLIMATE NECESSITATES SMALLER HOLIDAY EVENTS
With the Christmas tournament season fast approaching, a couple of high-profile girls tournaments will be scaled back this year due to COVID-19 restrictions.
Both the Duchesne and MICDS holiday tournaments are cutting back from eight-team events to four. Pioneers coach Brandon Stringer said that, while the host school, Fort Zumwalt North, Notre Dame and St. Charles will compete at the 44th annual event, the aim is to return to a full line-up in 2021.
"We've had teams from Illinois and St. Louis County not able to come to St. Charles County and play," Stringer said. "While this is unfortunate, we are at least still able to play and continue our traditional holiday tournament against quality programs around the area. While this is a setback, we have every intention of returning to our eight-team format next season."
Games at Duchesne will be played at 11 a.m. and 12:30 p.m. Dec. 28-30.
At MICDS, the four-team round robin between the host, Kirkwood, Lafayette and Pattonville will be played Dec. 26, 28 and 29.
Rams coach Scott Small said that not only will the eight-team tournament not be possible this year, but also the school's annual recognition of area Special Olympics athletes will have to be put on hold until 2021.
"While we are really disappointed that we won't be able to host the full tournament, everyone's health and well-being are our highest priority right now," Small said. "With this in mind, the tourney was downsized to help increase safety and decrease risk. We are eager to see the tournament return in full form in 2021 and are most excited to welcome back our Special Olympics athletes as a part of that tradition."
FREEBURG AMONG ILLINOIS PROGRAMS TRYING TO SPREAD CHEER IN DARKENED SEASON
While Illinois girls basketball programs haven't been able to get together on the court so far in the 2020-21 season, some programs are trying their best to find a connection between players and coaches.
At places like Mascoutah and Freeburg, to name a few, adopting local families in need to make for a brighter Christmas season not only helps with a sense of community but it also allows the teams to gather – even if they're forbidden from doing so on the court.
Freeburg, in conjunction with the Post-Dispatch 100 Neediest Cases, is sponsoring a family of three. Senior Mya Gebke said that helping others is a way to brighten what, otherwise, would be a very dark season.
"During these times, it's hard getting into the Christmas spirit," Gebke said. "But donating gifts and wrapping them with the team is always an activity I look forward to (in order) to boost my spirit and to give back to those in need."
Fellow senior Becca Mueller echoed Gebke's sentiment.
Mueller said that the Christmas spirit can override any other negative feelings that surface, due to restrictions.
"Even though we can't play basketball, we still wanted to help families impacted by the pandemic as much as we can this Christmas," Mueller said. "Our Christmas donations have always been one of my favorite team activities and to still have the honor of bringing joy to others is amazing."
While the girls basketball program spent $675 in gifts for the family, there has also been $335 collected through an online donations page to help the family with expense.
Freeburg coach Bethany McQuiston said that seeing the team work together in such an important way is important to her.
"For me as a coach, I'd do anything to give our athletes the chance to play this year," McQuiston said. "Right now, the best we can do as a coaching staff is to provide them with opportunities to be together as a team. It means everything that they appreciate the value of working together for something greater than themselves."